Last updated - January 5, 2021
One of the important aspects that make WooCommerce so popular is its flexibility. You will be able to create any business model that you imagine with the help of plugins on WooCommerce. There are several businesses that prefer to sell only to specific customers, and they would like to give store access only to these customers. In the WooCommerce ecosystem, you will find several different plugins to help you achieve this. We will discuss some of the best WooCommerce private store plugins in this article and help you understand how you can offer restricted access using them.
This is one of the most popular solutions to create a private store or member's area on your WooCommerce store. And, the plugin offers extensive settings to let you customize the store according to your specific requirements. You will be able to offer selective access to guest users, where they can view the website but not the shopping are created by WooCommerce.
Moreover, with the help of a separate login page, you can provide access to specific customers who you want to give access. Also, there will be options for customers to simply login to access the products, or use a password to gain access. The plugin will ensure that the private area won't be visible to search engines as well. So, you will be able to make sure that the products you sell are truly accessible only to members.
Features
Protect your store with the help of a customizable private area, which can be accessed by users by logging in or by entering a password, or by user roles.
Guest users won't be able to view the protected area.
Along with shop pages, you will be able to hide sidebars and navigation menus.
The hidden store will not be accessible to search engines.
Easy to configure even for WordPress beginners.
You can get a starter license of this plugin at $79.
This is a simple plugin that will help you create private access to preferred customers. A guest customer won't be able to see the private products, and they will have to register on your store to be able to view them. You will be able to apply these settings globally across your entire site or only to specific categories, tags or pages.
The plugin also offers great control to store owners to handle how they want to control the registration process. When a new user requests for registration, you can approve it manually. Or, for specific users, you can disable the need to login altogether. The plugin also offers options to notify customers when there are changes in their account capabilities.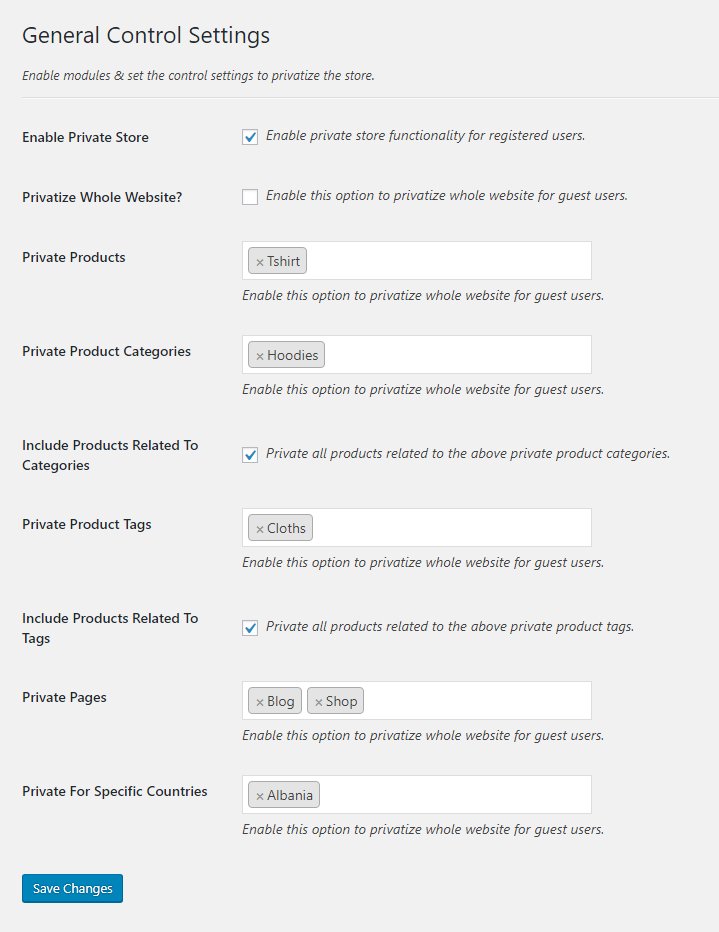 Features
Restrict access to your store products for guest users.
Selectively restrict access for products, categories, tags or pages on your store for guest users.
Restrict access for guest users from specific countries.
Send notifications to users.
A single site license of the plugin will cost $49.
You can also use this membership plugin to create a private area accessible only to specific users. Along with helping you create memberships as a product type in your store, you can use this plugin to limit access to certain parts of your site only to members. The plugin also helps you associate memberships with specific products on your store. And the store owners will be able to determine and provide access to specific users manually.
Moreover, the plugin also helps to drip content, where you can schedule the content access of members based on the membership level they are at. It gives you the flexibility to create member's only products on your store. Based on the specific requirement, you can completely hide certain products from non-members. Or, you can let everyone view your products, and offer purchase capability only for members. Also, same like dripping content, you can configure product access also based on membership levels.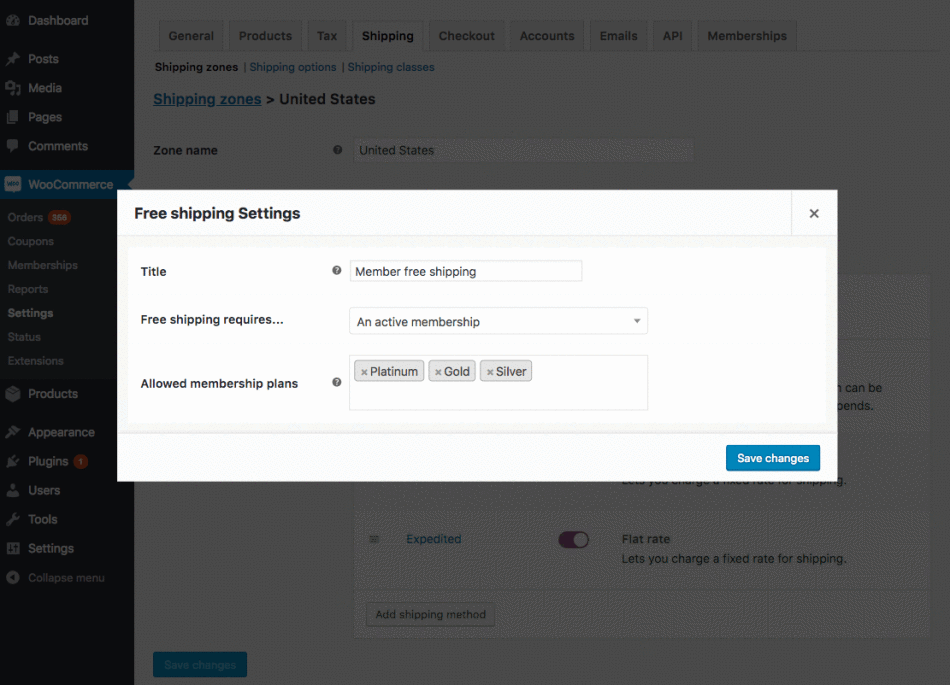 Features
Create memberships as a product type and assign different levels of memberships to your users.
Associate memberships with product purchase.
Restrict content and product access only to members.
Create a product catalog accessible only to members.
Offer special discounts and shipping offers only to members.
Display the privileges of each membership in the member's area.
Easily interact with members through email notes.
Important membership data to integrate with other tools.
Combine with subscriptions plugin to accept recurring payments.
A single site subscription of this plugin will cost you $199.
This plugin gives you the power to disable the eCommerce functionality of your store to specific users. For specific customers, you can remove the Add-to-Cart button and display a custom HTML text in its place. Similarly, it also allows you to hide product prices, as well as cart and checkout pages from certain customers. The plugin lets you provide purchase capability restrictively for customers with certain user roles.
Another important functionality of the plugin is that it will help you set up prices and discounts based on user roles. It is a great option for wholesale stores, where you want only registered users to purchase from you. In addition to giving restricted access to select customers, you can use this plugin to create multiple levels of pricing based on your customer segmentation.
You can get a single site subscription of the plugin at $69.
Restrict Content Pro is another plugin that gives you the flexibility to determine who will be able to view and purchase products on your store. It lets you create product access restrictions based on membership levels or product category. Moreover, it offers an add-on to offer discounts only to specific members on your store.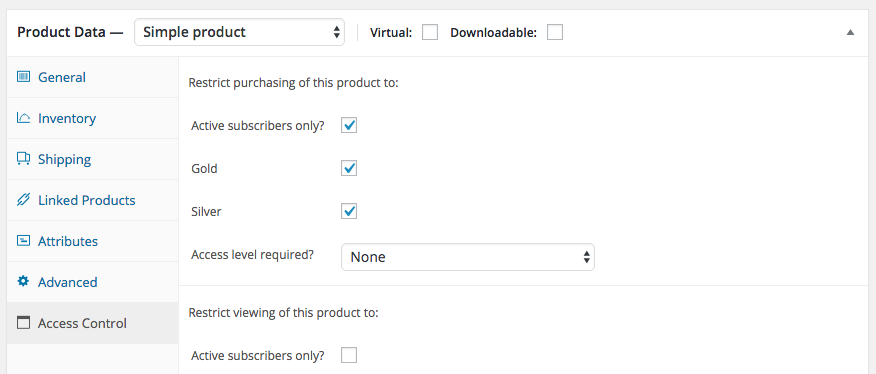 The plugin offers a user friendly dashboard to help you handle different membership levels and account features. Customers too will have the flexibility to choose a membership level so that they can get access to any restricted section on your store.
Features
Create membership levels and control who gets access to what level.
Integrations with multiple payment gateways such as Stripe, Braintree, etc.
Export member data into a CSV file.
Create discount codes.
Interact effectively with customers using email notifications.
Extensive reporting features to track and understand varied metrics.
The Personal license of the plugin will cost you $99.
With the help of Protected Categories plugin, you can provide access to certain products only to certain users. This could be a great option when you have a set of wholesale products and customers. It allows you to create a private login area for specific users, so that they will be able to access only the products assigned to them. The plugin is a great asset for clubs, institutions, etc., where you want to give selective access to some.
Moreover, the plugin gives you the freedom to decide how you want to provide restricted access to users. You can offer a password option, or set the access based on user roles. This will help you avoid the need to create a different wholesale shop on your website. The plugin is quite user friendly, and anyone with basic technical knowledge will be able to set it up quickly.
This plugin will help you to encourage users to register on your site. It will give you options to make your entire store private, or only selected products. And, you will be able to provide restricted access to the private area to select customers after they sign up through your registration process. Also, the plugin gives you the flexibility to automatically approve all registration requests, or manually approve each. It has features that will help you modify default registration forms with the help of interesting theme elements. Also, you can decide whether you want to present your site to search engines or not.
Features
Convert entire WooCommerce store into a private store.
Manual and automatic approvals of user registration.
Email notifications to customers.
Add design elements to default WooCommerce login form.
Video embedding options.
Flexibility in presenting content to search engines.
The regular license of the plugin costs $39.
Hopefully, this article has provided you with some of the best WooCommerce Private store plugins. Leave us a comment if you have a query.
Further reading