Last updated - August 24, 2022
If you are looking for a platform that offers you a means to buy and sell products online, then the first step to starting an online business is to select the right eCommerce platform.
Though there are many eCommerce platforms available, if you are searching for a platform that allows having complete control over the setup, with the full functionality of the online chain store, you must prefer going with Magento as it is the perfect choice to fulfil your needs.
10 Ways To Boost The Customer Experience For Your eCommerce Website With Magento
Here are 10 interesting ways you can boost customer experience.
1. Design a user-friendly website for your audience
Building an excellent user-friendly website with the help of Magento support service as it is easy to navigate and its use is paramount to a practical eCommerce experience. People who use your website should be able to shop confidently so they can get the tasks done quickly and easily. Having such a website also improves your conversion rates because when more people find your website, they will likely buy and complete their transactions.
The most important thing to do is to build a user-friendly website so that your customers have ample time to navigate through the site and select the products they want to buy. This way, you'll increase your conversions and sales.
2. Create elegant product pages for your website
Having beautiful product pages on your website is another critical step in increasing the number of customers who look for your site. This improves the opportunities that potential customers will buy from you and complete the order process.
You can create unique and creative product pages that are attractive and appealing to improve conversion rates. People who have already found your website will be more likely to convert into a buyer if your product page is worthy enough to click on.
3. Deliver through free and fast shipping methods to customers
When potential customers are shopping, they will be more likely to buy from you if they know that the product they are buying has fast shipping and delivery. It's because people like the feeling of getting what they want in a short period. Nearly 66% of customers are ready to leave you for a competitor with flexible shopping options.
If you have fast shipping options, your conversion rate will increase because customers will feel like they're getting what they want easily and quickly. This will lead them to buy even more, and you can also benefit from this by increasing your return on investment.
4. Optimize for mobile
While many people still use laptops and desktops to shop, mobile shopping has become more popular. When you optimize your website for mobile users, your customers will be able to shop on the go with their phones, increasing the likelihood that they'll buy from you.
One way to do this optimization is by ensuring that all of your website's content is readable and responsive. You can also make it easier for customers to buy by using a responsive design since they will be able to see products and make purchases with just one click.
5. Create a community and be active on social media
Customers are more interested in purchasing from you if you have a community on social media. Regarding eCommerce businesses, having a loyal customer base is crucial. Having social media accounts allows customers to contact you with questions. It enables them to leave reviews of your product and ask for advice on different topics related to your business. In 2021, 3.78 billion globally users were active on social media.
Having a community on social media also increases the likelihood that customers will share your links with others in their network, which means more people can find your website. This will increase sales and make it easier for potential customers that already don't know about your site to shop with the confidence that they will get what they want as soon as possible.
6. Use email marketing
Using email marketing with the help of Magento support service is another crucial step to boosting the eCommerce customer experience. Doing this can make it easier for your customers to shop because they will be more likely to buy from you if they get a notification when they pass by your store and receive a discount.
Email marketing also increases conversions as it encourages potential customers to buy since they will get a notification when they pass by your store. This increases the likelihood that they'll convert into buyers, which means you're getting more value from each customer if they have not visited your site.
7. Boost the website's page speed
When your website has a slow page speed, it will result in fewer customers looking at your products, which means you're getting less value from each customer than if they had not visited your site. When people are searching for products, they have only a limited amount of time to look them up and decide whether or not they're going to buy them.
Having a slow page speed means that people who visit your site won't be able to buy as fast as possible, so you'll lose potential customers. You can improve page speed by compressing images and removing unnecessary files that don't get accessed often.
8. Provide excellent customer support (CS)
Having excellent customer support is also a meaningful way to increase the number of customers that buy from you. This is because people like getting answers as soon as possible and want to feel comfortable buying from a business they can trust.
Providing excellent customer support is one of the best strategies. You can boost your eCommerce customer experience with Magento support service, so you always have one level of communication with your potential customers. You can do this by hiring phone support and email support, or if hiring is too expensive, you can use live chat on your website.
9. Use enticing visual content
Another strategy that you can use to increase conversions is including enticing visual content on your website. This way, you'll make it easier for your customers to shop and feel compelled to buy more from you because they know your site's visual content is interesting.
This means that the images on your site are attractive and compelling enough to get people interested in what you're selling. You can also make sure that the photos are in a mobile-friendly format, improving how quickly people convert into buyers.
10. Embrace customer feedback to improve
Regarding your eCommerce website, you can use customer feedback to improve and increase sales by getting their ideas and feedback to implement them into your product or service.
When people have a problem with your products or services and need help, the best thing you can do is listen to their situation and find out what's wrong. This way, you'll be able to solve their problem for them in a timely manner. You can get more value from each customer by listening to what customers say about your products and service to improve them based on their input.
Magneto 2 extensions for better customer experience
In the Magento 2 Marketplace, there are more than 3,000 plugins, making it difficult to immediately choose a few that are optimal for your business.
Although Magento 2 comes with a ton of capabilities, you must adhere to a "set" process in order to integrate additional features and increase the platform's capability. You may best meet the needs of your online store by utilizing a combination of all the top Magento 2 extensions.
Popups are the best way to display emphasized information like invites to newsletters and special seasonal bargains because they may initially attract readers' attention. In fact, many eCommerce businesses frequently show popup ads as users are about to leave their pages, in the hopes that enticing deals will keep visitors from leaving.
This add-on makes it simple to design beautiful popups to increase conversions, decrease cart abandonment, and grow email lists.
Crucial Features:
Create popups, contact forms, and more with drag and drop functionality.
Templates for popups, countdown popups, and social media widgets, among other things.
Performance evaluation of pop-ups.
Exit-intent, time-delay, scrolling, and other sophisticated popup triggers.
Targeting options that are flexible: by nations, dates, times, and web pages.
Identify returning, new, and converting visitors.
Set up the frequency for display.
Price: The extension offers three paid versions, Basic, Pro, and Agency, for $25, $59, and $199 per month, respectively, in addition to a Free version.
Product reviews are the fastest way for a new brand to get the credibility and start making sales. Yotpo is a well-known eCommerce platform for product reviews and ratings and is a close partner with Magento, making the connection procedure simple.
Crucial Features:
Gather ratings by SMS and email.
Smartly ask for a video or photo, including review suggestions, and include checkbox questions to nudge customers toward writing insightful evaluations.
Allow review filters so that customers may locate the appropriate information for them.
To reduce the problem of cart abandonment and increase conversions, display the best ratings
on the checkout page and other touchpoints.
Display ratings on Facebook and Google.
Show comments & questions in Community Q&A.
Price: The extension offers four paid versions, Growth, Prime, Premium, and Enterprise, for $15, and $119 per month along with the other two being upon request, respectively, in addition to a Free version.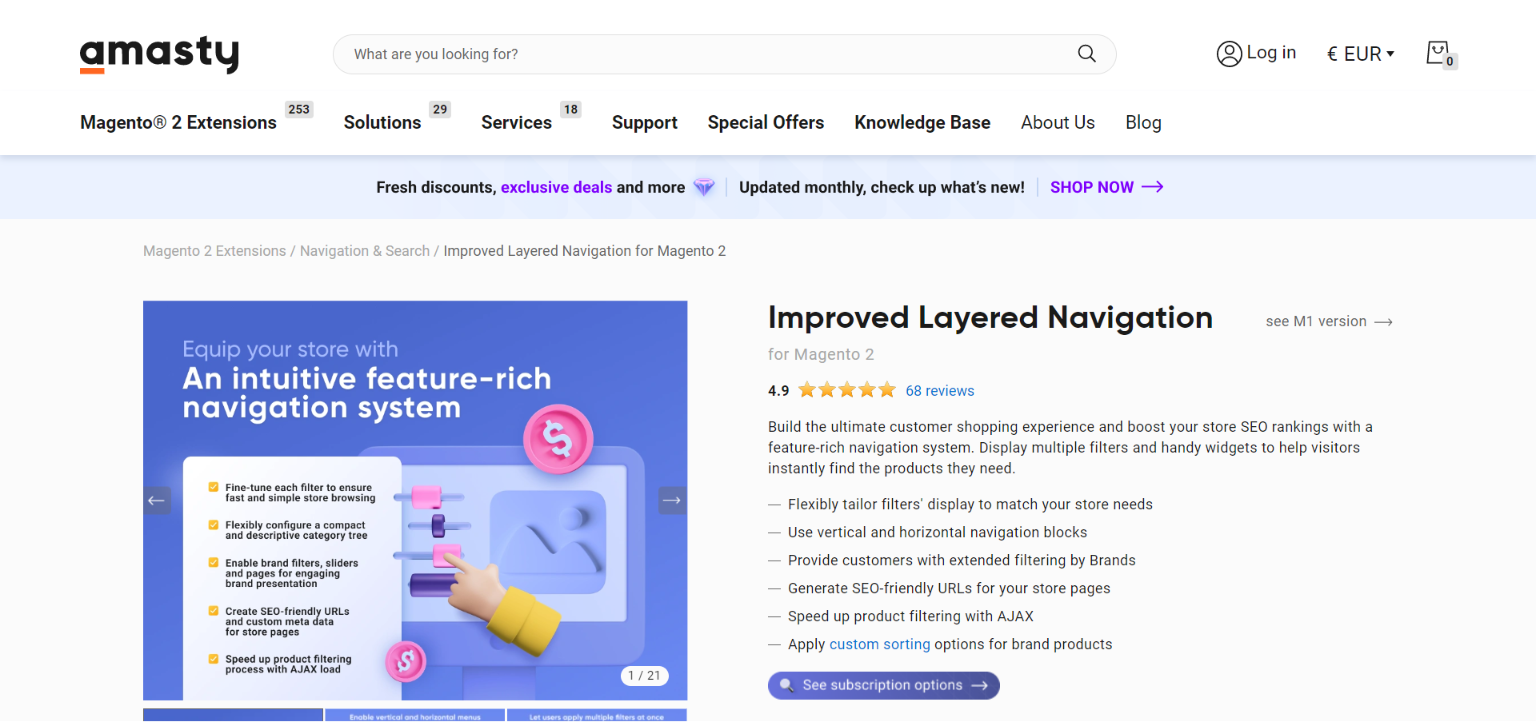 For a Magento store with several SKUs and complex product variations, it may be challenging for customers to locate what they require. Customers can participate more fully in their purchasing process by using this smart layer navigation plugin to search and filter products quickly and effectively.
Crucial Features:
A variety of display options, including labels, pictures, text swatches, pictures, and labels.
Freely configure vertical and horizontal navigation.
Directly look for attributes.
Various methods of listing brands. For instance, branded sliders, bespoke pages, and product pages with brand logos.
Filtering options can now include subcategories; choose how to show them.
SEO-friendly URL customization.
Price: The Commerce edition is $649 for the first year, then $395 per year, whereas the Open Source version costs $349 for the first year, then $215 per year.
Since it might be difficult to turn a visitor into a customer, businesses must establish a loyalty program to draw customers. Customers are more likely to shop at your store and make repeat purchases because of the rewards program.
The most effective loyalty program is Magento 2 Reward Points, which uses automated points earning and spending mechanism to convert your consumers into devoted customers with ease. By doing this, businesses can increase revenue, increase conversion rates, and draw in occasional customers.
Crucial Features:
Create labels for your reward points.
To improve customers' purchasing experiences, employ a spending slider.
Unlimited earning and spending rules can be created through a set of circumstances and corresponding actions.
Compensation for Social Sharing.
Rewards for good behavior.
Price: The standard plan costs $99 per year, with the higher costing plans going up to $199 and $299 for the professional and ultimate plans respectively.
Reorders are evidence that clients adore your goods and services. By giving them an easy, time- and effort-saving reordering experience, this solution enables you to go above and beyond their expectations. The plugin is especially useful for wholesalers and B2B businesses.
Crucial Features:
Display all previous purchases in a single panel.
Search for objects by entering their names, characteristics, or SKUs
Check product details quickly using a fast view.
Selecting numerous goods with a single click.
Compatible with all 5 product kinds in Magento.
Price: The Commerce edition is a one-time payment of $269, whereas the Open Source version is a one-time fee of $119.
Conclusion
Magento is a famous company beneficial for small and larger scale businesses. It is software that helps merchants develop an eCommerce website and allows them to control the online department's appearance, aspect, and content. It helps businesses to create an online chain store where the owner can provide all kinds of services to its customers.
You will be able to sell multiple products much faster than you think. Owners need not worry about anything because Magento provides wonderful features. You can fulfil all your needs as you expand your business.
Further reading