Last updated - August 22, 2023
If your online store was designed using WooCommerce, then you should be aware that more than 3 million websites also use WooCommerce to design their store front.
Micro online store owners make up the majority of WooCommerce users, and they are generally unconcerned with customizations. But some of them are extraordinary, making their online store distinctive and well-optimized in comparison to an ordinary site.
It is necessary for business owners to customize the single product page layout as it improves the overall user experience. In this blog post we explain the details of WooCommerce single product page and how to customize it.
Why do you need to Customize WooCommerce Product Pages?
The success of an online company depends greatly on the quality of its product pages. You present your products here, together with all of its advantages and characteristics. All in all, this is where you make an effort to persuade them to purchase your products.
You may substantially enhance consumer experience and distinguish yourself from your rivals by personalizing your product pages and including extra information. The best approach to display your products is important, but you also need to be certain that your customers have access to all the necessary information.
Offering customized product pages will help you grow your online business and increase client satisfaction.
Three Primary Ways to Customize WooCommerce Product Pages
As a business owner you can customize the WooCommerce single product page in three primary ways, which is mentioned in this section. Each of the ways to customize your WooCommerce product pages has their own set of pros and cons. You can read them carefully and pick the right one for your business.
Using Default Settings
WooCommerce doesn't offer a lot of optimization options, as already mentioned. However, given the restricted options available, you might want to be aware of them. For individual product pages, there are two customization possibilities. Follow the steps below.
Turn on Sticky Add-To-Cart by going to WordPress Optimization Option > Product Page and then click on Stickly Add-To-Cart
Next, from the same dropdown options Product Pagination
Using Additional CSS
If you are looking for more customization options then you can use additional CSS. Here is a list of customizations you can make using additional CSS.
Change the Size of Product Titles
Change the Color of Product Titles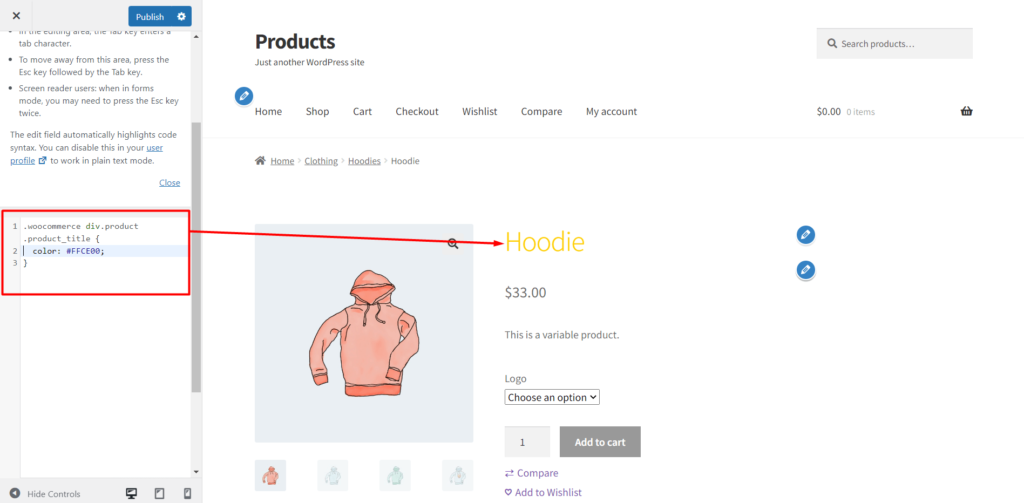 Make Variation Labels into Boldface
Italicize Variation Labels
Change the Color of "Add to Cart" button
Using Plugins
Additional CSS provides more customization options when compared to the default settings provided by WooCommerce. However, there are plenty of customization options that even additional CSS do not provide.
For such customization options, you need to use a plugin. Remember, there are numerous plugins available and each of them provide unique features and thus different business propositions.
Top Plugins to Customize WooCommerce Single Product Page
Plugins are excellent tools that provide you with an array of customization options. Just by getting a plugin for your WooCommerce website you can do more than you can imagine. As mentioned earlier, there are numerous plugins available in the market but we have listed the top 5 plugins in this section.
WooCommerce Store Customizer
Almost everything in your WooCommerce store may be customized with the help of the all-in-one plugin WooCommerce Store Customizer. It's a great tool for including customization elements that WooCommerce doesn't by default.
This covers a wide range of tasks, such as updating the styles of your store's buttons and adding front-end statistics on product sales. You can use this to customize your product, My Account, and shop pages, using Store Customizer's numerous choices.
You can add or delete any component or icon from your product pages using this plugin, including headings and tabs, icons to continue shopping, banners advertising current sales, and more.
Next to the Add to Cart button, you may also add Plus and Minus adjustment buttons, allowing customers to immediately add multiple units of a single item to their shopping carts.
Price
This is a freemium plugin, meaning there are two versions of it: a free one with minimal functionality and a pro one with additional capabilities that costs 49 USD annually.
Key Features
Options to add and remove various modules, buttons, elements, icons, etc
Allows you to easily edit font size, typography, font colors, across various web pages
Allows to quickly add increment/decrement icons to quickly modify the cart
WooCommerce Single Product Page Customizer
You can edit your product pages' content, media, or HTML using the free plugin WooCommerce Single Product Page Customizer. You can customize the HTML components or hooks on your product page using the specialized visual HTML editor that is included.
Additionally, you have the option of deciding where to place your custom elements, giving you a ton of creative design options for your product page.
For those with coding skills who want to spruce up their WooCommerce product page without having to install other plugins or even pay for them, Single Product Page Customizer is a fantastic tool.
You can include embeds to other media, add custom WooCommerce hooks to your product pages, as well as add custom texts like announcements, sale offers, custom links, or discount offers.
Price
This is a completely free to use plugin
Key Features
Extremely user-friendly tool to add and edit text as well as HTML
Integrated with more than 17 different positions to add HTML elements
Seamlessly support various formats such as custom texts, links, HTML codes, embeds, media, etc.
DHWCPage – WooCommerce Page Builder
With DHWCPage – WooCommerce Page Builder, you can completely customize the look of a WooCommerce product page. This is the best option for you if you're looking for an expensive tool to alter your product pages. To help you construct and alter your product pages, DHWCPage has a specialized drag-and-drop page builder.
You can personally create special product pages using DHWCPage depending on the different sorts of products and segments. Create distinctive product pages for your straightforward, varied, and grouped products.
Additionally, you may create product pages utilizing a customized slider that has three separate, distinctive variations. You may directly add additional product options and custom fields to your single product page using DHWCPage.
You may make distinctive product pages for every item in addition to adding personalized and customized page designs for particular product kinds (basic, changeable, and downloadable), thanks to the plugin.
Price
The regular license for the premium plugin DHWCPage is 29 USD per year.
Key Features
Page builder with drag and drop functionality for the product page
Possibilities to alter product pages according to product types, categories, and even create distinctive product pages for each product separately
Allows for the addition of customized product page options and fields and supports WooCommerce shortcodes
WooCommerce Custom Tabs Manager
Using WooCommece Custom Tabs Manager plugin, you can incorporate an unlimited number of custom tabs on your product pages to provide extra information about your offerings. Policies, warranty information, media images, comparative tables, and many other things are included in this plugin.
You can designate particular tabs depending on a product's category and taxonomy using WooCommerce Custom Tabs Manager. Even more specific custom tabs that apply just to certain products can be added.
Additionally, you can show or conceal tabs for particular user or customer roles. WooCommerce Custom Tabs also allows you to customize each tab. Add your own icons, background images, and fonts, among other things.
To allow your consumers to complete Contact7 forms from your product pages, you may even show them straight on your custom tabs.
Price
The annual cost of the premium plugin WooCommerce Custom Tabs is $49.
Key Features
Endless custom tabs for single product pages
Possibility to limit tabs in accordance with user roles, allocate them to particular items and categories, and more.
Custom tabs can be fully customized, and you can choose how to organize them based on your preferences.
WooThumbs
You can enable WooThumbs, a dedicated gallery plugin, just for your WooCommerce product page. WooThumbs is fully aware of how important your product photos are to promoting your goods on the internet. 
This clever plugin that allows you to create customized product galleries to effectively showcase your products. Utilizing this tool's specific slider features, which include slider animations and zoom, you can include moving thumbnails in your product description.
For variable products, you can create fully adjustable image galleries. By doing this, you can design adaptable product galleries that seamlessly adapt when you switch between different product versions.
In order to better exhibit your WooCommerce products, WooThumbs also allows you to embed videos. You may also incorporate other video choices to ensure that the embeds blend in with the rest of your products.
Price
An annual subscription to WooThumbs costs 79 USD.
Key Features
Moving thumbnails and fully customized image galleries for your merchandise
Versatile image galleries that are ideal for a variety of products
Includes full-screen galleries and embedded video support
Important Tips to Optimize Product Pages for WooCommerce
The success rate in this cutthroat market cannot be increased by having well-designed product pages alone. The right on-page improvements are essential if you want to attract potential customers from search engines. Here are a few tips to optimize your product pages.
Choose Appropriate Keywords
About 50% of the work is done if the proper keyword is used. However, if you are concentrating on the incorrect or excessively competitive keywords, then your other optimization efforts cannot guarantee a higher placement on SERP.
For Product Pages, selecting a keyword is not overly difficult. By utilizing keyword research tools like Semrush and Ahref, you may easily uncover low-competitive keywords from the websites of your rivals.
There is another method of finding keywords if you cannot afford an SEO fee. Check out the suggested results when you Google the product name. The phrases and keywords that people most frequently search for are always displayed by Google.
Pick the options that work best for your single product page and include them.
Optimize Meta Description and Title
Use the keyword you've selected to create a compelling title and boost click-through rates from search engine result pages. The meta description should not be overlooked. In order to optimize it, develop a succinct description of the product that contains the targeted keywords.
Make use of Structured Data
Search engines can differentiate between blog entries and product pages using structured data about the products. Additionally, it gives the chance to earn featured excerpts. Start using Product and review Schema for all of your online store's single product pages.
To add schemas, you do not really have to be a skilled developer. Use the Rank Math plugin if WordPress is what you're using. Customizing the schemas for the product pages will be beneficial.
You are free to utilize and duplicate any schemas created by your rivals.
Pay Attention to Bounce Rate
You can examine the information of Bounce rate and Dwell time to determine whether or not the product page optimizations are effective. Try to lower the bounce rate by introducing Related and Upsell products if it is greater.
If all of these are already there, you might need to adjust the layout or style in order to draw customers. The Dwell time is a crucial indicator of how well SEO efforts are understood. It represents the typical amount of time visitors stay on your website and you need to raise it to boost conversation rates and SEO visibility.
Eliminate Duplicate Content
Google detests content duplications more than anything. However, a lot of online shops continue to copy product details from vendor websites. By doing this the SEO efforts are harmed.
Duplicating content is a bad strategy to follow if you want organic traffic on Google. To prevent plagiarism, add your own observations and insights to the products.
Summing Up
That brings us to the conclusion of how you can customize your single product page layout for your WooCommerce website. We hope you customize the single product page of your WooCommerce website by following the instructions or by using any of the plugins mentioned in this blog post. If you have any questions or queries you can leave a comment below.
Further Reading