Working on a WordPress site comes with its challenges. And, while it's relatively intuitive, things become complicated when you have to manage multiple WordPress websites.
Why WordPress Multisite is Important?
You're probably keen on why it's essential to manage large-scale projects for your clients properly. If you're currently working on multiple orders, the following recommendations can flip your workflow on its head. Your efficiency will likely skyrocket, and you'll never go back.
Similar to strategies present at Scanteam, where they emphasize specific methods for planning results, you need an approach that covers you throughout the process. They use a six-step program that includes the following phases:
Identification

Preparation

Appraisal

Approval

Implementation

Evaluation
Everyone has a unique style for different types of WordPress work. Some are better than others, but the possibility to tweak your methods can open a world of possibilities. For example, automated updates free up valuable time, and centralized theme management can help you avoid awkward delays.
Making changes and producing content might not prove too difficult, but monitoring, optimizing, and tracking your team on top of it can be a severe challenge. Admins need to have a dashboard to observe the tweaks that occur at any given moment. On the topic, a shared master password can result in disaster.
However, the most crucial reason to take a new WordPress management approach is scaling your work with clients. You're likely working with more than one now, so you've plenty to gain by integrating steps that facilitate engagement with them.
Manual Approach
This isn't a method most would recommend, but it's possible to execute at a decent level and is undoubtedly better than nothing. But, there are tools available to automate many processes, and quite a few are free of charge. You're better off opting for one of those programs or dashboards.
If you can't see yourself using any form of automation or central hub to access multiple sites, there's one way to do this, though it's needlessly complicated. You can create one account for each website you want to manage.
Problems emerge when you have to swap between your pages. You have to log out of one to enter the other. There's a way to simplify this, though. You can use multiple browsers and dedicate each to one account. If you take this approach, you can access and manage every WordPress website via different Internet browsers.
It's worth reiterating that most people don't recommend this method. Instead, the suggestion is meant for those that simply refuse to use any tools to simplify WordPress website management.
WordPress Multisite Dashboard
This dashboard is the one real reason why a manual approach is less than illogical. There are plenty of perks, but the fact that it's free to use is the one that stands out the most.
This option is entirely integrated within the WordPress suite. It's easy to approach for beginners and has features that simplify tasks for changes across multiple sites or pages. This is another powerful draw for many users; you can save a lot of time with Multisite when installing or applying updates to various websites.
Experts that work with WordPress websites likely know that this dashboard exists. However, they might not learn about its wide variety of functions. Knowledgeable users in the field can find plenty of benefits with this interface. There's a catch, though. It's not the be-all-end-all solution for some projects.
WordPress Multisite is at its best when used for one client at a time. It's an easy way to keep track of multiple pages with a single account. Sub-sites, and other branches of the main page, fit into different categories. For numerous clients or users, though, you should choose a separate service or modify this one.
That's where plugins come in handy. They're a resource you can leverage to change the WordPress Multisite interface and functionality vastly. Short of swapping for an alternative service, this is the way to go. Without them, you'll find a minimal span of options and tweaks.
Plugins
If you're working on multiple pages or plan to do so, you'll need plugins for WordPress Multisite; there's no argument for the contrary. They're a benefit to everyone using or involved with your network.
For example, admins will fall in love with the Multisites Enhancement plugin. It's built to provide more information for administrators at a glance and clears some useless clutter from the dashboard. There's also a separate display with information regarding the system and specifics for each page.
The Toolbar Addons plugin is another winner. With this addition, you can make modifications to each page you manage on the fly. Instead of loading every page separately, you simply highlight it on the left-hand side and open the drag and drop menu for modifications you'd like to apply.
Smush is another must-have plugin. It's a simple tweak but makes a massive difference in the overall experience. This addition allows admins to apply network changes between pages from a single dashboard.
Some add-ons are entirely free. While others require a purchase or subscription, they're usually worth it and help you save plenty of time and effort.
External Tools
Of course, the integrated setup for WordPress isn't your only available option. There are a plethora of other programs you can use to manage multiple sites on the platform. 
Suppose you're looking for advanced security options, backup capabilities, fast updates, collaboration tools, unique template builders, and the ability to monitor pages in real-time. In that case, you probably want an external tool.
Many users say that using external tools is the best way to manage multiple WordPress websites. Here are a few that are popular right now, most of which require some form of payment.
ManageWP
This program boasts a quick setup, taking only minutes. It also allows for one-click updates and workflow automation. As with other third-party applications for WordPress management, ManageWP comes with monitoring tools for uptime, analytics, and SEO, along with security tools that include a backup feature.
ManageWP has a strong focus on automation, and it allows an unlimited number of sites. This is excellent for users with several clients. Beyond this, though, it also has theme and plugin management. So, you can bring your favorite addons for WordPress with you to this program.
Many like to pit this application against another famous example. The current face-off of MainWP vs. ManageWP is entertaining. However, most recommend ManageWP for its wide variety of tools and ease-of-use.
Updraft Central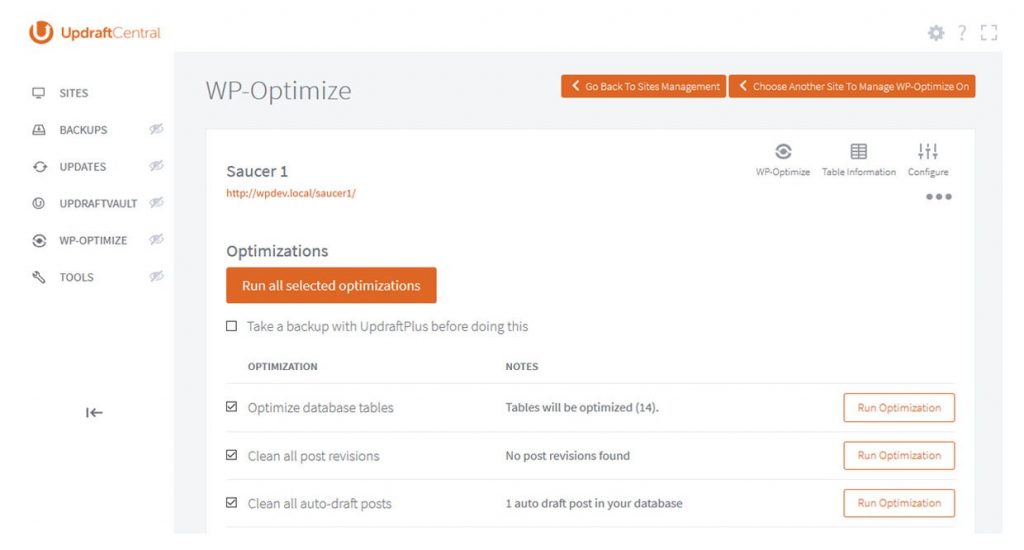 This program draws new users in with a free trial for up to five sites. It's enticing, but the features available are more so. It takes a step away from automation and looks to fulfill a user's needs for management efficiency and automatic updates, and top-notch security.
Updraft Central touts a unique feature. You can control, monitor, and tweak your pages from a central location in the cloud. Management from a network like this is fantastic, as this program also allows you to dig into backed-up files, whatever your reason.
The tool also serves as an excellent plugin manager. It integrates any add-ons you have into every site you're working on at any given time and simultaneously. The team behind Updraft Central doesn't want you to leave its dashboard, so they included comment management features, so you don't have to. You'll rarely run into something that requires you to use another tool.
This is a great all-around pick. It lacks a few features, but it has more than enough to manage at a high level over long periods.
Infinite WP
Infinite WP is a tool that shows off its capacity to manage bulk operations swiftly and efficiently. Like a few alternatives, it offers a free trial. Besides these points, it has many other features that make it worth a look.
It's another on the list that allows full monitoring. It observes uptime, analytics, optimizations, and more, to ensure an optimal setup. But, Infinite WP also offers powerful bulk maintenance tools. 
As if these weren't enough, the program features scheduled security implementations and checks for peace of mind. Not every app boasts the capacity to scan for malware across all the sites you manage simultaneously.
If you happen upon high-maintenance clients or those seeking top-notch service, this application can ensure that you're all on the same page. It compiles reports with information to break down the finished work so far and insights for their business. This is an essential feature if you're working with multiple clients.
CMS Commander
This is another program that provides a platform for managing all of your WordPress sites simultaneously. Many consider it the jack of all trades, with a free trial for the skeptical.
In terms of bulk operations, CMS Commander has a couple. These are bulk plugin installs and post capabilities. You can create posts for multiple websites at one time, which is an essential feature for those working with many clients. 
Having bulk addon installations means that you can add plugins and themes to any number of pages you want simultaneously. Managing all the variables that working with WordPress involves is quite simple with CMS Commander. 
You can copy page settings, paste them onto others, oversee user accounts, make any necessary tweaks, and manage comments and any content across many of your sites. All of this takes place from the comfort of one dashboard.
The program also offers a few ways to make sure that changes aren't lost in the process. CMS Commander has automatic backups, cloning, and restore options. Best of all, it allows for interactions, syncing, and connections with other third-party services. For example, you can save backups on Dropbox and Amazon S3 accounts.
iThemes Sync
If you prefer a simple approach to the complex task that is WordPress site management for multiple clients, consider iThemes Sync. It has all the necessary basics for an improved experience.
As with most others on the list, this program controls many interactions and commands from one dashboard. This includes plugin and theme activations, along with website monitoring, to observe downtimes and overall performance. Just like a few alternatives, it also has one-click updates for all sites.
One unique tool it comes with is the client dashboard. This is where you, the admin, can control precisely what your clients can see or do when they log in to look at your work. Additionally, it includes integrations for security, SEO, search console stats, and analytics. Beyond the features mentioned above, though, there isn't much else of note.
All Under One Roof
There are many ways to improve and optimize how you manage multiple WordPress sites for all your clients. A manual approach can work in the short term and with a restricted number of requests. However, using third-party or already integrated applications for WordPress can send your productivity into the stratosphere.
Further reading