Starting a WordPress blog can be challenging for people who are not tech-savvy. The numerous plugins, templates and features can confuse anyone. However, once you get a hang of things, WordPress blogging is the most trending platform to share your ideas.
From eCommerce to educational websites, WordPress works wonderfully for all sectors and niches. Students often turn to WordPress to build their academic blogs. All you have to do is select a template, add your content and you're set. It is that simple really. 
Academic blogging is a great way to expand your knowledge, connect with professors and meet peers from your field of study. It also gives you the space to share your perspective on a particular topic with everyone in the academic community 
If you are a fresher and have zero knowledge of WordPress, then this is for you:
Choose a trending topic
Before starting with a blog post, you need to know what would be the post all about. If you want to create great informative content, then you should focus on what is trending in your niche. If you create content which your audience is looking for there you can expect more readers.
Tools like BuzzSumo, SEMRush, etc., helps you to understand which topics are trending. SEO tools provide more suggestions on how to get new blog ideas that are most searched in a search engine.
You can conduct competitive analysis and get details of what is trending in the industry. Keyword analysis, market research are some of the best ways to gather marketing insights. 
Do proper research
Once you get an idea on your topic, ensure you research on those topics in Google. Research on your main competitors. It is vital to research to gain knowledge on how you can improve your content. Stalking your competitors is no harm it gives you an idea on what keywords used and content quality. 
Remember the audience looks for good quality content and informative, useful data. So research well before writing the content. You do not need to be an expert on the topic, but you should do adequate research to add value to your blog.
Choose better themes
You may be wondering how WordPress theme affects blog posts. But the fact is most users go through your blogs only if the front page is appealing. Imagine you open a WordPress blog, and you can see they are not responsive or they are not attractive? Then would you go back to read the content?
No matter how informative your posts are if it's not attractive people would not spend time on it.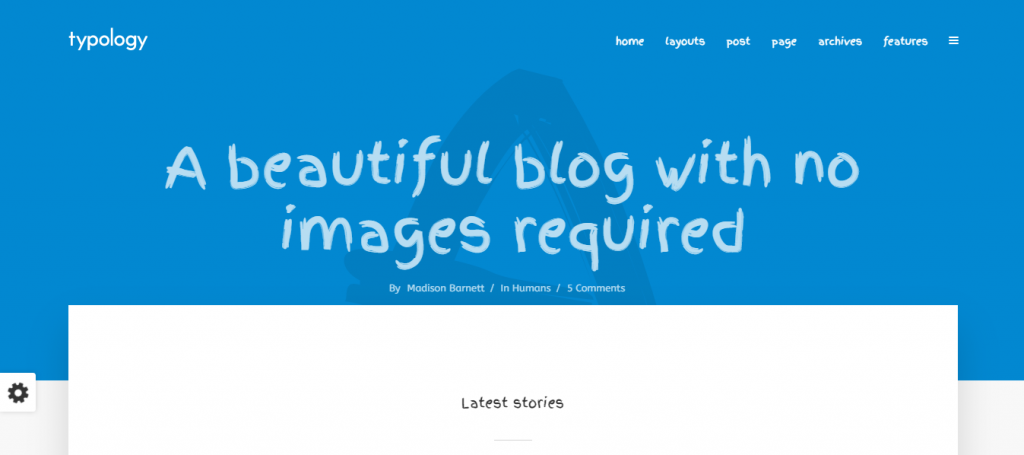 Check out some of the best free blog themes for WordPress.
Increase your email list
Build your email list. Email marketing helps in increasing lead generation. If you are requesting people to sign up for your email list, you may experiment with a different language. Willy Franzen found that his subscription rate topped 254% higher. By editing call-to-action from "subscribe by email" to "get jobs by email". 
Avoid plagiarism
It is essential to have plagiarism-free content to get ranked on Google. Content is to be plagiarized when you try taking some other writer's idea or try copy-pasting content. 
Tools like Duplichecker, Grammarly help you check if the content is plagiarism-free or not. These plagiarism checkers have extensive databases that compare your content and produce any instance of duplication within seconds.
The more advanced plagiarism checkers use high-tech systems to detect content duplication or intellectual theft. Intrigued to know the  technology behind this plagiarism checking software? Here are some common approaches used to detect plagiarized content. 
Fingerprinting
In this technique primarily a set of different substrings selected. These strings display the fingerprints. The factors that show a match called minutiae. The fingerprints calculated in the form of a document. The minutiae drafted to the index of fingerprints. The source value is fixed to provide the result. It is used to enhance the speed of the process.
String matching process
This process is best in the information science industry to give a second approach. Postfix trees are used for this purpose. The longer documents can not be scanned. Bag of the word is another technique used to locate plagiarized content. This method showcases the adoption of vector space retrieval.
Citation based plagiarism detection
This technique depends on the citation. Text form contents aren't measured in this. Computer science assignments are the best examples of this technique. The uniqueness in this technique is searched in other citation distributions. The pattern of this process lives. Yet methods are not yet encouraged. The index is searched to see dependability between two documents. Relative fractions are the frame giving good search.
Do not forget the existing customers/readers
Ensure you do not forget existing readers. Most bloggers get captivated finding new readers and tend to forget existing one's. Clutching new readers is vital, but losing an existing one can be foolish. Ensure you spend time on showing your current readers that you value them. You may find a way that they may help you to grow your blog.
Concentrating on your readers is the best way to know them better.
Keep blogs highly readable
Readers often do not read blog post-word-to-word. They scan through the information in the blog. So it is essential to structure your post in a way that readers can quickly scan through. It helps them to get information quickly.
Here are a few things to consider to make blog post highly readable:
Ensure to use subheads. It helps readers to understand the main topics of your blog and help you stay planned while writing.
Write short sentences as much as possible. Using short sentences helps readers to understand the content quickly and effectively. A long sentence can often be clumsy to read.
Keep paragraphs short, it can be hard to read. Keep 2-4 sentences in a section and it makes easily readable content.
Use bullet points when you have pointing features or lists to mention. Keeping bulleted points makes content precise and clear.
These points help you to make the text visually engaging, your readers more likely to read your blog.
Use visual effects
Images have the power to make boring posts fun and engaging. Your pictures can explain more effectively than words. Plus it breaks the continuity of texts and provides a visual break to the reader. It helps the reader to keep engaging for a longer time.
Contents with related images get 94% more views than content without images.
Create call-to-action
Your blog post can not be successful unless you can convert your users to take a particular action on the site. Call-to-action is nothing but you make the reader sign up, share a post or buy a specific product/service—call-to-action in short known as CTA.
It is better to stick to one CTA so that your readers aren't confused or distracted. For CTA to be fair, put yourself into reader shoes and think about what benefits they get by doing this action.
Focus on SEO
Only an attractive post won't fetch you anything you need traffic as well.
To get more readers for your blog, you need to improve SEO for it. You can use the Yoast Plugin to improve SEO.
Here you need to add a primary keyword, title with the keywords, SEO title and meta description.
You need to create more than 300 words. But it is also better to keep at least 1000 word count.
Optimize images in your blog post. Ensure to keep them in the right size and have a descriptive name before uploading. Each image needs to have related alt tags and categories
Most bloggers are students in present days. Students are most interested in academic blogs, technology. They often tend to forget the importance of writing.
Luckily! A writer called Natalie's Goldberg has given great rules of writing for students.
Ensure you do not stop writing, no matter what happens. Natalie suggests not to stop writing once you begin. She believes two hands of humans are a depiction of creator and editor.

You should express yourself through writing. Honest writing is the only way to showcase your skill and idea.

Be specific about what you write. Do not make use of flowery words more try using exact words as much as possible. 
Conclusion:
Now and then university students, bloggers all have started creating WordPress blogs. It is high on demand and trending. To stay fit in this competitive market one should know about what they are writing. Additionally, they should know how to touch readers' satisfaction to increase traffic.