Last updated - January 27, 2022
Plagiarism is the unauthorized copying of somebody else's work, and it could be a nagging problem for bloggers. If you are publishing original content on your blog, you have to ensure that you are not accidentally copying someone else's work. Also, if you have multiple contributors in your blog, you may want to check the content for plagiarism before publishing. Duplicate content could negatively impact your site's visibility among search engines as well. In this article, we will discuss some of the best Plagiarism Checker Tools that you can use to ensure the originality of your blog content.
Grammarly helps you detect plagiarism in your content as well as other issues in your writing. It compares the specific text that you submit to the tool with a huge number of web pages to detect plagiarism. In addition, it also checks it with ProQuest academic database as well to identify sections that need citations. The tool will also give you suggestions in spelling, grammar, tone, etc., as well. Overall, this is a great tool to improve the quality of your blog content.
Features
Easily detect plagiarism in your texts.
Compare the content with a large volume of web pages and ProQuest database.
Improve grammar, sentence structure and choice of words.
Helps you improve the quality of your content.
Premium plans of Grammarly starts from $11.66 per month for individual users.
Copyscape offers one of the most reliable Plagiarism Checker Tools you can use. You can either copy and paste the text or upload a PDF or Word Doc. Moreover, the tool helps you with Batch Search, where you can check more than 10000 pages of your site at once. Also, you can use this tool to check duplicate content from your own site as well. It also offers an option to exclude known sites from the search.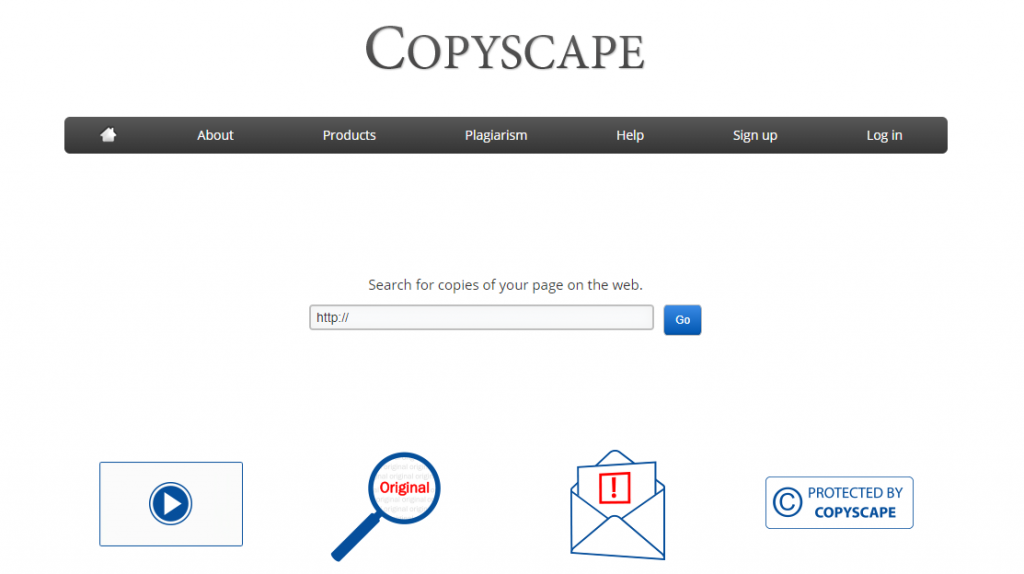 Features
Easily check plagiarism in your blog content.
Upload the file or copy and paste the text.
Manage multiple instances of plagiarism together.
Collaborate with other editors.
Automatic plagiarism check by integrating with the API.
You can check out the Copyscape Premium WordPress plugin.
This is another easy option that you can use to check plagiarism in your blog content. It offers a deep scan into web pages, documents and articles to get the best results. The tool ensures the privacy of its users as it removes the scanned text pretty soon from their system. You can either paste the content directly to the tool or upload a file in different formats. Furthermore, it helps with grammar checks and also to rewrite the content.
Features
Plagiarism checker with deep scanning and AI-based technology.
Multiple options to add the text such as direct text pasting or file upload.
Support to enhance the writing.
Privacy guaranteed for the users.
DupliChecker pricing plans start from $10 per month.
Check-plagiarism is another top-rated plagiarism checker that can detect every single copied line from the content. It checks the provided content on the search engine and instantly highlight the content that matches with other sources. This duplication detector also provides the source of the site with which the lines are matching. Although the outcomes generated by this tool are trustworthy, still it gives a money-back guarantee if a user is not satisfied with the results.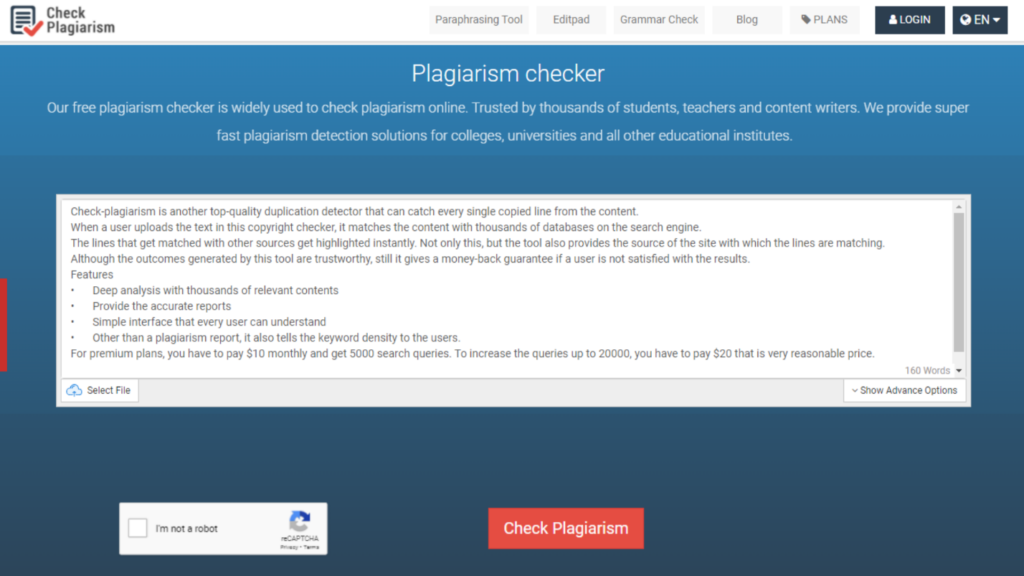 Features
Provide the accurate reports
Simple interface that every user can understand
Other than a plagiarism report, it also tells the keyword density to the users.
In premium plans, it provides 5000 search queries for $10. These search queries can go up to 75000 in $50.
This is a comprehensive tool that will help you detect plagiarism in more than 100 languages. It uses artificial intelligence to detect plagiarized and paraphrased content effectively. The tool offers automatic comparison searches and offers detailed reports that you can understand effortlessly. Additionally, it offers a grading tool, code plagiarism detection and several platform integrations.
Features
Comprehensive plagiarism detection tool with file comparison and AI grading tool.
Machine learning technology to detect paraphrased text.
Extensive search capabilities.
Detailed reporting.
You can choose a pricing plan of Copyleaks starting from $8.33 per month.
SmallSEOTools offers another popular plagiarism checker that you can use to detect copied text. You can integrate it with your WordPress site using this free plugin to ensure the posts you are about to publish are original and authentic. With a single click, you can check plagiarism in your content, and it also allows sentence-wise checking. You can use the plugin to check the authenticity of your previous posts as well. Furthermore, the plugin has advanced features with the premium plans.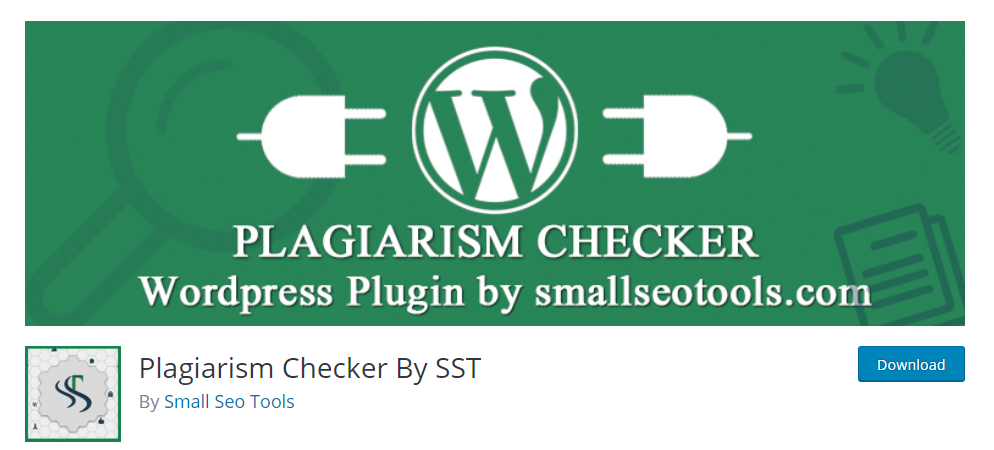 Features
Compare your content with a huge number of web pages all around the world.
Supports upload of documents in multiple formats.
Supports multiple languages and has easy options for sharing.
Easy to compare in detail with similar texts.
This is a plugin that you can use to prevent others from copying your content. You can disable the option to select, right click, and copy on your site to discourage content copying. It also helps you to disable the inspect elements option on your site. The plugin helps you protect copyright information effectively and also will have a positive impact on your search engine visibility.
Features
Prevent copying of content from your site by disabling copy, selection and right click.
Better protection for personal information.
Enable content locking with a password using shortcode.
Schedule the display of restricted content.
The premium version helps you disable properties based on varied conditions such as location, IP, user roles, etc.
PlagScan is another efficient tool to detect plagiarism in your blog posts. It is quite easy to use as you can manage a plagiarism check with a few clicks. Moreover, the tool works with almost all file formats. In addition, PlagScan offers excellent data protection as the uploaded text will not be shared with any third party users without authorization. The tool can be effectively used by individuals as well as organizations.
Features
Plagiarism scan with accurate results.
Compared documents are displayed side by side for better visibility.
Easy to use.
Data protection is assured.
Detailed reporting.
PlagScan individual plans start from $5.99 per 6000 words.
This is an accurate and fast tool to detect plagiarism in blogs, academic documents and research papers. Students can easily use this tool to ensure the authenticity of their assignments and projects. It is compatible with multiple file formats and is also available in multiple countries and languages. Furthermore, the tool also offers features like bulk comparison, keyword density analysis and comprehensive reporting.
Features
Online plagiarism detection tool with side by side comparison.
Analyze multiple documents with one click.
Compatible with multiple file formats.
Intuitive presentation of results.
Supports multiple languages.
Excellent technical support.
The basic plan of Plagiarism Checker X is free and paid plans start from $39.95 for single site lifetime usage.
This is a popular plagiarism detection tool in academic circles. It will also help instructors optimize the manual grading process so that they can find more time teaching. Moreover, you can easily integrate the plagiarism checker with the existing workflow.

Features
Popular plagiarism detection tool for academicians and publishers.
Easily focus on originality in student assessments.
Easily grade assessments.
Integrate the plagiarism check into existing workflows.
Quetext employs smart algorithms to detect plagiarism in web pages, academic sources and text books. You can search instantly for intuitive, color coded results in quick time.
Features
Fast plagiarism detection for web pages, academic texts and news sources.
DeepSearch technology.
Intuitive feed back with color grades.
Accurate plagiarism score.
You can get the Pro plan of Quetext at $9.99 per month.
Hopefully these Plagiarism Checker Tools will help you ensure the originality of your blog content. Leave us a comment if you have a query.
Further reading