Last updated - March 16, 2022
WooCommerce and Shopify are two popular solutions to set up an online store. You will find several advantages to both these platforms in many aspects such as ease of use, design, features, etc. However, there will be several scenarios when you might want to shift from one platform to another. How will you manage this if you don't have a lot of coding knowledge? In this article we will look into some of the options you have when you want to migrate your online store from Shopify to WooCommerce.
Here is an article that will help you choose between Shopify and WooCommerce to create your online store.
How to migrate from Shopify to WooCommerce?
There are a few options that will help you manage the process without complicated efforts. Let's look at a few:
One of the simplest ways to migrate your online store from Shopify to WooCommerce is by using a migration tool called Cart2Cart. You can simply specify both the sites involved, and Cart2Cart will automatically migrate all the required data from one to another.
Before getting into the process, let's take a more detailed look at Cart2Cart.
Cart2Cart helps you migrate data from one platform to another automatically. It supports over 80 eCommerce platforms, and is used across the world. You can simply specify the platforms and urls, and a few other details, and Cart2Cart will migrate all the data for you. In addition, you can find some extra services from them.
Here is an overview of their services:
Comprehensive support package
If the migration process seems to be a big hassle for you, they offer comprehensive packages to do it for you. You will find knowledgeable technical support and migration maintenance when you choose one of their packages. It will be handy if you want to save some time and effort.
Update data after a migration
In some scenarios, you might have new data added on the source site after you have completed a migration process. In that case, Cart2Cart offers a 'Recent Data Migration Service' that will transfer the recent data fro one site to another.
Insurance plans
Cart2Cart offers 'Migration Insurance Service' to save you from difficulties in case something goes wrong with your migration. You can easily redo the process if required, without worries.
Preview
There is a 'Migration Preview Service', which will help you understand how your store would look like with all the data transferred. You get a chance to experiment with the looks by trying out different templates.
Customize your migration
Cart2Cart allows you to customize the migration process according to the specific requirement of your store. You can specify the service you want, and they will oblige. This way, you can migrate from database dump, request help to install a new shopping cart platform, or even export data to a CSV file.
Discount for repeat migration
If you want to do the same migration once again after the initial one, they offer a 50% discount.
To migrate all product data for a small sized shop from Shopify to WooCommerce would cost $69. According to their estimate, it would take around one hour to complete the process.
How to do the migration with Cart2Cart?
We will list out the entire migration process in a few steps. For migrating data between two open source carts, the process is slightly easier than what we are going to describe below. As Shopify is a hosted eCommerce solution, you have to add the API password to connect to the store. Let's look at the process of migrating your products from Shopify to WooCommerce.
Signup
You need to signup to the Cart2Cart tool to be able to migrate data. They also provide social login options, where you can login with your Facebook or Google+ accounts.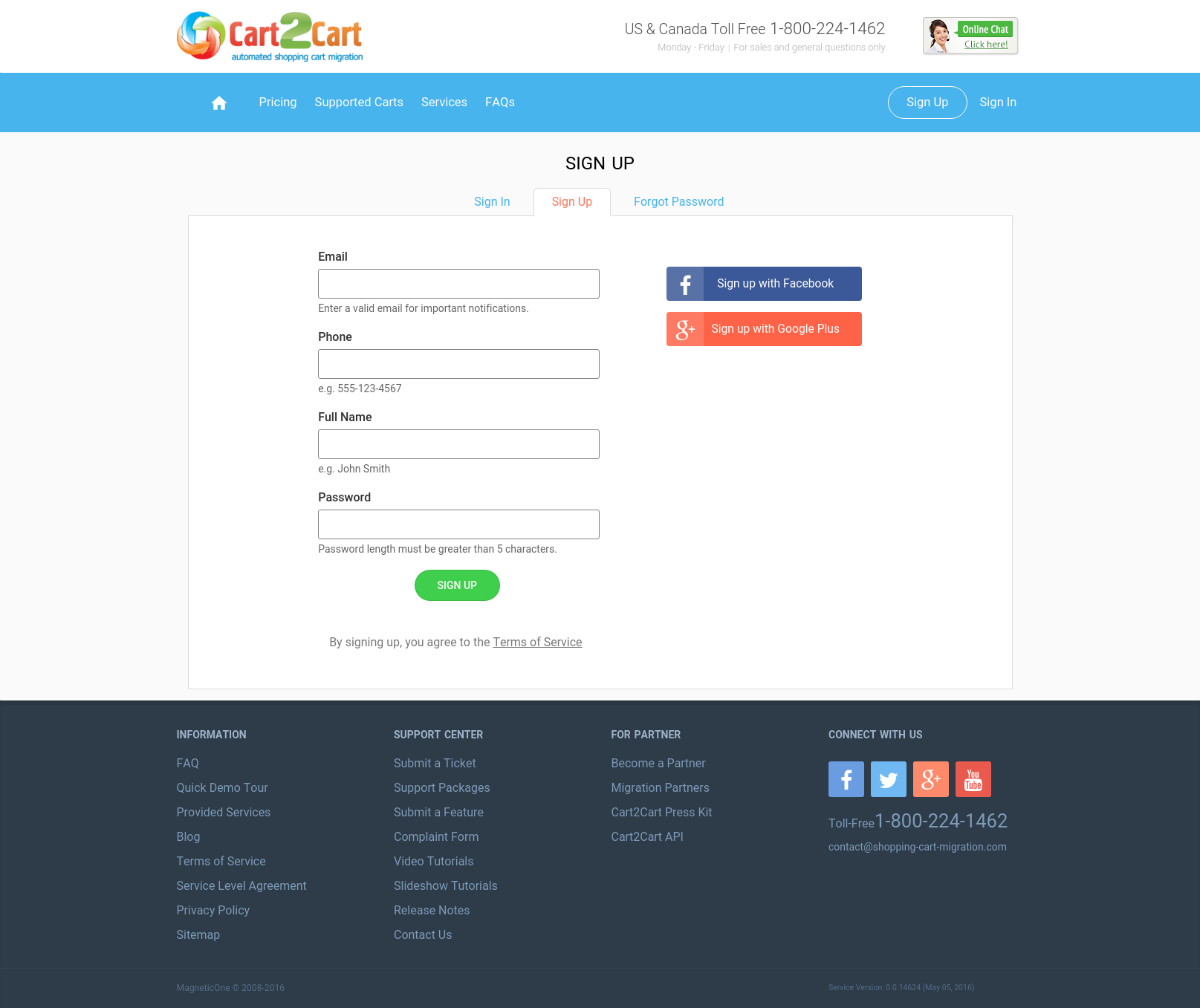 Setting up Source and Target Carts
Once you are logged in, you need to set up the Source and Target Cart. In this scenario, the source cart will be Shopify and target cart will be WooCommerce. You have to also include the API password, so that Cart2Cart can connect to your Shopify store.
First, let's see how to get the API password from your Shopify account.
On the Shopify admin panel, you have to first go to Apps, and click the Create a new private app button.
No, enter the name and contact email for this app, along with providing 'Read and write' access to all the options in the Admin API section.
Click save and the API credentials will be generated for the app. You can use the API password for the migration step.
Choose what data needs to be migrated
Now, you have to choose what all type of data you want to migrate from the source cart to target cart. You can specify the entities for this. Aspects like products, categories, customers, orders, reviews, etc. will be chosen here for migration, along with any additional entities. At this step, you have to match the meaning of each of these aspects on the source cart to the corresponding aspect on the target cart.
Test it
Cart2Cart offers a free demo migration, where a few entities will be migrated to the target cart. You can take a look and see how, it looks after the demo.
Launching migration
Once you are satisfied with the results of the demo migration, you can go for the actual migration process. If required, you can choose for the migration insurance here. It will allow you restart the data transfer within a time frame, at an inexpensive rate.
Why use Cart2Cart?
Cart2Cart is a great solution for a lot of store owners who are not highly knowledgeable about coding. A complicated process like migrating the data from one platform to another is achieved automatically with the help of Cart2Cart. Even their pricing plans are suited to stores of all sizes, as the charges increases based on the size of your store.
Checkout Cart2Cart to migrate store information from Shopify to WooCommerce
Other options to migrate from Shopify to WooCommerce
When it comes to migrating store data from one platform to another, there are some other options too.
This is another great option to migrate store data from Shopify to WooCommerce. With a few steps, you can manage the migration using Litextension. Basically, you will have to get the API credentials from the source store, and import that to the migration tool. Once you are done with that, you can simply select the data you want to migrate, and launch a full migration. It is a pretty straightforward process, and you will get extended support if you want to choose a package with expert help.
This is one of the most popular tool when it comes to migrating product data from one store to another in the same platform. The process is so easy and powerful, even when the data is really huge. However, when you are migrating product data from Shopify to WooCommerce, there are certain challenges ahead. That doesn't stop many store owners from using this product for migration between platforms though. With a manual step after export to correctly match the variations to the parent product, you can import product data. Here is an article to help you know more about migrating product data from Shopify to WooCommerce using a CSV file.
You can checkout all WooCommerce import export plugins of XAdapter here.
Migrating Products from Shopify to WooCommerce
There might be several considerations that lead you to change your eCommerce platform. As we have seen in this article, it doesn't have to be a scary prospect. With some of the tools mentioned above, you can manage migrating product data from one platform to another in a matter of hours. Hope you have got a better idea on migrating store information from Shopify to WooCommerce. Share with us if you have used one of these tools for migrating from one platform to another.
Further reading