Have you ever checked how fast your website loads? If you've never done it, then it's high time that you learn how to speed up your website and run some tests. You may not believe this, but a factor as simple as page load speed can make a huge difference in the performance of your eCommerce store. To be even more specific: Slow page speed can ruin your chances of converting window-shoppers into actual buyers.
Page load speed refers to how quickly a website responds to web requests, such as reloading the page the visitor is on or taking the user to another page corresponding to the element they click on. Even if your eCommerce store is an eye-catcher, you'll never be able to convert your web visitors to paying customers if your pages load slow. Hence, as eCommerce store owners, page speed—especially a slow one—is something you can't afford to overlook.
If you're wondering why that is the case, here are three reasons why a slow page is detrimental to conversions and therefore, more sales.
1. Slow loading time increases abandonment rates
Have you tried making a purchase online but decided to just forget about it because the site took too long to respond?
If you have, then you can expect the average customer to leave your site if it loads too slowly.
In fact, 40 percent of shoppers abandon a site that loads for more than 3 seconds. This number alarmingly increases by another 25 percent if loading time takes 4 seconds and more.
Let's say you're making $100,000 per day. You can lose $2.5 million in revenue for the entire year and 7 percent in conversions — all because a page takes another second longer to load.
One second.
Using Avengers analogy, that's one Thanos snap, and all that revenue potential gets sucked down the drain. 
And if you're thinking you can always bring those customers back, think again. Nearly 80% of shoppers who've had it with slow websites are less likely to come back and give your business another shot.
Slow loading time, therefore, increases the chances of customers abandoning your online store.
2. Slow loading time affects UX
Perhaps you want to keep looking for more products or more product information and payment details, but the site isn't fast enough to catch up.
Not only do you lose your patience, but you also lose interest in the site and what it offers. Such is the scenario when trying to shop in a slow online store.
Almost half of the shoppers expect a site to load in less than 2 seconds. If it doesn't, customer satisfaction decreases by more than 15 percent.
Worse, nearly 50 percent of dissatisfied customers will tell their friends about their bad online shopping experience.
All because of the slow loading time.
When your page loads for more than 3 seconds, your customers lose interest to keep going and would rather switch to a faster store.
That's also how fast you can say goodbye to potential buyers and gain a bad reputation.
3. Slow loading time affects mobile search ranking
In 2018, Google updated its mobile search ranking. It now factors in mobile page speed in its criteria for ranking pages.
In other words, how fast your site loads on shoppers' mobile devices is a major consideration for how high or low Google ranks your pages in the search results.
If your site loads too slow on mobile, you are less likely to appear on the first page of the search engine result pages. Users are less likely to see you right away and click on your site.
Google has previously considered page load speed as a factor in its search ranking. However, it used the desktop version of a page as a reference.
Now, they're predominantly using the mobile version of a site because over 50 percent of the global online traffic in 2018 is driven by mobile.
Google recognizes that page speed affects the user experience and relevance of the query to the user, thereby making it an important factor when ranking web pages.
If your pages rank low, your chances of bringing more traffic to your site and converting visitors into buyers are decreased.
What Is the Ideal Loading Time?
So how fast should your site be to rank high on Google?
The ideal loading time is less than 3 seconds. Anything more than that is unacceptable and reduces your conversions by 7 percent.
1-2 seconds, however, is a good average loading speed to maintain.
Tips to Speed Up Page Loads
Let me share some tips to speed up your loading time:
Optimize and compress site images by 85 percent and properly scale them. Avoid uploading big or large formats, such as TIFF and PNG.

Choose a hosting provider that offers turbo speed packages, or invest in a content delivery network (CDN).

Minify your files.

Enable caching on your browser.

Use external platforms, such as YouTube and Vimeo if you have several large files, especially videos.

Make your site mobile-friendly.

Consider your plugins. Limit the number, and check the plugins that upload too many files.
Allow me to share some pointers.
Developing a mobile-friendly website that can bring in sales requires experience and knowledge in conversion optimization. If you find the task too technical for you, there are freelance web developers you can tap.
Whether building the site you envision requires long hours (or a short-term work), then you stand to gain from hiring freelancers since they often get the job done fast, while providing excellent results.

Not only that, but the freelancers know the tricks of the trade, allowing you to leverage their experience in the industry.
To improve your site's load speed, it's also worth pointing out that installing too many plugins can affect your load speed negatively.
As such, only install the most crucial eCommerce plugins.
To point you in the right direction, these are some of the most important plugins that eCommerce store owners must have on their sites:
Oberlo

. Oberlo helps you run your dropshipping business more efficiently by automating many tasks, such as importing products to your store and shipping them. It verifies supplier credibility for you, syncs product info, etc.

Plugin SEO

. Plugin SEO assists with SEO-friendly content, including headings, page titles, meta descriptions, and more.

PushOwl

. PushOwl helps you engage your customers through automated notifications, especially for abandoned carts.
Tools to Measure Page Load Speed
That said, it is important you keep tabs on your load speed as often as possible. To monitor your page speed, you can use free online tools like the ones below.
All you need to do is type in your site's URL on the homepages.
A. GTmetrix
As seen above, GTmetrix displays insights on page speed and other aspects, as well as an explanation of the scores.
B. PageSpeed Insights
PageSpeed Insights reveals here your site's speed score and how fast your loading time is according to a scale.
It also shows other results and for which type of device.
C. Uptrends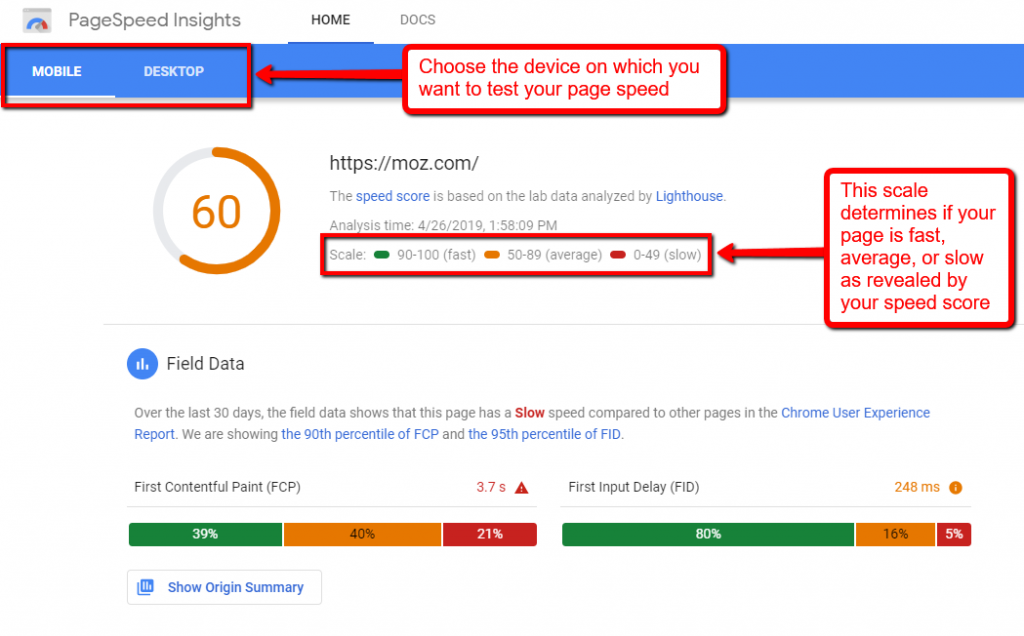 On the homepage, Uptrends asks you to fill in other details such as device type and location to determine your page speed.
It even shows your score on Google PageSpeed so you know if your site is fast, average, or slow.
Now what?
Were you able to check your site's load speed? What kind of results did you get?
If you're struggling with improving your site's load speed, take the time to share in the comments section below the issues pointed out by the website checker tool you used to determine your site's speed.

Let's discuss and learn from each other's results. Cheers!