Last updated - July 8, 2021
The hosting service provider that you choose plays an important role in the success of your website. You have to choose a good performing hosting service to ensure continuous up time and the best user experience. However, when you are starting out, you may not want to go for an extensive option. That is why, in this article, we will present to you some of the cheap and best WordPress Hosting Service providers you can opt for.
One of the top options recommended by WordPress itself is the hosting plan of Bluehost. With the cheapest pricing plan of Bluehost, you will find hassle-free WordPress installation and several other features. You will get a domain name for free with it, which you can use for one year. In addition, you will get free SSL certificate too when you sign up for Bluehost's WordPress plan. Another highlight of this service will be the dependable customer support they offer. You will detailed text and video guides to help you get started. Moreover, it offers several marketing tools and services that will ensure the successful development of your business. Above all, you will get your money back, if you have decided to not continue with it after 30 days.
Features
High performing WordPress hosting service.
Install WordPress and updates automatically.
Get a domain name for free in the 1st year.
SSL certificate included at no extra cost.
Basic plans to start with and higher plans for more storage and special features like eCommerce.
Detailed documentation including videos.
Reliable support team.
The starting price of Bluehost WordPress hosting plan is $2.95 per month.
Another affordable option to get a basic WordPress plan would be Dreamhost. When you are starting a blog or a small business, this is one of the easiest choices to help you build it. With WordPress optimized features and configurations, you will be assured of great performance for your site. It has advanced safety features like automatic updates to ensure you can come through any challenges that you may encounter. Moreover, you will get access to a large number of powerful plugins and themes that will help you customize the features and appearance of your site. Furthermore, a dedicated team of WordPress experts are available round the clock to provide support for you.

Features
Recommended hosting plan for new WordPress sites.
One-click WordPress install supporting multiple sites.
Easily manage your site with automatic updates.
Free domain name, SSL certificate, email hosting and privacy protection.
Advanced, user friendly control panel to help you handle different aspects of your site smoothly.
Automatic backups.
Dependable, 24/7 support team.
The WordPress Basic plan starts at $2.59 per month.
SiteGround is one of the other recommended hosting services by WordPress. It is suitable for sites of all sizes and nature, and will make the management process extremely easy. There is an option for automatic WordPress installation and it will help you get started with the site pretty fast. Moreover, there will be advanced security features and automatic updates to ensure your site is safe and up to date. And there is great focus on site performance, which will determine the customer experience. Other features to look forward with this hosting solution would be daily backups, unlimited email accounts and free SSL certificate. You will also get great help to migrate the website to SiteGround effectively.
Features
Powerful WordPress hosting service.
Single-click installation process and free migration.
Automatic updates and performance optimization.
Free SSL certificate and unlimited email accounts.
Daily backups to ensure the security of your site.
Advanced tools for collaboration and development efforts including a staging site.
Round-the-clock support center and quick resolution of issues.
The StartUp plan would cost $6.99 per month.
Namecheap offers a managed WordPress hosting service that is suitable for a range of sites. EasyWP is one of the fastest hosting service providers among affordable options. With automatic WordPress installation, your site will go online in quick time once you choose one of their plans. Moreover, the optimized infrastructure and the advanced cloud technology will ensure your site is performing without hassles. You will be able to easily upgrade to a higher plan according to the growth curve of your website. Furthermore, you can effortlessly manage different aspects of your website from a convenient dashboard.
Features
Fast and smooth hosting option for your WordPress site.
Advanced technology and infrastructure to help you optimize site performance.
Option to connect your domain name.
One-click backup and restore option.
Access files securely through SFTP.
Free CDN and SSL certificate.
Centralized dashboard for convenience.
Maintenance mode and discounts on email plans.
The Starter pack with 10GB SDD storage will cost you $3.88 per month.
Hostinger is another optimized solution for WordPress hosting. It has a wide range of features that will help you manage your site effortlessly. Assured of continuous up-time, you will be able to provide a superior experience to your customers consistently with Hostinger. Another important feature is that you will be able to get round-the-clock support service that will help you fix any errors quickly. Furthermore, you will get assistance easily for migrating your WordPress site as well daily backups and automatic updates. Also worth noticing is the developer-friendly environment that it offers to help you customize the website as per needs.
Features
Easy to use hosting plans suitable for a large variety of WordPress websites.
LiteSpeed server for exceptional performance.
Optimized for a great WordPress experience with caching and CDN tools.
Constant security monitoring to bypass malware threats.
SSD storage and one-click WordPress installation.
Automatic updates and daily backups.
Dedicated WordPress team offering 24/7 support.
The Starter pack has a price of $2.15 per month.
Another fast and reliable WordPress hosting service, you will find both shared and managed plans with A2 Hosting. With SwiftServer platform, turbo servers and free HTTPS protection, A2 Hosting is a perfect blend of performance and security. You will be able to set up your WordPress site in a matter of minutes thanks to the pre-installation option. In addition, you will find free SSL certificate as well along with it. Moreover, you will get access to the best developer software to ensure smooth outcomes when you look for customizations. Overall, it will be a simple option that will let you manage your site without much hassles.
Features
Feature-rich WordPress hosting solution.
SwiftServer platform, Turbo servers and SSD storage.
Built in LSCache for great page load speed.
Optimized for best performance and security features.
Developer friendly tool-set.
Protection against brute force login attempts, DDoS attacks and other hacks.
Prices start at $2.99 per month.
Managed and optimized by experts, inMotion hosting will provide you a WordPress site with great reliability and superior performance. It is extremely easy to get started with them in different scenarios thanks to features like automatic WordPress installation, free migration and availability of page builder tools. In addition, free CDN and advanced infrastructure will ensure great site performance. Moreover, a host of security features such as malware protections and automatic backups will ensure you deal with hacking challenges efficiently. Also, to make your site management process smoother, they will help you automatic updates, security patches and more.
Features
Fast and reliable WordPress hosting service.
Great technology stack optimized for superior performance.
Advanced security features to tackle malware threats and hacks.
Automatic updates for added security.
Staging environment.
Free SSL.
Access a range of premium WordPress themes and plugins.
User-friendly control panel.
The WP-1000S package will cost you $6.99 per month.
iPage is a relatively new option that you can consider to host your WordPress website. It is affordable and offers a range of great features to help you make a great website. You will get a domain name free for the first year when you sign up for a hosting plan of iPage. In addition, you will also get a free website builder and unlimited business emails. It also ensure that you have access to the best set of tools to manage your website.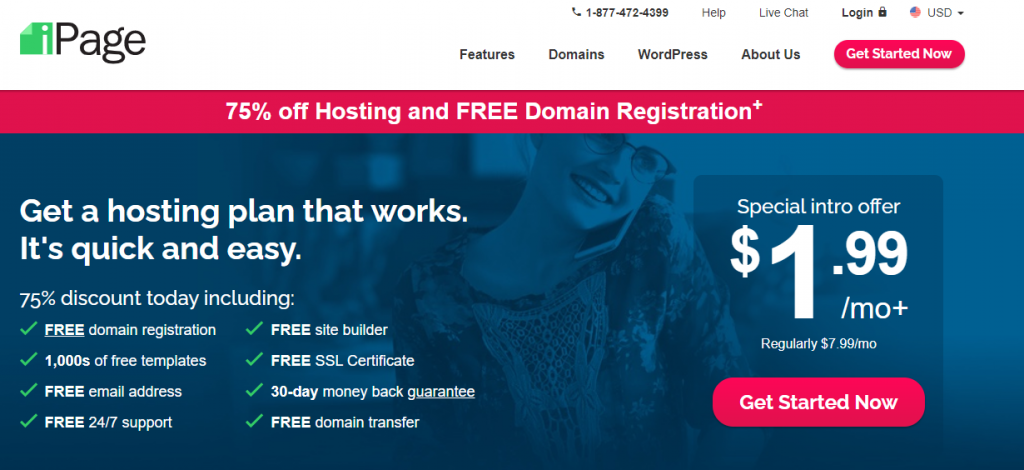 Features
Smooth and seamless hosting experience.
Free domain name registration for one year.
Website builder and unlimited email ids available for free.
Great toolkit to help you maintain any kind of websites.
Great analytics features and support for advertising.
Money-back guarantee.
The regular price of the plan is $7.99, though you may find introductory offers as low as $1.99 per month.
Hopefully, these cheap and best WordPress hosting service providers could be helpful to you when you are starting a new site or migrating to an existing platform. Leave us a comment if you have any queries.
Further reading