Last updated - January 5, 2021
Businesses adopt to different strategies to get maximum results by offering their customer base what they are interested in. A prominent model of sale is through auctions, where you set a base price for a product, and users will place bids by gradually raising the price of the product. Setting up an auction sales model on your WooCommerce store is not very difficult, thanks to several interesting plugins. In this article, we will list out some of the best WooCommerce Auctions plugins that could help you set up an auctions site.
This plugin will add a new product type to your WooCommerce store called Auctions. It will make your site capable of four different types of auctions ranging from proxy to reverse. Moreover, you can combine this plugin with Product Vendors plugin to create a marketplace that allows users to auction their own products.
The plugin offers several advanced features that will help you create a unique auctions site. And, it is highly customizable with different templates and it supports hooks if you are looking at developer level modifications.
Features
Supports four auction types – normal, reverse, silent, and proxy.
Comprehensive options to specify the auction strategy ranging from the starting amount, the rate of increment, time limits and any additional conditions.
Provides an anti-sniping feature that will help you extend the duration of an auction to accommodate last minute bids.
Users will be able to view all their live auctions on the MyAuctions page.
Flexibility to offer auctions on your site along with other regular products.
Widgets to selectively display information on each of your auction products.
Automated notifications for different events related to auctions to customers like when they win a bid or they are outbidded.
Several customization options for the store admin to create, and manage diverse auctions.
A single site subscription of this plugin will cost you $149.
This plugin will help you create and manage auctions on your WooCommerce store. It will help you take advantage of the auction business model, which a lot of customers prefer due to the pricing benefits that it offers. The plugin will help you set a base price for your auction products, so that their value is not diminished. In fact, the plugin helps you to make full advantage of scarcity and urgency, to make customers feel encouraged to purchase your products.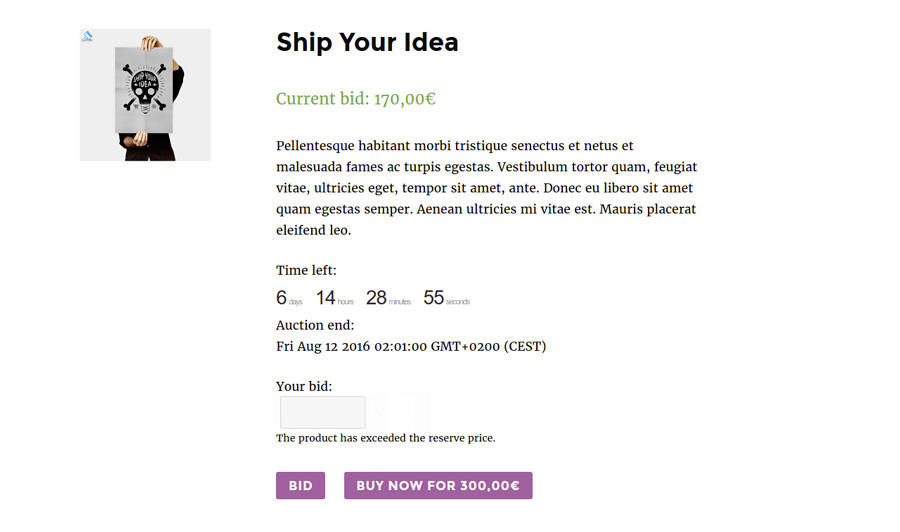 The plugin integrates well with the YITH multivendor plugin and help you create an auction marketplace effortlessly. It will help a lot in configuring automatic raises, and also allows customers to make a purchase using the 'Buy Now' button. Moreover, users will be able to view all the details of past and current auctions as well as the users who are placing the bids.
Features
Create auction products on your WooCommerce store without any limits.
Set a minimum price strategically for your products so that more users are encouraged to place a bid.
Option to set a reserve price, which has to be attained to win the auction.
Automatically raise a user's bid until it reaches the previously specified threshold value.
Optionally extend the auction duration to enable last-minute bids.
Offer a fixed price for the product, which a customer can opt for if they don't want to go for bidding.
Inform users about auction duration with the help of a start and end countdown timer.
Option to encrypt users' names to protect their privacy.
Optionally display entire auction information to customers.
Flexible product management options where you can choose to display or hide products that are out of stock, closed for auctions, etc.
Automatic notifications to inform users about any changes in auction status.
Clearly depict auction information specific to a user.
Use a label to help users identify auction products on the shop page.
Shortcode to display all auction product on any page on your site.
A single site subscription of this plugin will cost you $99.99.
You will be able to create auction products on your WooCommerce store along with your regular products using this plugin. It allows you to create different types of auctions such as normal, proxy, silent and reverse. The plugin has a user friendly interface that allows anyone to set up an auction website quite effectively. Moreover, the plugin allows extensive customization to help you achieve diverse functionalities for your auction site.
You can combine the plugin with popular WooCommerce marketplace plugin, Dokan, to create a marketplace with auction products. The plugin offers demo sites and extensive documentation, if you are looking for help to set it up.
Features
Create different types of auctions products on your WooCommerce store.
Set a starting price, increment rate and reserve price for smooth bidding.
Option to set a buy now price for customers who don't want to bid.
Anti snipping feature that will help you extend the auction duration if a bid is placed close to the auction end time.
Widgets to display specific groups of auction products on your store.
Different email notifications according to the changing bid status.
Works with all supported payment gateways of WooCommerce.
Auction icon on product thumbnail to distinguish auction products.
Easy management options from the backend for store admin and managers.
Option to relist products with no bids.
Integration with other extensions to create role-based bidding as well as to create auction marketplace.
A regular license of this plugin will cost you $29.
Irrespective of the products you want to auction, this plugin will help you create a smooth system. The plugin will help you create auction products on your store, which users will be able to bid for after they register on your site. It makes the whole process seamless as users will be able to send private messages to store manager requesting more information on a product. Moreover, it allows users to set a maximum bid amount and automatically increment the bid till it reaches that amount, when there is competition.
Once a bid is won by a user, the plugin will automatically add the product to user's cart page. Moreover, there is an optionally to make automatic payments when users authorize it. With several advanced features and an intuitive interface, this plugin is a great option to create an auction system on your WooCommerce store.
Features
Create diverse auction types on your WooCommerce store.
Proxy bidding option, where users can set a maximum bid amount to allow automatic bidding for them.
Option to add a premium amount on top of the bid price.
Avoid sniping by automatically increasing the time interval, and by sending notification to all users.
Manual and automatic options to relist a product in case nobody has placed a bid on a product.
Option to bulk import multiple auction products in one go.
Ajax-based interface to allow instant auction without page refresh.
Widgets and shortcodes to display different groups of auction products.
SMS and email notifications.
Automatically accept payments from the user's account.
Integrates with WCFM Marketplace to let users add auction products to your website.
For a single site, you can get this plugin for $79.
This plugin will help you display your eBay auction information on your WordPress site. It will provide you with the option to display your eBay listings along with profile and feedback. With the help of shortocodes and widgets, you will be able to easily add listings on a WordPress page or post. The plugin offers several options to sort and filter products based on keywords or category ids. A more advanced pro version is in the works, which will help you add more detailed information and offers more customization options.
This is not a standalone plugin, you will have to use it as an add-on to WordPress WooCommerce Multi Vendor Marketplace plugin. Once both plugins are installed, you will be able to create an auction marketplace on your site. And you will be able to create four types of auctions here – regular, incremental, automatic and reserve. The plugin will work for simple, variable and virtual products on WooCommerce.
The plugin will sent a notification to all bidders when a bid is successful. Moreover, the plugin offers great flexibility for customers to decide whether they want to display the details of their users. If you are already using the above-mentioned marketplace plugin, this plugin could be a good option to consider.
The regular license will cost you $69.
Hopefully, this article has given you some great options for WooCommerce Auctions plugins. Please leave us a comment if you have a query.
Further reading