Last updated - February 24, 2020
Customer support is one of the primary concerns of any online shop owner. You won't be able to develop a business successfully without caring for your customers. So, one of the first things you need to do after setting up a store would be to create help desk system. Now, there are several SaaS-based, premium options when it comes to customer support integration. However, if you are just starting up and you want some inexpensive options, there are ample choices in the WordPress ecosystem. In this article, we will discuss some of the interesting, free WordPress help desk plugins for your WooCommerce store.
WSDesk is a popular WordPress help desk system that powers a large number of WordPress sites. There is a basic version of the plugin, which offers a few useful features that you can add to your WordPress site or WooCommerce store. One of the most important features that you will notice on the free version of WSDesk (that you may not find in other free solutions) is email pulling. With this feature, the emails sent to your support email id will be automatically converted to tickets.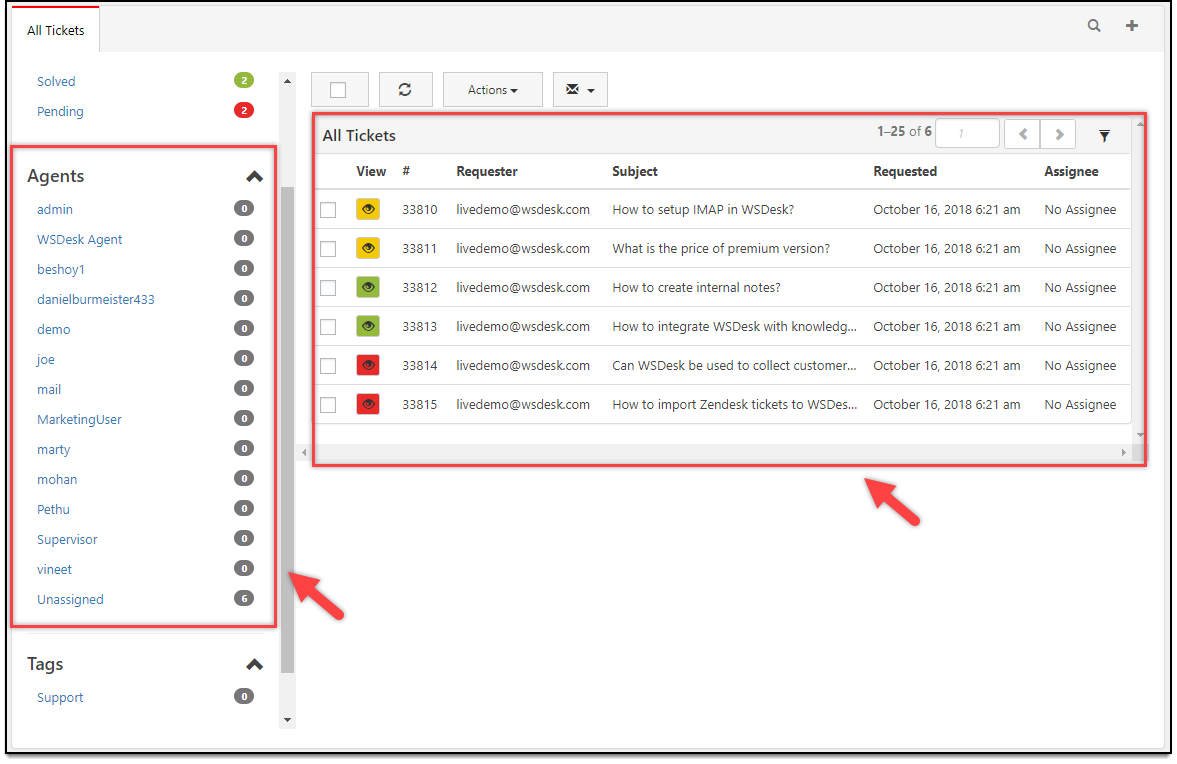 Moreover, the AJAX-based user interface of WSDesk is quite pleasant to work with. Handling tickets and reloading the pages will be quite fast for your support agents while working with WSDesk. It will be also interesting to note that there are no limits when it comes to the agent profiles or number of tickets you can handle through WSDesk.
Features:
Let's take a look at the important features of WSDesk:
Create a help desk system with support form on the front-end and ticket management interface in the back-end of your WordPress website.
Customize the contact form to add and re-arrange ticket fields.
Option to provide file attachments through the contact form.
Option to create and manage unlimited agent profiles on your site.
Short code support to customize ticket views.
7-day reports and analysis.
Option to import data from Zendesk.
Set up wizard to guide you through the installation process.
Awesome support is another popular WordPress help desk system that matches the features of SaaS-based customer support solutions. It is pretty easy to configure and install the plugin on your WordPress site. There is a helpful wizard that will guide through the configuration process. As a result, you will have a customer support system on your site in a matter of minutes.
Feature highlights
The prominent features of Awesome Support includes:
Ticketing capability, where your users will be able to raise a support ticket through the front end of your site, for which support agents can respond from the back-end.
Multiple options for email notifications to various recipients. For example, when a new ticket is created, you can set up a notification for support agents and supervisors.
Option to attach files through the support form. In the admin side, you will be able to control the settings regarding size and number of the files.
Simple user interface similar to WordPress UI that makes it quite familiar to anyone using WordPress.
Provide support to multiple products on your online store. Option to sync with WooCommerce and Easy Digital Downloads.
13 different custom field types to choose from for your customer support form.
Easy options to sort tickets on the back end, like old tickets, tickets still awaiting reply, etc.
Facilitates agent collaboration in handling tickets. For example, more than one agent will be able to handle tickets.
Restrict capabilities to access tickets for different agents on your customer support team.
Track the source of each ticket created on your store.
Option to import from other popular help desk tools.
This plugin is actually developed by the same team of the popular solution WP Support Plus. Though they continue to provide support for existing users of WP Support Plus, new users are encouraged to download and install Support Candy. As expected, the plugin offers a simple interface and is quite flexible to customize according to your varying needs. The plugin will help you manage customer support on your WooCommerce store quite comprehensively.
Features:
Now, we will discuss some of the standout features of this plugin.
Provides an option to allow agents to handle tickets from the front end of your site. That means agents and users will be able to view tickets from the same page. The plugin offers settings to help you manage both the views without hassles.
You will be able to add unlimited agent profiles as well as tickets.
Ajax-based interface that helps with super fast handling of tickets.
Guest users on your users will be able to create a ticket on your site without registering.
10 in-built field types to customize the contact form. There are fields meant to be viewed only by agents.
Option to attach files to the ticket. You can customize the support form to include multiple file attachment options as well.
Responsive design to ensure that the plugin works smoothly on all devices.
Facilitates collaboration between support agents with the help of private note option in the tickets.
Advanced filter options to help with the easy access of tickets.
Email notification templates can be customized according to your requirement.
This is another easy to use and simple WordPress plugin that you can use to set up solid help desk system. After installing this plugin, your users will be able to access tickets from the front-end of your site. The plugin is quite rich in terms of available features and will help you improve your customer support system.
Features:
Here is a list of features of the plugin that you may find useful:
Allow customers and even guest users to create a support ticket from the front-end of your site.
Option to place the support icon in a desired position on your site.
Extensive options for handling tickets on the back-end. Agents will be able to sort tickets based on different parameters, and highlight them according to changing priorities. You can also assign tickets to specific departments within your team.
Tickets notifications can be configured and controlled by the store admin.
Responsive design to ensure smooth functioning irrespective of devices.
Great customization options and easily translatable.
Integrated with WooCommerce and Easy Digital Downloads, this plugin will help you create a solid customer support system on your WordPress website. It offers unique user roles for customers, agents and store admins, so that you can easily handle the complexities of a help desk system. The user interface is quite easy to use and will help your support team manage large volumes of ticket information effectively.
As this plugin works independently from your theme, it won't slow down your website in any way. Moreover, with a tabbed system, you can easily access multiple tickets at one time. The front-end is responsive and AJAX based, and as a result, it helps to make your support system extremely quick.
Features:
Some of the important features of the plugin are:
Option to work on the tickets from the front-end and back-end.
Welcome screen to make it more user friendly for your new customers.
Compatible with all themes. You will not to face any theme compatibility issues with the plugin.
Email notifications for customers and agents. You will be also able to customize email notifications according to the specific requirements of your store.
Supports WooCommerce and Easy Digital Downloads. Option to integrate your online store products in a support request. The plugin supports product Id and invoice number.
Provides option to create multiple user types such as admin, agent, user, etc.
Extensive reporting features to measure ticket activity and and agent's productivity as well. By turning on event logging, you will be able to have a complete view of everything happening in your help desk system.
Paldesk helps you create a multi-channel help desk system on your WordPress site. It will integrate email, mobile app, Facebook, etc., along with your website based help desk system. It will enable you to view support messages from all these different channels on one dashboard. Basically, it help you offer support in a medium that is preferred by your customers. You can signup for their free package to get access to the basic integrations.
Features:
Here is a quick look at the features of Paldesk:
Helps you create a ticketing system to handle all your customer support queries.
Option to direct queries to a specific support agent to improve the work flow of your customer service system.
Enables you to add multiple widgets and use them in multiple websites.
Customize the support widget to suit with the design of your store.
Option to get email notification when a new support request comes in.
Canned responses to provide faster resolution to common customer issues.
To get started with Paldesk, you will have to install the plugin and sign up for their free plan.
With the help of this plugin, you can enable your users to submit support queries and requests to your website. Along with your registered users, even guest users on your site will be able to submit tickets using the shared guest user feature. Moreover, you will be able to create tickets through the back-end on behalf of customers, if you are running a help desk call center.
Features:
Here are some of the standout features:
Ability to pre define priorities and status for the tickets. Admins will be able to update the priorities and status for each ticket from the backend.
Tickets can be associated to products on your site.
View and manage all your tickets from an interactive dashboard.
Compatible with all WordPress themes.
Free WordPress plugins for your customer support system
Setting up a customer support system can prove to be a big hassle for WordPress and WooCommerce site owners. A lot of SaaS-based options are quite expensive to begin with, and on top of that you won't have complete control over your data. That is one reason why on-premises customer support systems are preferred by WordPress site owners across the globe.
Naturally, using a WordPress plugin for customer support will give you complete control over the data and that means less hassles. In this article, we have compiled a list of WordPress plugins that you can use to quickly configure a customer support system on your WordPress site.  Most of the options mentioned in the article will integrate smoothly with WooCommerce as well.
Further reading