Last updated - July 8, 2021
Do you want to lessen your website bounce rate? The bounce rate has significant impacts on your blog. You need to ensure that you cut it at all costs. We will discuss some of the Free WordPress Related Posts Plugins that are outstanding in achieving that. Just make good use of them.
The way you engage the users of your web on your site affects your search result position. It is mainly in search engines. So, you have to improve the user experience. You can make it easier for your web users to find interesting data on your blog. The more connected information they find on your site, the higher the ranking your site receives.
There is a need for you to publish quality content. No one will stick to your site if the data they get is not good enough. Come up with good web design, then offer your users quality content regularly. It will help you to retain them on your site. But, there are free related posts plugins for WordPress that can help you. There are similar posts about the current topic. Best free Plugins for WordPress will show it to you. You can take advantage of it to engage your web users for an expanded period.
WordPress themes have useful features. Some of them can even show related posts. Subscribe to a premium WordPress theme for the best experience. However, you can save that money. You need to consider these Free WordPress Related Posts Plugins listed here. They are free, and they will show you related posts.
It is among the best free plugins. It can help you to engage users on your site. You can enjoy fantastic features when using this plugin. Such features will raise the overall user experience on your website. The plugin pulls information about the current post. It takes care of your web user's interest. When your web users have their interests covered, there is a likelihood of high retention.
Contextual related posts plugin is stress-free for you to use. It will automatically begin
showing associated data to your site. Also, similar information on your feed will be displayed at the end of the current post. The plugin offers you caching features. When your web users continue to browse through your website, the output is cached automatically. The tool can read. Besides, it can show the content from custom post types, attachments, and pages. It will support CSS styles, custom post types, widgets, and shortcodes. Besides, it is also compatible with thumbnails. You can make this plugin your choice today. It will enable you to achieve the best for your website.
Are you looking for an elegant design to show you related posts? You can choose this plugin. Its design is beautiful. It will show you posts that have a connection with the current position on your website. It does not matter the types of content posted. Related post plugin will work with many types of content. If you want a plugin that will work with custom content and mixed data? You can select related posts pro. It also works with categories and multi-site materials.
If you are viewing for the most beneficial plugin to show related posts, go for this one. It has options where you can select a design of the associated posts that matches your site design. It is one of the best free plugins that is accurate and effective. Moreover, the plugin offers several additional features to help you analyze your user's interest and market your website better. In addition, it is lightweight and features an optimized code to ensure best performance.
It is among the best free plugins available for you. It is simple. You can use it to show
information related to the posts. The content shown by this plugin reflects abstracts or even the title. It can also show any tag allotted to articles. Would you like to attract more traffic to your specific post? You can achieve it when you use this plugin. It allows you to set related posts manually.
You can pick this plugin to show your visitor the related information on your website. It will enable you to lower your website bounce rate. Inline related posts are among the best free plugins. You can use it to raise attention and increase views on your site. The plugin offers you customization options. You can apply those options to create appealing content for your website. It has a live preview. It helps you decide on the look to finalize without moving forth and back to look at the show.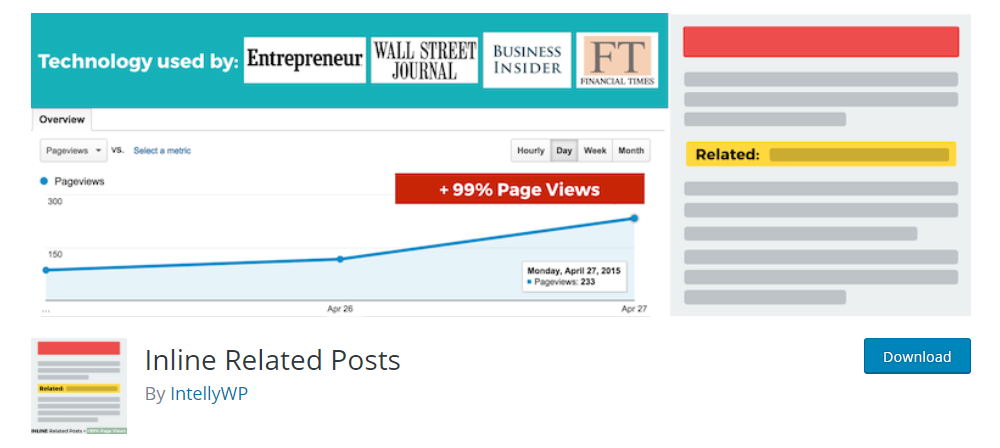 Conclusion
Related posts are very significant. You cannot avoid them if you are running a website. They are useful when it comes to engaging your web users. They will help you to reduce the bounce rate on your website. You can choose any of the Free WordPress Related Posts Plugins mentioned in this article. They will help you display related posts and engage your website visitors.
Further reading