Last updated - December 5, 2022
Shopify is one of the most popular eCommerce platforms used all over the world. Compared to certain other platforms, it is especially easy to get started with a Shopify store. You will find a large number of apps in the Shopify apps store that will help you assist in different aspects of your store management. In this article, we will discuss some of the best Shopify apps that will help you boost sales figures in your store. We have tried to include both free and premium options in this article.
Best Shopify apps to enhance sales (Paid options)
Here is a list of some of the useful options among Best Shopify apps to help with your sales and conversions.
This app offers three different options to improve sales figures and conversion rate on your Shopify store. It displays sale information as popups, so as to provide users who are already on the website. The idea is that the social proof of people purchasing your products will encourage users to think favorably about your store. Moroever, the app offers a countdown timer to create urgency in the minds of customers, when they is an ongoing sale. Furthrmore, it offers a coupon wheel, which helps users to try their luck after entering their email id.
You will be able to accept reviews from customers along with photos using this app. When reviews are added with photos, they will tend to look more credible and informative. This will help in offering social proof to users who have still not made a purchase decision. The app is quite easy to install and configure, and it offers single click import of unlimited AliExpress reviews. Moreover, the app sends automatic requests to customers to add a review on your store. And, you will have the option to customize the emails extensively, as well as offer discounts to those who add a review.
Engaging consumers to your brand is a tricky space to maneuver and most of the Shopify store owners don't cover much grounds to actually boost engagement, thereby increasing conversions. ModeMagic by Mason helps boost consumer engagement by a staggering 149%, improving conversions to up to 25%. Keeping numbers aside, ModeMagic also makes your life easy by basically running your store on autopilot through its out-of-the-box automation rules, eye-popping product labels, and customizations. So far, it has powered around 10,000 eCommerce brands, globally and continues to push the envelope in visual merchandising.
ModeMagic is an all-around store merchandising toolbox that highlights products across your store. And with 5000+ customization options and design inspirations to choose from, that too without requiring any coding skills, sets the app apart from the rest of the design tools out there. It is free to install, and premium plans begin at $9 per month.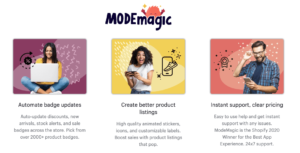 Recart offers an automated marketing strategy through Facebook Messenger. It is potentially more effective than email campaigns as Messenger gives the appeal of a one-to-one conversation. The app helps you create automated Messenger campaigns tied to different eCommerce events such as cart abandonment, shipping status updates, order receipts, etc. You can also set up welcome messages and product review requests using this app. If you are looking for an innovative option to improve customer engagement, this could be helpful.
Upselling is a great way to increase average order value on your store. Creatively suggesting related products when a customer is making a purchase will do a lot of good for your revenue. This app will help you display products that are frequently bought together based on actual purchase patterns on your store. When a customer checks out a product on your store, related products also get visibility thanks to this approach. And, the app has a user-friendly interface that is quite easy to set up.
The advantage of using this app will be that you will be able to create multiple promotional strategies using it and give a boost to your sales figures. It offers varied templates that will help you create innovative discount offers and promotional strategies. You will be able to create bulk discounts, but one get one offers, product bundles and more using this app. In addition, you will get tools to effectively communicate the information on these deals to customers through different display options. Moreover, the app offers detailed reporting features that will help you clearly analyze the resultant sales associated with each of your offers.
A great opportunity to increase your conversion rate lies in your abandoned carts. With the help of this app, you will be able to recover abandoned carts on your store. You will be able to create automated workflows, so that the effect of it will happen in the background. The options this app provides to you include exit intent popups, newsletter and automated email campaigns. You will also find detailed analytics insights for each of your campaigns. The app is GDPR compliant, so you don't have to worry about spamming your customers as well.
If seasonal, store-wide, discounts are your thing, this app could do a lot for you. With a single click, you will be able to create great discount offers on your store. In fact, this will improve the chances of conversion compared to discount codes, since customers don't have to go hunting for discount codes. And, you will be able to create flash sales on your store only for specific product types, brand or collection as well. Furthermore, the app offers a countdown timer, which will create urgency around your offers.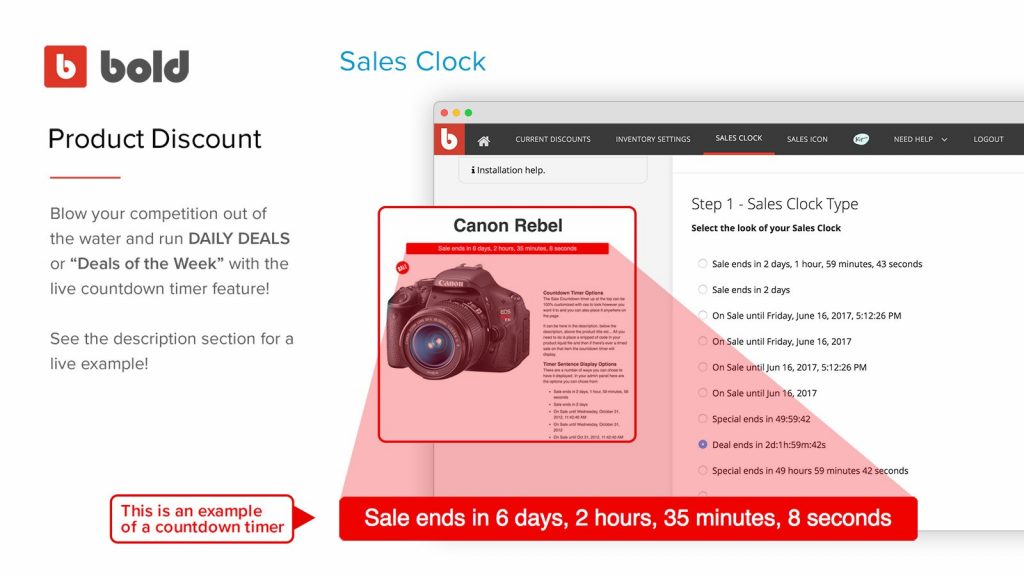 Improving customer experience on your store could help a lot in improving online sales. Sticky add-to-cart button and sticky cart are two design elements that will make it easier for customers to make a purchase on your store. This app offers both as well as a quick buy button as well. You will find decent customization options and beautiful themes to make your store more attractive. The best thing is that you can manage all that without writing a single line of code!
Email marketing is still one of the most effective strategies for an online store owner. This app will help you automate email campaigns and make them more aligned to customers' interests and behaviors. It will ensure that your email campaigns are always to the point and have high open rates. The app will help you send rewards, cart reminders, newsletters, etc., to keep your customers engaged. In addition, it supports photo reviews and help you customize the templates extensively.
Exit intent popups are a proven way to acquire new customers and improve conversion rate. This app gives you highly customizable exit intent popup templates that are easy to configure. The popup library has over 100 pre-designed templates to make your job easier. It integrates with Shopify seamlessly and is GDPR compliant. Moreover, it has in-built A/B testing option to help you ensure that your marketing efforts are really making a difference.
This is a popular app for Shopify that will help you manage customer relationships better, with awesome email marketing and analytics tools. You will be able to identify any blockers that are affecting the growth of your business with the help of actionable insights from store data. It provides you an overview of all important sales metrics on your store and helps you monitor the sales funnel real time. Moreover, you can segment your customer base effectively and create targeted campaigns to improve sales.
Offering a faster checkout option to customers can really boost the possibilities of conversion on your site. This plugin will help to skip the cart page and directly lead customer to the checkout page. Moreover, it provides an option to keep the cart page as a popup if it helps your store strategy. In addition, it offers animated buttons to make your site more attractive and interactive. The app is extremely easy to set up and configure, and is compatible with most popular themes of Shopify.
Privy is a marketing tool that offers you several different marketing tools to help with your sales and conversion. You will be able to build an email list more effectively with customizable popups, banners, spin wheels, flyouts and more. It will also help you integrate coupon codes for one time use. Moreover, you can create automated campaigns to reduce cart abandonment, and run A/B tests. And, the helps you integrate your email list with over 50 email marketing services seamlessly.
Building customer loyalty is an important step when you grow your business. This app will help you create a loyalty program on your Shopify store with referrals and points system. You will be able to reward your customers for several actions taken on your store such as account registration, purchase, referral, social sharing, etc. Moreover, you can customize the appearance of your reward programs to suit your overall site design. Also, the app will help in integrating with other popular marketing tools.
OptiMonk offers you great options to create targeted exit intent popups to boost conversions on your Shopify store. You will be able to grow your email list thanks to the option for a popup or spin wheel. Moreover, you can use popups based on customer behavior to recover abandoned cart and also for upselling. The plugin offers six types of messages and over 200 templates to help you customize your strategy. And, the drag and drop interface will make it quite easy to configure different marketing initiatives.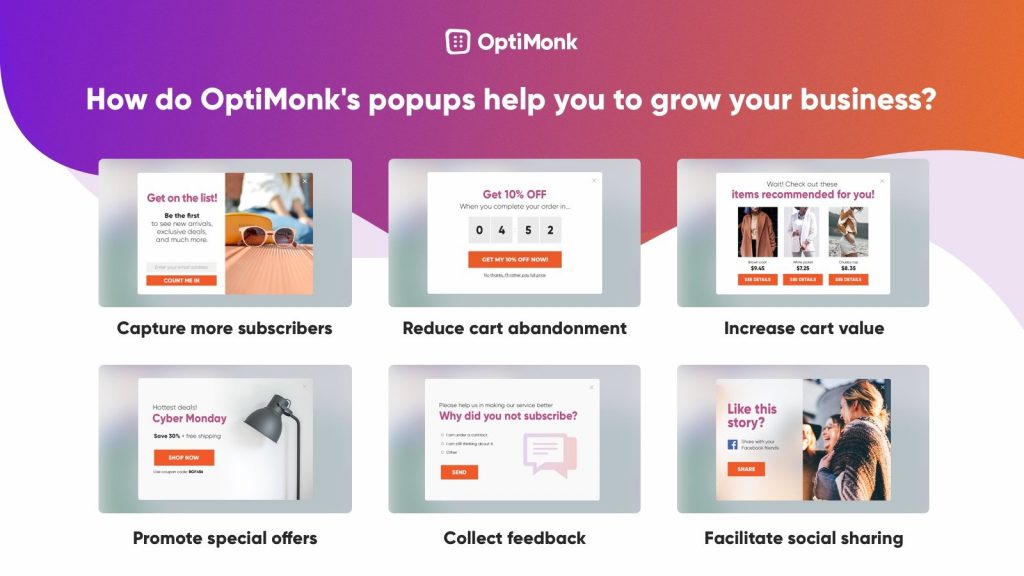 Referral programs are a great way to improve the customer engagement and conversion rate of your business. This app helps you create powerful referral programs that bring in great results. It offers extensive options to customize the appearance of your site including a drag and drop editor and code level editing options. More importantly, the app offers great control to store owners to customize marketing initiatives, and also track their efficiency.
Social proof on your store is an obvious boost to conversion rate. This app helps in this regard with ample options to display recent sale notifications, user reviews and client testimonials. It also helps in displaying site visits and product view counters on your pages to encourage customers to purchase. Moreover, the app offers customizable templates and A/B testing options to ensure the best outcomes.
It is no secret that eCommerce customers love their discounts. Naturally, you will have better chances to increase your revenue with occasional discount sales. This app will help you create several innovative discount offers without the need for coding. You can customize discounts with diverse rules and limit them to particular products or collections. Also, the app is quite user friendly to install and configure.
Product images can inspire a lot of purchase decisions for an online store. With this app, you will be able to showcase your Instagram feed on your online store. It allows you to display Instagram photos on different areas of your website including homepage, product pages, etc. Moreover, it will let you use stunning pre-made designs that will make you organize images more effectively. Also, it will sync your Instagram feed with your store so that the updates are real time.
Product recommendations on your store will be more effective with the help of this app. It is extremely easy to use as the app utilizes artificial intelligence to recommend products to your customers. If required, you will be able to set up manual recommendations as well. The app analyzes real time sales history of your store and create recommendations. On your product pages, it will display products that are frequently bought together with the help of a slider.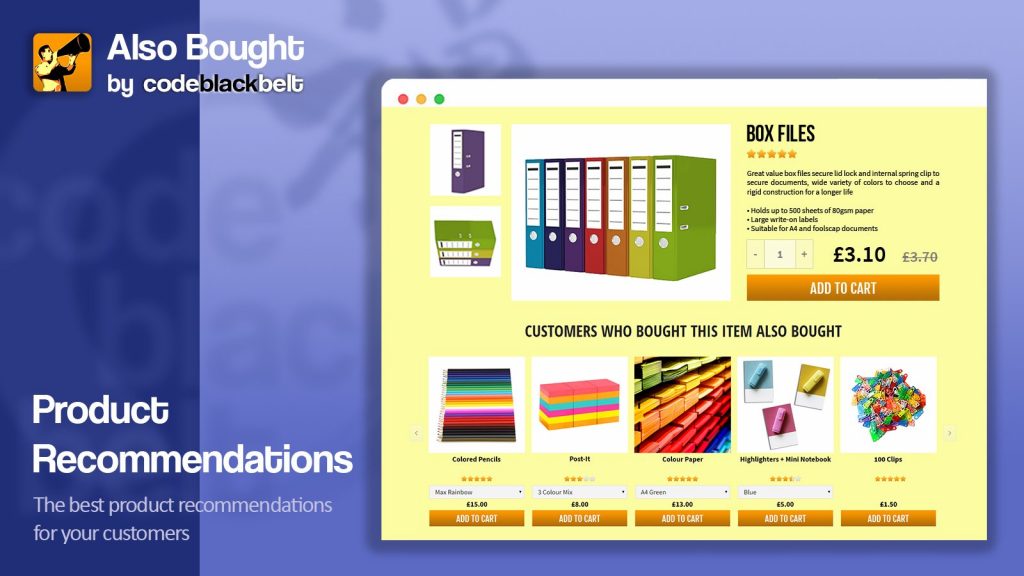 Best Shopify apps (Free)
Below are some of the best Shopify apps for enhancing sales, which are either completely free or have a useful free plan.
Free shipping is a great way to improve conversion rate. If you can associate it with revenue goals, it could bring in a lot of value to your store. This app will help you display customizable free shipping bars when customers place an order. Depending on the value of the item in the cart, the bar will show how much more the customer has to add to the cart. It will also show congratulatory messages when customer achieves free shipping goals. In addition, the app helps you offer free shipping selectively based on location, device, season, etc.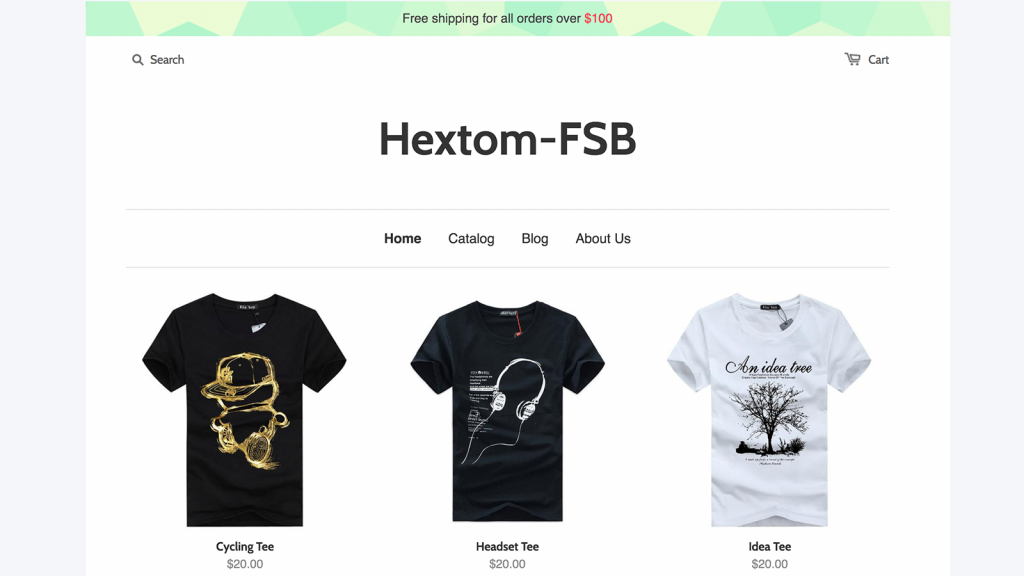 There are several options available with this app to improve your online store sales. It will help you display countdown timers for inventory depletion so that it creates urgency in the minds of customers. It also helps in improving the credibility of your store with trust badges that will provide social proof. With the free plan, you will be able to display countdown timers and promotional messages on your product pages as well as cart pages.
This is a simple app that will help you display product reviews on your Shopify store. The app automatically matches your theme's design, so the reviews won't be standing out. Moreover, it offers several customization options so that you can control the look and feel of your reviews. The app also helps to ensure that product reviews are also available for search engines. Overall, displaying reviews can provide a significant sales boost on your store.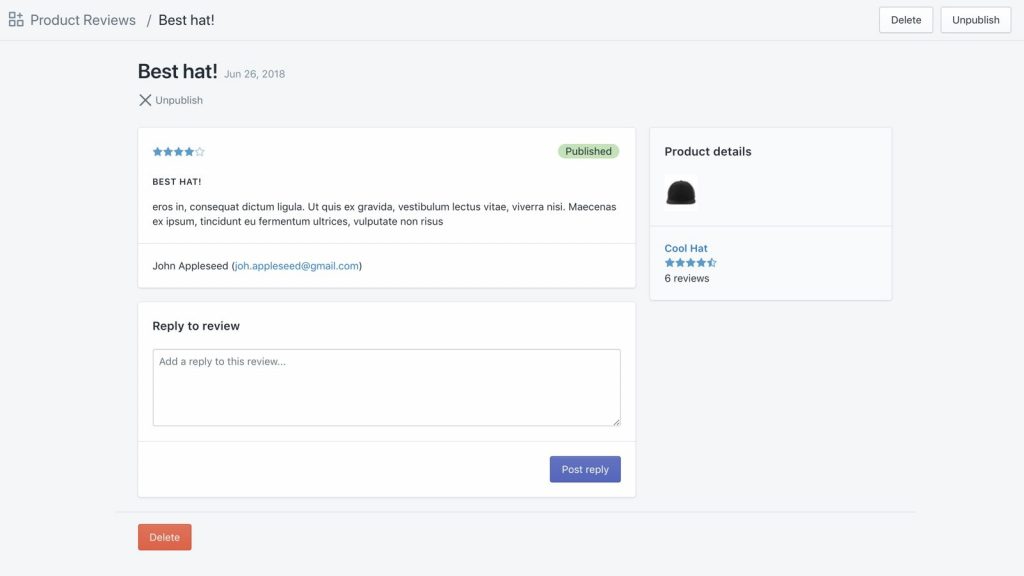 This app will help you in targeted marketing in different ways. Firstly, it will help you build a list of subscribers through email campaigns, popups and floating bars. Then, it will help you create automated SMS campaigns for different eCommerce events such as cart abandonment, new order, etc. It also offers SMS segmentation, A/B testing and MMS support for better execution of your marketing strategies.
If you have a popular Instagram feed, there is a sales opportunity there. This app will let you make your Instagram feed connected to your products. So your followers will be able to purchase from your Instagram images. Similarly, you will be able to display your Instagram galleries on your product pages as well. All the orders from Instagram images will be available in your store, and you can track it effectiveness as well.
If you are looking for a dropshipping option for your Shopify store, this app could be really useful to you. You will be able to feature a range of products on your Shopify store. Printful will fulfill the orders you receive on your behalf in different locations around the world including US, Europe and Mexico. The orders you receive on your Shopify store will be automatically imported to Printful. You can offer custom products that customers can personalize and set a price that includes your margin. Printful even offers free samples and free shipping in certain cases.
Gaining customers trust is an important factor for online success. If you want customers to initiate a transaction on your store, they should be trusting your site. Displaying trust badges with your payment options are noted to be effective in winning customers' trust. You can install this app and easily customize different icons and trust badges on your store. The app is extremely easy to install and does not require any coding knowledge to configure.
Push notifications are a popular choice of many websites to interact with users. This app will help you use push notifications to recover abandoned carts in your Shopify store. The important advantage of this approach is that you will not have to create email lists for your marketing campaigns. It is pretty easy to get this up and running as it does not require you to know coding. You can simply customize the messages the way you want it and start recovering potentially lost sales.
Displaying recent sales on your store will inspire users on your site to go ahead with a purchase. This app will help you display recent sales information as popups. In addition to providing social proof, it is a good strategy to create urgency. The app helps you customize these notifications, and is mobile friendly.
This is another useful app that employs push notifications for cart abandonment campaigns. You can also send notifications when there are price drops and deals on your store. Another scenario where you can use this app to send push notifications is when certain products are back in stock on your store. The app has a very user friendly interface that helps you customize and activate different campaigns.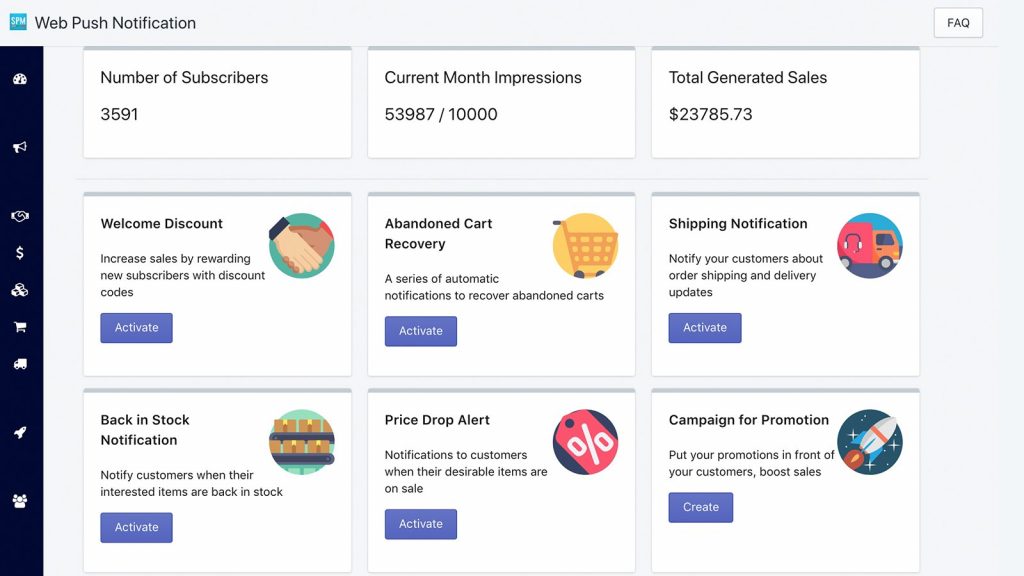 Hopefully, this article has familiarized you with some of the best Shopify apps that you can use for enhancing sales and conversions on your store. If you have any queries, leave us a comment.
Further reading