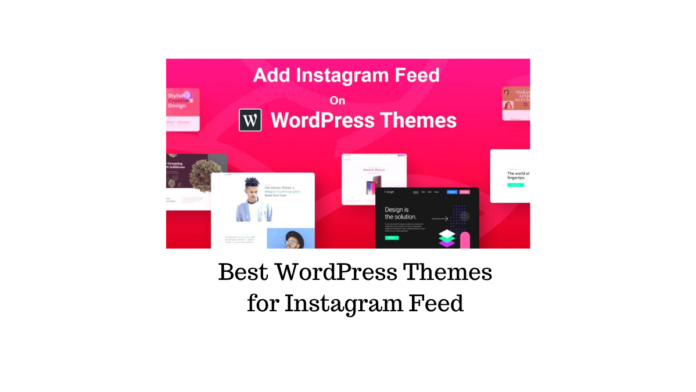 According to a study – It takes about 50 milliseconds (that's 0.05 seconds) for users to form an opinion about your website. And based on that they decide whether they want to stay or leave the website. Hence it is important to have an appealing website. So, if you are looking for some amazing themes that can add that visual appeal to your website, then you have arrived at the right place. In this blog, we will be discussing 5 best WordPress themes.
No one can deny that a visually appealing and lively-looking website can provide a much-needed boost to your business as you can opt to embed Instagram feeds to the website and enhance the liveliness of the website. But you need to have the best theme that completely suits the style of content you display or matches your brand or vision.
WordPress has over 10,000 themes, but for your ease and to save your time we have filtered out 5 best WordPress themes. So, without any further ado, let's learn about them.
5 Best WordPress Themes That Can Add Visual Appeal of Your Website
Consumers often determine the quality of a brand based on their online presence. Websites often act as a reflection of the brand. They are like an online representative of a brand, and these are some of the amazing themes that help you to establish your brand in the online landscape.
Avada is currently #1 selling premium WordPress themes. One of the major factors that make it one of the most popular and most selling WordPress themes is that it is the original versatile multipurpose WordPress theme that comes with 255+ pre-made and 41+ pre-made fully-featured websites.
It helps to build an amazing website fast with its updates. It is a high-performance WordPress hosting that installs with a few simple steps. With Avada studio, you can make appropriate changes to your website and decide the final structure and look of it.
With the help of a performance wizard, you can even examine the performance of your website and make necessary changes or build a marketing strategy.
The theme is 100% mobile-friendly. Hence it doesn't matter what device your visitor is using, the charm of your theme remains the same. So, go ahead and build layouts as per your need that performs across various mobile devices.
Alongside providing premium layout options, the tool also allows you to disable unused features, font management and handling, Image & video optimization, Icon scanner, JS & CSS optimization and more.

Next on the list is OceanWP. It is a lightweight theme which makes it one of the best in business. In addition, OceanWP is a highly extendable theme that helps you to create any type of website as per your requirements. So, if you are opting to embed Instagram feed on the website and improve the appearance of your website, and you are a beginner, then this theme is highly recommended.
The theme stands out as beginner-friendly as it does not require any technical knowledge or coding skill to control the website or make desired modifications. OceanWp theme provides 7 customizable header styles, which include a transparent header. A transparent header enables you to create a custom header as per your need.
With a custom header, you provide a great introduction to your website and catch the attention and eyeballs of your visitors. So, go ahead, choose the desired header and match it with the style of your Instagram feed to bring uniformity to your website.
Astra is another amazing and pleasing theme for WordPress. It stands as one of the most popular and fastest loading WordPress multipurpose theme. It is a flexible theme that you can use to build all kinds of websites. So if you are looking to create a blog, business website, or an ecommerce store, use Astra and give your website the style you need.
Astra WordPress theme also stands as one the most trusted theme as more than 16,53,898 websites use it. Moreover, the theme's customer portfolio consists of some famous website, making it one of the most trusted in the industry.
Astra allows users to make desired customizations to add a charm to the website. In addition, the theme provides power design options that assist you in building an alluring website that attracts visitors and creates a good impression on them.
Divi theme is another amazing theme that is quite popular in the industry as it enhances the beauty of the website. It is a drag-and-drop WordPress page builder. The theme offers you 100+ pre-made layouts and enables you to customize the website using a drag and drop builder.
If you aren't satisfied with your website's look and structure, you can also start from scratch and build a completely custom theme. While you can choose a particular theme and feel of your website and make your website look more professional.
Customize options provide you the facility to change the website's colors, adjust the height of the dividers on your website, change font size, and more. Opt for the best combination for your website and take your business to the next level.
Ultra is last on the list. It is a super flexible multipurpose WordPress theme suitable for all kinds of websites. The theme offers a readymade website and provides a drag and drop page builder to customize those designs.
Ultra provides a responsive design that is mobile-friendly and compatible for any device. So whether your visitor is using mobile, tab or PC, they will be in awe of your website. And with a social media aggregators tool that eases the embedding process, you can add a responsive Instagram widget to your website. This combination can help you to stand out from the crowd.

You can also find styling options that include unlimited layout choices, multiple sidebars, custom widgets, social media integration, unlimited colors, and more. So pick the best style and get an edge over your competitors.
Summing It Up
In this fierce competition, it is necessary to build a good-looking website, as it helps to enhance the reputation of the brand and helps them stand out from the crowd. By opting to embed Instagram feeds on your website, you can provide an edge to your website. But merely adding Instagram feed cannot be enough, hence you need some amazing themes that match your style and stay compatible with your brand and vision. The themes mentioned above are some of the best themes in the market so try these themes now and select the one the best you think fulfills your need.
Further reading