Last updated - February 23, 2023
WordPress is one of the most popular software for creating websites and managing content. It is a reliable CMS that is trusted by millions of users, from bloggers to big enterprises. This software offers a lot of options for content management. And one of the options is creating video galleries for your website pages.
Adding video content to your landing page is a great way to drive more traffic, attract potential customers, and make visitors stay on your website longer. And the best part is video gallery is a good choice for different purposes, from sharing content on your blog to adding product videos to an eCommerce site. In this article, we will tell you how to create a video gallery in WordPress step-by-step. So, read on to learn more!
Step 1: Prepare Your Videos
If you want to create a video gallery with your old videos that are fully ready to be posted or already hosted on Youtube, Vimeo, or other platforms, you can skip this step. But, if you're planning to include some of your recent videos that are not hosted on any of the platforms, you need to prepare them properly. Check the point below to make sure your video gallery will be easy to use and convenient for your website visitors.
Create Thumbnails
Adding thumbnails to your video will make them more attractive to viewers. According to Nielsen Norman Group report, you can only hold 10 seconds to hold visitors on your website. And attractive thumbnails to videos will help you with it.
You can create an eye-catching thumbnail using different web apps, like Canva, Adobe Spark, and others. Add a picture related to your video and some text to give viewers a better idea of what the video is about. It won't take much of your time but will make your videos look better in a video gallery.
Add Subtitles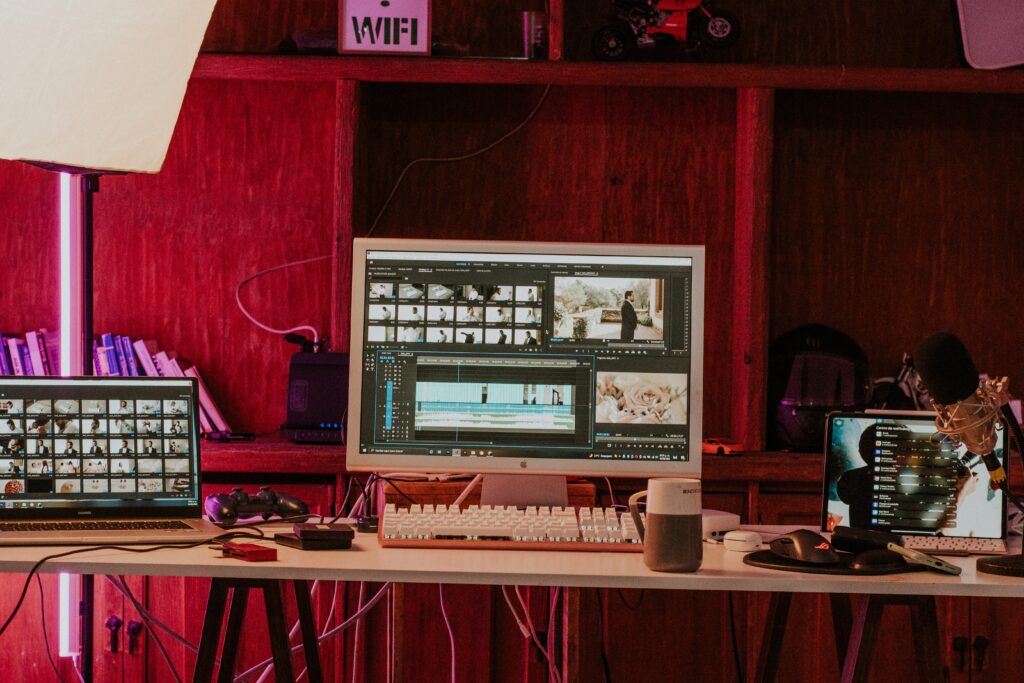 To make your videos more accessible, you can consider adding subtitles. It is a good way to make your videos understandable for more people. It won't take long to create subtitles if you choose a video editing software that has this option.
For example, you can use Movavi video editor. It is one of the best tools for preparing your videos before adding them to your website. And, of course, you can add subtitles to your video for free using Movavi. It is easy and quick and will make your video content user-friendly. Just open the video editor, choose a video you want to edit, type or paste the text for subtitles, choose font and size, and place it where you need it.
Upload Video to a Hosting Platform
Once you finish editing your video and are fully satisfied with the result, it is time to share it on your WordPress website. And there are two methods of how you can do it. You can either add it directly to WordPress or first host it on a video-sharing platform like YouTube or Vimeo and then add it to WordPress. Practically, the second method is better and more reliable, as it guarantees that there won't be any problems with playing your videos.
So, first, create a channel on YouTube, for example, if you don't have one, and host your video there. In this way, you can just copy a URL to add a video to your WordPress website and save the quality of your video.
Step 2: Choose and Install a Plugin
Of course, you can try to create a video gallery with the built-in WordPress tools, but the process will be much easier and convenient with a video gallery plugin. There are a lot of different options available, and it can be hard to choose the best one. So, let's talk more about the best video gallery plugins and how to install them.
What Plugin to Choose?
When you click on Plugins on a WordPress dashboard and search for a video gallery plugin, you will see dozens of options. Of course, you can choose a random one, but it is better to use the best plugin. All you need to find a suitable option is to search for some information on the best video gallery plugins. There are plenty of reliable options, some of which are free and others need to be purchased first. It is entirely your choice what plugin to choose, so just spend some time exploring available options.
How to Install a Video Gallery Plugin
So, how to install a video gallery plugin in WordPress? It is easy and won't take long. Follow the steps below.
Open WordPress and find "Plugins" on your Admin Dashboard.
Click on "Plugins" and choose "Add New"
Enter the name of the plugin you want to install in the search field.
Click Install Now near the needed plugin and then click Activate.
That's it. Now, you can easily find it in the Installed Plugins section and use it to create video galleries for your website.
Step 3: Create a Video Gallery
Once you have your plugin installed and activated, it's time to create a video gallery. The process might be slightly different depending on what plugin you use, but the basic steps are the same. So, here are what you need to do to embed videos on your website:
Add all videos you want to include to your video gallery. If you add them from YouTube, for some plugins you will need to connect your Google account first. But in some plugins, you can just copy and paste the URL of the videos you want to add.
The next step is optimizing a video gallery layout. You can be as creative as you want to make the gallery look good on your website. Some plugins also have ready-made templates that you can use.
Add any additional elements to your video gallery. For example, you can upload thumbnails, descriptions to each video, play button icons, and more.
These are the main steps in creating a video gallery. You can preview it to make sure it looks good on different devices, and make some changes if something is wrong.
Step 4: Upload Your Video Gallery
After finishing editing your video gallery, you can upload it to your WordPress website. Just click Upload and enjoy the result. You can check how its web and mobile versions work and then make changes any time you want.
Final Thoughts
Creating video galleries in WordPress isn't hard. You just need to know how to prepare your videos and choose the right video gallery plugin. Follow the recommendations from this article, and you won't face any problems creating customized video galleries and adding video content to your WordPress website.
Further Reading