YouTube is a popular and financially rewarding platform for content creators who have a knack for creating high-quality content for their target audience. From the biggest names on YouTube from PewDiePie and Mr.Beast to low-budget travel vloggers, there is a market for all types of niche on YouTube, making it a versatile platform catering to all types of content creators.
If you are reading this blog, I am sure you are also of the same conclusion and are looking to get started with YouTube either as a career or a hobby.
With millions of videos on the platform and more being uploaded daily, it is important as a YouTuber to have a distinct and catchy intro for your videos. A well-crafted video intro not only helps grab the viewer's attention but also helps build brand recognition and reputation across different videos. A study shows that 20% of the viewers leave a video within the first 10 seconds, emphasizing the need for a high-quality intro that retains viewers.
Canva is a great option for creating a YouTube channel video intro. Though it is commonly used as a graphic and image design tool, it also offers animations and templates for popular use cases, which is why I am recommending it for creating YouTube intros. It is also beginner friendly and has an easy-to-use user interface so you can get the hang of the tool quickly as well.
YouTube Intro Best Practices
Before getting started, you must know the general best practices while creating the intro for your YouTube channel.
Keep it Concise and Consistent
Pick a style and make sure the intro video is within 10-15 seconds. Make sure you are using the same intro for all your videos for consistency and also for viewers to recognize your channel across different videos.
Use Catchy Music and Visuals
Make sure to use visuals that are catchy and attention-grabbing along with music that is also similarly striking.
Give Focus to Your Brand and CTA
Use the intro as a place to promote your brand's social media handles, website, suitable hashtags, and a subscribe button to your channel.
8 Steps to Create a Great YouTube Intro
To begin with, go to the Canva website and sign in to your account. You can find the different kinds of content you can create using Canva on the home page once signed in. Click on "Videos" and you will be able to see the different types of video types that you can assemble quickly.
Here, click on "YouTube Video" and you will be taken to the video creation page. One great advantage of Canva is the pre-built templates and there are templates for youtube video intros as well. Search for youtube video intro in the search box and you will find popular templates for that.
Pick the template that is most aligned with the style you want for your Youtube channel and proceed with the customization part. With the brand logo, welcome text, and designs already present, it is quite straightforward now to build your own YouTube intro video for your channel.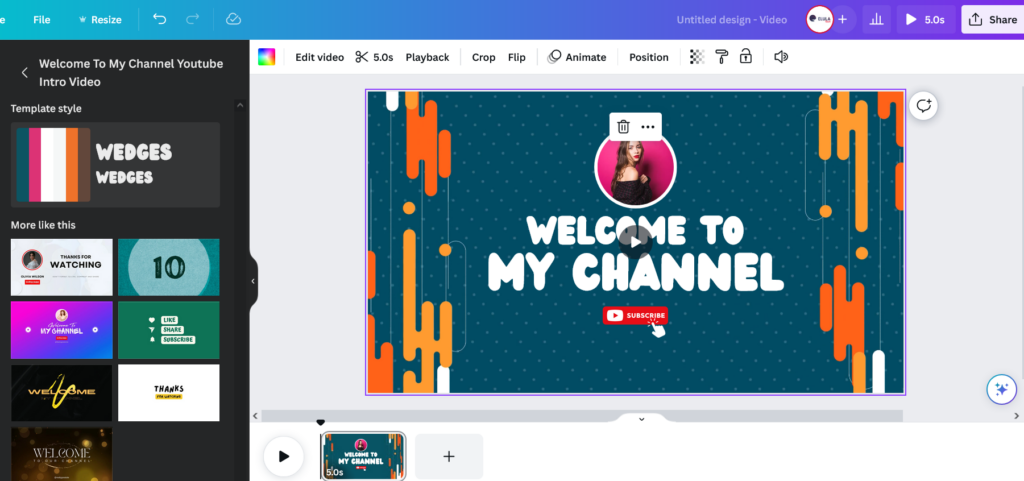 Replace the sample image with your brand logo. To do that, go to the upload section on the left side and select your brand logo image from your local storage. You can also change the font, colors, and other visual elements of the template to personalize it to your YouTube channel at this stage.
Next let us see how the animation is done for the video. Click on "Animate" to get started. On the left side, you will see different animation patterns. Pick one and proceed with it. Your YouTube intro video is now ready to be downloaded and used.
To download the intro video, click on "Share" in the top right corner. Canva offers the video in a variety of formats. However, it is best to go with the MP4 format as this is a video snippet that you will be adding to your channel's videos. Choose the MP4 format and the intro video will be downloaded to your computer's local storage.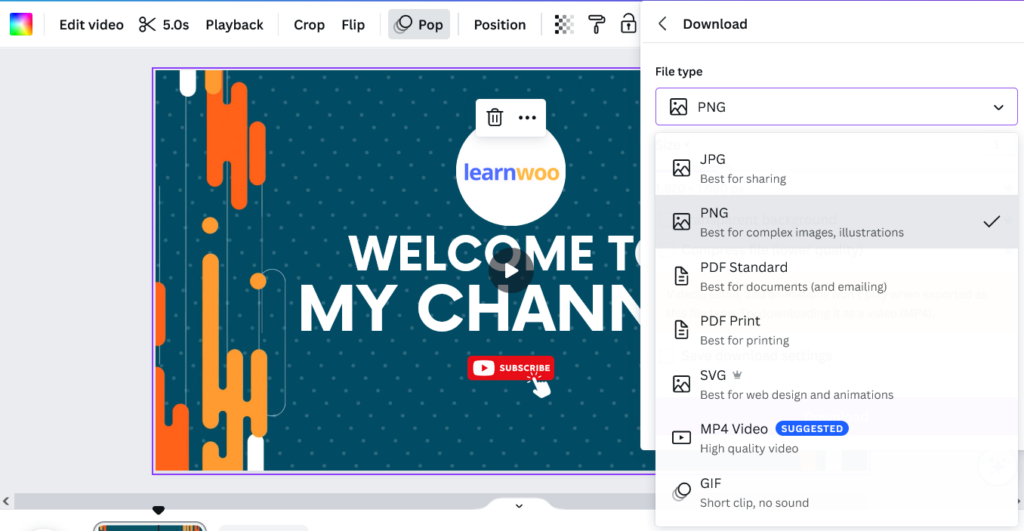 Here is the YouTube intro video I made for this article. You can make high-quality professional-looking videos with minimum effort is the reason that we suggest Canva for this.
Get started with making a catchy professional-looking intro video for your YouTube channel then! If you have any questions or suggestions, let us know in the comments section and we'll be glad to help you.
Further Reading