Shopify is a leading eCommerce platform that empowers millions of businesses worldwide. Its user-friendly interface and powerful features make it an ideal choice for online retailers. However, running a successful Shopify store involves more than just setting up a website.
To truly thrive in the competitive eCommerce landscape, you need to implement effective marketing strategies. And one of the most powerful marketing channels for Shopify stores is email marketing.
This article will explore the top 8 Shopify email marketing plugins that can help you take your online business to new heights. We'll discuss their features, pricing, and how they can benefit your Shopify store. So, let's dive in and discover the best email marketing plugins for Shopify!
The Importance of Email Marketing for Ecommerce Stores
Email marketing is crucial for eCommerce stores. It allows you to stay in touch with your customers, promote your products, and drive more sales. Here are a few reasons why email marketing should be an important part of your Shopify store's marketing strategy:
It's Inexpensive
Email marketing is very budget-friendly. Once you have a list of subscribers, the only cost is your time. Compare that to the high cost of acquisition for new customers through social media or search engines.
High ROI
For every $1 spent on email marketing, the average ROI is $42. That's an incredible return on investment that can significantly improve your bottom line.
Reach Your Customers
The average individual checks their email multiple times a day. Email is a great way to reach your audience and stay relevant with your customers. Send newsletters with your latest products, promotions, and sales.
Build Loyalty
An email newsletter is a great way to build a loyal customer base. Keep subscribers up to date with your business and brand. Share behind-the-scenes details or spotlight your team. Loyal, repeat customers are the foundation of any successful eCommerce business.
Promote Sales and Coupons
Email marketing is one of the most effective ways to promote sales and share coupon codes. Subscribers will be excited to get advance notice of any upcoming promotions. Timely emails like these can lead to an increase in traffic and revenue.
Stay in Touch
An occasional email newsletter is a great way to stay connected with your customers. Share recent milestones, business updates, or future plans to keep people engaged with your brand even when they're not actively shopping or browsing your store.
Keeping an active email list and sending regular newsletters is one of the smartest things any eCommerce business can do. When used effectively, email marketing can be an incredibly powerful tool for growing your customer base, increasing sales, and building brand loyalty.
Top 8 Email Marketing Plugins for Your Shopify Store
MailChimp is an eCommerce marketing automation platform and email marketing service that directly integrates with Shopify. It recently partnered with Shopify, allowing users to share data across both platforms. MailChimp is packed with a plethora of features and a solid dashboard that can handle everything from targeted emails to analytics and insights.
Some notable features of MailChimp include:
Automating emails for abandoned carts, welcome emails, and re-engaging customers.
AI-based content optimizer for making engaging changes to your copy.
Access to insights and analytics to drive future email campaigns.
Easy creation of pop-up forms and landing pages.
Pricing: MailChimp offers a free plan with limited functionality. The premium plans with advanced features range from $13 per month to $350 per month. This robust marketing CRM (Customer Relationship Management) is your one-stop shop for all marketing needs.
Privy is an excellent email marketing app for Shopify that helps businesses of all sizes attract and convert website visitors into subscribers and customers. With Privy's integration with Shopify, you can quickly create an account and launch your first live campaign. The app offers a collection of conversion tools that allow you to grow your customer base without any coding or development experience.
Some notable features of Privy include:
Encouraging pop-ups to add people to your email list.
Synchronization with popular email marketing platforms like Mailchimp and Klaviyo.
Exit-intent pop-ups with discounts to close transactions before customers leave.
Automated abandoned cart emails to entice former customers to return.
Automate win-back emails, SMS, and popups using triggers.
Pricing: Privy offers a free plan, making it an excellent choice for new Shopify stores. If you wish to increase its functionality, you may choose from any of the premium plans ranging from $30 per month to $70 per month.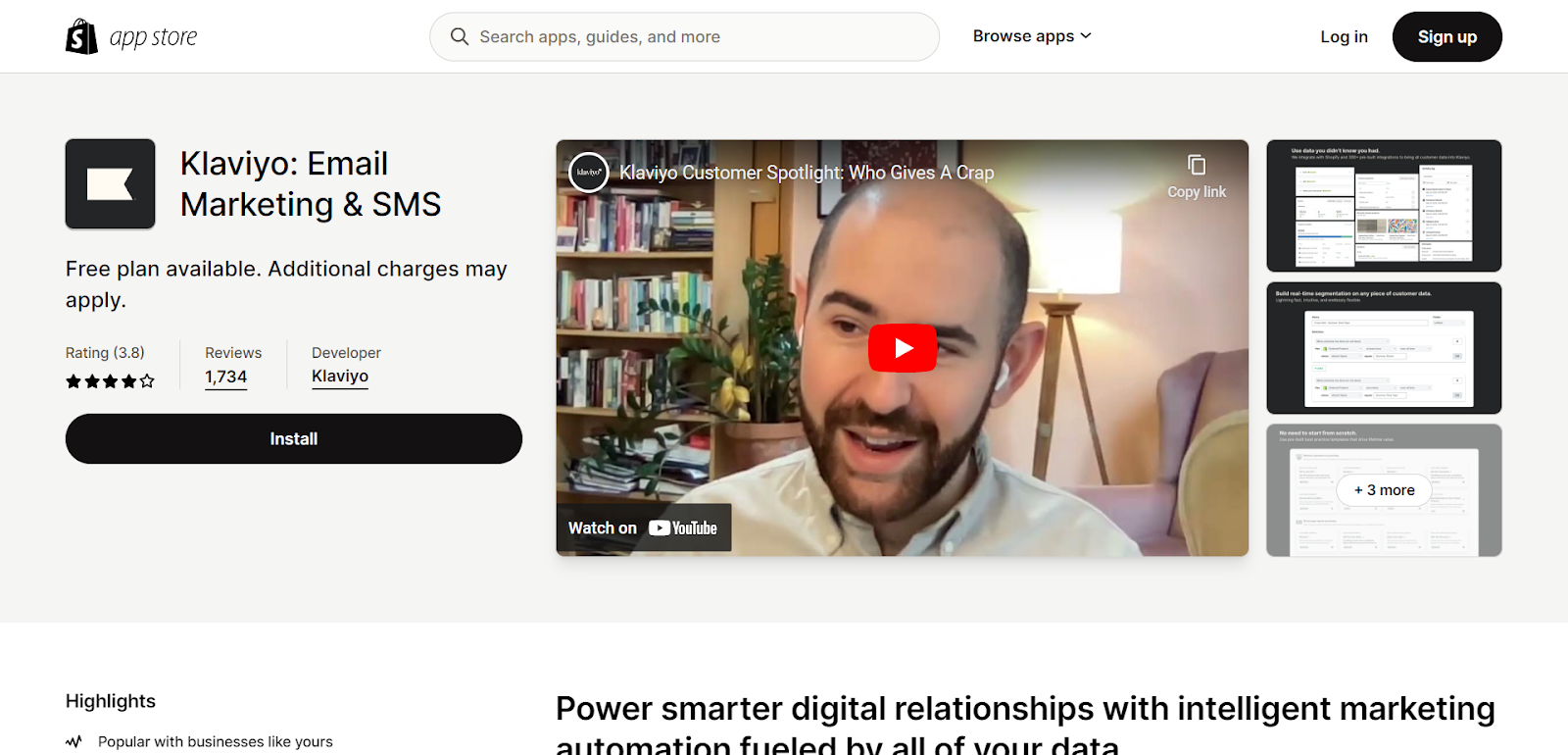 Klaviyo is a powerful email marketing app with an automation platform to help businesses implement successful campaigns. With Klaviyo, you can accurately analyze the effectiveness of your marketing campaigns and understand customer interest trends. This information lets you make data-driven decisions and effectively target specific customer segments.
Some notable features of Klaviyo include:
Marketing emails with recommended products to increase sales.
Repeat business from customers through personalized campaigns.
Boosting sales revenue by understanding and tracking customer behavior in real-time.
Analyze and rectify areas using real-time revenue per automation, channels, segments, and campaigns.
Hassle-free email creation with a bunch of pre-defined templates for all occasions.
Pricing: Klaviyo offers a free plan, making it accessible to businesses of all sizes. The premium plans range from $45 per month for just email to $65 per month for email and SMS.
UpOrder, formerly known as Spently, is a user-friendly email marketing app that allows you to configure email templates using its innovative template builder. With UpOrder, you can increase sales by including product upsells in your email notifications based on customers' past purchases.
Some notable features of UpOrder include:
Providing stunning email templates that match your Shopify store
Offering product recommendations or discounts to increase sales
Enhancing client loyalty by gathering feedback and engaging with customers
Automatic follow-up sequences to increase customer retention and/or combat abandoned carts.
Easy-to-use drag-and-drop builder to create stunning emails without any coding.
Analyze and implement plans based on email performance and ROI.
Pricing: UpOrder offers a free plan and a 30-day free trial for its premium plans. They provide custom plans for businesses with more than 1,000 orders per month. The app's analytics and customer insights help optimize your email marketing efforts and provide valuable data for your business.
SmartrMail is an easy-to-use email marketing app designed to boost sales for Shopify stores. The app allows you to send personalized emails to single or multiple lists of recipients. With SmartrMail, you can segment your customers to ensure that only the intended group receives your email campaigns.
Some notable features of SmartrMail include:
Sorting customers into different segments for targeted campaigns
Syncing up with Justuno Wisepops, Sumo, Klaviyo, and more.
More than 100 pre-defined popup templates, email and SMS templates, and newsletter templates.
Complete and efficient support with 24/7 chat and calling features.
Utilize discount coupons attached to the emails.
Pricing: SmartrMail offers a free plan and a 15-day free trial on the premium plans that range from $14 per month to $99 per month. With its user-friendly interface and powerful features, SmartrMail is a great choice for Shopify store owners.
MailerLite Email Automation is an app designed to help retail business owners connect with their newsletter subscribers. With MailerLite, you can collect data from customers who sign up for your newsletter and automatically add them to a list of your choice in MailerLite. The app keeps your subscriber list up to date with synchronization, ensuring that your emails reach the right audience.
Some notable features of MailerLite Email Automation include:
Easy synchronization and storage of newsletters and customer information.
Recover customers with automated abandoned cart emails.
Track and analyze campaigns and revenue with in-built tools.
Integrate custom popups to enhance your Shopify store.
Pricing: MailerLite Email Marketing is free to use up to 1000 subscribers, making it an affordable and effective option for Shopify store owners. For a larger subscriber base, you may choose one of the premium plans ranging from $10 to $20 per month. They also provide an enterprise plan custom-built for your business needs. Since the framework is lite, the plugin is optimized for speed.
Seguno is an email marketing plugin that helps Shopify merchants create and send email campaigns. It offers pre-built email templates, email list segmentation, and automation features. The plugin is built with Shopify users and its platform in mind and is perfect for email marketing.
Some notable features of Seguno include:
Pre-built email templates for reducing abandoned checkouts and dynamic recommendations.
Automated email campaigns for welcome emails, discount reminders, and thank-you messages.
Real-time email performance and campaign activity reports.
Built-in spam protection and deliverable assistance to stay secure and efficient.
Built-in editor with Canva support and functionality to create custom and aesthetic emails.
Pricing: Seguno offers a free plan for up to 250 subscribers. If your subscriber count is higher than 250, you can opt for their premium plan priced at $20 per month. With this plugin's powerful features, you can focus on building your business rather than doing laborious marketing activities manually.
Drip is a powerful email marketing plugin for Shopify that allows you to turn customer data into customer loyalty. It only takes a few minutes to set up email workflows and abandoned cart automation using pre-defined templates. You can easily create and deliver newsletters and sync your Shopify store's branding assets.
Some notable features of Drip include:
Easy migration from your current email app. Drip provides excellent support throughout the migration.
Customizing your Shopify store with popups, quizzes, surveys, and more.
Building email campaigns based on customer behavior and real-time segmentation.
A/B tests up to four different iterations of a targeted email at once.
Simple point-and-click builder for creating personalized emails with products and recommendations.
Pricing: Drip offers a 14-day trial after which the price ranges from $35 for 2,500 subscribers and goes up to $1,899 for 170,000 subscribers. It also offers custom packages for businesses that range between 170,000 to 10,00,000 subscribers. Drip offers a lot of flexibility in both its features and pricing. The intuitive dashboard and excellent support make it a solid pick on this list.
Best Practices for Email Marketing
To get the most out of your email marketing campaigns, follow these proven best practices:
Focus on Your Subject Line
This is the first thing your subscribers see and what determines whether they open your email or not. Aim for subject lines that are short (under 50 characters), compelling, and personalized Mention your store name and a strong call to action like "New Arrivals at [Store Name] – Shop Now!"
Keep Your Content Concise
In the fast-paced world of email, less is more. Get to the point within the first paragraph and use bullet points and numbered lists when possible. Share only one main message or promotion per email. If you have a lot to share, send shorter, more frequent emails rather than long newsletters.
Include Visuals
Emails with images get significantly higher open and click-through rates. Feature high-quality product photos, graphics, and logos. But don't overload the email with too many large images, which can make it difficult to read and annoy subscribers.
Offer Value and Incentives
Give your email subscribers a reason to interact with you. Sales, promotions, and discounts should be highlighted. Share product updates, style guidelines, and other stuff that they will find truly valuable. Exclusive subscriber-only offers and coupons are also effective for increasing engagement and brand loyalty.
Optimize for Mobile
Over half of all emails are now opened on mobile devices. Ensure your emails display well on small screens by using a simple, responsive template with large text, tap-friendly buttons, and minimal scrolling.
Test and Optimize
Regularly test different email aspects like subject lines, content, layouts, and calls-to-action to see what resonates most with your subscribers. Make data-driven decisions to improve your open and click-through rates over time. Look for trends in your email analytics to gain insights into the interests and behaviors of your subscribers.
Be Authentic and Consistent
Establish a consistent brand voice and style to build familiarity and trust with your subscribers. Send emails at a fixed time and frequency so your subscribers know what to expect. And most importantly, be authentic — share real and factual content about your actual products, services, and company.
Conclusion
Email marketing is a powerful tool for driving sales and growing your Shopify store. By utilizing the top email marketing plugins and apps available for Shopify, you can personalize your marketing efforts, automate workflows, and engage with your customers effectively. Whether you're a new store owner or an established business entrepreneur, these plugins offer a range of features to help you succeed in the competitive eCommerce landscape.
Remember to analyze the features, pricing, and customer reviews to find the best fit for your business. With the right tools and strategies in place, you can create meaningful connections with your customers and drive your online business to new heights.
We hope this post has helped you choose the right email marketing plugin for your Shopify store!
Further Reading