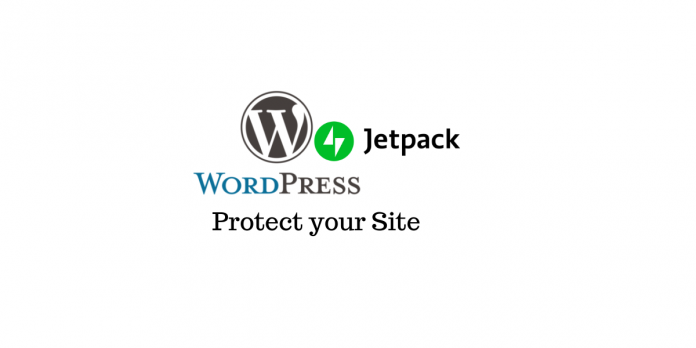 Last updated - February 24, 2020
WordPress is hugely popular as a content management system owing to the great flexibility and control that it offers. Since it is a self hosted solution, site owners will have absolute control over their site's data and features. However, such power comes with responsibility also. You will have to take care of your site's security and other features. With a simple WordPress install, you won't have a lot of tools to help you with. Jetpack is one of the most popular WordPress plugins that offers tons of features to your self-hosted WordPress site. In this article, we will look into the features of Jetpack, and try yo understand how it is an essential security tool for every WordPress site.
Jetpack features
Jetpack helps you with security, performance and site management. If you are familiar with WordPress.com, it gives a similar vibe to your WordPress.org site. Lets us try and understand the basic features offered by Jetpack.
Helps with your site security
Jatpack provides protection to your site from brute force attacks, spam, un-authorized login and malware. It helps backing up your site entire site according to the schedule you specify. Moreover, you can restore your site easily in a few clicks if there are any problems with it. You will get alerts from Jetpack, whenever your site faces downtime. It will send you a notification when the site goes back live as well. Jetpack also provides options to enable secure, two-factor authentication for logging in to your site. Furthermore, it will record all the activity on your site, which will help in better troubleshooting in case of any untoward events.
Ensures great site performance
Jetpack also offers several features to help your site perform at its best consistently. It offers a free Content Delivery Network (CDN) to help you embed images without slowing down your site. This way, you can serve images and other static files such as CSS and JavaScript to users through the servers of Jetpack. Moreover, it also offers lazy loading of images, where the images will be loaded only when users scroll through them. For premium plans, it even offers a video CDN, where your video files will be automatically embedded in a custom player.
Assists in site management
You will get a lot of assistance from Jetpack in site management as well. It provides you options to choose from a large number of professional themes. you can even get help designing the site's layout the way you want. Jetpack also provides actionable insights through detailed metrics such as site traffic, successful posts, comments. etc. It also helps in scheduling content sharing on social media sites. This would help to improve the traffic and page views on your site. Furthermore, it helps you display ads effectively on your site, and also helps you in integrating payment option through PayPal. Also, it helps you manage your site from your mobile by integrating with official WordPress mobile apps.
How to get Jetpack on your WordPress site?
You can install the free Jetpack plugin on your WordPress site. It is quite easy to install and set up the plugin as it is just like any other plugin.
You can understand more about how to install a WordPress plugin from this article.
Configuring the plugin is quite easy too. After installing the plugin, you need to provide your email id and password to integrate Jetpack with your site. Once the site is integrated, you can go to the Jetpack dashboard and set up all the required features.
Once you install and set up the free plugin, you can enable the following features without any extra charges.
Protection from brute force attacks.
Monitor downtime on your site.
Image and static file hosting.
Image lazy loading.
Site statistics and option to display related posts.
Scheduled social media posting.
Site activity monitoring.
Pricing
Apart from the free plugin, there are also different pricing packages, which you can choose according to the requirement on your site. The Personal package will cost you $3.50 per month, the Premium one will cost you $9 per month and the Professional plan has a price tag of $29 per month.
You will get priority support with the Personal package, in place of the email support that comes with the free version.
With the Premium version and above you will find features like automatic malware scanning and security fixes, Google analytics integration, and option to accept PayPal payment.
With the Professional version, you will find features like Elasticsearch-powered search, more than 200 premium WordPress themes, as well as theme support.
How Jetpack's security features can be a great help for your site?
As you know, Jetpack offers a range of security features. Here is a look at these features that are essential to your WordPress site:
Downtime monitoring
Continuous up time is an important parameter for search ranking as well as user experience. With the downtime monitoring feature, Jetpack will monitor your site periodically and inform you via alerts if there is a downtime. Until your site is back online this feature will send alerts. This feature is quite useful when you are on shared hosting, when your site is bound to go down at times due to fluctuations in traffic. If you are not using a dedicated tool for downtime monitoring, you can enable this feature on Jetpack.
Downtime monitoring is available with the free version of Jetpack. If you are just starting out with WordPress, this can be a great option to ensure site security. It is quite easy to set this up. On the security features, you can simply enable the alerts for downtime. You can also enable notifications to be send to your WordPress email account.
Secure login
This is another essential security feature you can enable with Jetpack. There are three options here. You can allow users to sign in to your site using their WordPress.com accounts. Jetpack also offers an option where the user's WordPress.com account should match with the email id that they used to create the account on your site. Finally, you can also enable the two-factor authentication as well to ensure the security of your site.
Mostly secure login won't be a big issue if you are the only person handling your site. For example, a personal blog won't have many other logging into it. However, if you have an eCommerce store, or a blog with multiple authors, this feature can be quite useful. Moreover, it also offers an option to restore or migrate your site from a backup saved before.
Automated backups
Backups are an important aspect for your site. If any untoward incident happens and it takes your site down, a saved copy of your site will help you restore your site back to a previous time point. So, back ups will save a secure copy of your site at regular intervals according to your specified time interval. Jetpack offers backups with all paid plans. With the Personal and Premium plans, you will get daily automated backups, and with the Professional plan, real time.
Jetpack backs up your entire site, and offers unlimited storage space. The storage locations will be secure and will enable you to have a copy of your site away from your hosting servers. In case you need to restore a back up, the expert support team will offer their support to get it done.
Brute force prevention
Jetpack also offers solid protection from brute force attacks on your site. It blocks the login when malicious bots try to access your website through continuous attempts. In fact, it will block malicious IPs from logging in to your computer even before they reach your site. It will also give you a total count of attacks, which you can view directly from the dashboard. In order to not block know IP addresses, Jetpack offers an option to white list such IP addresses.
Once you have Jetpack configured on your site, you can easily turn it on or off from the settings page.

Challenges you may face while using Jetpack
There are several challenges that users regularly discuss about Jetpack. One of the major ones in this regard is that Jetpack slows the site down. However, according to experts, this is just a misplaced concern. If you try to access all its features at once, chances are high that your site might slow down. You need to use it carefully depending on the specific service that you want to use with it.
Also, some users find the interface a little taxing. This is mostly owing to the large number of features available with Jetpack. Though you will take a little time getting used to it, soon you will be able to manage the features effectively.
Should you be using Jetpack?
If you have a WordPress site, obviously Jetpack is a great solution for you, since it comes from Automattic. Since, it is a comprehensive solution, it will reduce the hassles of having multiple plugins handling different aspects of your site. If you are not a WordPress expert, and you want to ensure the security of your site, Jetpack definitely is a great solution for you.
Choose a suitable Jetpack pricing plan now
Further reading