Last updated - July 8, 2021
When you are running a WordPress website or blog, you need to regularly keep backups. It will equip you to deal with unexpected issues that can cause loss of information. If you are running an online store using WordPress, for example with WooCommerce, backup is all the more important. All your products, reviews, comments, and posts will be stored in the WordPress database. Similarly, your WordPress site contains the core WordPress installation, themes, plugins, images, and other files. So, when you think of a WordPress backup, you have to back up both – WordPress site and database. There are ways to do this manually, but you can use automatic WordPress backup plugins for periodic backups and restores.
This article looks at the importance of WordPress backup and some really useful plugins that will help you with that.
Why is WordPress backup important?
There are always chances that something unforeseen can happen on your website. But that should not lead to loss of valuable information. If it's an eCommerce business that you are running, losing customers' information would mean grave consequences. Therefore, you need to prepare yourself to face any such problems. Valuable information like products, posts, reviews, comments, etc is stored in your WordPress database. Therefore, you really can't afford it if the WordPress database becomes corrupt. If you have a backup in place, you can easily restore your site to it.
Plugins are really helpful to extend various functionalities on your store. There are numerous plugins available in the WordPress plugin repository and you might be using many of them. Most of these plugins will get regular updates also. Chances are high that something goes wrong with a plugin update. So, to prevent this, you can always think of creating a backup as part of your plugin update schedule. If you are managing a WooCommerce store, some of these best practices might be useful to you.
Regular WordPress backup in multiple locations for added safety
When you think about a backup strategy, it varies according to individual cases. But a sensible thing would be to backup according to the volume of new information on your site. For example, if you are running a WooCommerce store, consider how many new product reviews and comments you are getting by the minute. Or how many new customers registered on your site, and what all new products have been added. You can determine the frequency of backups based on such information. There are multiple options you can choose from – real-time, daily, on-demand.
Keeping multiple backup files at multiple locations would be another wise thing to do. This way if one of the files get corrupted, you still have something to save your day. A general WordPress advice is to keep three backups on different computers, hard drives, or cloud.
How to deal with the huge file size of WordPress backups?
The huge size of WordPress backup files can create some understandable issues with storage. Sometimes this may be caused by certain plugins that create large volumes of data. For example, anti-spam or statistics plugins may generate huge volumes of data, but they may not be essential for your site. You can exclude these files when you specify the files for backup. Outdated image files might also be contributing to the large size of your backup file. You can spot them and delete to reduce the size of the file.
Automatic vs. Manual backup
Managing WordPress backups manually is a lot of work when you are managing a business website or a WooCommerce store. There are possibilities of human errors as well. Ensuring periodic, automatic backups using plugins would be the best strategy in such a scenario. You can focus your time and effort on more urgent aspects like customer experience or order fulfillment. However, WordPress advises keeping a manual backup occasionally to ensure everything is going alright. Because sometimes issues with one file can affect the whole automatic backup process.
WordPress Backup Plugins
There is a possibility that your hosting service is offering you options to backup your site. But, they may not be as reassuring as you store your own backups. Some may not keep it for long, and certain others may charge you when you try to restore. There are a lot of plugins in the WordPress plugin directory that would help you with periodic backup creation. Let's look into some of these options:
Jetpack's free version is one of the most downloaded plugins in the WordPress repository. This is because it has wonderful capabilities that help you manage multiple aspects of your WordPress site. Securing your site with timely backups is one of them. Jetpack actually works with multiple modules, which you can choose according to your requirement.
Backup is a paid module with Jetpack. You need to have an account with WordPress.com to use this service. There are different options that you can choose, according to the requirements of your site.
If yours is a personal site or a blog, a preferred Jetpack plan that you can use is the "Personal" plan. You will get automatic daily backup, 30-day archive, unlimited storage, spam filtering and great support with this plan. At $39 per year, it is clearly an affordable and reliable option.
However, if you are running a busy WooCommerce store, you may want to opt for the "Professional" plan. It offers automated real-time backups with unlimited storage and backup archive. If you have product additions and updates many times a day, this plan would make more sense to you. Every update on your site will be backed up instantly, and you can rest assured. Additional features of this plan include daily security scans and automatic resolution of issues as well. Unlimited high-speed video hosting, search engine optimization tools, Google analytics integration, etc are some of the other features. You can purchase this plan for $29 per month or $299 per year. You can find more details on these plans here.
This is one of the most popular backup plugins on WordPress at the moment. With over one million active installs and close to 2500 five star ratings, this one is a real star. Once you install this plugin, you don't need to worry about several things that can affect your website. This may include issues with the host servers, malware, hacking, security vulnerabilities, plugin or theme updates, etc. With the help of UpdraftPlus WordPress Backup Plugin, you can easily back up your WordPress site and database on the cloud. Moreover, you can restore it quite easily with a single click.
You can directly save the backup to any of the cloud storage services like Dropbox, Google Drive, Amazon S3, Rackspace Cloud, DreamObjects, FTP, OpenStack Swift, Updraft Vault, email, etc. Once you schedule a backup with this plugin, you can simply forget about it and focus on other aspects of your website or store.
Both backup and restore options are available with this plugin, which many other similar plugins don't have. There are quite a large number of cloud options are available, which you can choose according to your preference. It is fast, and promptly backup your site with minimal server usage.
Duplicator is primarily a site migration plugin, but it is widely used for manual site backup as well. With the help of this plugin, you can manually backup your entire WordPress site or parts of it.
If you want to get advanced features like scheduled backup, you might have to purchase the pro version. You will also get the choice to backup in one of the cloud storage services like DropBox, Amazon S3, Google Drive, etc. Options start from $39 for a 3-site license.
BackupBuddy is a great premium option to backup your WordPress site. It will protect your site data from several threats like malware, hacking, server crashing, bad commands, etc. BackupBuddy helps to backup your entire site including WordPress files and the database. The whole process is quite simplified with this plugin.
Once you install the plugin, run a complete backup of your WordPress site. You can download the backup zip file after this. Now you can set up remote destinations to store your backup. If you want to run scheduled, automatic backups, you can set it up in the plugin settings. Furthermore, you can set up real-time backups, if you enable Stash Live.
The remote storage locations where you can save your backup files include BackupBuddy Stash, Amazon S3, Google Drive, Dropbox, etc. Also, you will get email notifications whenever the plugin completes an operation. Purchase plan starts from $80 per year for single site backup.
This free plugin helps you to save your complete WordPress installation and store it in a remote location such as Dropbox, Amazon S3, etc. Once you have the backup zip file, you can easily restore an installation.
The plugin is quite popular in the WordPress community with over 600,000 active installs and close to 400 five star ratings. However, the plugin developers recommend purchasing the pro version, if you want the complete suite. With the pro version you will get complete database backup, a list of installed plugins, WordPress XML Export, log report via email and much more. Purchase options start from $69, which you can use to backup one domain.
This plugin creates a backup for your database. You can create the core WordPress database table and any other tables in the same database. It also helps you to schedule automated backups and send them to a specified email address. With over 300,00 active installs, this one too is quite popular in the WordPress community. However, the problem with this plugin is that it can't be used to back up the entire site. You may have to manually backup your media files. If you don't use a lot of media on your site, you can think of using this plugin.
The plugin is one of the simplest options to backup and restore your database, and even for a scheduled backup. Translation for around 13 languages is available.
You can use this plugin to backup your entire site along with the database. BackupWordPress also supports scheduled backups, and you can exclude specific files and folders from the backup schedule. It is quite easy to use with no specific setting up process. It works well with all hosting plans including the shared environments. You will be able to handle multiple backup schedules at a time and can send off these to your email address. It works smoothly on both Linux and Windows servers, and translations are available for 12 languages.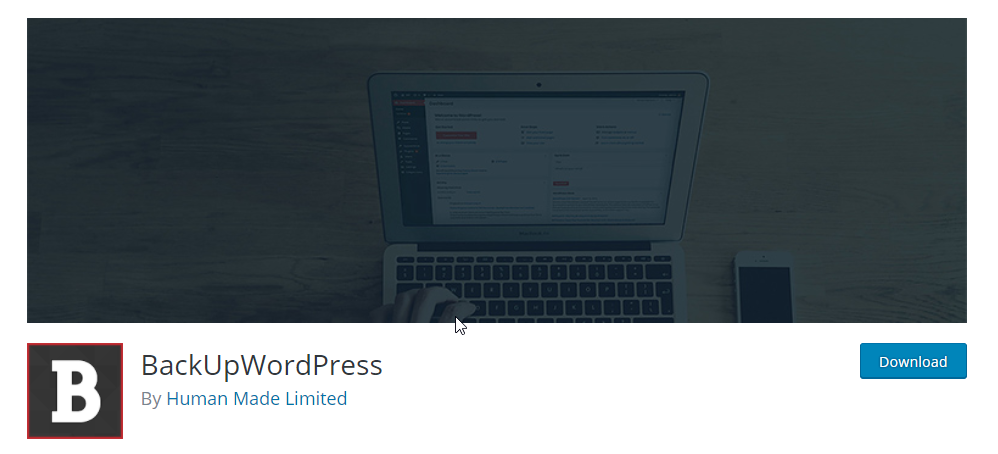 If you want to send your backups to remote destinations, you can purchase the paid version of the plugin. The available options for remote storage include Google Drive, DropBox, Amazon S3, Microsoft Azure, FTP/sFTP, etc. Price starts at $29 for a single site license. One good aspect of this plugin is that it offers good support for both free and paid versions.
You can also watch the below video to explore more plugins for backup. We have excluded some of the plugins from this article, but have also included few more useful ones.
Also, you can read about backup plugins in this article of WP Buffs as well. WP Buffs offers round the clock WordPress maintenance services around the globe. If you are the type who doesn't want all the hassles of maintaining a WordPress site, you can make use of their services. Some of the features you will find with WP Buffs include:
Remote team to help with Website Edits 24/7.
Ensure the security of your website with a reliable security plugin.
Best performance guaranteed for your site.
Thorough site monitoring to catch any issues without delay.
Regular updates of your core files, plugins, and themes.
Reliable help to manage all aspects of your WooCommerce site.
Detailed reports to understand all changes made on your site.
Conclusion
Preventing site outage is a major concern if you are managing a business website or an eCommerce store. Even if you are taking all the necessary precautions, problems may arise. An issue with your hosting service, conflict with a plugin update, human errors, etc can cause a nagging issue on your site. Irrespective of the size of your site, you may want to invest in a reliable backup service to avoid disturbing hassles. This way you will find peace of mind as an updated copy of your file will be securely saved in a different location. Sometimes, your hosting service may provide backup plans for your site. However, these are not completely dependent options. The above-mentioned plugins are some of the best available options available for you to backup your site. You can choose one of them according to your preference for your site. If you have any opinion about this article, please leave us a comment.
Read more about the best WordPress backup plugins.