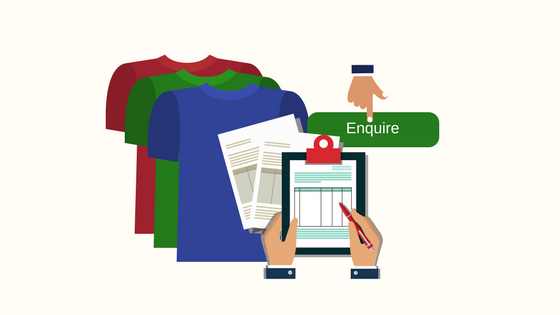 Last updated - December 7, 2018
This article is a review of the Product Enquiry Pro (aka QuoteUp) plugin for WooCommerce from Wisdmlabs. Initially, Product Enquiry Pro and QuoteUp were two separate plugins which later got merged into one robust plugin.
Read the entire article to discover a gift at the end of it!
Online purchases are usually accompanied by some sense of insecurity and doubt. Especially while purchasing cloth material or food items we tend to find the available information inconclusive. Probably the discounts and money back guarantee are the reasons that most of the time we go with our online purchases anyway. Sometimes we are not left with any other option but to make the online purchase. But, why does it always have to involve some sort of inconvenience? Why can't we make an online purchase as confidently as an offline purchase?
Let's try to breakdown the issues you face while purchasing online.
When you are purchasing a cloth item, say a t-shirt. How do you judge the material? Sure, it's mentioned on the site, but how many times have you got the exact material you had order for? Moreover, the size charts may not always give you a clear idea of which size you should be purchasing. In such cases did you ever wish you could get directly in touch with the seller?
While purchasing food items offline, you have the habit of checking them thoroughly for any defects in order to ensure quality. How would you do that online? Did you ever want to acquire some more information while purchasing food online?
And of course, how you wished you could negotiate online? Or maybe ask 'Do I get any discount if I purchase this item in bulk?'
Suppose you see an amazing product with too many features and addons, some of which you won't be needing. Would you not want to talk to the seller and see if he can offer you any discount by removing some of the unrequired features?
What if you would want to add some slight customization to a product? Like some change in a t-shirt print!
Then again, sometimes you see that they are charging too much for delivery and you have some arrangement in mind for that. Wish you could get in touch with them in order to discuss this?
Then of course, while looking for a service, you would definitely want to have a conversation in order to be clear about your requirements and the right quote.
With a plugin like Product Enquiry Pro, you have a solution for all the above issues. Now that you are well aware of all the use cases, let's get to the basic workflow of the plugin.
Basic Workflow of the plugin
On installing and activating this plugin you would get an additional enquiry button for all your products. Through this button, your customers would either 'Request A Quote' or 'Enquire about the product'. The process of placing an enquiry is same as the process of placing an order in WooCommerce. Just like WooCommerce order has various statuses like "pending", "on hold", "complete", etc. "Request a Quote" too has several statuses relevant to quote requests.
Through this enquiry request, the shop owner/agent can resolve the queries of the customers and clear his doubts on his purchase decision. The customer can then decide to either 'Accept' or 'Reject' the quote or offer.
What are the advantages of using a Product Enquiry plugin?
Through this plugin you get an opportunity to manually convert a lead into a customer. You get a chance to convince and keep you point. Further, talking to a customer directly would let you gather a lot more information on the demand for your products and what are the scopes of improvements.
The customer doesn't have to post on any forum in order to place an enquire, getting the opportunity of sending a private message directly to the store owner would give him more confidence to speak his heart out.
You get a chance to acquire a wholesale buyer. While negotiating with a prospect, you can lure him or her with offers for a larger volume of purchase.
In case when you sell services, a customer might have a custom requirement which is not listed on your site. In that case, you might lose a client if you do not provide them an option to communicate regarding the service. A plugin like Product Enquiry Pro would come to your rescue and let your client directly approach you with their requirement and consequently help you negotiate on the quote.
What does the free version offer?
With the free version, you can add an enquiry button for each of your products in their product pages. You can even change the text of the button in order to suit your business need. Like if you are offering services, then you can give the text "Request a Quote". On the other hand, if you want your customers to enquire for details regarding the concerned product, you can give the text as "Enquire".
You have customization option for the button placement like either "After Add to Cart button" or "After Single Product Summary".
Option to send email to site admin and product owner. The customer can also get a copy of the mail. The free version would allow communication only via email. Thus, it's important to either keep the 'Site Owner' or the 'Product Owner' in the loop.
The free version supports only simple products.
You can use custom CSS to style the enquiry button.
The free version would be ideal for a small sized business or if you are expecting a lesser number of enquiries.
What does the premium version offer?
In order to experience the full potential of the plugin, I suggest, you must go for the premium version. At $49, the premium version is enriched with every required feature.
With free version you can show the Enquiry button only on the 'Product' page, but the premium version would allow you to add the enquiry button even in the 'Shop' page. You can even display the enquiry button in any other page using the shortcode [ENQUIRY_BUTTON product_id=xyz]. Since every enquiry button has to be associated with a product, so, you are required to replace 'xyz' in the above shortcode with a specific product id.
The most noteworthy feature is the dedicated dashboard from where you can manage all yours enquiries and quote requests. You can control your enquiries more effectively. When a customer 'rejects' a quote, the admin can decide to edit it and resend it.
A visual Drag & Drop form builder. This feature would come handy to people who like using the Drag & Drop feature of page builders. This is the simplest way to customizing the enquiry form. Though you can create more than one number of forms and save it in your 'Wisdm Forms' dashboard, you can use one form at a time.
The plugin offers a good deal of flexibility when it comes to the enquiry form customization. The plugin exposes some hooks using which you can use to add, modify or remove certain fields. For details on enquiry form customization, you can refer to this article.
Looking for a Customizable Inquiry Form for WooCommerce?
The premium version supports simple, as well as variable products too.
It has an integrated Google reCaptcha settings. The last thing you would want is your dashboard being flooded with spammers and bots!
Options to selectively hide 'Enquiry Button' at product level. You can choose to give the 'Request a Quote' option to either specific products or all. You can choose to hide prices of specific products or all. The plugin also allows you to hide the "Add to Cart" button and even modify its text.
A single quote request can have more than one products. In fact products can also be added from the backend, maybe as a purpose of giving more options to the buyer while discussing the offer possibilities.
You can choose to provide your customers an option to add their telephone number too.
Generation and sending of quote PDF is very straightforward from the enquiry dashboard.
The plugin also allows an integration with Google Analytics, so that you can view and track every activity related to form submission through Product Enquiry Pro plugin.
Check out the Installation and User Guide in order to have a better understanding of all the features.
Concluding Words
At $49 this is definitely a great plugin with a good number of features. Plus, the customization options are a good addon to this already amazing plugin. This plugin would be a good asset to your store, provided you want to have any of the feature mentioned above. Among all the currently available plugins which provide 'Request A Quote' and 'Product Enquiry' feature, we cast our vote on "Product Enquiry Pro/QuoteUp"
If you plan to purchase the plugin before 20th June, then garb our exclusive deal and get the plugin at 20% off!