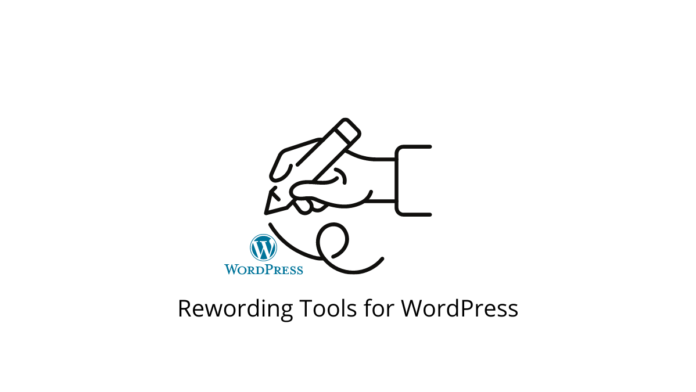 Last updated - November 11, 2022
Around 42.9% of all websites on the internet are made on WordPress. This tells us not only the importance of WordPress in marketing but also its role in content management. However, posting good quality content on it is just as necessary as on any other platform.
That's when good rewording tools help with this aspect. A good rewording tool can make life easier for any writer by rewording content to achieve better quality or remove plagiarism. Therefore, today we'll look at five of the best rewording tools. But first, let's analyze a few key things:
What Is a WordPress Blog?
WordPress is a free, open-source content management system (CMS) based on PHP and MySQL. WordPress was originally designed as a blogging platform but has evolved into a full-fledged CMS that can be used to run any type of website.
WordPress is the most popular CMS used today, powering approximately 34% of all websites on the internet. It is also the most popular blogging system in use today, with over 70 million new posts published each month in tech; education, workers' comp, health, fashion, and all most each and every field of life and work.
The WordPress software can be downloaded for free from WordPress.org and installed on a web server or hosted by an internet service provider (ISP). The server software can also be installed directly onto a computer without needing to go through a web hosting provider
This ensures easy management and content posting. That's why WordPress is the preferred CMS system for blogging and websites by many experts. Mainly because it provides that the content management is smooth, continuous, and reliable.
Defining High-Quality Content
A blog post is a perfect way to share your knowledge and expertise with your target audience. It's also an excellent opportunity to generate leads, improve SEO and increase traffic. That's why it's so crucial that your blog posts are high-quality content.
Because a blog post can be the difference between success and failure for your business. In this article, we'll look at some of the best practices for creating high-quality content for your blog posts. Three main factors help determine whether or not a blog post will be successful:
SEO
Engagement
Conversion Rates
You need all three of these factors to work together to create a successful blog post – but you can't just focus on one area without considering the others. Thus, it is not easy to produce high-quality blog content in a short period of time.
Many aspects need to be considered when you are writing a blog post, such as the topic, structure, and tone. Writing blog posts can be challenging and time-consuming. This is where AI writers come in handy.
They provide assistance to content writers by getting rid of writer's block and generating content ideas at scale.
Rewording Vs. Rephrasing
Rewording and Rephrasing are two sides of the same coin. However, the primary difference between the two is the purpose. Rewording serves a specific purpose, which is to:
Rewrite using better, simpler words
Describe something better
Achieve better quality
Avoid plagiarism
On the other hand, rephrasing's objectives aren't exactly that different, but to help you understand, here's what it does:
Rephrasing changes the orders of the word, not necessarily changing them.
Rephrasing achieves better clarity by using alternative terms or synonyms.
Removing plagiarism by using alternative words but giving the original author credit.
Rewording enough to change content tone or voice (active to passive).
These factors alone tell us the importance of both these techniques. However, they can both be done with the help of a proper paraphrasing tool. Since AI knows what's the primary difference, any capable paraphrasing tool should be able to differentiate between one or the other.
5 Rewording Tools for Creating High-Quality Content
Now that we're through the technicalities, let's dive right into the five best rewording tools for high-quality content:
Paraphraser.io
Paraphraser.io has become a leading rewording tool for writers of all kinds. From academic writers to professionals, many of the audience use it to write outstanding and original content. Therefore, it's an ideal choice to write high-quality content for your WordPress blog.
Offering a 500-word limit, the tool also presents four modes, two of which are usable for free. These two content modes allow you to reword your content into specific tones. Therefore, you can cater to any sort of audience by using this program to rephrase your content. 
Rephraser.co
With the most cutting-edge AI technology, Rephraser.co is one of the most intelligent and user-friendly rephrasers that enables its users to paraphrase. It is more of an all-encompassing writing solution for professionals.
You may rework text for your WordPress blog with the aid of this sentence rephraser tool.
Linguix Paraphraser
Linguix paraphraser is a lost gem in the search pages of Google. This remarkable rewording tool has all the fundamental essentials you need in a program like this. This should be one of your main choices, allowing you to rewrite content efficiently.
Besides that, the tool also fixes grammatical errors and spelling problems as you use it to reword your content. Making it an all-convenient option for WordPress Bloggers.
Search Engine Reports Paraphrasing Tool
Search Engine Reports has many tools, but their paraphrasing tool is ideal for rephrasing content. Besides featuring an intriguing UI, this rewording tool allows you to rewrite up to 2000-words, which is more than what most tools offer.
And the tool is exceedingly quick, so you won't have to wait around too long to reword your content either.
Custom-Writing.ORG's Essay Paraphraser
Custom-Writing.ORG's essay paraphraser might be intended for essay writers. However, its academic-level quality is precisely why WordPress bloggers should use it for their content.
Besides that, this rewording tool also offers an intensity bar of sorts, which allows you to pick the percentage of words you want to change.
Rewording Tool
If you're looking for an intelligent paraphrasing tool that brings the most accurate output for your content, this tool would be a perfect choice. The reword tool has multiple paraphrasing options with over 2000-word count support for free.
You don't need to log in or pay to avail full features of this tool. With the help of cloud-based file-sharing platforms like Dropbox and Google Drive, you can easily upload content with a few clicks. This tool is fast, secure, and accessible with its online and mobile application support.
These are the best rewording tools to make life easier for a WordPress blogger. These five choices can ensure that you don't have to manually go through the hassle of rewording. Simply by allowing you to reword your content to achieve higher levels of quality and remove plagiarism.
Further Reading