Last updated - May 5, 2023
Shopify powers over 1.75 million e-commerce stores globally, including various wholesale/B2B businesses. If you want to operate a wholesale store on Shopify, you'll need to have a Shopify Plus subscription. Although Shopify Plus is perfect for big companies, you don't always need it. You can still manage a successful wholesale store without paying a large subscription amount for Shopify Plus. There are many ways to accomplish this – either by using a third-party Shopify wholesale app or by creating a custom-made Shopify B2B store with the help of a Shopify agency.
In this article, we will discuss how you can run a wholesale store without a Shopify Plus plan. But before starting, let's just look at what Shopify Plus has to offer in their B2B eCommerce solution.
What Does Shopify Plus Have to Offer in Terms of its B2B Offering?

Shopify Plus offers a powerful platform for wholesale businesses, with features such as:

Dedicated customer profiles to manage wholesale customer accounts.
Personalized B2B store to create a unique buying experience for customers.
Product publishing based on the type of customers.
Quantity breaks to sell a particular number of products for a specific amount if buyers buy in bulk.
Price lists feature to assign specific product prices to a company profile.
Payment terms for 15/30/60/90 days, etc installments.
Option to add a custom data field to a company profile.
Easy reordering for customers.

and many more.
How Much Does Shopify Plus Cost?
Even though Shopify Plus comes with lots of features, these features come at a cost – the Shopify Plus subscription starts from $2,000 per month. For small businesses or startups who do not want to spend so much money, there are alternatives.
How Much Does a Wholesale Store Cost Without Shopify Plus?
The cost of setting up a Shopify wholesale store without Shopify Plus depends on the features you want to include and the type of store you are creating. Generally, if you use third-party apps, it will cost much less than $100 per month (including Shopify paid plan).
How Does a Wholesale Store Differ From a Normal Store?
Wholesale stores are different from regular e-commerce stores. They typically focus on selling products in bulk to other businesses or companies, and they could offer special discounts for larger orders.
Wholesale websites also require registration before customers can access pricing, place orders, and view inventory information.
What are the Alternatives to Shopify Plus for a Wholesale Store?
There are several alternatives that you can use if you don't want to pay for a Shopify Plus subscription:
Use a Third-party Shopify Wholesale App
There are various apps (such as Wholesale Pricing Discount, Wholesale Lock Manager, etc.) available on the Shopify App Store specifically designed for creating and managing wholesale stores without the need for Shopify Plus. These apps are simple to use and offer many useful features such as product tier pricing, order minimums, automated discounts, customer segmentation, etc.
Create a Custom-made Shopify B2B Store
You can also have your own custom-made wholesale store built by partnering with a professional Shopify agency. This will enable you to create the exact type of store that meets your needs without having to pay for an expensive subscription plan.
Regardless of which option you choose, running a successful wholesale store without Shopify Plus is entirely possible if you understand your customers' needs and provide them with easy access to the products they need in bulk.
How to Create a Wholesale Store Without Shopify Plus?
Creating a wholesale store without Shopify Plus is an easy process and does not require any coding skills. Let's now discuss how to create one step-by-step:
Step 1: Signup for Shopify by entering your email.
Step 2: Add a suitable theme as per your brand guidelines and other requirements.
There are many free and paid themes available on Shopify's theme store. Pick one carefully based on the functionality you want for your wholesale store.

Step 3: To enable the basic Payments gateway, Shipping option, staff accounts, and other important features, select a suitable Shopify plan.
Step 4: Add products to your store.
Step 5: Now, go to the Shopify App Store.
Step 6: Search for a 'wholesale' app in the search bar.
Step 7: Add the Wholesale Pricing Discount B2B app to your store.
Step 8: To set up the app completely, follow the onboarding instructions mentioned in the app.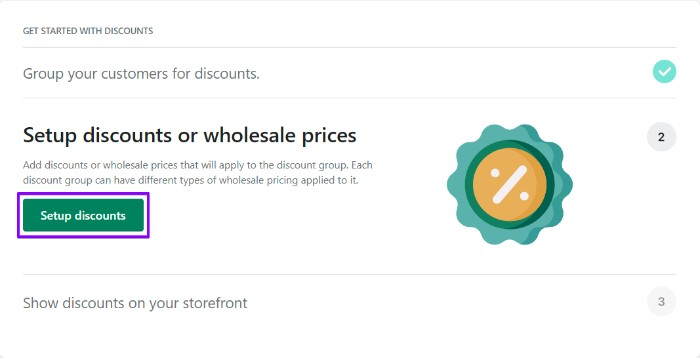 Step 9: Set the type of wholesale discounts you want to offer on your products.
Step 10: Show your discounts on your storefront so that your specific customers see them and purchase products.
Step 11: That's it! Now, promote your DTC + B2B wholesale store to your customers and ask them to signup as a wholesale customer (the WPD app offers a wholesale signup form feature) on your store.
What are the Benefits of Running a Shopify Wholesale Store?
There are many key benefits of running a Shopify wholesale store for businesses looking to sell their products in bulk online:
Easily manage customers by creating segments and offering specific prices for specific purchase volumes.
Reach a larger audience and increase your sales.
Offer tiered pricing or volume discounts.
Streamline wholesale orders to process them quickly.
Offer customized and better shopping experiences for your B2B customers.
Increase customer loyalty by offering incentives to return customers/repeat orders.
Dedicated support from the third-party app provider.
Better control over pricing, order placement, and inventory information.
Summing Up
We see that having a Shopify wholesale store allows you to tap into a larger customer segment. It lets you expand your customer base and offer better service to B2B customers by offering them bulk order options and discounts. Not only will this help increase conversions in the existing market but it also opens up potential new markets for your business.
With the right strategies, pricing models, and integrated marketing efforts, you can create an engaging buying experience for all your D2C and B2B customers. So, if you are looking to increase your business' reach and grow your customer base, a Shopify wholesale store could be the right option for you.
Further Reading