When you run a WordPress site or a WooCommerce store, you know how important it is to be SEO friendly. You might have already read our article with some tips on improving the search engine ranking of your site. One of the first steps you need to take in order to make your site optimized for search engines is to get a suitable theme. In this review, we will introduce you to a great theme that focuses well on the SEO aspect – Schema. We will get into the details of this theme's features that make a difference in terms of making your site more accessible to search engines. We will also address how specific features in a theme can impact the SEO efforts of your site.
Before getting on with the review, let's take a look at the features that makes a theme SEO-friendly.
What makes a theme SEO friendly?
Search engine optimization is a collective effort that focuses on multiple aspects of the site. When you choose a theme, you need to make sure that it has necessary features that will complement your SEO efforts. Let us take a look at these features in more detail.
Should enhance site performance
Site performance is one of the primary concerns of search engine ranking. A slow loading site will create a negative impact on customer experience as well as search engine ranking. Whenever, you look for a theme, you need to make sure that it is not hampering the performance aspects of your site. How the theme handles images and video content can make a difference. If you are using a plugin for optimization of images and video, you need to check if the theme you choose is not conflicting with it. Check the theme demo page on Pingdom to ensure good page load speed.
Valid Coding
You need to make sure that the theme is built up on a valid set of code that adheres to the latest coding standards. W3C Markup Validation service can help you ensure this.
Responsive Design
The ability to adapt to different devices is one of the most important qualities of a good SEO theme. The responsive design of the theme will take care of this, and as more users are choosing mobile devices to access internet, this has become unavoidable.
Structure of your website
Another aspect that can have an impact on customer experience as well as search engine ranking is the navigational structure of the website. Your theme plays a big role in ensuring a good navigational structure for your site. A good site structure would make it easier to navigate for users as well as search engine bots. You can find out more on this by carefully examining the theme demo page. Depending on how easy and intuitive the navigation is, you can decide on a suitable plugin.
Schema markup
Adding a schema markup via Search Console would help search engine bots to understand the content of your site. You can display product reviews, event details, etc. from your site on the search results page this way. Before choosing the theme, you can check the demo to make sure that this feature is included.
Additional features
Many popular themes provide a bouquet of plugins along with it to help you with added features and functionalities. This can be both good and bad. First of all, it might help you with a lot of useful functionalities. However, there is also a chance that the additional plugins are not adding much value on your site. In such a scenario, it will only help to make your site bloated and slow.
Schema SEO WordPress theme
Schema is a WordPress theme that ticks a lot of right boxes when it comes to a theme that is optimized for search engines. Let's take a closer look at the list of features.
It's fast
Schema makes sure that your site loads really fast. It is consistently getting the top grades when you perform a Pingdom test with it. This will ensure that your site will load fast, and there won't be any issues in that department from users or search engines.
Responsive
The theme boasts a 100% responsive design. That means your users will have the same experience on your site irrespective of the devices they are accessing it from. There is an option to have a custom menu for mobile devices.
Helps manage ads
It helps you manage ads on your WordPress site. This is a feature that is not really common when you look around. With the help of the Ad Management section under Theme Options, you can easily display and track the ads displayed on your site. If you wish to know more about featuring ads on your WordPress site using Google AdSense, here is an article that will help.
Reviews
It offers a review system that enables you to offer your users an option to review posts published on your site.
Import settings easily
The convenient Import option will help you import content and settings, and this makes the process of switching to Schema a breeze.
Powerful theme panel
Schema has a powerful theme panel that helps you set up the theme quite efficiently and quickly. You will find options like Lazy Loading of images and Async JavaScript that helps to load the site quite fast. There is also an option to enable and disable prefetching.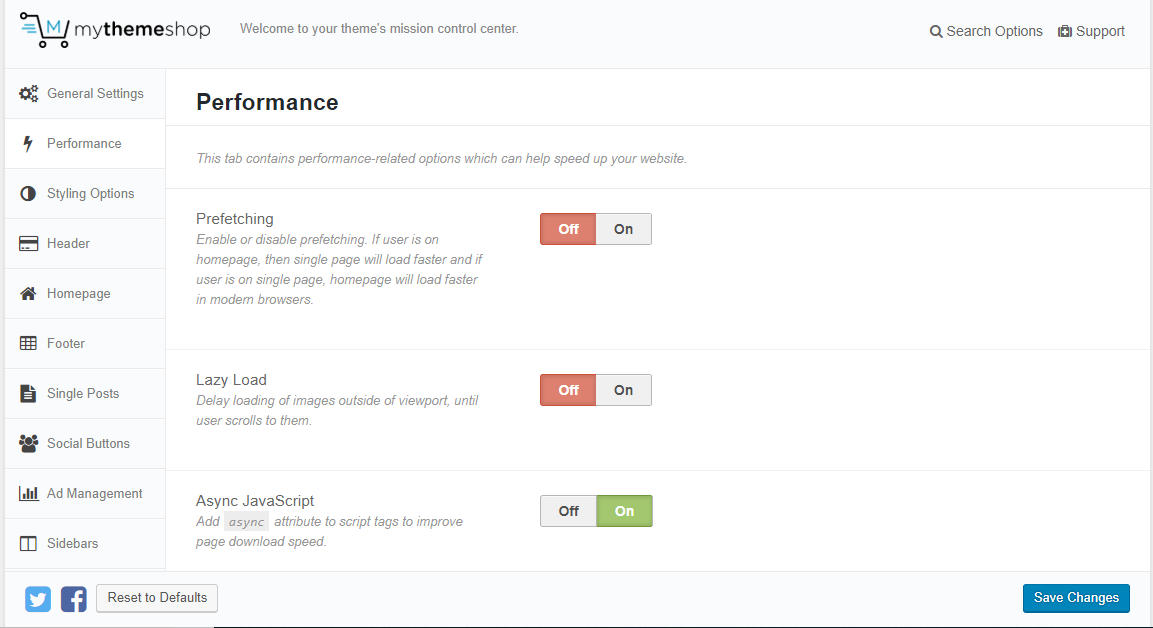 Rich Snippet
It offers rich snippet support for schema markup that is crucial for search engines to understand the content on your site.
Customization support
The theme offers custom CSS support. If you are knowledgeable in CSS, you can easily incorporate changes to make your site look more in lines of your vision. It also allows customization of sidebars for each of your post or page.
Optimized for search engines
Schema comes packed with a lot of SEO friendly features that sets it apart from competitors. It makes sure that the structure of your site enables search engine bots to get a clear understanding of your site and its contents. Also, the secure and light weight code makes it quite good when it comes to the performance aspect. Overall, it has a friendly disposition towards Google's algorithm and this will help you site to get featured more often in search results.
Social media integration
Sharing your blog posts to social media sites will be pretty easy as Schema incorporates multiple options for content sharing. You will find buttons for Facebook share and like, Twitter, Google Plus, LinkedIn, StumbleUpon, etc.
Get started fast
With Schema's demo data, you can easily start setting up a site, and then gradually make changes according to your design sensibilities. Schema offers two pre-built demos under the Import/Export options. You can import Theme options, widgets and content according to the way you want it.
How to get this theme?
Schema is priced at $69 for a 5-domain usage license. Once you make the purchase, you can instantly download the plugin and start redesigning your site. You will get support and updates for a period of one year with the purchase. And, to help you with setting it up there are narrated video tutorials, which can be of great help. More importantly, if you find it not suitable for your site, you will get a full refund within 30 days.
---
Special offer for LearnWoo readers!
If you are interested in purchasing this theme, you can get an exclusive discount as a LearnWoo reader. Here, under the deals section on LearnWoo site, you will find the coupon code for MyThemeShop. While checking out from their site, you can apply this coupon code to get 10% discount. This discount is applicable on all products that you purchase from this website.
---
Installation and Setting up
Once you purchase this theme, you can get started with it like you would any other theme. Install the theme, and you will find the settings under Appearance > Theme Options. If you would like to install a pre-built demo, the settings for the same is under the Import/Export section.
Additional plugins
You will get access to four useful plugins when you purchase this theme. These WP Review, WP Shortcode, WP Subscribe and WP Tab Widget.
Let's quickly see how these plugins can help you:
WP Review – It will help you provide an option for your users to review your products or posts. You will find more information on your WooCommerce review strategy here.
WP Shortcode – This plugin enables you to create custom shortcodes. You can easily create buttons, warnings and column layouts on your site using this plugin.
WP Subscribe – This plugin helps you to increase the number of subscribers on your site. It offers features like exit intent popup, which would help you convert more site visitors to subscribers. The plugin is compatible with popular email list solutions such as MailChimp, Aweber, Feedburner, etc.
WP Tab Widget – You can set up select content on the sidebar with the help of this plugin. This would help your users to find popular content on your site without difficulties. It is also a good option for site owners to promote specific content.
What we think about Schema theme?
Schema is a really good option for your WordPress site or WooCommerce store. The design is minimalistic and quite functional. We loved the intuitive nature of the settings, and some of the plugins that come with it can be quite handy. If you are looking for a fast and powerful theme for your site, this one is definitely worth trying. There are two pre-built demos, which you can install in a single click. Though these are really good options, we wish there would be more pre-built demos available. Overall, it is a good bet if you prefer customizing your website with minimal coding intervention.
Conclusion
Choosing a fast, responsive and SEO-friendly theme is really important when you are maintaining a WordPress site or a WooCommerce store. We have introduced you to a theme that manages all these aspects quite well. Moreover, it is quite user friendly, and doesn't require any coding knowledge to set it up. However, if you are familiar with coding and want to apply custom changes with CSS, it offers option for that too. Please share with us your experience with this theme, if you are already using this one.
Further reading