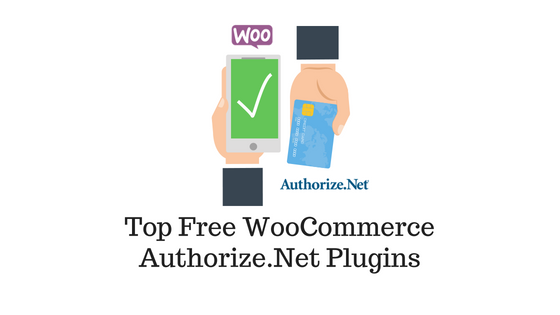 Last updated - September 8, 2020
When it comes to payment gateways, Authorize.Net has created a name for itself. It is one of the most popular payment gateways when it comes to eCommerce checkout payments, mobile payments, eChecks, phone billing, and point of sale (POS) payments to name a few.
With Authorize.Net, you can accept payments from websites/eCommerce stores and transfer funds to merchant's account in no time. Although Authorize.Net accepts payments from all over the world, your business should be registered in either the US, Canada, UK, Europe or Australia. In addition to this, the payment gateway accepts all major credit cards like Visa, MasterCard, American Express, Diner's Club, JCB, and Discover.
Hence integrating such productive payment gateway to our WooCommerce store is something to look forward to.
Although there are premium plugins for Authorize.Net payment gateway, in this article, we'll see the top 4 free WooCommerce Authorize.Net plugin.
Top Free WooCommerce Authorize.Net Payment Gateway Plugins
Let's get started and understand what each plugin has to offer.
1. Authorize.Net Payment Gateway for WooCommerce by ELEX
This plugin provides in-flow checkout experience on your WooCommerce store. In the sense, the customers do not have to leave your site for making the payment. The plugin also provides an option to set custom order button text and select preferred cards to show the respective logo(s) on the Checkout page.
When it comes to transaction modes, the plugin offers Test mode and Live mode, which by the way, provides straight-forward understanding to test the plugin features in the test mode and switch to live mode for real transactions. The free version only provides Authorize & Capture mode of transaction.
The Premium Version has a lot of interesting features. For instance, it allows you to accept CVV number for credit card transactions, allows eCheck payments, capture payments later option, supports various account types (checking, business checking, and savings ), custom URL to redirect the customer after the transaction.
But that's not it!
One amazing feature in the premium version is the Authorize.Net Overview page.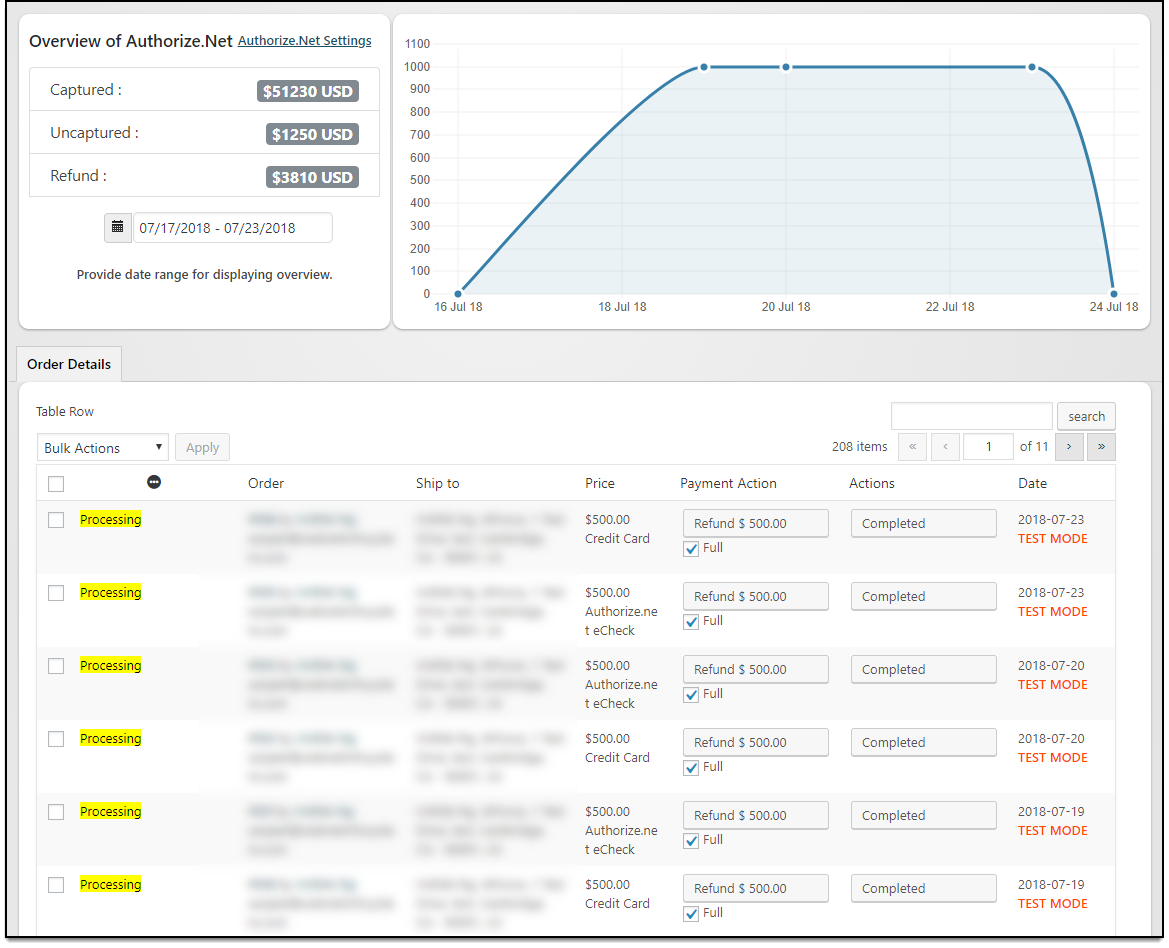 Do you find it tiring to log in to your Authorize.Net account to view your payment transactions every time an order is placed? The Overview page solves this problem by having you a dedicated page that shows all the transactions made using both credit card and eCheck payments. This page also helps in processing partial and full refunds.
2. Authorize.net Payment Gateway For WooCommerce by Ishan Verma
This plugin is the most popular WooCommerce Authorize.Net plugin and is Authorize.Net certified solution. The plugin uses MD5 hashing technique that will help identify real and fake transactions.
It offers three API modes: Live/Production Mode (for real transactions),  Live/Production API in Test Mode (for test transactions), and Sandbox/Developer API Mode (for development purpose).
In addition to this, the plugin has two transaction modes – Authorize & Capture (to authorize and capture the payments simultaneously) and Authorize Only (to only authorize the plugin). It also allows you to compose messages for successful and failed transactions.
3. YITH WooCommerce Authorize.net Payment Gateway by Yithemes
In addition to the custom title and description for the payment gateway, the plugin allows you to set custom text for order button and select type of cards(Visa, MasterCard, American Express, etc) to be displayed on your Checkout page.
Just like the previous plugin, this plugin uses MD5 hashing technique for processing safe payments. The plugin offers sandbox mode for testing the configurations and allows you to authorize & capture, or only authorize the payment transaction.
The premium version offers eCheck payments, an option to store the payment information for future checkouts, allows your customers to manage their payment methods and so on.
4. Authorize.Net CIM for WooCommerce by Cardpay Solutions, Inc.
This version of Authorize.Net payment gateway plugin offers Authorize & Capture and Authorize Only transaction type, and allows you to automatically capture payments for Authorize Only transactions. It contains the typical sandbox mode for trying out test transactions and allows you to select desired cards that are allowed for payment transactions.
When it comes to security, the credit card details are processed using Authorize.Net Customer Information Manager (CIM). For fraud protection, the plugin shows Address Verification Service (AVS) and Card Verification Code (CVC) responses on the WooCommerce order details page.
One cool feature is that the plugin allows your logged-in customers to save the credit card details for future transactions. These details can be easily managed in the My-Account page by the customer. This, in turn, will result in quick checkout for your customers.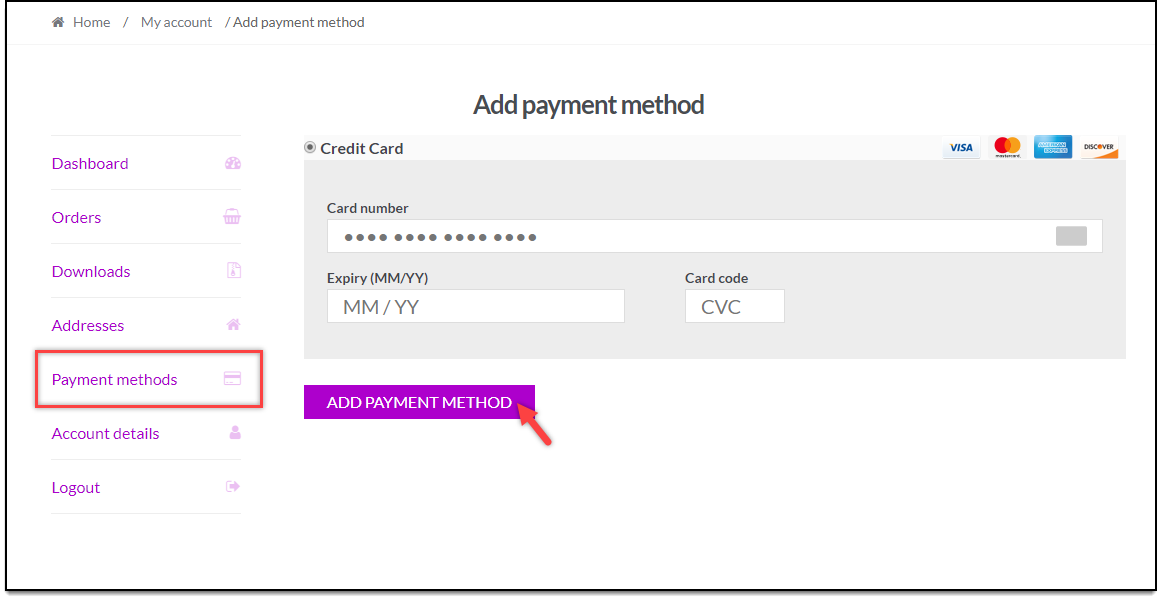 Additional Mention
Authorize.net – Simple Donations by Aman Verma
If you want to take donations via Authorize.Net payment gateway, then you can give this plugin a try. The plugin has a shortcode that needs to be added on the page where you want to request the donation. The shortcode constitutes text field like first name, last name, email address, amount, card number, respective CVV number and expiry date.
Note: While writing this article, the plugin was last updated two years ago, and hence may not be compatible and may not work for everyone. I hope the developer wakes up from the sleep and updates the plugin!
You can still check out the plugin though.
Over to you…
While most of the free plugins do the job for basic payment transactions, for more customizations and features, you can switch to premium versions. There are a lot of other WooCommerce payment gateways that are also robust, functional and offer better customer satisfaction. In the end, it all comes to certain aspects that need to be considered for choosing the right payment gateway.
You can also read our WooCommerce Payment Gateway Integration Guide for an in-depth understanding of WooCommerce payments.
Or you can continue exploring LearnWoo.