Last updated - July 8, 2021
With abundant choices for the customer, store owners are continually searching for strategies to make theirs stand out. In today's digital landscape, it is the customer experience that creates the USP for each store. With every visit, your customer is expecting a unique or personalized experience from your store. If they are not satisfied with the experience, they'll quickly move to another site, which will provide them what they are looking for. In this article, we will look into some of the customer experience challenges that a WooCommerce store owner faces. We will also see some tips and tricks to address them effectively.
Find some WooCommerce plugins that promise a great customer experience
What is Customer Experience?
Before heading to the challenges, let's try and understand what exactly is customer experience. It is the sum total of the interaction a customer has with your organization or brand. It involves aspects of the customer finding out about your brand or store, interacting directly with you, and experiencing the digital environment that you provide. You can claim a good customer experience on your store, if the person finds all the above aspects agreeable. It is a tough job, but it is not impossible. Now, let's delve into more detailed aspects and challenges surrounding this magic term of eCommerce.
Customer Experience Challenges
Let's look at some of the common challenges experienced by businesses who are trying to ensure a great customer experience.
Efficient data management
The vast amounts of data created in every customer interactions is the backbone of your customer experience efforts. The ability to mange and organize this data remains to be one of the biggest challenges for businesses small and large. Data management is always a collective effort of different departments in an eCommerce perspective. However, a lot of businesses are still not able to make this right practically, even though they approve of it  theoretically. The trick lies in devising a harmonious arrangement between different departments such as Supply, Finance, IT, Marketing, etc. Each of these departments has vital clues that are pieces of a puzzle called customer experience.
Once there is a collective effort in this regard, it will reflect in multiple stages of your interactions. Maintaining sustainable relationships with suppliers is essential to provide products that customers are looking for. Accurately targeting prospective customers, and building strong relationships with existing ones also requires effort. This should be followed up by ensuring loyalty of customers. And more importantly, a store should be able to integrate these seemingly diverse aspects in a customer centric manner.
WooCommerce plugins to help
If yours is a WooCommerce store, you might find several useful plugins with the potential to help in each of these strategies.
Integrating your WooCommerce store with your actual inventory in the warehouse might be a great start to better relationships with your suppliers. With a proper synchronization between both these aspects, you can be very clear about your stock management. Scanventory helps you create product labels with unique QR codes for all your products in the warehouse. You can scan the QR code with the in-built mobile app, and directly edit the products simply using your mobile phone.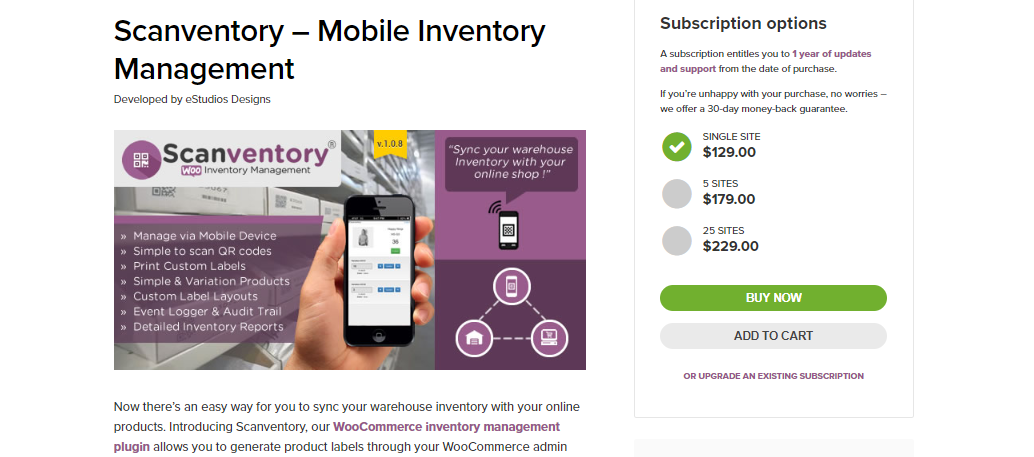 It helps you to manage your store's available stock this way very easily. And, for any cancelled orders, the plugin will automatically restore the stock quantity. Moreover, with the mobile scanning option, you are in fact saving a lot of money. Inventory management software and scanners are quite expensive, and might not be a great idea for small businesses. The plugin also allows you to customize the layout for the labels that you print.
The plugin costs $129 for a single site license. A 5-site license is available for $179, and 25-site license for $229.
Newsletters provide great scope in consistently engaging customers and prospects. When your newsletters reach them in a periodic manner, it will help customers to stay updated with all the developments of your brand. In fact, this will improve the likelihood of them purchasing a product from your store as well. This extension helps to integrate your WooCommerce store with your MailChimp and CampaignMonitor accounts. If you want to know more about email management solutions, here is an article that will help.
You will find two widgets with the plugin. One will help display a dashboard with information about subscriber activity on your site. The second one will be a sign up form that offers an option to customers to opt in for your newsletters. You can also view advanced reports that will give actionable insights to your email strategy as well. The single site subscription of the plugin would cost $49.
Dealing with customers is somewhat a strategy of three phases. Targeting them when they are not aware of your brand, dealing with them when they are on your store, and managing after sale relationships. Here is a plugin that will help you a lot with the second phase – when you have them on board with you. It helps you with real time information from customers shopping carts. You can see how any open carts and abandoned carts are there on your store at a given point of time.
You will get dashboard widgets to help you monitor store activity, and in-depth reports filtered by date. When someone abandons their cart, you have the option to contact them as well. The single site subscription of the plugin is $79. 5-site subscription is $99 and 25-site is $199.
Here is an article that will help you understand how to reclaim abandoned carts in WooCommerce.
Ensuring a personalized customer experience
The next big customer experience challenge that you may face would be to ensure a personalized experience. Customers would always appreciate when they get special treatment on your store. For a lot of stores, personalization ends in addressing customers with their first name. With the availability of vast amounts of data from customer interactions, and engagement through varied channels this should not be so difficult. Yet there are too many cases of wrongly targeted sales pitches and cross sell recommendations. In fact, Artificial Intelligence has opened up a lot more scope in personalized product recommendations.
You can see here some of the eCommerce specific developments in AI, which might be useful to your store.
The process of personlization starts from identifying the target audience. When you have a well-defined target persona, your communication style itself changes. You can follow it up with proper analysis of customers buying patterns, purchase history and preferences. Now, you will see more fruitful engagement opportunities to interact with customers. Furthermore, you can broaden the reach by engaging through multiple channels including social media.
Here is an article that will help you with tips for identifying your target audience.
Personalization is a lot about tracking the journey of your customer with your brand and store. What are the aspects on your site that are leading to a successful conversion? Is there a particular element on your site that is preventing a smooth checkout flow? These aspects are really important when you consider personalizing the customer experience. WooCommerce Customer History extension helps you understand your customer better, with insights on their browsing behavior and more.
It will give a detailed outline of all the pages that a customer visited before placing an order on your store. This kind of data can be quite helpful in understanding the preferred interactions of customers on your site. Similarly, the extension keeps you updated about the lifetime value of a customer, and hence you can take informed decisions on your engagement strategies. The plugin would cost you $49 for a single site subscription.
If you are looking for an alternative for this one, you can also try YITH WooCommerce Customer History plugin.
Integrating and engaging through multiple channels
Retail is not anymore about interacting through a single channel. Customers are spread out through different online channels, which you cannot ignore. The average shopper will browse through your different channels to research on products and brands. Your presence in all the channels where your customers are present is very important. eCommerce has even progressed to an omnichannel experience, where customer engagement through multiple channels are integrated.
Find some tips here for an efficient multichannel retail strategy for WooCommerce.
Most companies are slow in implementing an effective strategy for omnichannel experience. Let's look at a strategy to understand the scope of this better. Consider a prospective customer browsing through your physical retail location. You can easily find out which aisles and sections the customer spend most time at through your CCTV footage. Using this information, you can assume what products or categories they are interested in. Next time the customer logs into your website, there is every chance they are looking for the same products. They will be delighted to see a great offer on the exact same product they were looking at the store. Though it might sound futuristic, and require quite a bit of integration efforts, it is not too far off.
Reflects in customer service too
Here is another simpler strategy, which you can relate to in a better way. Think of a customer who is having some problems with one of your products. They left a comment on your Facebook page. A little while later, they contact your support through the phone. The ideal scenario would be where the customer executive informs the customer that the issue is already looked upon by an expert. However, in the other scenario, which is more probable for a lot of companies, the executive won't have a clue about the Facebook message. This is an obvious area where integrations between multiple channels can improve customer experience.
Tidio is a great tool that will help you integrate customer engagement through multiple channels. It will help you respond to customers through a live chat widget on your website, Facebook messenger, or even through email. That means, you are always connected to your customers irrespective of the channels they prefer. Such a tool will help to sharply increase your brand's reliability index in the minds of your customers.
Find an exclusive LearnWoo deal to purchase Tidio here!
In addition, you can use triggers to create automated interactions with customers based on their actions on the store. And, the mobile app will help you connected to the action all the time, even when you are traveling! Moreover, you can integrate other tools like MailChimp as well. More interestingly, you can get started with Tidio free of cost. However, there are paid plans at $15 per month.
Allowing customers to personalize their products
Another major customer experience challenge that many store owners might face is in offering product customization option. As you probably already know, product customization options can really improve conversions and customer loyalty. However, due to the technical and logistical challenges, many stores are yet to make it a common feature. Thankfully, you will find some awesome solutions in the WooCommerce ecosystem for this.
This plugin offers a great solution to feature customized products on your store. You can create building blocks for your products with individual components, which customers can choose. It also helps you to configure your own product pages with multiple layouts and option styles. Moreover, you can make use of conditional logic to change the visibility options. For a single site, you can purchase a subscription of Composite Products at $79.
You can create additional product personlization options with the help of Product Add-ons. With the help of this plugin, you can create customer input fields on your product pages. It will be very useful to specify a custom engraving on a product, or to offer gift wrapping. You can choose from a range of fields from select boxes, text areas, checkboxes, radio buttons and more.
Conclusion
Customer experience is one of most important factors of modern retail. Most store owners are trying hard to get this one right it holds real potential to supercharge your business. Customer experience is spread over all the interactions you have with the customer right from marketing to post sales support. Due to this, there are obvious challenges in making sure your customers have the best experience with the brand. Hopefully, you have got an overview of some of the obvious customer experience challenges and ways to address them. Leave a comment if you want to share with us an insight on the subject.
Further reading