Last updated - April 6, 2021
WordPress is undoubtedly one of the most popular content management systems in the world. Users from all over the world rely on WordPress to create their websites or online stores. Though WordPress is a great platform for the DIY-enthusiast, there are quite a large number of users who prefer to hire a company or agency for their website design. In this article, we will list out some of the high-rated WordPress website design companies you can work with to create a brand new website.
If you are looking for tailor-made web design solutions, Temper and Forge is a great option that you an consider. This Boston-based company will help you in designing a website according to the size and scope of your business. Moreover, they are experts in WordPress and will help you in building a site from scratch or in revamping your existing site. Their areas of expertise include dev-ops, custom development work and eCommerce.
Features
Agile methodology in UI/WX design.
Design approach with conversion in mind.
Mobile app designs for both Android and iOS.
Attention to detail.
Thrive is a Seattle-based web design company that offers web design, branding and marketing services. They will help you in methodically building and executing your business strategy with a systematic approach. You will be able to get a unique website with compelling features thanks to their customer-first approach to web design.
Features
Create a fast loading website with a unique design.
Responsive design approach.
Easy to customize the site later without any coding.
Transparent pricing based on the scope, time and quality of the project.
Bop Design is a popular choice of B2B companies. Apart from web design, they also offer content marketing and branding services. They are experts of WordPress, and will help you develop a well-performing WordPress site based on your specifications. Moreover, they ensure the design is responsive and your users will have a consistent experience across devices.
Features
Ensure a unique and compelling design for your WordPress site.
Get help in content marketing including email and social media.
Support for branding and print media as well.
30-minute discovery call to determine project feasibility.
With over 10 years' experience in web design, Thomas Digital will help you create a unique website for your small business. This California-based company offers a free mockup of your website in 7 days! They use only custom designs and assures the uniqueness of your website.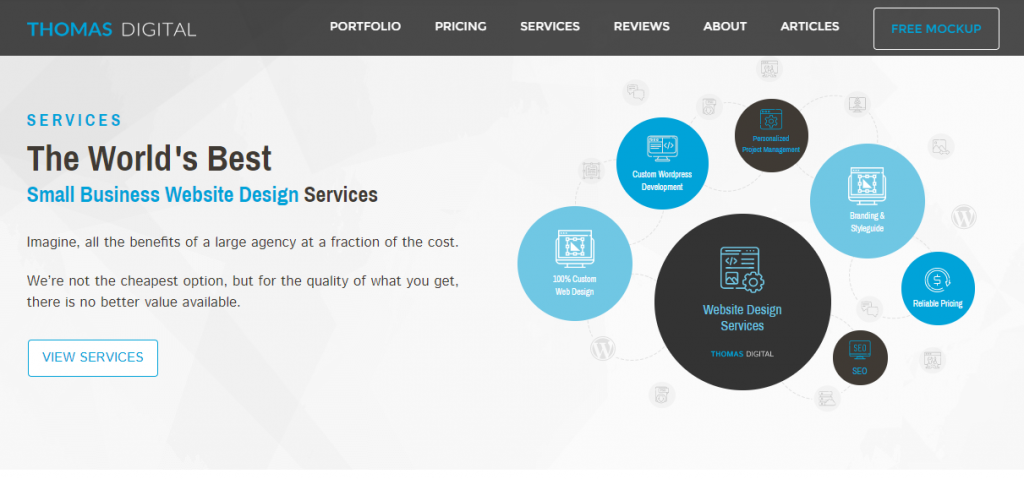 Features
Custom design to make sure your site looks unique.
Specialists in WordPress design and development.
On-page SEO services.
Dedicated project manager until the project is completed.
You will get comprehensive WordPress web design services from Tiny Frog Technologies, a San Diego based company. They offer a conversion-based design approach that a lot of their existing clients would vouch for. Apart from site design, they also help in search marketing as well as site revamps and maintenance.
Features
Conversion-focused WordPress website design.
Site fixes and maintenance services.
eCommerce and SEO services.
Unique proposal management system.
If you are looking to create a unique shopping experience for your customers, you can try out Dazze Studio. They are focused on creating eCommerce experiences that are markedly different from the run-of-the-mill sites that you see everywhere. With a solid experience of over 16 years, they work with small startups and established brands with the same passion. With several awards and an awesome portfolio, they are surely impressive.
Features
Conversion-based website design.
Customizable backend.
On-going support and improvement recommendations.
Global clientele.
This full-service web design agency will help you create an awesome digital experience for your users. You will be able to present a consistently good experience to your site visitors, while scaling at will. Moreover, they will also help you with digital marketing and social media campaigns.
Features
Custom web design with cutting-edge UI/UX design.
Helps in designing your brand identity.
SEO Audit.
Digital Marketing.
This Toronto-based web design company has over 10 years' experience. They work based on a combination of innovative modern technologies and keen interest in the client's ideas. You can expect the best outcomes in web design, development, as well as other graphic design assistance. Moreover, they also offer hosting services, SEO and ongoing maintenance assists.
Features
Experienced team to handle your web design project.
Diverse portfolio.
SEO and content writing service.
Continuous maintenance.
Teko is an Australia-based company that offers custom web design solutions. Apart from that, they also offer custom WordPress development services. You can also get their help in building unique eCommerce experiences for your customers. Moreover, they will help you create a unique identity for your brand.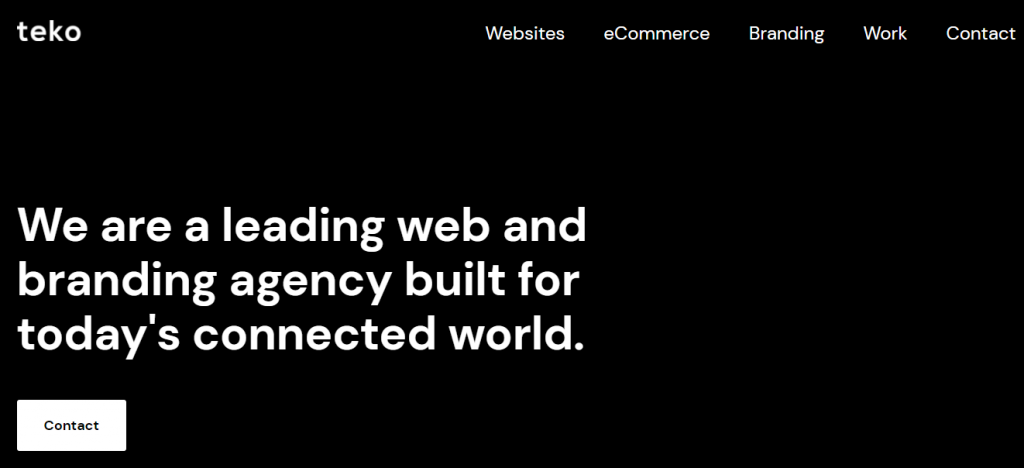 Features
Custom website design and development.
User interface design for eCommerce stores.
Develop a unique brand identity.
Diverse portfolio.
PopArt Studio offers great we design solutions combining modern technology and a sophisticated approach. In addition to design, their services include WordPress development, graphic designing and SEO.
Features
Creative web design agency with affordable solutions.
Expert web development services.
Distinctive graphic designs.
Marketing services including advertising, SEO and conversion optimization.
Huemor is a popular web design company based in New York that will help you create exceptional customer experiences. They are popular for creating responsive and accessible sites that will be retained in the minds of your customers. Moreover, they keep in mind your conversion goals while creating the optimum experience for your customers. Their expertise is clearly evident from the vast list of satisfied clients.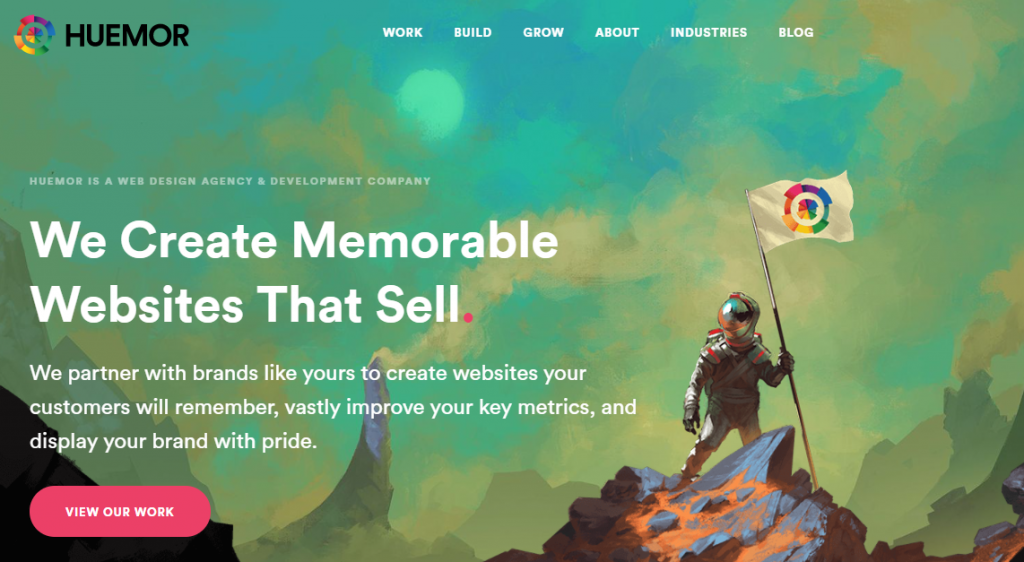 Features
Popular web design agency that will help you create memorable experiences.
Brand building.
Helps you achieve your financial goals.
Unmatched expertise.
With over a decade's experience, Jordan Crown will help you build a successful website. In addition to professional web design services, they also offers WordPress development and digital marketing strategies. When it comes to web design, custom layouts and simple navigation is a signature trait for them. Moreover, it is supported by tailor-made graphics and user-centered design.
Features
User experience and user interface design.
Digital strategy services including research and conversion rate optimization.
Responsive design for better search engine visibility and wider reach.
Memorable experience for website users.
You will get help to create a website design with enhanced experience if you choose State Creative. This California-based agency will help you create unique designs that will effectively tell your stories and generate quality sales leads. Moreover, you will get help in security and site maintenance aspects as well.
Features
Create good looking sites with a focus on conversions.
Build eCommerce sites on WooCommerce and Shopify.
Maintenance and site security services.
Custom plans for complex websites.
If you are interested in creating simple yet functional user experiences, NewMedia could be a great choice for your web design needs. Based on your business requirements, they will offer assistance through the entire process of web design. Right from registering a domain to setting up your eCommerce products, you can expect quality assistance from their expert team.
Features
Helps you create websites with minimalist designs.
Assist you in the entire website creation process including picking up themes.
Collaborative work strategy.
You can make use of Blue Fountain Media's web design services to create a website with superior performance. In addition, you will get assistance in digital strategy, branding, search engine optimization, and more.

Features
Unique web design approach focusing on conversions.
Create exceptional user experiences.
Build a brand strategy that will let you stand out.
Clientele from diverse industries.
Hopefully, you will pick one among these WordPress Website Design Companies for your next project. Leave us a comment if you have a query.
Further reading