WordPress is extremely popular due to its vibrant ecosystem that is conducive to knowledge sharing. You can get a lot of ideas, inputs and updates from all parts of the world to improve your website or online store. And, Twitter is a great social media platform that will help you get instant updates on any topics of your preference. In this article, we will list out some of the best twitter accounts for WordPress WooCommerce lovers that you can follow if you are looking for tips and updates.
This is the Twitter handle of WordPress.org. You will find the latest information about WordPress updates and other aspects here. The handle has over 630k followers.
WP Tavern is a popular blog that covers everything related to WordPress. To keep yourself updated about their latest posts and other major WordPress-related news, you can follow their Twitter handle. It is regularly updated and has around 30k followers.
If you have a WooCommerce store, you should definitely follow the official Twitter handle of WooCommerce. You will get a lot of information about latest updates and innovations, along with tips to improve your business. The follower count of the handle is just above 27k.
To get updates related to WordPress.com, the hosted version of WordPress, you can follow this handle. It has a follower count of over 1.7m.
As you know, WP Beginner, is the 'go-to' resource for everything WordPress! They have an abundant resource of easy-to-understand tutorials and instructions related to WordPress. You can follow this handle to get links to all their latest posts. There are more than 200k followers.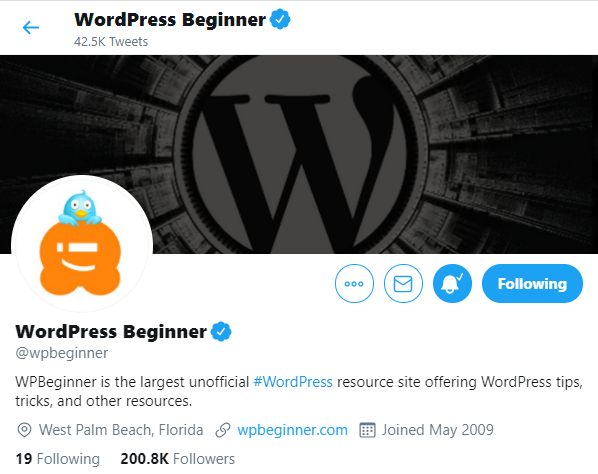 You will get all the details on the latest WordPress events from this handle. As you know WordCamp conferences are a great way to connect with fellow WordPress enthusiasts. You may gain a lot of insights related to WordPress development, and can share your ideas. Follow this Twitter handle with over 6k followers for updates on WordCamp conferences.
Jetpack is one of the most popular performance, marketing and security tool for WordPress created by the WordPress team. You can get all their latest updates through this channel.
Matt Mullenweg is the founder of Automattic and the Lead Developer of The WordPress Foundation. If you are interested in WordPress, surely following him on Twitter will be a good idea. He frequently posts important stuff related to WordPress and web development.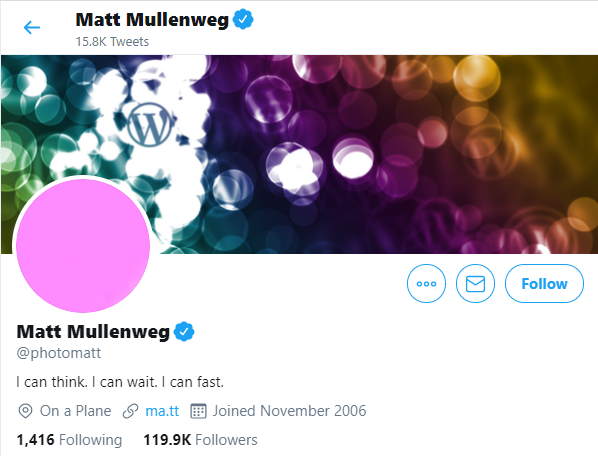 Automattic, the parent company of WooCommerce, Jetpack and more, has a popular Twitter handle. You can follow it for the latest updates, job opportunities, and more.
John Maeda is a former head of computational design and inclusion at Automattic. You can follow his Twitter handle for design insights.
Morten is a full-time course instructor with LinkedIn Learning. You can follow his Twitter handle to get his views on different topics like ethics, philosophy and web.
If you have searched for video tutorials related to WordPress and associated topics, you may have come across WP 101. They have a bunch of really interesting courses on WordPress that could be helpful to you if you are trying to build a website or online store on your own. You can get notifications on their latest updates through this Twitter handle.
LearnWoo is a growing WordPress resource that has a dedicated focus on WooCommerce and its numerous plugins. You will find daily updates on the Twitter handle informing you about the latest posts, reviews, interviews and videos that we publish.
Chris Lema is the VP of Product at Liquid Web. As mentioned in his Twitter bio, he is a WordPress and WooCommerce evangelist as well. You can follow this public speaker/ story teller's Twitter handle if you love WordPress, WooCommerce and all things related.
Yoast is the most prominent name when it comes to SEO. You can follow this handle to get all the latest updates related to them. They often share great insights to help you improve the reach of your website and business.
If you have a WordPress website, you are mostly familiar with YITH. They are one of the popular plugin developers, who offers a vast collection of plugins for WordPress sites and WooCommerce stores. You can follow all their latest updates here.
Another popular plugin developers in the WordPress WooCommerce space, you will find several plugins related to shipping, pricing, customer support and payment gateways here. If you are using one of the ELEX plugins, this Twitter handle would surely be of help, as there are frequent updates on features additions, business cases and tips.
You can get the latest updates about the new block editor of WordPress from this handle. If you are constantly looking for changes and style experimentation with Gutenberg, don't forget to follow this one.
WPMU Dev is a comprehensive platform that will help you with the overall aspects of maintaining a WordPress site. You can find funny takes on web development along with insightful articles here.
Get latest news and updates related to WordPress and associated tools from WP Newsify's Twitter handle. If you are looking for the right plugin for your website or online store, you can go to their blog for more.
BoBWP is a popular personality who helps to connect WooCommerce builders. His podcast, 'Do the Woo' is quite popular in the WooCommerce community. You should follow this handle if you are looking for interesting insights related to WooCommerce.
WPLift is a popular WordPress blog with a lot of tutorials and plugin reviews. You can follow their Twitter handle for updates on their latest posts.
WPExplorer offers WordPress tutorials, guides, marketing tips and a lot more through their blog. You can get their latest updates through this official handle.
Torque is a popular magazine that provides you with the latest news from the WordPress industry. You can follow their handle to get regular updates.
WP Superstars is a popular blog that offers WordPress tips and tutorials. You will find articles posted regularly on their site with plugin reviews and marketing tips as well. Follow this handle to not miss out on any of their updates.
You can get a lot of information on aspects related to WordPress, plugins, themes and other tips from WP Solver. Previously known as WP Jedi, their Twitter handle is popular too.
WPArena is a growing resource for WordPress users as well as developers and designers. You can follow their updates through this popular handle.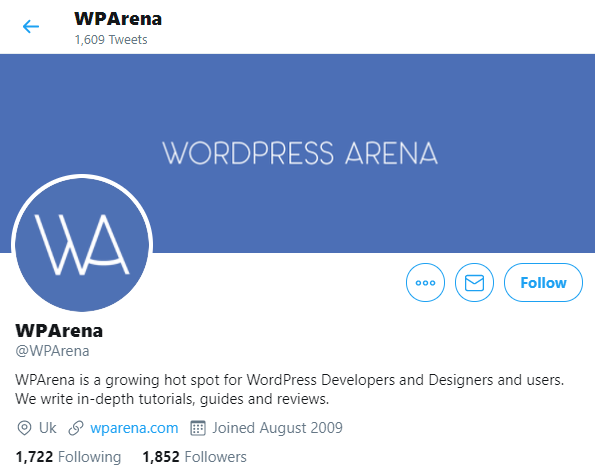 WPShout is all about better WordPress development. They have a number of courses that will help make you a better WordPress developer. Follow the handle for regular updates and interesting tips.
Hopefully, these Twitter handles will provide some assistance to your WordPress journey. Leave us a comment if you think we have missed out on some popular Twitter accounts for WordPress WooCommerce lovers.
Further reading