Last updated - August 24, 2020
One of the major advantages of a dropshipping business is that anyone can start one with minimal investment. Though it is easy to get into, there are several different aspects in dropshipping that demands your careful attention. These include finding the right products, suppliers and tools to get one going. WooCommerce offers a great platform, if you are looking to start a dropshipping business. In this article, we will provide a detailed view into WooCommerce dropshipping and the related aspects.
What is dropshipping?
Dropshipping is a business model where you run an eCommerce store without an inventory. When you receive an order on your store, you direct the requirement to one of your suppliers, will be responsible for order fulfillment. Since you don't have to worry about stock keeping and fulfillment, it can be easier to get started with a dropshipping business. You might have to still deal with post delivery complaints and returns. However, in all these cases, your work is limited to keep a communication channel going between your customer and supplier.
How dropshipping is different from a regular WooCommerce store?
When you try to start a regular WooCommerce store, you have to invest heavily in stocking products. This can be a significant expense without the guarantee that these products will sell. This risk can be avoided if you create a dropshipping store. You can completely be free of inventory management and fulfillment woes.
Moreover, it can be a great option for established store to test new products. If you are considering to sell a new product, you can test the sales pattern through dropshipping. You will be able to reduce a lot of overhead expenses this way on products your are not sure about.
So the dropshipping model eliminates inventory management and shipping from the storeowner's list of things to do. A dropshipping store will still display products, offer checkout options and provide customer support just like any other WooCommerce store. However, the supplier will be responsible for shipping the product to customer. Several dropshipping suppliers offer an option to keep your branding as well, in documents like shipping labels.
How to set up a WooCommerce dropshipping store?
Let's get on to the step-by-step process of building a WooCommerce dropshipping store. In dropshipping business model, the two major components you have to focus on are the product and the supplier. You may have to do extensive research to decide on what specific products you want to sell through your WooCommerce store. Once you decide on the product, you have to decide also on the best supplier for that product. Both these factors are crucial in determining the success of a WooCommerce dropshipping store.
Product research
One of the first steps in setting up a dropshipping store would be to decide on the suitable products to sell. You have to do extensive market and product research to understand what will work for you. You need to have good knowledge on the niche, and it should have the potential to provide you profits. For example, a luxury product targeting a selective customer base might work better than blindly choosing a popular consumer product.
In addition, you have to do a thorough market research as well. This should help you understand how many stores are selling same or similar products, and how good they are performing. Also, try to understand if there are certain unique opportunities in the market that you can explore. For example, if you can look for some unique insights from consumer forums.
Finding suppliers
Finding suppliers is another crucial aspect in a dropshipping business. It will be better to do a search for suppliers after deciding on what products you are going to sell rather than the other way round. One of the common recommendations by experts is to approach the manufacturers of the products you wish to sell. Often this works because a lot of product manufactures offer dropshipping services.
It is always a professional advantage if you have your business license and tax compliance requirements in place before approaching a supplier. You should be even prepared to share some of the market insights you have to convince them to partner up with you. Also, choosing more than one suppliers will be a good approach to deal with any out of stock situations.
While filtering out different suppliers, you need to check if dropshippers are charging any fees. Sometimes dropshippers charge a fixed fee for each of the product they ship. Depending on your store strategy, you can pass this on to customers or handle yourselves. A clear understanding of the margin of a product will help you make better pricing decisions. We will provide the names and details of a few dropshipping suppliers later in the article.
Getting a domain name and hosting plan
As you know, WordPress is a self hosting content management system that will help you create a website in no time. However, you have to make arrangements to use a domain name and get a suitable service to host your website. Choose a domain name that is suitable to your business, and register with one of the popular domain registrars. Some of the popular domain registrars are Domain.com, BlueHost, GoDaddy, etc. Similarly, you can checkout for a good hosting service from companies like Kinsta, SiteGround, BlueHost, etc.
Setting up your WooCommerce store
Once you set up a domain and hosting service, you can install WordPress and get started with your website. You can find more details on installing WordPress from our article. After installing WordPress, you can install WooCommerce. Read more about setting up a WooCommerce store from scratch before starting with WooCommerce.
Adding products to your WooCommerce store
When you create a WooCommerce dropshipping store, adding products is really an important step. You can manually add the products you have selected one by one, or choose an automated strategy from one of the popular marketplaces that offer dropshipping. You can use specialized product research tools, like SaleSource in order to find winning products to sell in your WooCommerce store. The benefit of using specialized tools is that they save you a lot of time and potentially a lot of money, as picking wrong products can be really detrimental to your wallet.
Popular dropshipping suppliers
One of the common options to set up products on your WooCommerce dropshipping store is by connecting to popular suppliers. Some of the popular dropshipping suppliers are as follows.
Spocket offers you an option to connect with suppliers all around EU and the US, and let you feature their products on your store.  You can easily find products that suit your business strategy using Spocket. It will integrate with your WooCommerce store easily and you can import products to your store in one click. The shipping process to US and European locations will be faster when you use Spocket. This is because majority of suppliers in the platform are from the US and EU.
If you're looking for a one-stop-shop marketplace, and your business is located in the US or EU, we recommend Spocket for a few reasons:
Forever-free plan – Spocket is free to use and you can list up to 25 products without paying any fees.
Vetted suppliers – suppliers listed on Spocket's marketplace are already vetted to ensure they are consistent and reliable.
Fast shipping – since their suppliers are based in the US and Europe, your customers can expect to receive their orders fast.
Customer service – Spocket has a 24/7 customer support team ready to help with any questions you have and refunds that may occur.
AliExpress is one of the most popular dropshipping suppliers. You can choose from a large number of products and suppliers. You can import product information with images and description and feature it on your store. Moreover, you have the freedom to set up your own pricing for the products, including a markup. And there are several plugins that will help you import products from AliExpress in bulk. We are discussing some of these plugins later in the article.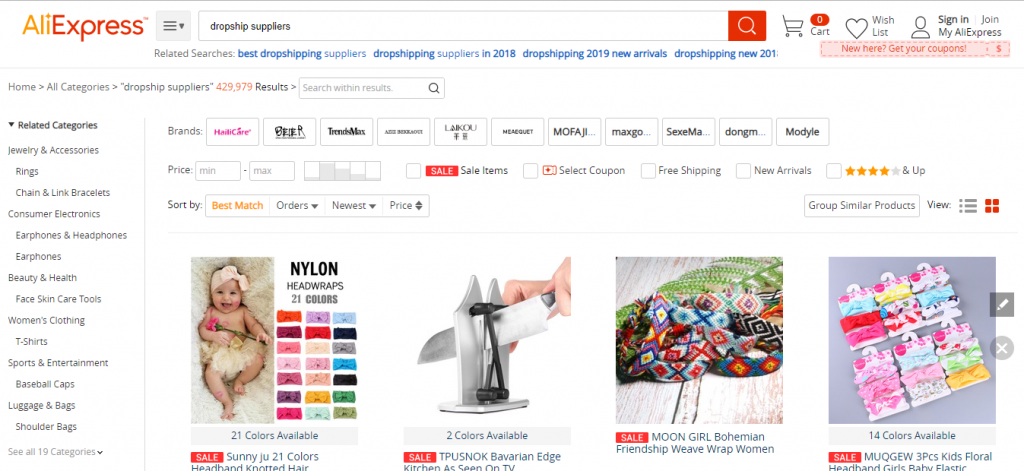 Worldwide Brands is another great source to help you find WooCommerce suppliers. You will get direct access to wholesale suppliers when through Worldwide Brands. There is a one-time fee, when you signup for accessing their pool of over 16 million products. This can be another good option to find your suppliers for your WooCommerce dropshipping business.
SaleHoo offers a supplier directory for dropshipping business, and also couples as a great community to interact with droshippers and eCommerce stores. It provides a platform to help you find profitable products from a range of certified suppliers. You can even negotiate with suppliers to get the lowest possible rate and increase your profit margin. SaleHoo even offers training when you start out, which can be a great help when you are new to the industry. You can easily integrate your WooCommerce store with SaleHoo through their API.
Printful offers custom products, which you can feature on your store. According to the orders you receive, they will customize the products and ship them to your customers. You can integrate your store with Printful. When you receive an order on your store, it will automatically sent to Printful, who will manufacture the product and ship it. When the product is shipped, you will get notified with a tracking code. More importantly, the product will have your branding, so that the customer thinks it's your own product. Printful provides easy options to integrate your WooCommerce store with it.
Tips to spot a good dropshipping supplier
Good suppliers essentially show a set of features that separate them from the rest. Some of them are listed below:
Efficiency is the key – The way they do business definitely speaks the most about a good supplier. The unfortunate thing is that you'll know more about a particular supplier's efficiency only once you start doing business with them.
Knowledgeable representatives – This is a factor that you can look into even before you start doing business with a supplier. The market knowledge and industry focus of the staff tells a lot about the business. If you feel confident in this aspect, you can proceed further.
Location – This is another straightforward feature that you can look in a supplier. A centrally located dropshipper might prove to be greatly effective in shipping to diverse regions in a big country such as the United States.
Technological competency – This is an important aspect when you are running an eCommerce business. Things, like accepting email orders instead of calling every time to place an order, will add a pleasing tone to your dealings. Features like live updates on inventory, online order history, etc can prove to be extremely worthy of you.
Things to avoid while choosing a dropshipping supplier
You can use the following factors to keep away from the bad ones too:
Recurring fee payments to the supplier – A legitimate supplier won't charge any fee for dropshipping. However, charging a shipping fee per order is common in the US.
Your supplier sells to the general public – Normally wholesalers sell only to retailers. But if the supplier you are considering is selling to general customers, you can give that one a miss. There is every chance this one is a retailer posing as a wholesaler.
Not getting a clear idea about the supplier's inventory – You need to be always aware of the supplier's stock status. Otherwise, you may land in trouble with your customers. It is better to avoid a supplier who refuses to provide you with regular stock updates.
Other things to consider while choosing dropshipping supplier
You might also have to consider the following factors while choosing a dropshipping supplier.
There are certain legitimate fees – Though a good supplier won't charge you for doing business with them, there might be some fees that you may have to pay. This often includes a shipping fee, for each order that you send them. This is accepted in the industry as shipping small orders are costlier than bulk orders that wholesalers are more used to. An initial minimum order limit is also a common practice in many countries. This is the result of a strategic approach by dropshippers to maintain long-term collaborations. If you invest in a high amount order upfront, you're indirectly proving your commitment and seriousness towards the venture.
Collaborate with multiple suppliers – If you have only one supplier for a specific set of products, chances are you'll become too dependent on that one. This way, you may miss out on a lot of business opportunities. A good way out of this is to have multiple suppliers for the same product. One risk factor here though is that long-term business with the same retailer might give you better deals.
Best WooCommerce Dropshipping plugins
Now, let's look at some of the popular plugins that could be really useful while setting up a WooCommerce dropshipping store.
This WooCommerce dropshipping plugin helps you import products from AliExpress to your WooCommerce store. You can choose from an unlimited range of products using the custom filters integrated with the plugin. It also helps you import product reviews, which will be an important aspect for customer experience. The plugin helps you place orders with dropshipping suppliers with a single click. You can choose to place orders for individual products, or for multiple ones together in bulk. In fact, it helps to automate the order process, and saves you from the hassles of manually placing orders for each product.
Moreover, the plugin has an auto update feature that ensures the product information on your site keeps updated to AliExpress product data. The plugin also offers an in-built image editor, which you can use to change images that you import from AliExpress. It also helps you set up pricing rules for individual products or globally for the entire store.
You can purchase the plugin at a price of $89. You can also read our review on AliDropship Woo plugin.
WooCommerce Dropshipping Extension
This WooCommerce extension helps you send automated notifications to your dropshipping partners when new orders are made on your store. When you have multiple suppliers dropshipping your products, the extension sort the products according to the supplier and notifies correctly. It also helps to automatically attach a PDF of the packing slip to the order notification mail. Actually, this enables blind dropshipping, as your customers would get your branding on their orders. Also, it allows the dropshipper to include a print of the package in the shipment. Furthermore, you can import the inventory of a dropshipper to your store, if provided in a CSV file.
The interface of the extension is not complicated, and you can set it up pretty easily too. Simply add the required details of a supplier to add one, and you can view the list. In addition, you can also customize how you want the email notification to appear to suppliers. The single site subscription of the extension would cost you $49. For 5 site subscription, you need to pay $99, and $149 for 25 site subscription.
Dropified is a fast tool to help you with your WooCommerce Dropshipping efforts. You can select a range of products that you want to sell on your WooCommerce store and import them in a single click. Once you set up your store, things are pretty easy with Dropified. You can accept orders from your customers and the plugin will place the order automatically with the supplier. After the supplier ships the product, it also sends the tracking information to your customer. That means you are saved from a lot of efforts to co-ordinate the order fulfillment process.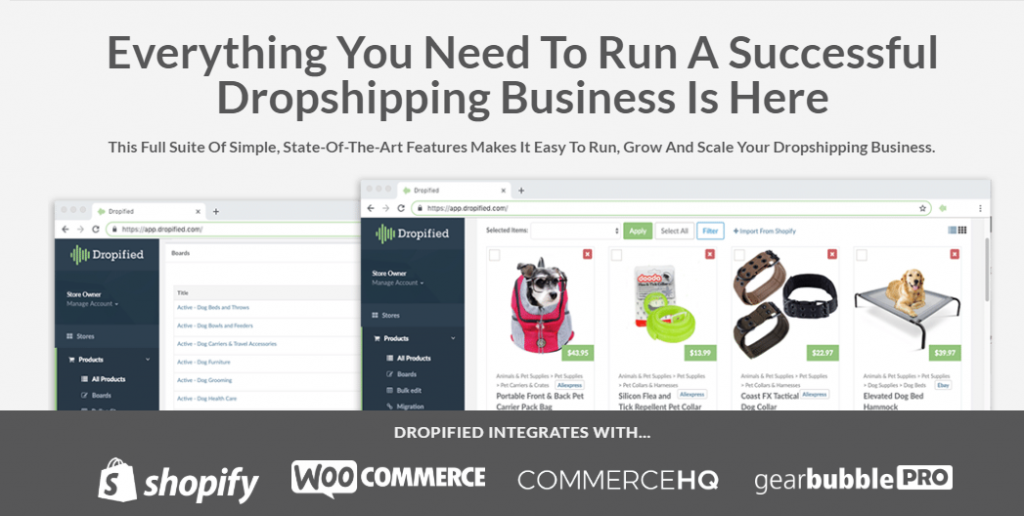 With Dropified, you will be able to source products from over 100 stores including AliExpress and eBay. Moreover, you will get an alert if any product goes out of stock, or if there is any change in the product features or price. Also, it has an efficient process to apply markups to all your products or only to a select set. Customizing products on your store is also quite easy as you can make use of the in-built tools available with Dropified. You can easily integrate this SaaS-based tool with your WooCommerce store. The Builder plan would cost you $47 per month.
With this plugin, you will be able to choose products from a handpicked list of over 50k products. Like some of the other plugins we saw in this article, you can import products in a single click. The list of products is selected by picking from the top selling products on AliExpress. The plugin ensures professional product information with optimized titles and images. Moreover, the plugin also offers an option to import customer reviews of products as well.
DropshipMe offers only products from trusted suppliers, and hence you can avoid a lot of hassles. Moreover, you can use the advanced filters to choose the most suitable products on your store. Setting up the right markup for the products is quite important for a dropshipping store. This plugin offers a markup recommendation tool from which you can automatically apply markups.
You can download the free plugin to get started, which you can use to import up to 50 products. The pricing package is based on the number of products you want to import, starting from a one-time price of $29 for 100 product imports.
WooDropship
If you are specifically interested in doing AliExpress dropshipping on your WooCommerce store, you can use this plugin. AliExpress basically is an online marketplace with a great variety of products. Starting a dropshipping business with AliExpress is especially getting popular among store owners. Thankfully, WooDropship helps you automate your dropshipping process with AliExpress.
The integration of WooDropship helps you import AliExpress products to your WooCommerce store pretty easily. When you search for AliExpress products, you can actually view the ePacket availability as well. Furthermore, it offers features like product customization, pricing automation, and automatic order fulfillment. With the basic package of WooDropship, you can import 3000 product variants, and fulfill 100 orders per month. It would cost you $14 per month.
WooCommerce Dropshippers
This plugin proves to be a great solution for WooCommerce dropshipping with a large number of satisfied users. Fundamentally, this plugin helps you create an additional user role on your WooCommerce admin side. Once this is set up, you can automate the notification process and open a communication channel with your suppliers. It enables you perfectly to be in control of the entire process, as you can monitor the progress of each of your orders at all times. Once a supplier fulfills the order, they will be able to notify you too. In addition, the suppliers can view their sales details on the store admin when logged in. And, you will have a clear idea of the pending due for each supplier.
The regular license of the plugin is $25.
YouDroop
YouDroop assists you to set up a successful dropshipping business. It provides a platform to help suppliers and retailers connect. Basically, suppliers can find numerous options to display their products. And retailers can get access to a larger number of products. You can easily import a large number of products to your WooCommerce store using a CSV file. And the free WordPress plugin helps you sync your WooCommerce store with YouDroop platform. Overall, YouDroop offers a smoother process to help you with your WooCommerce dropshipping needs. The basic plan would cost you €59 per month. Visit YouDroop website for more details.
Download the free synchronization plugin.
Benefits of having a WooCommerce dropshipping store
Now, let's look at some of the obvious benefits in having a WooCommerce dropshipping store:
You can start with bare minimum capital
The initial investment to start a dropshipping business is practically nil. As you don't have to purchase the products that you are selling, you can get the business up and running in no time. In some scenarios dropshipping suppliers charge a fixed fee to get into partnership with you. Apart from that, for WooCommerce dropshipping, you also need to incur costs for domain name registration and hosting. Still, dropshipping can prove to be a business model that requires much lesser investment compared to traditional stores.
The complications of storage are bypassed
As you don't have any inventory, you don't have to worry about store keeping also. This is quite a relief, compared to the complex storage issues a traditional retailer would face.
Packaging and shipping worries are not yours
In dropshipping, you don't have to worry about inventory management and order fulfillment. The dropshipper is responsible for packaging and shipping of the products. You can pretty much relax once you hand over the order to the dropshipper. However, you have to ensure that you're tying up with a quality wholesaler or dropshipper as your reputation is at stake. Again, this would mean much less investment in everyday operations of your store.
You don't have to worry about office and amenities at the start
The presence of the retailer in the dropshipping process is more virtual than physical. Hence you can even operate with a laptop from your home. This might change as you expand the business though, but definitely not at the start. Moreover, you don't have to worry a lot about other business agreements such as with shipping carriers, warehouse services, etc.
You have less risks
Every business comes with its share of risks. When you are getting into dropshipping, the amount of risk is lesser compared to traditional business models. Even if the popularity of the products you sell diminish, you don't have to worry about possible stock management troubles. You can simply move your focus to other more profitable products and move on.
There is more scope to scale
In traditional business models, growing your business means increasing your workforce too – new employees, bigger office, etc. In dropshipping, you can handle growth to quite an extent using the same resources. Additional work in terms of storage, shipping and accounting are all borne by the dropshipper at all times. However, one aspect you need to keep your focus on will be customer support. You need to provide good support consistently when your business is growing. WSDesk is a great option to provide customer support on a WooCommerce store.
Growth is not limited to volume, but in product diversity too
In conventional retail strategy, if you're specialized in certain kind of products, your growth is pretty much revolving around that. It's easier to diversify in dropshipping business if you find a new wholesaler with a new set of products.
Challenges of a WooCommerce dropshipping store
Ok, you have heard quite a lot of exciting things about dropshipping. Does that mean it's all roses and no thorns? Of course not. Dropshipping, like any other business, comes with its own set of challenges for the retailer.
Competition is ruthless, margins are low
The simplicity of setting up and operating such a cost-effective business means fierce competition. Dropshipping retailers often compete in the marketplace in one aspect alone – prices! A lot of dropshipping suppliers will be offering a margin of less than 20 percent for you. The differentiating factor in a successful dropshipping business often boils down to the price that you offer – the lowest one wins. The quality of your website, the smoothness of the fulfillment process, the seamless customer service, etc will all come second here. As a result, you will be forced to continue operations at extremely low margins.
Stock details are not always accessible
You, as the retailer or merchant, are not always informed about the supplier's stock details. This may result in back orders, delays in fulfillment, or even refunds. Syncing with the suppliers' inventory in real time is a great solution for this though. Having a great customer support system will help you a lot in such scenarios. The success of your WooCommerce dropshipping business will depend a lot on how you are able to reassure your customers during tough times.
Complications in shipping can be numerous
When you're actualizing your orders from multiple suppliers, some can get complicated. In a scenario where a single order with three products is fulfilled by three suppliers, there is a chance to have different shipping rates for each. You definitely can't put your customer responsible for any rate difference in such cases. However, you can optimize your shipping strategies to offer an optimized experience to your customers.
You're answerable to supplier's mistakes too
Any lapse in the shipping process such as delays or incorrect orders might instantly reflect as customer complaints. As you have no control in the wholesaler's shipping process, you may end up vulnerable. This can be quite a frustrating challenge for the dropshipping retailer.
WooCommerce dropshipping as a successful business model
Dropshipping is a great option to expand your business without major investment. WooCommerce provides awesome solutions to set up a hassle-free dropshipping business model. Hope this article has offered a glimpse of some of the best WooCommerce dropshipping plugins, as well as explored the advantages and challenges of dropshipping in general. Let us know any queries or suggestions.
Further reading