Last updated - May 17, 2022
You might be wondering how creating an online store still costs money even when tools like WordPress and WooCommerce are free. That is because there are several other aspects in the process of building and maintaining a website that still costs money. WordPress is a self hosted content management system that helps you create a website pretty fast and easy. However, self hosted means the site owner will have to get a hosting plan as well as register a domain name for the site. There are several aspects like this for an online store that would cost money. Through this article, let's take a look at WooCommerce pricing and some of the aspects that will cost you money.
If you are totally new to WordPress and WooCommerce, here are three articles that will help you get your basics right.
WooCommerce Pricing
As you know, WooCommerce is a free plugin, which you can download and install at no extra cost. However, since WordPress is a self-hosted content management system, there are certain aspects that you have to take care of. We will discuss each of these points in more detail here with examples.
What costs money while building a store using WordPress and WooCommerce?
There are several aspects that would cost money while you are building an online store using WordPress and WooCommerce. Let's see some of the essential aspects in WooCommerce pricing, where you need to invest money while building a store.
Domain name registration

Hosting plan

SSL Certificate

Logo Design

Website theme

Feature extensions

Banners and videos

Security tools

Custom development work and maintenance
Now, let's analyze each of these aspects in more detail.
How to register a domain name for your website?
Registering a domain will be one of the first steps you need to take in the process of creating an online store. You have to register a particular domain name with a domain registrar for a period of time so that you can use it for your website. You will be able to find registration periods from one year to ten years. Depending on your business strategies, you have to decide a suitable term for your domain registration. After the term ends you can renew the registration to continue using the domain.
Selecting a good domain name
The domain name is how your users are going to identify your business. So you have to choose a domain name considering the nature of your business. Experts advise to choose a domain name that is short, easy to spell and remember. Try to include words related to your business or products so that users are easily able to identify the domain. As a vast majority of domain names have '.com' extension, it is recommended to choose the same for your site as well.
Choosing a domain registrar
There are several popular domain registrars when you look out to find one. Please note, you don't necessarily need to have a business to register a hosting plan. Most budding business owners would secure a domain name at the conceptual stages of their business itself. This is relevant as online business scene is highly competitive and chances are high there is someone who is conceiving the exact same business model somewhere else.
Here is a list of popular domain registrars you can use to register a domain name for your website:
Please remember, when you register for a shared hosting plan of BlueHost, you will get a domain name free of cost.
How to get a good hosting plan?
Getting a good hosting plan is especially important for the success of your online store. Your hosting plan should be able to provide continuous uptime and superior performance to your site. It should also be secure, scalable and cost effective while offering good customer support.
When you are starting out, a shared hosting plan might be a good option as it is the most inexpensive option (sometimes at prices less than $10/month). However, it is not the best option to go when your store is in the growing mode. Due to the nature of sharing resources, a shared hosting plan can slow down your site or cause down times when the load is more.
A reasonable choice you can opt for would be Managed WordPress Hosting options offered by several popular hosting services (on average costs start around $20-30). Managed WordPress Hosting plans often include a lot of features that are specifically helpful for WordPress websites. Depending on the size and scope of your business, you can choose an appropriate hosting plan.
Here is a table that offers some of the most popular hosting services offering Managed WordPress hosting.
If you are looking to understand more about the various available hosting plans for a WordPress site, here is a list of articles that could help:
SSL Certificate
An SSL certificate ensures that the communication between your web server and a browser is encrypted. This is extremely important when you are accepting payments on your website. For an eCommerce store owner this is sort of a mandatory requirement, even though technically you can manage by redirecting to payment gateway site for payment.If you are using certain payment options like Stripe, an SSL certificate is a requirement for integration. Getting an SSL certificate will validate your ownership of the domain as well.
You can get an SSL certificate from one of the third party certification authorities at a cost. A Comodo SSL certificate would cost you $99 for a year. If your hosting service supports it, you can actually get a free SSL certificate through Let's Encrypt.
Here is a table that will give you a better idea on the cost factor associated with SSL certificates.
You can read more about SSL certificates and the ways to get it for your site here.
Logo Design
When you start a business, having a professional logo is a mandatory requirement. You may have to get the help  of an expert designer to get a logo made for your store. Fiverr is a great option, if you are looking for a budget friendly option. It is a highly popular marketplace that offers several freelance services at economical prices.
Now, if you don't want to hire a designer for this, but would prefer to do it yourself, there are excellent tools to assist you. Here we will look at such a tool in more detail.
Placeit offers a logo maker that is quite easy to use for anyone including those with no design experience. You can simply enter the name of your brand, color choices and then drag and drop different design elements into it as you like it. The large pool of professional logo templates will help you choose a unique and beautiful logo for your brand. Moreover, you can use Placeit to generate mockups, design sales banners and ads, create designs and videos for social media, etc.

If you are a do-it-yourself person, designing your own logo using Placeit will be a satisfying experience for you. Pricing starts at $29 per month. They also offer a free trial for new users.
Canva is another easy-to-use design tool that you can use to design logos for your online business. You can use Canva to create interesting blog headers, social media images as well as infographics. Logo design is another area that Canva excels. You can use the free account to start with though the availability of templates and elements are limited. If you find Canva suitable for your design needs, you can go for the pro package.
DesignEvo is an all-in-one platform to help you create logos in an easy and affordable way. There are thousands of professionally designed templates available. You are allowed to choose a template and then edit the color, text, font, size, shape, and more with your customized style.
This is a website builder that offers a built-in logomaker tool. You can try this one out if you prefer to design logos for your website by yourself. The tool allows you to download your design in .svg or .png format.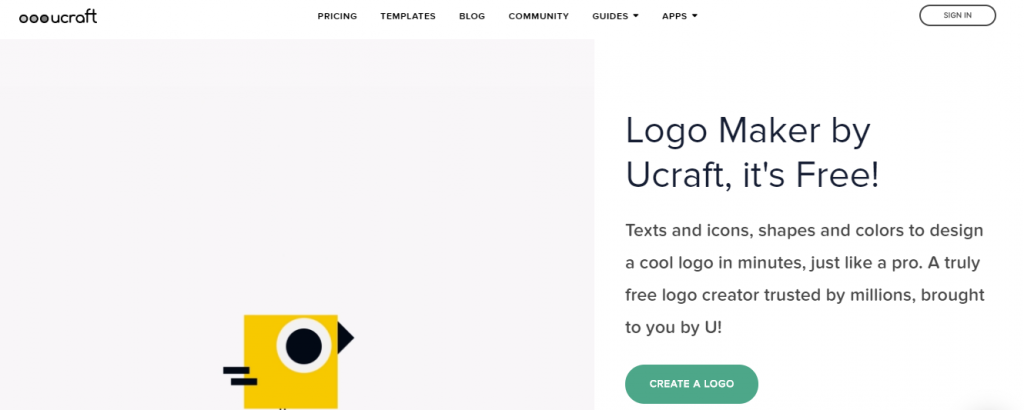 Here is a quick look at some of the popular logo makers you can use and their impact on WooCommerce Pricing.
Getting a suitable theme
The theme that you choose for your WordPress site determines how the site will look and function. When it comes to a WooCommerce store, you need to be more selective as you have to ensure the theme is compatible to all shopping features. When you are starting out with a WooCommerce store, Storefront would be your safest bet for a reliable theme. This is because it offers seamless integration with WooCommerce and the varied functionalities of the platform. To customize your site further, according to the nature of your business, you can find several interesting child themes of Storefront as well.
It is important to ensure a great user experience irrespective of the device
When you are selecting a theme for your WooCommerce store, you need to make sure that the design is complementing your products well. More importantly, it should ensure that all the eCommerce functionalities of your store are intact. WordPress theme directory offers a large number of free themes suitable for WooCommerce. Based on your specific requirement, you can also opt for a premium theme as well.
We have compiled a list of some of the best premium WooCommerce themes that you can try out.
If you  are looking for a suitable theme for your WooCommerce store, here is a bunch of articles that could help:
Extending the features of your store with plugins
One of the signature traits of WordPress and WooCommerce is the ability to extend the default features. WordPress and WooCommerce, being open source, provide a lot of opportunities for developers to customize the features by modifying the source code. This aspect has also opened up a lot of scope for businesses that thrive on developing extensions for the platform.
As a store owner, it is a great advantage that WooCommerce offers. The platform out of the box is quite lean with only the basic essentials of eCommerce integrated to it. Based on the requirements of your business, you can add the necessary features through extension plugins. As we mentioned many times before, you can find a lot of plugins available in the WordPress plugin repository as well as from third party sellers.
The cost that you incur from feature extensions is largely subjective. Considering your store strategy and budget constraints, you can take a call to get a free or premium plugin. The pricing of a plugin is also totally a matter of where you are getting it from and what functionality it is offering. Though plugins are widely available in the WordPress ecosystem, it is important that you get it only from trusted sources.
Payment Plugins
WooCommerce by default offers a few payment options. However, you may need to install additional payment gateways according to the preferences of your customers. This is because the availability of certain payment methods will be a deciding factor for conversions.
Primarily, you can find two different types of payment gateways in the WordPress ecosystem. One, where the customers will be redirected to the payment gateway site to complete the transaction. In the other scenario, the customer stays on your website throughout the entire transaction. However, for the second case you have to ensure PCI compliance and encryption for security.
PayPal, Stripe, Amazon Pay, Square etc., are some of the popular payment gateway options that are preferred globally. Here is a table that will give you an idea of some of the most popular payment gateway extensions and how they impact your WooCommerce pricing.
You can also read the below articles to find additional insights on payment gateways:
You can also read the following articles to get a better understanding of payment gateway integration for WooCommerce.
Shipping Plugins
Shipping is one of the most essential considerations of an eCommerce store owner who sells physical products. WooCommerce offers a few shipping methods by default, such as Flat rate, Local pickup and Free shipping. However, a lot of store owners use some of the popular shipping carriers such as USPS, FedEx, UPS, etc., along with these. These plugins helps you display the real time rates of the specific carrier. Along with that, you will be able to print shipping labels and provide tracking information to customers with carrier integration plugins.
In addition, you may want to consider product weight, dimensions, quantity of items, etc., to calculate shipping costs. For all these different shipping requirements, you can find suitable plugins in the WordPress ecosystem. Here is an overview of some of the most popular shipping plugins that you can try on your store that could impact WooCommerce pricing.
You can also checkout some of the following articles to understand how to handle shipping strategies on your WooCommerce store.
Customer support plugins
You need to ensure that you are offering the best support to your customers. You can integrate one of the popular customer support solutions with WooCommerce to handle this aspect. For customer support, you can find both SaaS-based tools as well as on-premise solutions. The advantage of on-premises solutions like WSDesk is that there won't be any recurring expenses. Depending on your preferences, you can choose the best customer support solution for your store.
With a proper WordPress helpdesk system, your customers will be able to submit tickets for their queries. And, you will find advanced features to manage the workflow of your department and thereby the efficiency of your support team. Some of the popular features to look out for in a support system include workflow automation, canned responses, detailed analytics, support form customization, etc.
Similarly, you can also invest in a live chat solution that will help you resolve customer queries instantly. Moreover, most popular live chat solutions offer advanced features to follow qualified leads.
Here we will provide a list of top customer support plugins for your WooCommerce store and their starting prices.
You can also refer to some of the articles related to customer support from the following options:
Marketing Plugins
Marketing is another area that eCommerce store owners cannot ignore, and it can impact the overall WooCommerce pricing based on what you choose. There are several interesting plugins that will help you with your marketing strategy. You will be able to manage several aspects of marketing such as offering discounts, follow up emails, customer relationship management, social media integration,  and more.
Here we will provide a list of top marketing plugins for your WooCommerce store and their starting prices..
You can also refer to some of the articles related to marketing from the following options:
Plugins for additional functionality
Plugins also help you with additional functionalities to products. You will be able to create unique product types on your store with the help of these plugins. These include creating subscriptions, memberships, bookings, pre-orders, etc. You can devise innovative business models and customer friendly features on your store using these plugins.
Also, check out this list of plugins that will help you extend the functionality of your store, that will have an impact on WooCommerce pricing.
Here is a list of articles that you may find useful when dealing with plugins generally on WordPress and WooCommerce.
Banners and Videos
When you have a WooCommerce store, you will have to focus on the marketing side of it as well. Creating walk-throughs and explainer videos will be a regular requirement, if you are introducing new products and features quite often. Just like what we explained in the log making section, you can always higher freelance professionals  to create videos for you. However, this may not be a practical and cost effective option all the time. There are several options if you are looking to create videos on your own. Let's explore a couple of popular tools that will help you create good quality videos without much experience.
Adobe Express will help you create custom videos quickly even if you don't have a lot of experience in design aspects. Generally, your customers will be happier if they can refer to a video demonstration of your products or services. At least for some sections of the audience, a well-made video will be more effective than an endless stretch of instruction texts. You can make use of this aspect more efficiently with a tool like Adobe Express.
The drag and drop interface of Adobe Express is quite easy to use, and will help you upload videos, and edit them with audio and captions in quick time. The editing tool is quite intuitive and can be mastered with minimal effort. Moreover, there are pre-designed layouts available, which you can use to give a more professional appeal to your videos when you are starting out. While starting out, you can try the free version. The Pro version has a starting price of $9.99.
Camtasia is another option to create effective videos for your website. It is a software suite, which you need to purchase and install on your computer. Once you start using it, you will realize it is quite easy to use, and has several creative options. You will be able to make tutorials, demos and other training videos with easy screen capture options of Camtasia. The major advantage is you can capture your screen and add desired effects to your videos.
With Camtasia, you can record your screen with clear audio and video. You will find pre-made animations, royalty free music and sound effects to give that professional edge to your videos. Camtasia also let you use callouts, annotations, zoom effects, transition effects, etc., to effectively communicate ideas through your videos. If you are looking for a handy tool to make product explainer videos or tutorials, Camtasia is definitely a great option. You can get the license for this software at a one-time fee starting from $249.
FlexClip is a free online video maker that allows you to create videos easily for any occasion. It offers over one million stock media choices, all of which are royalty-free and can be added in your project for commercial use. With a few mouse clicks, you can crop, zoom, and split your videos, add titles, voiceovers as well as music. This tool is free and you can even download 1080p quality videos without a FlexClip watermark.
Let's see a comparison of a few videomakers you can use for your WordPress site.
You can also checkout our article to understand more about the nuances for creating videos for your WooCommerce store.
How to ensure the security of your WooCommerce store?
Another factor that would cost you money in maintaining a WooCommerce site is security solutions. Internet is a scary place with a range of threats like hackers and malicious software. When you are maintaining a WooCommerce store, you are also responsible for your customers' data. So it is highly recommended that you invest in some dependable security solutions to ensure the safety of your store.
The additional security measures that you take on your website will cost you money, if you are choosing premium options. However, at the basic level you can find several free plugins that would offer features like activity monitoring, as well as scanning and blocking threats. You can checkout free options like Wordfence, Sucuri, etc., or premium options like Jetpack.
Checkout some of our articles that will help you understand more about the popular security tools and how much they will cost.
Custom Development Work & Maintenance
Now when you are running a business on your WordPress site, there will be scenarios where you have to depend on developers. This might be for some feature extension or maintenance work, which you won't be able to manage by yourself. In such cases, it is best to get help from reputed WordPress maintenance providers. Several of these maintenance providers offer packages, where you can get their regular attention on your site's functioning. If you are totally uninterested in the hassles of site maintenance, you can think of opting for a package of one of the most popular WordPress maintenance providers.
Here is a quick look at the features of some of the popular WordPress maintenance service providers.
WP Buffs offers round the clock maintenance services for your WordPress site anywhere in the world. Their remote team will continuously monitor your website, and will be available for WordPress edits as well. With the help of the certain top quality tools, they will help your site with security measures as well as speed optimization. Moreover, you will get weekly updates of plugins, themes and your website's core files. This way you can focus a lot more on the business development aspects rather than site maintenance.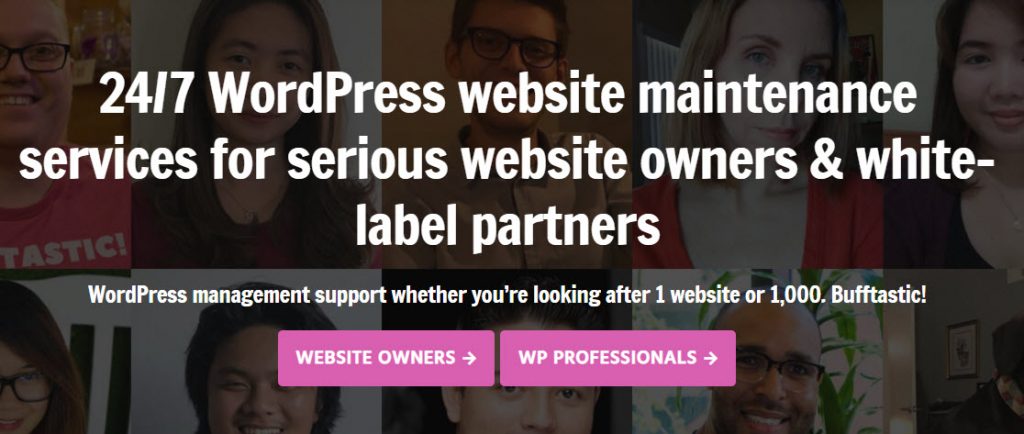 You don't have to face any hassles working with them as they provide detailed reports on every single change they make on your site. For WooCommerce store owners, the recommended plan is Perform Plan Pro, which has premium support and several premium plugins included. You can get an exclusive 10% discount when opting for this plan using the coupon code 'LEARNWOO10'.
WooCrew is a bunch of experts dealing exclusively with the maintenance of WooCommerce sites. For issues affecting your sales, they guarantee a resolution within 2-3 hours, which would be really critical for your site. The team will be handling unlimited tasks related to your store. Moreover, they will handle all the WordPress and WooCommerce updates, which can be a matter of concern for several store owners. Before updating on the live site, they test all updates, and ensure everything is working as expected. Also, the weekly checkout test will help your customers get the best experience all the time.
Furthermore, they offer uptime monitoring, regular backups, security hardening, page speed optimization and more. Prices start from $39 per month.
WisdmLabs is a verified WooCommerce expert you can depend on for custom development work. Their expertise lies in custom workflow development, multi-site development, omnichannel eCommerce, etc. They are also well versed in store migrations, branding and custom experience design aspects as well. If building an online store from scratch is too much work for you, WisdmLabs will help you right from the beginning. You can start by briefing them about your business goals, and they will include you as well in all stages of building your custom WooCommerce store. They also offer a range of WooCommerce plugins on their website. You can contact them to understand the pricing details.
Here is a table to help you with the popular WordPress WooCommerce maintenance service providers and their impact on WooCommerce pricing.
Refer to our article to understand the top maintenance service providers for your WooCommerce store.
Cost is a subjective option with WordPress and WooCommerce
As we have seen with the above mentioned aspects, the cost of building and maintaining a website using WordPress and WooCommerce varies. Though WordPress and WooCommerce are free tools by default, you need to pay for hosting, domain name and SSL certificate. In a lot of cases you will find free domain name and free SSL certificate bundled with your hosting service as well. In simple terms, you need to get hosting, domain name and SSL on your own to run a WordPress and WooCommerce store.
The other scenario that requires financial investment is when you are looking to extend functionalities or enhance design. Here too, there are quite a large number of free options that you can rely on without spending any money. However, as your business grows, you might need premium support services and lesser hassles. So, depending on your store's growth curve, you can invest in some of the premium extensions and themes. Overall, we can safely say that WordPress and WooCommerce are among the most cost effective and flexible eCommerce platforms.
Further reading