Last updated - September 28, 2018
If you have a WordPress site, you know the importance of plugins. They give you the power to customize your website or eCommerce store to suit your specific business needs. You can find plugins of all sort of capabilities in the WordPress environment. Depending on the stage your business is at, you can choose one of the free or premium versions of the plugin. The most popular source for free WordPress plugins is the WordPress plugin repository, which has a huge number of diverse plugins. For premium plugins, you will find different sources including WooCommerce, CodeCanyon, XAdapter, YITH and more. In this article, we will look into some of the alternatives to WordPress plugin repository, where you could find high quality free WordPress plugins.
Alternatives to WordPress Plugin Repository
When you are in the lookout for free WordPress plugins, you will see WordPress plugin repository is a great source. However, you will find several other sources to find reliable free options. Let's take a look to know more about some of these interesting sites.
You can find a large number of free and premium extension on WooCommerce Extensions store. These plugins would be the best option to set up a lot of added capabilities to your WooCommerce store when you are starting up. As your store continues to grow, you can invest in premium extensions that would be helpful to different store strategies.
The free options
Now, lets's take a look at some of the popular free WooCommerce extensions that you can download from the extensions store.
With a reputation of being genuine problem solvers in the WordPress environment, Elex (elextensions.com) offers a variety of free WordPress Plugins on their website. The capabilities of these plugins range from pricing, shipping, customer support, product management and more. All the plugins of Elex goes through rigorous quality tests and promises to offer  a great user experience. An efficient and fast-responding customer support team is another reason for their huge popularity among WordPress-WooCommerce site owners.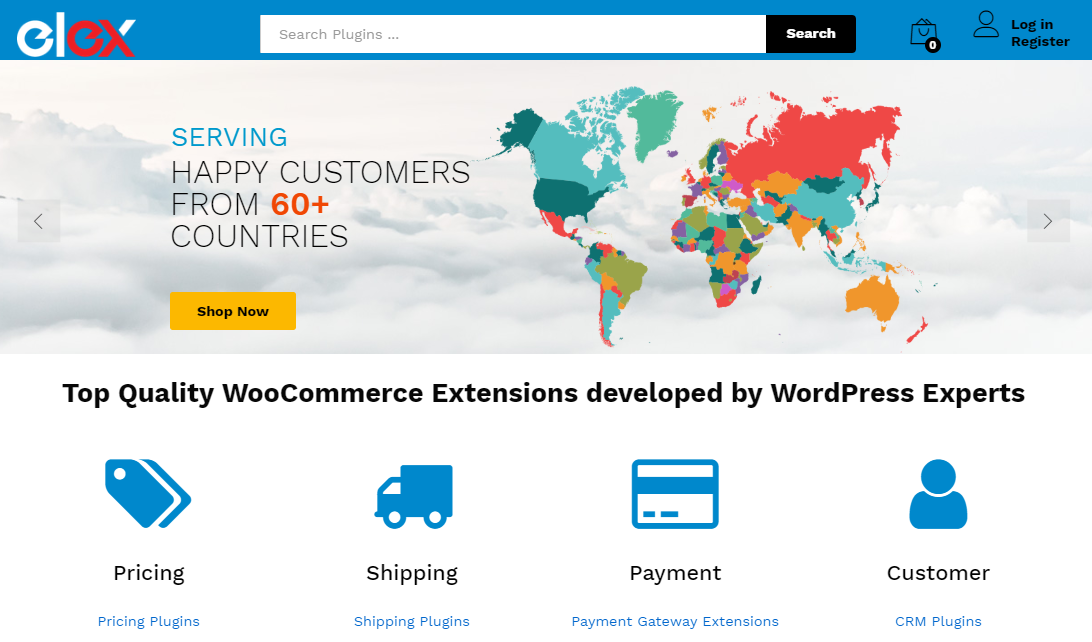 Popular free WordPress plugins from Elex
Let's take a look at some of the most popular free WordPress plugins of Elex.
They are a great team that provides some good free WordPress plugins, along with a range of premium ones. All their plugins are fully responsive and offers support for multiple browsers. Their plugins also boast a user-friendly interface and supports translation to different languages. Moreover, you will find detailed documentation and reliable support when using one of their plugins.
Popular Free WordPress Plugins
Let's quickly go through some of the popular ones:
Blog Designer – If you are running a blog, you would want to experiment with its look and feel occasionally. This plugin will help you try out different design and layouts to your blog pages. It offers six different blog styles that you can experiment with, and more than 30 options, which will help you configure it. It is pretty easy to use, and helps you ensure that your reader never has a boring experience on your blog.
User Activity Log – When you have several users on your WordPress site, it is really important that you keep an activity log. This plugin helps you monitor the user activities on your WordPress site. If you are tracking a specific user's activity, you can set it to get a notification every time that user signs in to their account.
User Blocker – Now, if you want to block specific users from accessing your site, you can use this plugin. You can block users based on their user roles or names, and can be unblocked any time as per your convenience. Read more about various user roles here.
Trash Duplicate and 301 Redirect – Duplicate content can be a negative factor that can hamper your SEO efforts. If you allow user-generated content on your WordPress site, this can be particularly relevant to you. This plugin helps you delete duplicate content, or redirect posts wherever necessary. Read more about the some WooCommerce SEO tools here.
Huge-IT offers a range of innovative solutions catering to different content management platforms. They have a set of premium WordPress plugins that you might find useful to add functionalities to your WordPress site. Most of their popular plugins have a Free version with basic features which you can download from their site. For the free plugins, they offer forum support, while the premium versions have live chat or email support.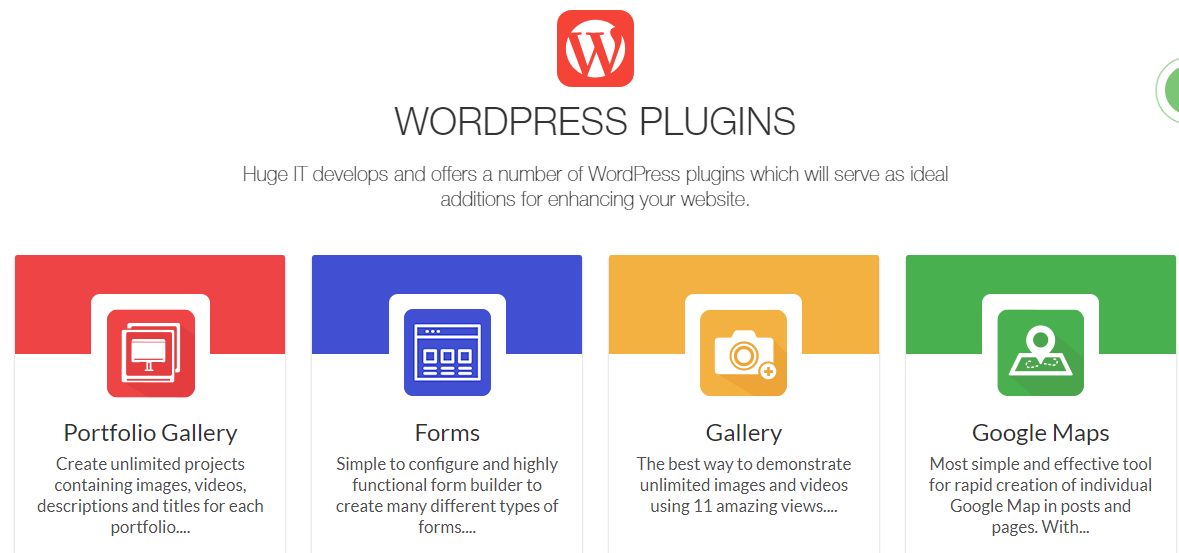 Here is a quick look at some of their popular plugins.
WordPress Google Maps Plugin – This plugin helps you place Google maps on your posts or pages. Over 20 map options and 44 marker styles make it a better experience for your site visitors. You can customize a lot of display options on your maps suiting the design style of your site.
WordPress Forms – Contact forms are really important for website owners, as it helps you stay in touch with your customers more effectively. This plugin offers you a great form builder that is quite easy to configure and use. It offers integration of PayPal and Google Maps to your forms and offers a large number of design options.
WordPress Product Catalog – You can create a product catalog on your WordPress site with the help of this plugin. It will help you customize the presentation of product information in a style that is suitable to your product strategy.
Main WP offers a WordPress management suite, that will help you control all your WordPress maintenance tasks. On the MainWP website, you will find a range of free WordPress plugins that can be really useful. They have a separate menue for free plugins on their website. If you find any of these plugins useful, you can get those free from the website. Let's quickly look at a few of them here.
Advanced Uptime Monitor – Continuous uptime is an essential requirement for any website, particularly for eCommerce sites. You get to monitor your website's uptime every five minutes with the help of this plugin. In case your site is down for more than three minutes, the plugin will notify you.
Backup WordPress – If you are using BackUp WordPress plugin, this plugin helps you control the backup activities of all your child sites from the main dashboard. The intuitive nature of the plugin helps you manage everything effortlessly, even if you don't have coding knowledge.
Vulnerability Checker – This plugin will help you understand any vulnerabilities in your themes and plugins on your child sites. You will get notifications about these vulnerabilities regularly, where you can either delete or update the concerned plugins.
Best practices while using WordPress plugins
Free WordPress plugins offer great advantages to site owners. Without any financial investments, you can manage to get desired functionalities on your site. However, it is always a great idea to apply some caution against the indiscriminate use of other plugins.
Check for compatibility issues
Compatibility issues can create problems on your site, as seen commonly in WordPress environments. Every time you introduce a new plugin to your site, make sure that it is not hindering the functioning of an existing plugin. Experts advise to check thoroughly when you install a new plugin for any issues.
Regular updates
Updates are quite important for WordPress plugins. You need to periodically assess what plugins need updates. Not updating plugins for long periods can pose security threats to your site.
Remove plugins that you don't use
Some store owners keep plugins deactivated when they are not using them. Experts advise against this. It is always better to uninstall a plugin when not using it rather than keeping it indefinitely. When you need it, you can always install it again.
Further reading