Last updated - April 26, 2021
The hosting service that you choose for your WordPress site has a major role to play in your site's performance and traffic. If you are running a WooCommerce store, it will have a direct impact on customer experience and profitability. When you are starting out, you need to be aware of the various aspects of hosting that can influence your store. That way, you will be able to take an educated decision when it comes to choosing a hosting service provider for your WooCommerce store. This article explores the various factors that you need to consider while choosing a WordPress Hosting service for your WooCommerce store.
How WordPress Hosting influences your WooCommerce store
The WordPress Hosting service that you choose has multiple impacts on the performance and continuous functionality of your WooCommerce store. You need to know the specific areas to focus on while choosing a WordPress hosting service provider. According to WordPress and WooCommerce experts, one of the most valuable aspects to consider when you try to decide on a hosting service provider is a good reputation.
Continuous uptime
As a WooCommerce store owner, you need to make sure is that your site is up all the time. Multiple factors may cause downtime on your WooCommerce store. Malfunctioning network devices, denial of service attacks, power failure, bad configuration, etc can be reasons for this. If there are frequent down times, there are high chances that your potential customers would find your site unreliable. So, you need to avoid this by all means. First and foremost, you need to select a dependable hosting service that can ensure continuous up time.
Site Performance
No one wants to spend much time on a sluggish site. So, if your potential customers find your store annoyingly slow, chances are high that they won't come back to your site. Studies have pointed out that if a site takes more than three seconds to load, almost 40% of users will leave it and go. Things like inadequate resources, server overload, etc can create issues on your site performance. This is an alarming fact when your site is a source of revenue for you. While running a WooCommerce store, you need to make sure your customers can quickly skim through multiple products on your store. If they are not happy with the response of your site, they will go elsewhere, pretty quickly.
Easy to scale
When you are starting out, you may not need as many resources as when your business is in full swing. You need to understand how the hosting service will help you scale when you need more resources. How expensive is it going to move to a better plan? Are there adequate options that suit your specific business requirements? You have to address questions like these well in advance. This way, you will make sure to avoid hassles when your business is actually growing.
Security
Your site may be constantly at risk from attackers. If your hosting service is not handling security threats effectively, it can lead to severe problems for your business. Not updating software promptly, inadequate protection for passwords, etc can cause major issues on the security side. It is always advisable to do a proper research on the hosting service provider's reputation before committing to a plan.
Reliable support
You need to make sure that you will get dedicated support from your hosting service provider if any issue arises. Some issues are just unavoidable while running an online business. What matters is to be able to resolve them in quick time. A dedicated support from your hosting service provider can help you understand and resolve any server related issues. Because any issue that causes considerable site downtime can very badly affect your business. All of the highly reputed hosting services have good customer support that you can rely upon.
To ensure speedy performance and continuous uptime for your site, you can also consider WP Buffs WordPress speed optimization service.
How useful is Shared WordPress Hosting
Shared web hosting is one of the most affordable solutions out there when you start to search. But you need to consider your requirements well beforehand before finalizing on a shared service. Let's look into upside downside of shared hosting service in more detail.
What is shared web hosting?
Basically, when a single server hosts multiple websites, it is called shared web hosting. This reduces the cost of the servers considerably, and hosting companies are able to provide competitive rates. However, if you are planning on development efforts that are external to the hosting plan, you may need a dedicated hosting solution.
Major advantages of shared WordPress hosting
One of the main advantages of a shared hosting service is the cost-effectiveness. When the price for a dedicated hosting solution averages around $150 per month, you can get a shared hosting service for less than $10. This advantage is huge and most of the times small businesses and simple sites cannot ignore this. Shared hosting services are becoming increasingly easy to use. You don't need to worry about server maintenance and related things because there are skilled professionals working with most of the shared hosting companies.
Shared web hosting companies often have multiple plans suiting different budgets. This makes it quite easy for you when you look to scale your business. You can easily choose a higher plan that fits your budget. This way you can avoid the hassles of moving from one hosting service to another. If you are looking to move your site from one location to another, you can read this article on WordPress migration plugins.
Disadvantages of shared web hosting
Server response time might be considerably slower compared to dedicated solutions. This can be a major point to look into when you are searching a service for your WooCommerce store. A slow site would be least desirable thing for a potential customer. So it is up to you to evaluate the quality of the service and your estimated traffic before finalizing on a plan. With shared hosting, there are always chances of overloading the servers. And, if this results in frequent down times, then you may have to find a different hosting service to run your site.
Fundamentally, shared web hosting is good for bloggers, small sites, and may be a WooCommerce store that is just starting out. This is majorly due to the inexpensive pricing plans. However the moment your traffic really increases beyond a certain point, you may start noticing difficulties with the hosting plan. The solution to such a problem would be to go for a reputed hosting service always.
Some of the best-shared WordPress hosting services
There are a few reputed names that experts recommend when it comes to selecting a good shared web hosting service.
Bluehost is one of the most trusted names when it comes to WordPress Hosting. WordPress recommends Bluehost as a preferred hosting solution, and that itself should be a motivating factor. Their solutions are widely preferred by small businesses, due to the affordable and reliable features. They have the resources to handle the rising traffic on your site and that should give you confidence. The ever dependent customer care is another reason behind the huge popularity of this hosting service.
Another WordPress recommended hosting solution that you can opt for is SiteGround. With advanced solutions for speed and security, your site may never have to face many hassles with this service. Some of the great features of SiteGround includes free site transfer, app installs, email accounts, daily backups, Cloudflare CDN, etc. Some of the advanced plans have features like Free PCI Compliance, WordPress Staging, and one-click advanced GIT Repo creation. They even offer location specific hosting service with servers in America, Asia and Europe.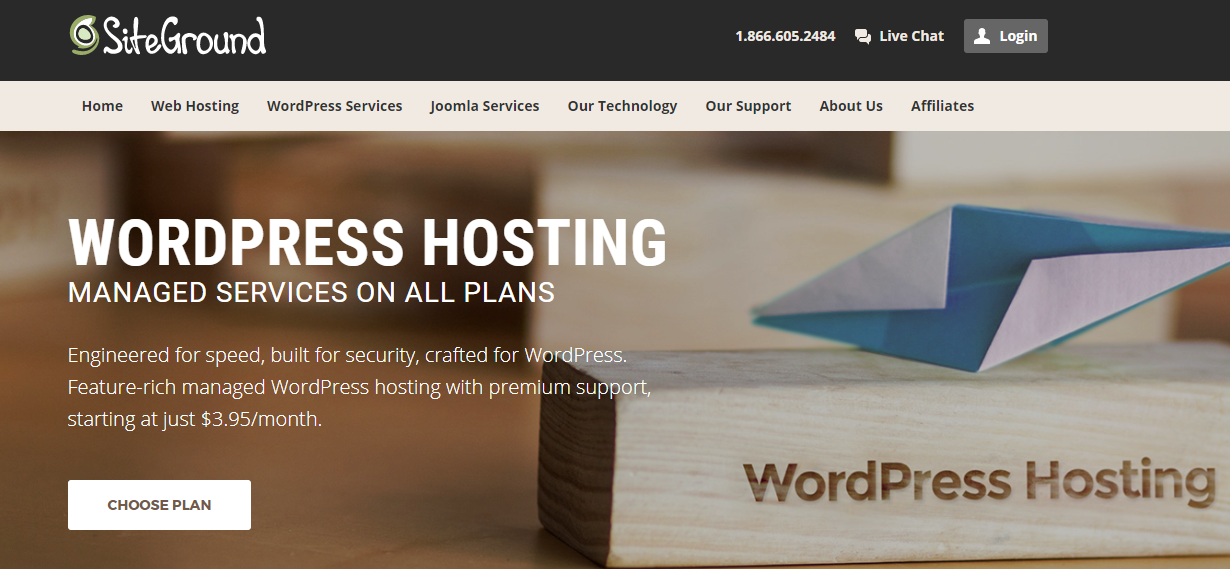 WordPress recommends DreamHost too as a dependable WordPress Hosting Solution. They offer affordable hosting solutions with advanced features. Some of the most noticeable features include unlimited website hosting, un-metered bandwidth and storage and one-click WordPress install. Theirs is a hosting solution that actively contributes to the WordPress community. They give great choice to users to take complete control over their servers, or take the support of their experienced professionals.
Cloud hosting is another affordable option
When you think of affordability and dependability, cloud hosting can prove to be a parallel option to shared hosting. Varied types of businesses can make use of the surge in cloud services in the digital community. Cloud options offer great choices, budget-friendly pricing, and easily scalability to online businesses. Let's look at some of the obvious advantages of cloud hosting too.
It is cost effective
Similar to shared hosting, cloud hosting too reduces the financial investment of the site owner considerably. It stays to be a cost-effective model, as the pricing increases with your revenue. This gives a lot of confidence to small businesses and budding entrepreneurs.
You have the flexibility to scale up
You can't be always prepared for the future requirements when running an online business. Sometimes you need to quickly scale up along with traffic surges. At other times, you may have to slow down a bit to reduce expenses. A cloud solution would be suitable to you in both scenarios. It comes as a future-ready package.
Managed cloud solutions monitor your infrastructure
Actively focusing on server maintenance and other IT-related tasks are not practical while running an online business. When you opt for a managed cloud hosting solution, you can be assured that there is a team of experts taking care of your IT infrastructure.
Better security
Cloud solutions offer better security by reducing the risks of security threats. In addition, you will get help in making sure all the regulatory requirements are met.
Best cloud hosting solutions
There are a few players in the market that offers great cloud hosting plans. Here are a few:
Kinsta offers a fully managed WordPress hosting solution that serve billions of page views every month. With Kinsta, you have the option to choose different data centers for each of your websites, as they offer a large number of global locations. Kinsta makes this possible using the multi-regional deployment of Google's cloud platform. They also offers hassle-free migrations, with an expert team of engineers. With advanced technology like Nginx, PHP 7, LXD containers and MariaDB, Kinsta ensures high speed for your website. Kiinsta has also paired up with WP Rocket for better optimization and further increase of site speed.
Kinsta has a range of pricing plans starting from $30 per month. The Starter plan is especially suitable for bloggers and those who are new to WordPress ecosystem. Great support is another reason why you should look at Kinsta for your managed WordPress hosting service.
If you are looking for a simple, managed cloud hosting service, Cloudways might be a great choice for you. They ensure that your site performance stays top notch all the time, with great web server and cache technologies. You can even integrate your applications to the Cloudways platform. Regular updates make sure your site's security is never compromised. Round the clock support services ensure that you can easily resolve any problems that you encounter with their servers.
With great plans and pricing schemes, Digital Ocean is a notch above the rest. With servers located in multiple global locations, you get the choice to ensure the optimum performance of your site. The reliable data replication process and fault tolerant network of Digital Ocean ensures unaffected up time for your site. With processes like attaching an SSD block storage or adding a load balancer, Digital Ocean helps to upgrade your requirements. Straightforward pricing and global access also helps in improving the popularity of Digital Ocean as a preferred WordPress hosting solution.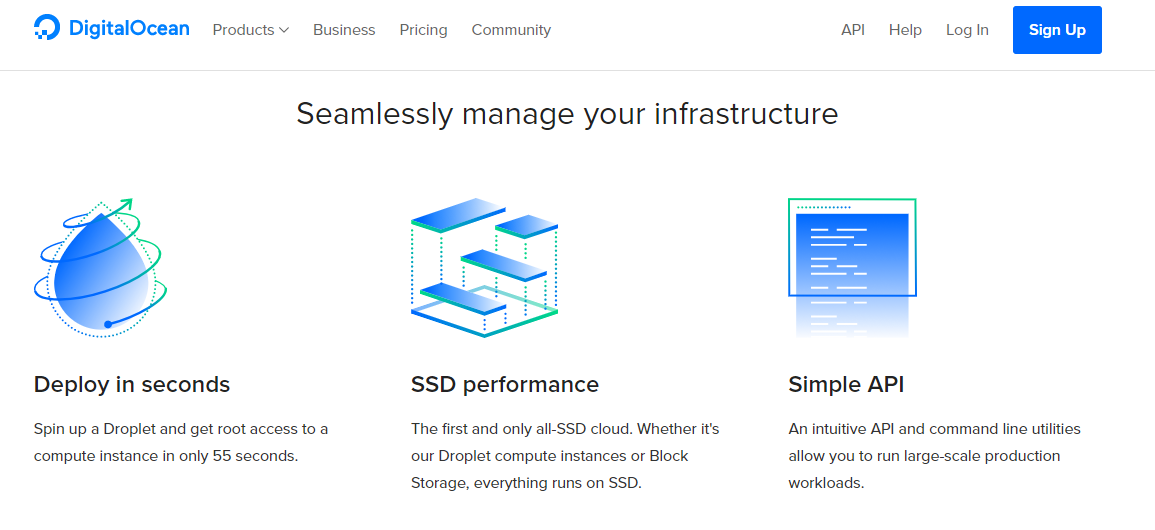 Conclusion
Choosing the right hosting solution is especially important while managing a WordPress site or WooCommerce store. Your site's speed, security and scalability largely depends on the quality of your hosting service. Therefore, it takes some careful analysis of requirements, available options and budget before reaching a decision. Thankfully, there are lot of choices available for you to pick the right one. Shared hosting and Managed Cloud hosting are two of the most affordable options for small businesses and startups. A general advise to those who are just starting out and don't now the technical nuances would be to go for a reputed option. That way you can be sure that your site downtime will be minimal and you get good support if faced with any issues. This article has attempted to provide an overview of the affordable hosting solutions, and their upsides and downsides. Please leave us a comment, if you want to share your thoughts.
Further reading