Last updated - February 24, 2020
How likely you recommend a company depends on the strong customer base you build. To do so, it is highly recommended to keep intact communication with the customer. A neglected customer is equivalent to a negative impact on your business. It is evident that business grows with happy customers. Retail business is quite competitive when you consider customer satisfaction. Keeping up with the customers is important in an eCommerce business. WordPress is a popular website, which lets eCommerce users build unique and impelling designs using WooCommerce platform for eCommerce businesses. Take a look at what WordPress Support Plugins can handle.
Handle multiple requests simultaneously.

Prioritise and manage ticket requests efficiently.

Augment response time for tickets.

Clean and clear monitoring of the ticket system.

Efficient tracking of agent performance

Easy assignment for tickets.

Auto response to support tickets.

Store canned responses.

Automate several support processes.
Here are some of the best premium WordPress Support Ticket Plugins to enhance your customer experience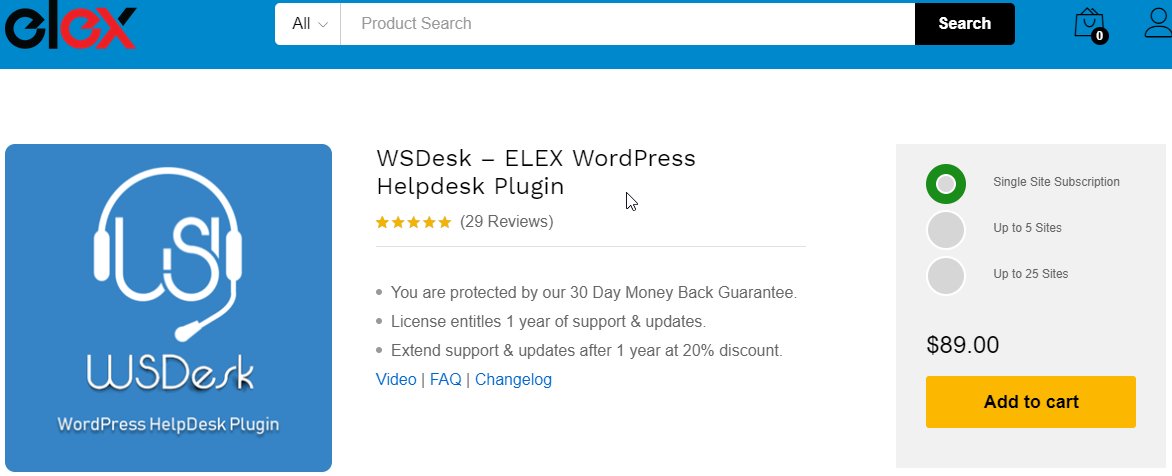 WSDesk is one of the popular WordPress support ticket plugins, which has unique features that make it all the more impressive. It is AJAX-based, which makes it quite user-friendly. Compared to other helpdesk plugins, it is less costly, but with good features. Being affordable makes it all better for small to big businesses.
   Pros 
Low price.

Unlimited Tickets and agents.

No monthly charges or agents charges.

easy to customize as per customer needs.

Can be managed as an independent support ticket system.
Cons:
 Cannot perform time tracking for ticket responses.

 No slack notifications.

 No limit to ticket assignment.

 Do not have mobile apps to support the process.

 Do not have collision detection for finding someone works on the same ticket.
Catchers helpdesk has all the major features of a support ticket system plugin. The base free version has limited features though. To make catchers a better support ticket system, you can install add-ons to integrate various features into it.
Pros :
For all paid versions, the licence is for lifetime.

All premium versions have the same features except for the number of sites.
Cons
 No knowledge base linked with the free version.

 Each paid version has some limited features.

 For 2-5 sites, the price is $149.

 No email piping.
HelpScout manages customers in excellent when considering managing a support team with larger numbers. The support team has the flexibility to work with multiple mailboxes for each shared email address.  Moreover, Helpscout aid in integrating with more than 50 plus integrations. Helpscout also supports voice mail with over 50 plus voicemail services other than email, chat and telephone services.
Pros 
Over 50 plus integrations possible.

Integrates seamlessly with chat plugins

50 voice mail services available.

75 keyboard shortcuts to ease usage.

Have an app for iPhones and Android phones to assist customers anywhere at any time.

Collision detection when someone else is working on the same ticket.

Easy ticket tagging is possible.

2-factor authentication possible.

Use @ to mention other agents and leave short notes.

Contain collaboration tools.
Cons:
Lack of Knowledge base.

Per month cost is $12

No data archiving or data retention.

There is no activity dashboard to track.

Lack of Social Media Integration.
A plugin best suited for WooCommerce support system. Being a product of WooCommerce, it allows seamless integration.WooCommerce Support Ticket System has a very basic ticket system to work on, suitable for small eCommerce store owners.
Pros :
Displays the priority of the ticket, the last reply date.

Easy to view customer data on opening the ticket data.

Whenever a user purchases a product, a Pay Per ticket is created, which gives the admin access to the number of questions a consumer can ask.
Cons:
Lack of customization of forms.

Completely devoid of automation.

Do not have triggers or auto-replies.

No email pipping
Easy to use and configure WordPress support plugin. The plugin can easily be added on to a WordPress platform. It also supports unlimited agents and tickets. It has an excellent operational field as it is AJAX-enabled. The plugin is a translation ready for various languages globally.
Pros : 
Unlimited agents and tickets.

Supports multiple languages. It is translation ready.

Easy to use and simple functionality.

Custom fields can be added.

Customizable ticket fields and forms.

Users can create guest tickets.

Multi-site ready

Pricing starts at $39.99 / year.

Add-ons can be individually purchased as per need.
Cons :
 The base premium version does not support the knowledge base.

 No automatic closure of tickets.

 SLA is not present.

 No FAQ integration.

 WooCommerce integration is not feasible.

 For report creation, you need to use the Standard plan which is $59.99.
Zendesk is a popular SaaS-based platform that works as a popular support ticket system. The base version contains chat, support emails and knowledge base integrations.
Pros :
SaaS-based.

Easy upgradations possible.

It's a dynamic platform where tickets can be from any channel.

Live Chat integration helps to respond to clients easily.

High levels of customer engagement across various social media sites.

Mobile support.

Over 100 plus integrations are possible.

Multi locale -supporting languages and timezones.

Every plan has a free trial.

Multi-brand add-on up to 300 brands.
Cons:
Charges are variable per agent.

Only in the elite version do unlimited light agents support for which the price is $199/agent per month.

 Triggers and automation vary with the plan.

 Once the server is down, all your data is also unavailable.

 Your data is completely with Zendesk, hence privacy is a concern.
This is a SaaS-based ticketing platform like ZenDesk and Helpscout. It is easy to set up and use instantly. Awesome support has a responsive design as well as translation ready features. It has 4 plans each has specific features to work with.
Pros:
Unlimited tickets, agents, department and file attachments.

WooCommerce integration is available with the Pro, enterprise and agency plans.

Each plan has MailChimp integrations for easy communications.

Agents can get instant notifications.

Smart replies are configured using Artificial Intelligence.

Support Facebook Chatbot as well.
Cons:
 High-end functionality is available only within the Enterprise and Agency plan.

 No WooCommerce integration with Standard Plan.

 Standard Plan starts at $149 per year.

 The knowledge base should be added externally to support documents.
Being a SaaS-based WordPress support ticket plugin, it is easy to use. With a simple interface, easy communications can be set up. automation features and canned responses make the support system much more efficient to use. Smooth navigation makes Helpdesk a much more impelling plugin to support.
Pros:
Effortless customization.

Ticket history tracking possible.

Automated solutions.

Easy collaboration on tickets.

Filters and smart searches are available.

Multi-lingual knowledge base is available.

Multi-brand add-on from 3 to minimum 15.
Cons :
Prices start at $29 per agent per month.

Most features are available from the enterprise plan, which starts at $69 per month.

Every plan has a limit for uploading attachment.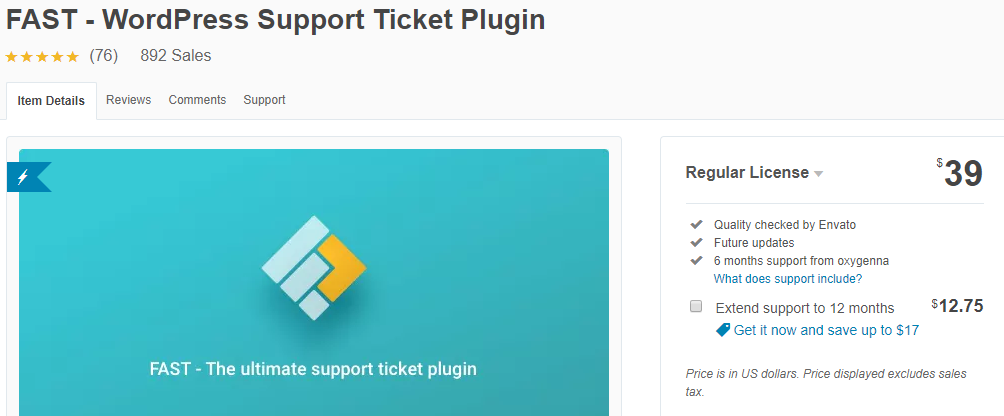 Fast is an ideal WordPress Support ticket plugin for eCommerce users and for WordPress developers. It has Envato marketplace and WooCommerce integration, which makes it proficient in supporting customers.
Pros :
No restrictions in customers or tickets to process.

Any kind of attachments can be uploaded.

can customize the ticket fields, auto-response emails and colour -schemes.

Seamless integration with WooCommerce.
Cons :
Not much automation like triggers.

Form customization is not possible.

Auto-assign of tickets is not done.

No tracking or reporting mechanism.
Completely secure WordPress Support Ticket system to be used. It also has an encrypted login system and requires users to complete a captcha before proceeding to pages. It helps in managing a completely organized support ticket system.
Pros :
Secured logins.

Comes with a knowledge base.

Social media integration is also possible.

Email templates for auto-reply.

Categorization of tickets is possible.

Merging of duplicate tickets is possible to avoid confusions

Individual ticket ratings can be provided by customers.

Email piping for IMAP users.

Translation ready system.
Cons :
Pricing starts at $39.

Not many triggers and automation possible.

Collision detection is not available.
 To wrap up, for a business to compete well in any field, a strong customer base is required. To build stronger customer interaction, using a support ticket system is ideal. In the case of WordPress Support Plugins, there are free and premium plugins available, which are quite beneficial in one way or the other. Use a reliable WordPress Customer support Ticket plugin to ensure your services are intact, and that you are able to correctly address your clients. Quality means providing unhampered services to your clients.
Further Reading