Last updated - November 29, 2022
Choosing the best eCommerce platform for your online business can be difficult, especially when all the platforms provide almost identical capabilities. There are several website builders and eCommerce platforms to pick from on the market. Shopify versus Wix for eCommerce stores is a perfect example of this.
This Shopify vs Wix comparison will help you assess both platforms and select the one that best suits your eCommerce needs, while also being the easiest to use and administer.
We compared Wix and Shopify side by side to show you exactly what each platform has to offer. When comparing Wix vs Shopify, this article will help you understand the fundamental differences between the two platforms, so you can make an informed decision.
Overview
What is Shopify?
What is Wix?
Detailed comparison
What is Shopify?
Shopify is a SaaS (software-as-a-service) eCommerce platform designed to make it simple for users to open online stores. Shopify is one of the most popular shopping cart systems in the world, with over 1.4 million active businesses.
It is always a viable solution, regardless of the size of your company. Built-in functionality and scalability are two characteristics that contribute to user trust and reputation.
What is Wix?
With over 523,000 active websites, Wix is a drag-and-drop website builder. Wix has officially introduced a new version named Wix eCommerce in 2020, despite its success as one of the greatest online shop builders. The new edition is aimed at small and large online retailers, brands, and merchants all around the world.
Wix eCommerce adds a slew of new and intriguing features, ranging from improved consumer shopping and payment experiences to company and financial management capabilities, and so on.
Detailed comparison
Pricing for Wix
Wix eCommerce now offers three price options, ranging from $17 to $35.
Business Basic – $17/month: Provides a set of features to merchants who are just getting started in business. For example, unlimited bandwidth with a free domain for a year, sales analytics and reports, and so on.
Business Unlimited – $25/month: This package includes all the basic features plus more storage, Pro eCommerce features, and a professional logo. You'll also receive access to more offers, like tax calculators, dropshipping, numerous currencies, and much more.
Business VIP – $35/month: All the benefits of the unlimited subscription, plus priority assistance, are available to store owners. All of your queries on Wix's response page, as well as all of your phone calls, will appear at the front of the queue.
Pricing for Shopify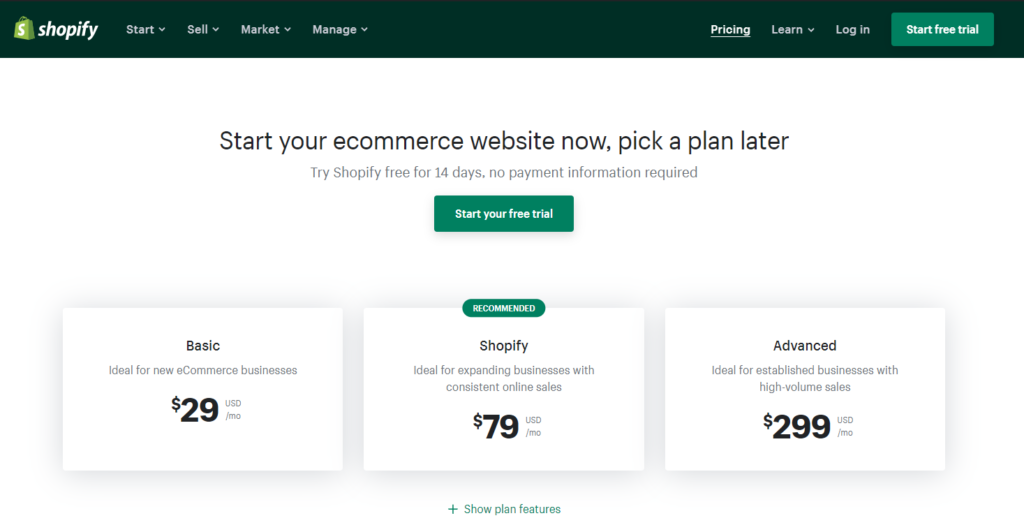 Shopify tends to cost a little more than other options available in the market, however, the features it offers tend to make up for the high cost. It offers plans ranging from $29 to $299 per month.
Basic Shopify – This costs $29/month, with all the basic ecommerce functions similar to those offered by Wix. This is an ideal plan for those who are just starting out with their online business/store.
Shopify – This mid-range plan costs $79/month and is quite good for those who have already set shop but want to grow their business. This plan comes with all the functions offered by the Basic plan, along with a few professional functions such as a sales report feature and global selling support, among many other features.
Advanced Shopify – This is the advanced plan offered by Shopify at $299/month, with all the advanced features that will help medium-to-large businesses grow at a good pace.
Ease of Use
Comfort and ease is a necessity while working on a new platform, and this is key when one has to use an ecommerce platform.
Wix Ease of Use
As a business owner, you can manage the content on the front-end interface of your store with the help of Wix drag-and-drop creator – all you have to do is click on the feature, such as a title, image, logo, etc., and drag it wherever you want it placed. This feature is so easy that even novices with no idea of developing a website can do it without any hassle.
Furthermore, Wix also offers certain AI technologies, such as Wix ADI and Wix Editor. These technologies help in the initial creation of your online store. Building a website with Wix is quite easy.
Shopify Ease of Use
With Shopify, the process of developing and previewing the same is a little cumbersome and time consuming. You have to shuttle back and forth between the dashboard and editing system to check the result, as they are both on separate interfaces. Hence, getting the final website ready might take a little longer than usual.
It may take you longer to arrange the site how you like due to the division. Shopify, on the other hand, has a number of pre-made themes that you can use to quickly and professionally construct and optimize an eye-catching shop. You may quickly add things and begin selling later. These templates certainly make the difference in the long term, especially for medium-to-large organizations.
Loading Speed
Nothing can be more frustrating than slow page loading speed; anything more than three seconds can mean that your potential customers will move on to your competitors. In this section, you will get to know how Wix and Shopify qualify with regard to loading speed.
Wix Page Loading Speed
In terms of page loading speed, Wix is not among the fastest. However, it comes with some specific guidelines to help optimize the homepage and also elements such as images, text, animation, etc. By following these guidelines, your website speed can be maintained at 85% to 90%. Moreover, your website's performance can improve further by following some of Wix's best practices.
Shopify Page Loading Speed
Shopify is considered one of the best alternatives to Wix in terms of site performance. Regular testing at Shopify ensures that the load speeds are really fast, even on mobiles. At a load speed of 1.3 seconds, as per Darren performance test, Shopify is considered as the second-fastest platform. For any ecommerce business, load speed is crucial to ensuring customers stay on your website.
So in terms of page loading speed, Shopify wins over Wix.
Template & Customizability
Visual merchandising is what attracts customers to any business and converts into sales, be it offline or online. Hence, it is important to have access to well-designed templates and themes that are responsive and attractive. Moreover, templates that can be custom edited are a plus.
Wix Themes & Templates
Wix offers over 800 free templates that can be easily modified to suit your requirement. It offers a vast range of appealing templates that can help boost your sales. Choosing from a huge number of templates can seem daunting. However, if you know what you want for your storefront, it is easy to shortlist from the long list and design your website accordingly with the help of the built-in tools (such as Wix Editor X, Wix ADI, and Editor) offered by Wix.
Furthermore, Wix also has its own coding language, Wix Velo, which can help take your storefront to the next level.
On the downside, though, Wix templates are not changeable once you have selected. This can be a little frustrating in case you want to expand your online store to include newer products and want to rebrand.
Shopify Themes & Templates
The one key difference between Wix and Shopify is, while Wix offers over 800 free templates, Shopify offers only 9 free themes and 64 paid ones, which are designed for online stores. These themes range from $140 to $180.
Despite being expensive, every Shopify theme is cost-effective in terms of its functionality, and every theme is beautifully designed to suit your business need. Moreover, in case you want to include an idea or add a few elements, then Shopify Liquid helps you do that by helping you modify the underlying code. This means that your selected theme can be modified to suit your requirements easily.
eCommerce Features
Among the many key features to be considered while choosing a website development platform, eCommerce features are not to be overlooked. These are the features that help with the actual structure of your business.
Payment Methods
Most customers want to have the option of many convenient and safe payment methods when they are shopping online, Both Wix and Shopify are known for the payment methods they offer and hence preferred by many e-merchants.
Wix Payment Methods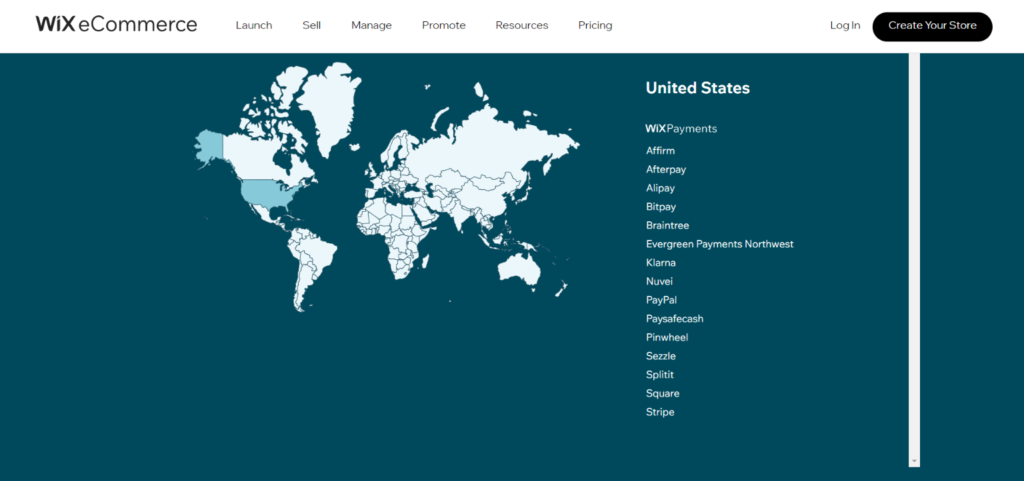 Wix is known for its strict standards and advanced online encryption that it provides. It supports all the payment methods, especially traditional methods such as PayPal, Square, Stripe, etc.
One of the best features of Wix is its "Buy now, pay later" option, which makes it easy for your customers with no additional integration costs involved.
Basically, payment methods are easy to set up with Wix and:
Online payments are secure
Debits and credit card payments, along with iDeal and "buy now pay later" options such as Afterpay, Sezzle, and Affirm can be accepted
You get a unified dashboard for payouts, chargebacks, and refunds
There is no need for a third-party payment gateway
You get 24/7 customer support
Shopify Payment Methods
Shopify has its own payment method – Shopify Payments, which does not charge any transaction fee, making it quite comfortable for e-merchants.
However, with Shopify Payments, different credit card rates are applicable on every plan used. For example, with Shopify Basic, there is a $2.9 + 30 cents charge with every transaction, similarly $2.6 + 30 cents charge with the Shopify Plan and $2.4 + 30 cents charge with the Advanced Shopify plan.
Similarly, if you use any other payment provider other than Shopify Payments, charges are levied on every transaction based on the plan selected. The charges range from 2.0%, 1.0%, and 0.5% for Shopify Basic, Shopify, and Advanced Shopify, respectively Other payment processors, such as PayPal, Authorize, Stripe, 2Checkout, etc. are also levied transaction charges by Shopify. These charges range from 2.5% to 0.5% depending on the plan.
Shipping Options
Shipping is a vital function for any business; however, it is a key function for an online store, without which the products cannot be delivered to the customers. In this section, we explain to you the shipping options provided by Wix and Shopify.
Wix Shipping Options
Though Wix provides a detailed guide to help you set up shipping, delivery, and pickup, shipping as such with Wix can be a little difficult as shipping apps would be needed to help you with global payments.
Another issue with Wix is that it does not offer printable shipping labels, which are needed to track orders and set tax rules for every product.
Shopify Shipping Options
On the other hand, Shopify not only offers free shipping but also assists in coordinating with alternative shipping providers, if needed. With Shopify, you can be assured of being guided through the whole shipping process. You will also be able to configure your shipping rates, be it a flat rate or rates depending on the region.
The Advanced Shopify plan enables third-party calculated shipping rates. This means that your customers will be able to view the current courier prices at checkout.
Basically, shipping with Shopify is a hassle-free experience through and through.
Dropshipping Support
Dropshipping is the preferred form of shipping for most online business owners nowadays. Most choose this because of the benefits it offers, be it warehouses or capital and fulfillment. Both Wix and Shopify offer dropshipping support. In the section below, you will understand the better option.
Wix Dropshipping
With Wix, dropshipping is limited to its Business Unlimited and Business VIP plans only, wherein third-party apps can be employed for dropshipping. Furthermore, with the Business Unlimited plan, the products you sell are limited to 250. However, with Business VIP, there is no limit on the number of products you can offer.
Shopify Dropshipping
Dropshipping features are available with Shopify in any plan. Shopify users may sell an infinite number of items using its own dropshipping tool, Oberlo, as well as use a third-party app like Dropified.
Apps on Wix
Wix now has over 200 applications and add-ons in six different categories. Marketing, selling online, services and events, media and content, design components, and communication are the topics covered. There are various free Wix Apps to pick from among the Wix Apps. Furthermore, the purchased ones are reasonably priced, ranging from $5 to $30.
Apps on Shopify
Shopify is one of the largest eCommerce app stores available, with over 6000 apps. It's like a features buffet, with monthly subscriptions beginning at $15 and a variety of free and paid applications to choose from.
POS
Wix has its own point-of-sale system. Wix POS is provided to a limited number of merchants in the United States. As a result, instead of using Wix POS, most Wix users must set up POS integration.
The POS solution for Shopify is available on any price plan, including Shopify Lite. Shopify POS Lite (included in your Shopify membership) and Shopify POS Pro ($89/month) make in-person transactions a breeze. It offers an unending range of advantages as well as detailed reporting and analytics.
Shopify Security
Because Shopify is a hosted platform, it takes care of all upgrades and security problems in the background. The Shopify system also operates on a Level 1 PCI certified server, which is required in order to process credit or debit card information. SSL encryption is also accessible for every Shopify store, ensuring the security of your visitors' information.
Wix Security
Wix customers can be confident in the high level of security integrated into every Wix website. SSL online security keeps connections safe and private through an HTTPS connection, allowing merchants to acquire consumers' confidence.
Wix specialists have undergone comprehensive hacker testing to ensure that your website is always up and running with DDoS Protection – a dependable web hosting service.
In terms of security, Shopify and Wix are at a stalemate.
Conclusion
Both of these eCommerce giants are neck to neck in terms of functionality, but Shopify offers more professional services in comparison to Wix. Whereas Wix offers better usability. In simple words, Shopify is better for professional sites that need scalability and Wix is perfect for websites that are just starting to take off. We hope this article helped you. To see the comparison between Shopify and other eCommerce giants, check the links below.
Further Reading