Last updated - January 5, 2021
The analytics reports on your WooCommerce store will equip you for enhancing your sales and revenue. It is especially important to collect information effectively so that you can derive workable strategies out of it. In the WooCommerce ecosystem, there are several interesting plugins that will help you get diverse analytics insights on your store. In this article, we will discuss some of the best WooCommerce conversion tracking plugins that you can install on your store.
This plugin is a comprehensive option to get detailed analytics reports on several important aspects of your WooCommerce store. Basically, it will equip you to analyze your business performance and accordingly create strategies. Since the plugin provides you accurate data instantly, you can rely on it in implementing changes without much delay. You will be able to easily understand the best performing areas as well as the areas where you need to make improvements.
Features
Get detailed custom reports on different aspects of your WooCommerce store specific to products, categories and locations.
Offers different visualization options such as tabular form, bar graphs, pie charts, etc.
Choose to view data for different time periods such as the last 7 days, the ongoing month, previous month, yearly, or even a custom date range.
Order analysis and revenue analysis reports will give you insightful trends on your business performance.
See customer, country and product related data to get accurate data on your business prospects.
The single site subscription of this plugin will cost you $129.
This plugin will help you make a seamless integration between your WooCommerce store and Google Analytics. You will be able to track eCommerce specific events with the help of it. Important eCommerce metrics like conversion figures, average order value, product-specific sales, etc. will be automatically displayed on your analytics dashboard. You can customize the name of the events that are tracked by changing the default names given by the plugin. Furthermore, the plugin offers you an option to include several other data related to conversions like coupon application, account views, etc.
Features
Basic site tracking as well as advanced eCommerce event tracking on your WooCommerce store.
Track with the help of user ids for better accuracy, and also exclude shop managers from tracking.
Get data on customer actions like signing in or out, adding a product review, etc.
Track checkout behavior to understand more details about your checkout pages like the preference over a payment option.
The single site license of this plugin has a price tag of $79.
This plugin focuses specifically on customer behavior to provide you with insights to enhance conversions. It will monitor the behavior of a customer and also saves the details about their purchases and lifetime value. You can enable email notifications from the plugin settings so that you will get these insights regarding the purchase history of your customers in your inbox.
Features
Option to monitor customer behavior on your store by following the screens they visit during their stay on your store.
Easily view the lifetime value of a customer to understand the entire revenue you have received from that person.
Understand how your website user interface is helping to improve conversions on your store.
Get specific details of customer journey that led to conversions.
For $49, you will get a single site subscription of this plugin
Using this conversion tracking tool, you will be able to track eCommerce events on your store and integrate it with your advertising platforms. It will show you conversion-related data of different ad platforms such as Facebook, Twitter, Google AdWords. If you have another platform which you want to add, there is an option available with the tool. Whenever a site visitor triggers an eCommerce event, it will be sent to specific ad platforms to help you with effective re-targeting. Thanks to this tool, you will get advanced conversion tracking data and user behavior insights.
Features
Advanced conversion tracking of your WooCommerce store.
Integration with ad platforms for better re-targeting.
Set up eCommerce events as triggers.
Easy to install and configure on your eCommerce store.
Role-based access to store managers for better handling of analytics data.
There is a free version of the tool with basic features, which you can download for free. The Starter pack will cost you $99, and you can try out other pricing packages as well.
MosterInsights is one of the most popular analytics plugin that you can install on your WordPress WooCommerce store. The main advantage is that you will be able to configure the Google Analytics configuration in a matter of minutes without any requirement for coding. Once it is set up, you will be able to receive a lot of important insights about your business and customers through the interactive dashboard. You will be able to understand how users are interacting with your content and site elements, and accordingly make improvements.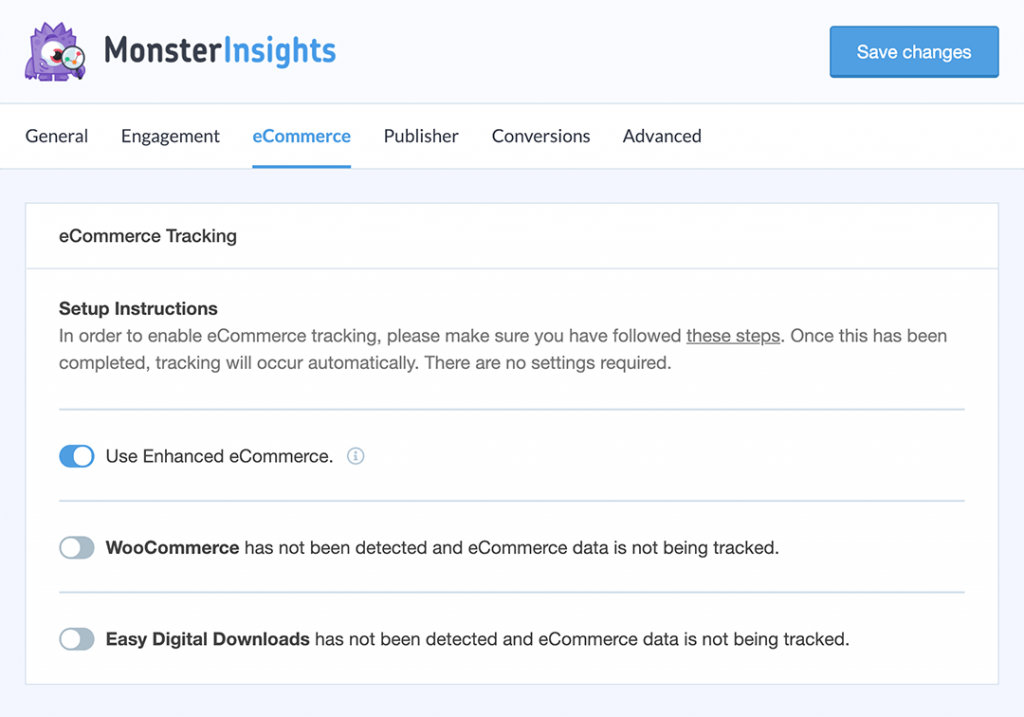 Features
Universal tracking with options for multiple devices and campaigns.
View Google Analytics reports right from your WordPress admin dashboard.
Get real time data based on the users in your store at any given time.
Enhanced eCommerce tracking metrics to understand key aspects of your store conversion.
Page level analytics to help you understand the effectiveness of your content.
Track advertisements and affiliate links.
Option for A/B testing and other features through Google Optimize.
Set up custom parameters for tracking.
The starting price of the premium version of the tool is $199 per year. They offer 14-day money back guarantee as well.
This plugin will help you track several important metrics related to your WooCommerce store conversions. Along with enhanced eCommerce tracking, it offers tracking of refunds, user ids, ad platforms, etc., as well. Overall, you will be able to track more than 15 key metrics on your store. Moreover, the plugin saves you from complex code level efforts with easy installation and configuration options. You will get exceptional support with the purchase of this plugin that includes one hour of customization help as well.
Features
Get access to multiple key metrics of eCommerce analytics without complicated set up.
Understand user behavior and device based conversion numbers for developing better marketing strategies.
Find out the conversion rate of different promotional offers on your store, and also track the preference over different payment methods.
Automatic integration of Google Optimize.
Several custom dimensions and metrics to enhance analytics reports on your store.
Additional tracking options to see data related to ad platforms, checkout forms, etc.
A regular license of the plugin will cost you $135
This is another powerful plugin that will help you view all the key details of your store performance on your WordPress admin dashboard itself. If you find it hard to integrate your Google Analytics account to your store, this plugin could offer a lot of help to you. You will find it especially easy to set up and track specific metrics that are relevant to your store's performance. Another reason to opt for this plugin would be the quick and responsible service that they offer, which is critical for busy eCommerce store owners.
Features
Track your WooCommerce store related metrics extensively and gather a range of actionable metrics.
Customize the dimensions and metrics to focus on specific aspects you may find more relevant to your site.
Include custom WordPress dimensions like post type, category, tag, publication date, etc.
Integrate Google Ads and AdSense metrics to your analytics reports.
Option to export reports with the help of a CSV file and also configure automatic email notifications.
Option to exclude specific users, IP address, location or user role with the help of custom tracking code.
You can purchase an entire bundle of plugins including this one from 10Web. The pricing plan starts from the Basic bundle, which will cost you $85. This Bundle will support three domains and offers six month of support and updates.
As you probably already know, it is extremely important to track several eCommerce specific metrics to improve conversions and revenue. Hopefully, this plugin has provided you with an overview of some of the best WooCommerce conversion tracking plugins for WooCommerce. Leave us a comment if you have a query.
Further reading