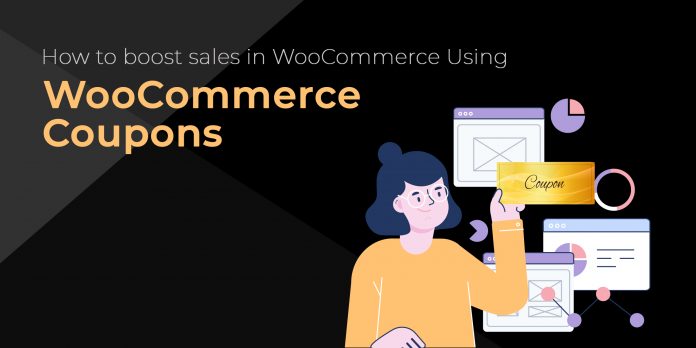 Last updated - May 24, 2022
Coupons have proved to be containing great potential for boosting sales of your online store. It is one of the most powerful strategies known so far to improve your online business.
But, if you are not getting expected results even after using coupons in your store, you are probably doing it wrong. This article will show you how you can use coupons in the best way possible to make better profits from your store.
WooCommerce is a great eCommerce platform for introducing coupons as it comes with a default coupon functionality within it. This article will explore how you can create coupons with WooCommerce and about ways to boost sales using coupons.
How to Set up Coupons in WooCommerce
Let's get an insight into creating coupons with your WooCommerce store.
To easily understand the process, let's just say you have a WooCommerce store selling mobile phones and you are planning to give a 40% discount on every purchase that exceeds $150.
To create the above-said coupon, go to your WordPress dashboard and navigate to WooCommerce > Coupons and click add coupon.
Now its time to add further coupon details. Coupon details have been divided into three sections by WooCommerce; General, Usage restriction, Usage limits.
General details
Here you choose an appropriate discount type for your coupon from three options; percentage discount, fixed cart discount, fixed product discount.
As per the above example, the discount is given as a percentage of the total amount – thus the percentage discount is chosen.
Usage restriction
Here you can specify the minimum spend on a purchase to which the coupon will be applied. As per the example, the minimum spend is given as 150.
Usage limits
No usage limit is mentioned in the example and thus leaving the field empty here.
As the final step, publish the coupon. Now the coupon offering 40% discount on purchases made above $150 has been added to your WooCommerce store.
If any of your shoppers made a purchase above $150, they will be allowed to apply the coupon. Here is a screenshot of the cart totals after applying the coupon.
There are several limitations that you might face while creating coupons with WooCommerce's default coupon system. They include
You can't configure coupons to be applied automatically.

Cannot create coupons that apply to a specific time period like festival seasons, important events, etc.

Won't be able to customize coupons to match your WooCommerce store's style.
This calls for adding a coupon plugin to your WooCommerce store that is capable of providing much-advanced functionalities. Smart Coupon Plugin for WooCommerce would be a great option for you.
Given below are different ways you can adapt to your WooCommerce store to boost its sales with the help of the features offered by this plugin.
How to Boost Sales with WooCommerce Coupons
Offer Discounts for Abandoned Carts
If you think your WooCommerce store is losing a huge number of sales to cart abandonment, its time you did something to stop it forever. The smart coupon plugin offers you a brilliant solution to this problem – offering discounts to abandoned carts.
Once you install this plugin in your store, you will be able to send out cart abandonment emails containing coupons to users who left items in the cart for a fixed period of time.
Let's go through an example that offers $50 off on the abandoned cart items.
For this, first, you need to create a coupon offering $50 off. This coupon is called the Master coupon.
Navigate to WooCommerce > Coupons > Add Coupon
Key in an appropriate coupon code and description
From the General tab, select the discount type as Fixed basket discount with the discount amount as 50. This discount type allows you to provide specific discount for the entire cart amount.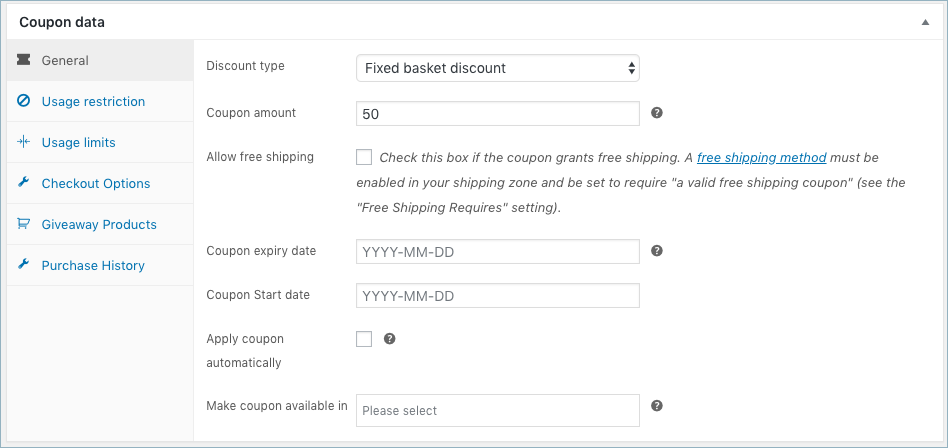 Publish the coupon.
Move on to the Action Coupon tab and click on the submenu Cart/Checkout abandonment to configure abandoned coupon feature.
Here enable the abandonment coupon by selecting the checkbox.

Associate the previously created master coupon by selecting it from the drop-down.

Give an appropriate idle time (minimum time an item should remain in the cart for the customer to be eligible for the coupon).

Add email coupon interval (the duration after which the coupon will be mailed to the eligible customers).
Now, when a shopper leaves an item in the cart for the configured time interval they will receive an email containing offer details for bringing them back to your store to purchase those items.
Here is a screenshot of the above-configured abandonment coupon.
Create Limited Time Coupon Discount Offer
You must have experienced or at least heard of instances where certain online stores despite offering attractive coupon deals failed in attaining expected growth. Why do you think this happens? What are they doing wrong?
Well, the answer is – they aren't doing anything wrong, they just have to do it in a slightly different way.
Displaying offers alone will not help in grabbing sales as most people postpone their purchase finally forgetting to purchase. That is why creating an urgency or FOMO effect is important when you are applying coupon strategies in your store.
The limited-time coupon discount offer is one such way to make people purchase their orders faster. Here is how to enable it using the Smart coupons for WooCommerce plugin.
Once you navigate to WooCommerce > Coupons click Add coupon.
In the opening window, fill in all the necessary details such as discount type, coupon amount, etc., and add expiry date & starting date of the coupon from the drop-down calendar.
Once you publish the coupon, your store's customers will be able to redeem the coupon by using the coupon code EOS50 to avail of the limited time offer.
Giveaway Products with Coupons
Providing giveaway products is another great way to boost sales. You can create coupons and embed them with giveaway product/s to impact your WooCommerce store's sales. You can choose any product from your store as give away product options.
Go to WooCommerce > Coupons and create a coupon. Fill in necessary coupon details.
Move to the Giveaway Products tab.

Here you can add products that you wish to give away for free.
Offer Store Credit/Gift card from Your WooCommerce Store
Store Credit/Gift cards are becoming a heavily popular way to bag sales for your WooCommerce store. By allowing this feature in your store, your customers will have an easy gift option for their loved ones.
Using Smart Coupon Plugin you can set up store credits according to your customers' choice of denomination. Later your customers can either purchase it for themselves or gift it to others.
Here are the few simple steps with which you can enable a store credit system in your WooCommerce store.
At first, you need to create a product with zero price so that you can associate it with the gift card/store credit.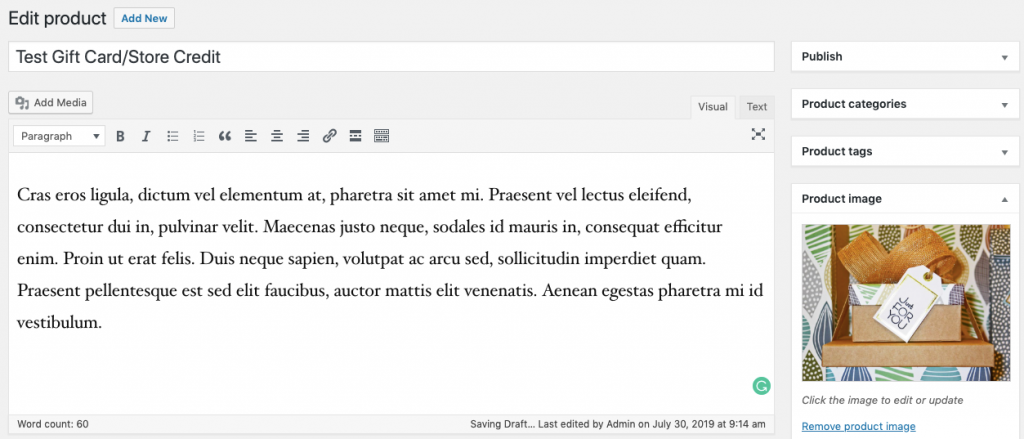 Now from the WordPress dashboard, navigate to WooCommerce > Coupons.
Click Store Credit tab from the opening window.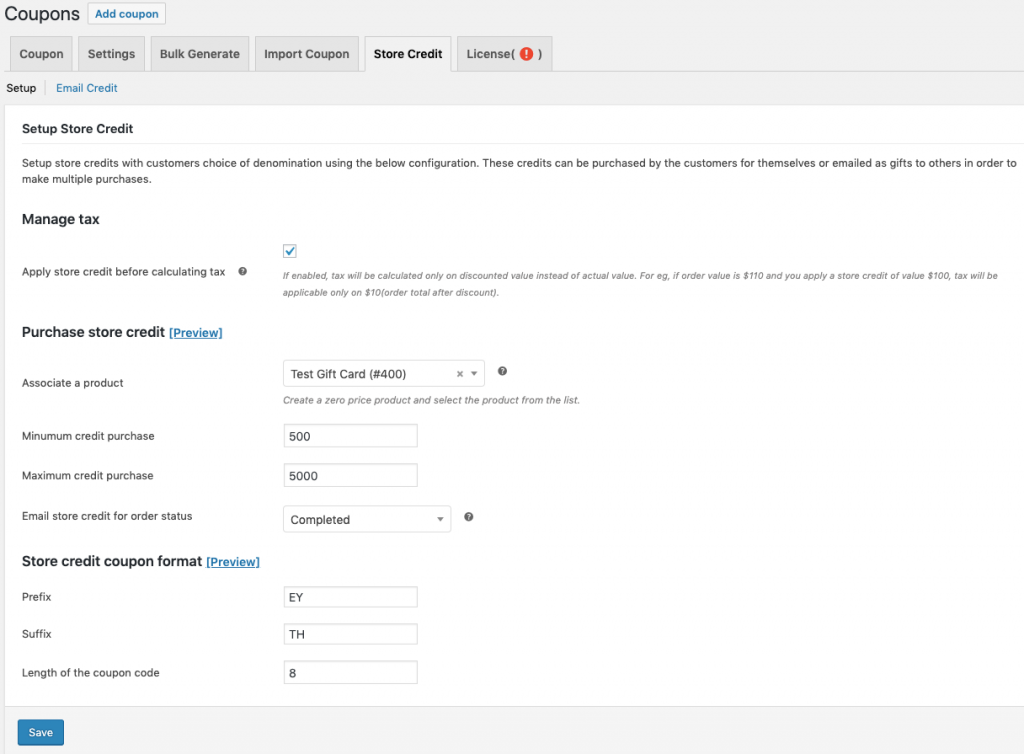 In the Associate a product field, choose the previously created zero priced product, give minimum credit purchase and maximum credit purchase amounts in the respective fields. Click the save button.
Now your WooCommerce store is ready to offer store credit to your customers.
Check out our video with some of the best WooCommerce coupon plugins:

Wrapping Up
Your market is bound to change every passing day, so should the marketing strategies. Therefore sticking to certain strategies for a long time won't help in the growth of your store. Rather you need to keep looking for better ways to sell your products and to ensure the overall growth of your business.
Further reading