Last updated - March 31, 2020
Gift cards or vouchers are a great way to boost sales and repeat purchases on your store. You might have seen it in many popular stores. Gift cards actually saves your customers from picking up a very personal gift for someone. In fact, it will be much more rewarding for a lot of people to gift something which the recipient themselves can pick up according to their liking. You can easily incorporate selling gift cards on your WooCommerce store with the help of some amazing plugins. Most of these plugins offers a lot more features to help your customers personalize the cards so that there is better value for it as a gift. This article will cover some of the best WooCommerce Gift card plugins that you can use on your store to bring in more revenue and better customer satisfaction.
If you are looking for a smart way to improve the customer experience, conversions and overall revenue on your store, look no further than WooCommerce Smart Coupons. It is hugely popular with over ten thousand happy users, and it will help you set up a comprehensive coupon strategy on your WooCommerce store. In fact it enhances the existing coupon system of WooCommerce and offers additional features to create awesome deals for your customers.
It will help you to automatically generate coupons in bulk and send to customers via email. You can also export these coupons created in bulk into a CSV file to share on other tools. With the help of this extension, you can create gift certificates and associate them to specific products. When your customers purchase these specific products you can offer the gift certificate as a note of thanks. This would considerably improve the customer satisfaction on your store, and on top of that you are ensuring a repeat visit to your store. In fact, it will immensely help in creating a brand identity in your customer's mind.
Smart coupons will also help to create a store credit system, where customers can maintain a certain balance on your store and they can use it or refill it at will. In addition, it will help you display available and applicable coupons on the My Account page, so that your customers can apply the preferred ones in a single click. In such a case, there is no need for customers to remember the coupon code to apply. This will improve the overall customer experience on your store.
Better design and sharing options
Smart Coupons extension also allows you to create customized coupon designs according to the personal choice of yours. You can insert the coupon code on the content editor easily using shortcodes, and apply any preferred CSS. If you are featuring subscriptions on your store, you can easily associate your coupons with it. This way, your customers will be able to pay for their subscriptions using coupons. The extension makes it quite easy to share coupons as well; you can pass it through a link and the coupon will automatically apply.
The extensions comes with detailed documentation and a variety of use cases which you can use to develop a robust coupon and gift card strategy for your store. A single site subscription of the plugin is $99. 5-site subscription you can get for $129, and 25-site one for $199.
WooCommerce Gift Cards is a new official extension that allows you to offer digital gift cards. The experience of purchasing, receiving and redeeming gift cards offered by the plugin is similar to how gift cards work on Amazon.com: When a customer orders a gift card, a unique gift card code of equal value is issued and the specified recipient receives a notification. This gift card code can be redeemed in two ways:
1. Registered customers may add it to their account for future use.
2. New an existing customers may type it at checkout and use it to pay for an order.
When a gift card code is added to an account, its balance is added to the customer's total gift card balance. This allows returning customers to make purchases almost instantly, without having to remember or enter gift card codes at checkout. It is also possible to use any gift card code directly at checkout, allowing different customers to use the same code multiple times, until its balance runs out.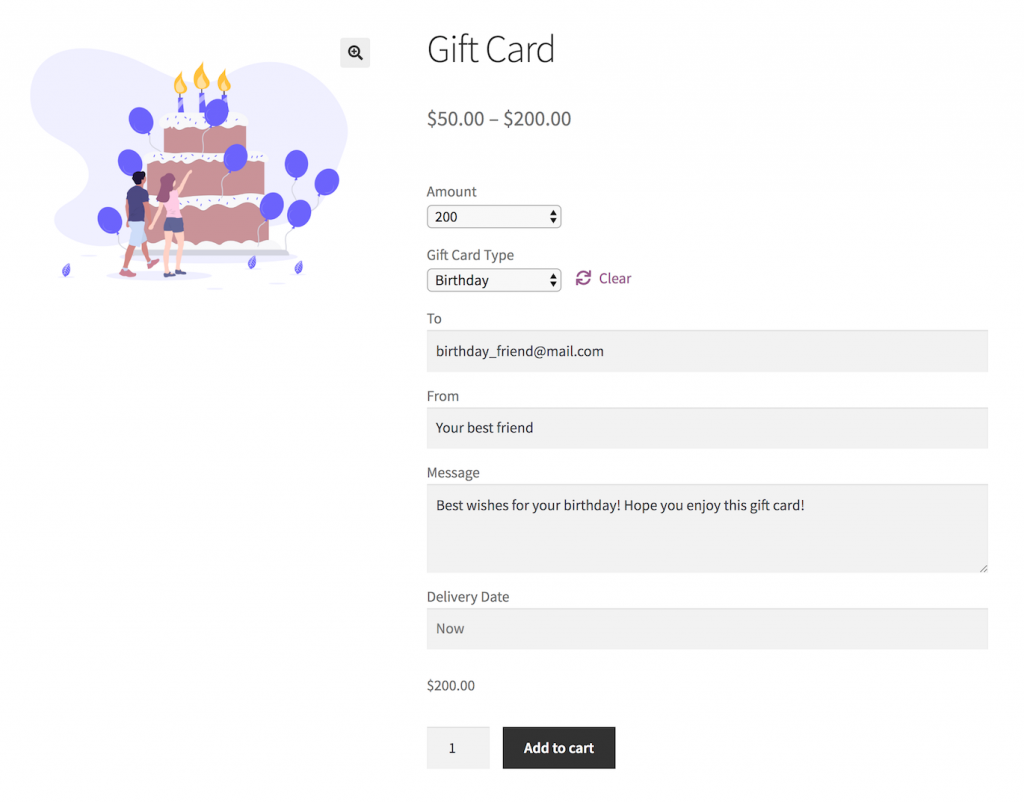 From their Account page, customers can also view their:
Total gift card balance.
Redeemed gift cards.
History of gift card transactions.
In addition to offering a wallet-like checkout experience to returning customers, WooCommerce Gift Cards preserves all code usage tracking, reporting and management features that store owners need: It is one of the few gift card plugins that treats gift certificates as a form of payment — not as coupons. Finally, it gives store managers access to in-depth balance reports for issued, used and stored gift cards.
If you are interested in offering e-gift cards in your WooCommerce store, don't forget to check it out!
Ignitewoo's WooCommerce Gift Certificates Pro is another powerful solution that will help you create a WooCommerce Gift Card option on your store. With the help of this plugin, you can sell gift certificates, coupons or vouchers on your store in a flexible manner. You will have the choice of selling WooCommerce gift card options as standalone products. And if it suits your store strategy, you can create gift cards and associate them to specific products. This way, customers will get a gift card when they purchase that product.
The plugin offers you several ways to share the gift cards with your customers. You can create a PDF, with unique design elements of your brand and email it to your customers. And the gift card will be delivered to the specified recipient, as selected by the customers. It overall enhances the gift card experience by providing options for QR code as well as barcodes. QR Code can be easily scanned by you whenever a customer tries to apply the gift card and all the details will be readily visible. Similarly, barcode can be used in brick and mortar stores to redeem gift cards.
Additional features
Here is a list of additional features of this plugin that you may find useful.
Custom voucher code – you can add a voucher code that is unique to your store.
Multiple ways to share – PDF via email attachment or as text messages.
Automatic balance tracking – ensures the value of the gift card is correctly credited.
Expiry date and usage restrictions – you can set an expiry date or association with specific products for applicability.
Flexibility – you can use the gift certificates on your online store as well as your physical store.
The pricing plan of this plugin starts at $99 for single site license.
If you want to offer your customers an option to purchase gift cards from your store and send it to someone, this plugin can help. It helps you create gift cards on your store just like any other WooCommerce product. Similar to the checkboxes for virtual and downloadable products, you will find an option for gift when you create a WooCommerce product. Another advantage of using this plugin is that your customers can choose a value for the gift card according to their choice. Overall, the plugin would help to enhance the customer experience and repeat purchases on your store.
Feature highlights
You can set up an expiry date for the gift cards, beyond which they won't be redeemable.
Set up usage restrictions like gift card applicable only with the purchase of certain products. Similarly, you can exclude certain products, so that customers won't be able to redeem gift cards when they purchase these.
You can customize the code for gift coupons so that it will reflect your brand's unique format.
Option to customize the email template on which you sent the gift card.
Barcode and coupon code will be saved in order details page of your WooCommerce admin.
Purchase this plugin for $29 from CodeCanyon.
Gift cards are a highly preferred choice of many when they really don't know what to choose for someone. You can help your customers avoid this common dilemma by featuring gift cards on your store. YITH WooCommerce Gift Cards is a great solution that will help you manage your gift card strategy effectively. It will help you create gift cards and gives you an option to choose the value for the card. Alternatively, you can let the customers decide what is the value they want on the gift card. It goes one step ahead of its competitors and provides an option to allow customers to design the gift cards they are purchasing.
Another interesting feature of this plugin is that customers can send gift cards or coupons to multiple recipients at a time. This can prove to be quite handy during festival season when customer want to send gifts to a lot of people. All they have to do is enter the right email ids of all the recipients and the plugin will do the rest. When adding multiple recipients, you can add an option to display the gift card and corresponding email id on the Cart page. This will help the user to double check the value of the gift card and ensure the correct recipient email id is associated.
Many more useful features
The plugin comes with a lot more added features. Here is a quick look:
Your customers can specify a date to dispatch the gift card. This will help customers to plan their gifts well in advance and they will thank you for that.
Set expiration date, so that users will have a sense of urgency to redeem the gift card.
Let users choose the value of the gift card. Interestingly, it will allow customers to choose the exact value of a product on your store. The customer can then include a suggestion to the recipient that this is the product they had in mind. The recipient will have the freedom to make the purchase decision though.
If you prefer the good old way of physical cards, this one lets you print gift cards as well.
You can set up a notification for the customer informing them when the gift card they purchased has been used.
It also helps to sync the gift card with an order. For example, if you have associated a gift card to a particular order, and the customer later cancels the order. The gift card too will get cancelled in such a scenario.
Choose creative designs for each of your gift cards from an elaborate image gallery. You can even allow your customers to pick an image of their choice.
Create a stock management process for gift cards so that you never sell more than your capacity.
Let customers use gift cards on physical stores as well. You can easily update the balance on the backend.
As we have discussed a few premium WooCommerce gift card options till now, here is a free one your can download from the WordPress plugin repository. This simple plugin lets you create and manage gift cards on your WooCommerce site. You can sell these gift cards to customers just like you sell any other products on your WooCommerce store. Please note that this free plugin is not loaded with features like the ones we discussed above. Several advanced options like sending the gift card automatically after purchase, or allowing customers to choose a value for the gift card, etc., are not included in the free version. If you need any advanced options, you need to purchase a paid add-on of this plugin.
Some advantages of using WooCommerce Gift Card plugins
Gift cards offer several advantages to store owners. Let us look at a few:
Get new customers
Gift cards have great potential to bring in new customers to your store. That is because it inspires people to make purchases that they wouldn't make normally. As it is paid for already, gift card holders are more likely to try out new things. And, once they make a purchase, chances are high that they will come back for more if your store offered the experience they were looking for.
Better user experience
Most of the WooCommerce gift card plugins that we discussed above focus on providing great user experience. Options like allowing customers to choose a design and value for the gift card itself is a great boost to customer experience. Moreover, some plugins offer options to custom pick images as well.
Create brand identity
Gift certificates work as great marketing tools as well. It is quite easy to incorporate your brand's visual elements to every gift cards that is created from your store. If you keep your brand's logo and colors consistently on the gift cards, a long brand identity can be maintained.
Increase overall revenue
Gift cards often help to increase the total spent on an order. This is because often customers will choose to buy a product whose overall value is more than the gift card's value. In such cases, there are chances that they will pay the extra amount through other payment options. This is more likely when they have a gift card, because it gives the psychological assurance that most of the amount is already paid for.
Conclusion
Gift cards are a great way to enhance the promotional and marketing efforts on your WooCommerce store. The WooCommerce ecosystem has quite a lot of awesome plugins that help you set up and manage gift cards. This article has outlined some of the best aspects related to WooCommerce gift cards. Let us know if you have a specific business scenario where WooCommerce gift cards helped.
Further reading