If you want to sell tickets on your online store, there are multiple solutions to help you do it. You can sell tickets directly on your store, or take some help from one of the third party ticket sales companies. Unfortunately, both strategies have its challenges. Third party solutions might save you from some effort, but it may not be financially viable. Thankfully, if you are using the WooCommerce platform, there are quite a few extensions to save your day. All you have to do is find a solution that will give you complete control to manage the ticketing process from the back end of your store. This article focuses on some of the best WooCommerce tickets plugins that will help you set up event tickets in your store. Some of these plugins offer advanced features to give you great versatility on your ticket sales strategy.
Best WooCommerce Tickets Plugins
When you try to sell tickets through your WooCommerce store, you may find quite a few plugins that will help you with it. Here is a list of the best WooCommerce tickets plugins.
WooCommerce Box Office plugin is a great option to print tickets for a variety of events directly from your online store. This plugin saves you from the dependency on third party ticketing tools to create tickets. You will be able to create unlimited ticket types with its own features and stock management options. Moreover, you will be able to restrict content like webinars on the site only to those who have purchased tickets. And, you can integrate it with WooCommerce Order Barcodes extension.
Features
Easily create and sell event tickets on your WooCommerce store.

Create unlimited tickets and manage stock easily.

Custom signup forms and content restriction options.

Offer discounts on ticket sales.
You can purchase the plugin for $129.
This WooCommerce extension provides you absolute control to handle ticket sales in your store. It provides great features to sell tickets for your own events without hassles. You can simply add tickets to an event that is featured in your store and sell them to attendees. In fact, you get the flexibility to create as many tickets that you require. More importantly, you can forget about third party websites and the various fees associated with such a scenario.
The plugin supports multiple ticket types and you can add these to your posts and pages as required. And, it provides hassle-free integration with the Events Calendar plugin to make things easier. In addition, you get options to create custom registration forms using this plugin. That means you can collect information from attendees in a personalized manner. For example, if you are also offering lunch at an added cost, you can provide a choice to attendees to opt in or out of that. Moreover, the plugin offers complete ticket inventory management, and options to send tickets via email to attendees. And, you can send a QR code to attendees, so that the whole check-in process becomes quite easy.
Features
Create tickets directly from your WordPress admin.

Seamless WooCommerce integration.

Display tickets anywhere on the site using shortcodes.

Advanced features such as custom registration forms, mobile ticketing, stock countdown, etc.
A single site license of this plugin would cost you $99.
Handling events on your WooCommerce site is not easy. You have to manage quite a lot of things including selling tickets, accepting payments, letting the attendees check in properly, etc. And, considering all the hassles, many rely on third-party event organizers who will charge a thick share of your income. Thankfully, you can depend on plugins to handle every intricate requirement of ticket sales. YITH Event Tickets plugin helps you sell tickets to a variety of events that you can envision in your store.
With simple options to configure, you can set up an event and start selling tickets for it in a matter of minutes. In addition, the plugin offers a dynamic pricing option to change the ticket prices according to rising demands. If you have to mail a physical copy of the ticket to attendees, the plugin offers an option to charge a shipping fee. Also, you can conditionally reduce the price of tickets for certain attendees. For example, if you want to charge less for children, or for registered members of your store, it is very well possible with this plugin.
Features
Loaded with solutions for every imaginable scenario while handling an event. 

Manage the ticket inventory by setting a stock value of tickets, which will decrease every time you sell a ticket. 

Set a dynamic price threshold, based on the available number of tickets or days left for the event. 

Customize the ticket by taking inputs from the attendees such as name, contact details, etc.

Configure extra payable options to tickets, which customers can choose as per their needs.

Display a Google map of the venue and a list of organizers of the event. 

Compatible with YITH BarCodes and QR Codes plugin 
You can purchase the YITH Event Tickets plugin for a single site at $99.99. Licenses for up to six sites is $249.99, and up to 30 sites are $399.99.
Another easy solution to sell tickets on your WooCommerce store, Bridge for WooCommerce plugin, integrates smoothly to your store. You can easily create tickets like any other product in WooCommerce and even set variations. In addition, you can easily manage the prices of tickets with options like early bird pricing. Moreover, it has an advanced template builder that will help you design each ticket type differently. The plugin allows you to sell optional add-on products along with events. This would be really helpful to you in generating some extra income along with ticket sales.
Bridge for WooCommerce is a user friendly option to sell tickets on your store, and it is compatible with numerous other Tickera add ons. It also offers custom fields to collect more information from attendees. In addition, you can check in the attendees of the event with QR code. You can simply use one of the good QR code scanner apps for this purpose. And, along with the order completion email, you can send the ticket to the attendee as a downloadable PDF. The plugin is compatible with a large variety of Tickera add-ons including seating chart, CSV export code, serial tickets codes, etc.
Features
Helps you create tickets from WooCommerce admin.

Integration with mobile apps and barcode readers.

Order completion email sent to customers will have a downloadable ticket.

Custom order fields to collect more information from customers.
You can purchase the add-on at $79.
This plugin lets you handle a variety of events in your store comfortably. Without any advanced technical skills, you can manage diverse aspects of an event. One of the main advantages of using this plugin is that you can send professionally branded tickets to attendees. And, you can use the free Android and iOS apps to scan the QR code for check-ins. The plugin makes it particularly easy to handle multiple ticket types with separate inventory management options. Moreover, if you want to allow registrations for free events, the plugin is capable of helping you in that aspect too.
The plugin also offers a range of add-ons that you can purchase to extend the functionalities. Some of the features you can extend this way include custom fields for additional inputs from attendees, support for events that spread to many days, etc. Features like attaching ticket PDF to order completion mail and events calendar view are also offered only as part of add-ons.
Features
Manage and sell events tickets easily on your WooCommerce store.

No limits on the number of tickets that can be created.

Supports multisite and translations.

Seamless integration with Zoom for virtual events.
The regular license of the plugin is available at $59. 
You can easily create and manage tickets on your WooCommerce store using this one too. It allows you to create as many tickets as you want according to the scope of your event. In addition, it helps with exporting attendee details to a CSV file. And, you will also have the option to check in attendees by scanning the QR code. Furthermore, the plugin has options to let you customize email templates to send the ticket to attendees.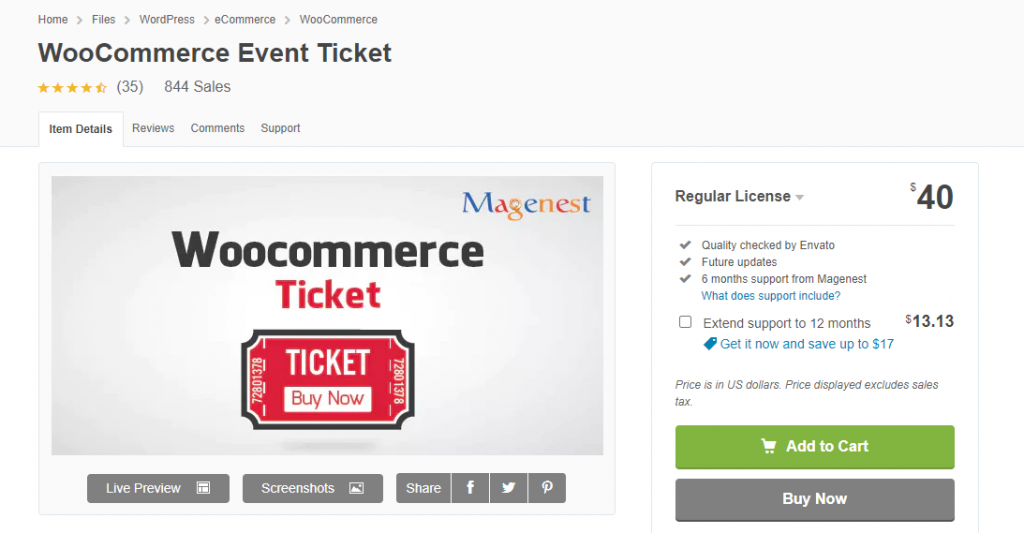 Features
Customizable event ticketing plugin.

Automatically generates QR code.

Email notifications and Google Maps integration.

Bulk ticket handling and support for multiple languages.
You can purchase the regular license of the plugin for $40.
Eventer is a comprehensive event management plugin that will help you easily organize your events. It offers seamless integration with WooCommerce, and has a bunch of features to help you make event bookings smooth for your customers. You will be able to display a full width calendar, and also use multiple layouts. The plugin does not have any limitation on the number of venues or organizers.
Features
Hassle-free event management options.

Automatic QR code integration.

Create recurring events and show a countdown timer.

Email notifications and printable tickets.
You can get a regular license of the plugin for $39.
This is the free version of the above plugin. If you are not planning to sell tickets through your WooCommerce store, but still wants to hold an event and manage attendees, this one helps. This free plugin, which you can download from the WordPress directory, provides RSVP functionality to your posts and pages. You can check in attendees for the event by accessing the attendee information from the back end of your site. It is quite a good plugin if you are only looking to handle free events on your WooCommerce store. You may need to also use the Events Calendar plugin to manage your events more effectively.
As the name suggests, this plugin helps you create an event calendar on your site and lets you manage it seamlessly. For those who are not so inclined to coding, the plugin works smoothly as it is. And if you want to customize it with a few developer inputs, the plugin totally accepts that too. When you talk about features, there are some advanced ones like upcoming events list, Google Calendar, and iCal exporting, and great customization options. With over 600,000 active installs and over 1200 five star ratings, this plugin is really popular in the WordPress community.
A few guidelines while selling WooCommerce tickets
As you have seen, there are awesome solutions in WooCommerce to create and sell tickets effectively. These may really relieve you from a lot of stress that you possibly would have faced otherwise. However, experts advise following certain guidelines while selling tickets on your store. Let's take a quick look at some of them here.
Create pricing tiers
You can create different tiers of prices to sell tickets for events on your site. For example, you can feature a premium price option, which has food and drinks included or allow unrestricted access. Similarly, you can create a lower pricing tier with limited access, or just with the basic event experience. This would mean better targeting of a diverse audience and a resultant increase in your income. Read more about WooCommerce pricing strategies here.
Research on marketing channels
How you market your tickets play a major role in the success of your endeavor. You can experiment with multiple channels like email, advertising, social media etc. And, once you have a clear understanding of the most effective one, you can focus on that channel for your future campaigns.
Exclusive offers for members
If you have registered members on your site, it is a great idea to offer tickets first to them. This way your members will have exclusive access to your events before it is offered to the general audience. Without a doubt, this will enhance the scope of customer loyalty on your store. You can even add some complimentary offers or discounted rates for members. Read more about WooCommerce memberships strategies here.
Try upsells and cross sells
Ticket sales offer great opportunities to upsell and cross-sell products. Along with including optional add-ons like t-shirts or caps, you can think of upselling future events too. For example, you can offer a discount on an upcoming event for customers who purchase the current one. Tapping into a related audience group is also a great marketing idea. For instance, wine tasting events hold the potential to attract cheese lovers too. Or, yoga sessions can be used to sell tickets for upcoming treks or similar outdoor or fitness events. Though such strategies might seem to be no-brainers, you may still have to do a thorough analysis for them to click.
Try discounts on specific days
You might have noticed that there are always a discounted rates on specific days of the week, like on Tuesdays. Creating such a strategy would mean that a lot of customers would be motivated to purchase on those particular days. Such strategies, when compared with adequate customer research, can work wonders for your ticket sales.
Conclusion
Selling tickets directly on your store would be a wiser decision when you think about it in financial terms. However, when you are directly selling tickets on your store, it comes with its own set of hassles. Thankfully, if you are using the WooCommerce platform, there are quite a lot of amazing solutions to help you sell tickets. This article has hopefully provided you with some ideas to effectively manage ticket sales on your WooCommerce store. Let us know if you find this article useful to your store strategies.
Further reading