Last updated - July 8, 2021
In today's world, the best way to inform people about your products or services is to promote them in the digital space. Nowadays we would rather make a purchase via the online store, than going to the market. Moreover, you don't even need to go to the gallery, to enjoy the exhibitions. If you want to make a donation or provide a learning course, you are completely able to do it with the help of various websites. Running a website can assist you in the promotion of your business services, creative agency, or food delivery. You can create a sophisticated design and add multiple functionalities with the help of the Gutenberg page builder. However, sometimes a website itself is not enough to add all modern features. Using a WordPress block plugin can help you to expand the possibilities of your digital product.
ZeGuten VS CoBlocks: which one to use?
In this article, we will try to highlight the main differences between the two best WordPress block plugins: CoBlocks and ZeGuten. Each plugin was made as a collection of blocks for Gutenberg and is aimed to expand the possibilities of the content editor. 
ZeGuten and CoBlocks are both known for their limitless functionality and dozen of design options. They can bring a lot of benefits, which we will represent in our topic.
All you wanted to know about the best WordPress block plugins
ZeGuten plugin is a collection of blocks for Gutenberg. It is aimed at making various content and beautiful designs with the help of 16 pre-made and completely ready-to-use blocks. ZeGuten will work smoothly with WordPress 5.0+ versions, as well as with all modern browsers, such as Firefox, Safari, Chrome, and Edge. One of the key features of the plugin is a Section block. It was made as a parent block for the other 15 blocks: from pricing tables to attractive banners. 
What is more, the team of knowledgeable and experienced developers is working on the plugin updates. They fix errors, prevent those that have not yet arisen, and release a new block at least per month.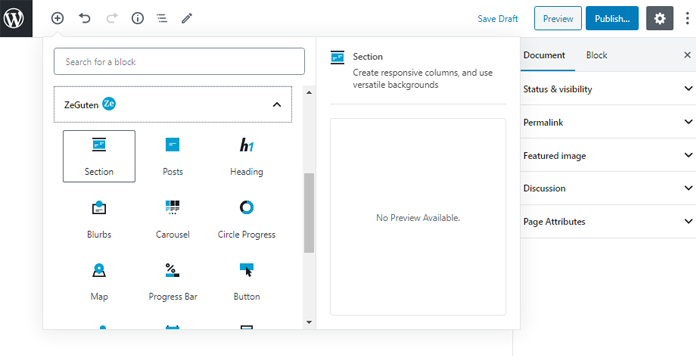 CoBlocks plugin as well represents multifunctional blocks to assist you in building astonishing layouts and stunning web pages. CoBlocks is also regularly updated and is compatible with the latest WordPress versions. While ZeGuten has a Section block, CoBlocks has a Row block with a few layouts to organize a well-structured website. In addition, CoBlock collection of blocks for Gutenberg is smooth in performance and is simply perfect for a quick start.
Multiple layouts available
With the huge popularity of WordPress block plugins, website owners today face a serious question. Which one to choose: paid or free, with multiple or fewer blocks, technically or design-oriented. The answer depends on your preferences and needs. However, one thing that every good plugin should include is a variety of layouts to choose from.
Talking about the CoBlocks plugin, it promises a neat and comfortable website layout, provided with the help of the rows and columns approach. Simply add one o the 5 row layouts and choose a proper layout for the column. Set their number and size with the help of the vertical separator line, which you can drag to create a needed structure.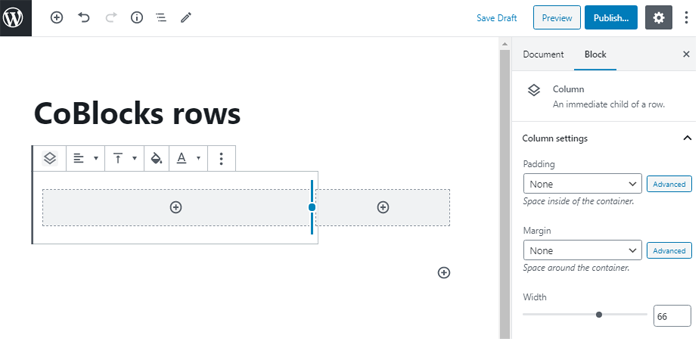 As for ZeGuten, the plugin also has a tool to arrange your content. Add a Section on the page of your website and vary the size and number of columns inside the block. You are able to set from 1 to 6 columns. Inside the columns, you can put any other block. Such an approach will allow you to enjoy the already set spacing options and custom gaps.
In addition, the CoBlocks plugin has 5 Gallery layouts, made as separate blocks: a carousel, collage, masonry, offset, and stacked. As for ZeGuten, it provides you with a Carousel block. It works as an animated slider and can contain any content you can only imagine.
Eye-catching posts structure
Let's move to the plugins' Post blocks. Each of them gives you a great variety of choices to organize your blog page in the most interesting and engaging way. The CoBlock plugin allows you to choose between a Simple Post block and a Carousel Post. Whereas ZeGuten gives you an opportunity to add a Post block and select a classic listing, modern grid, unusual chess, innovative masonry, and dynamic carousel layout.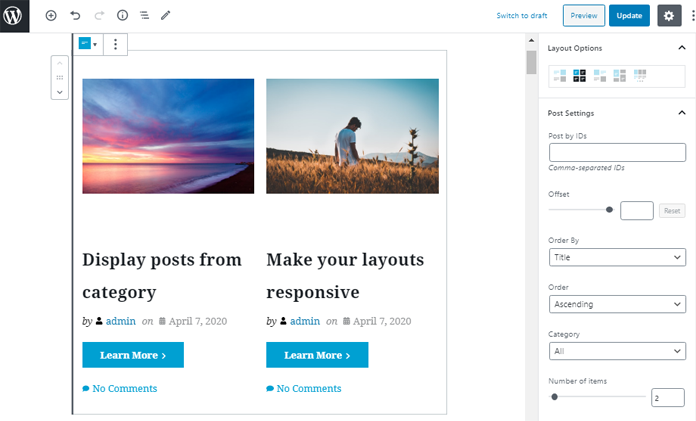 What is more, ZeGuten plugin has a dozen settings to design and customize your content:
query posts by ID;

set the offset; 

order posts date or title;

set descending or ascending order;

showcase posts of a certain category.
Additionally you can also set the number of items and columns, showcase post date or divider, display category, tag, excerpt author, and comments. 
Focus on the typography
If you pay your attention to the typography properties of both blocks, you will see that the range of options is almost limitless. Your headings and paragraphs will look better if you design them with the help of CoBlocks or ZeGuten.
Both plugins have much in common and their text settings are almost equal. You can set the needed font, pick font weight, text transform, and font size. The ability to set the line height and letter spacing value is also included. CoBlocks in addition provides its users with the opportunity to enable no top spacing and no bottom spacing.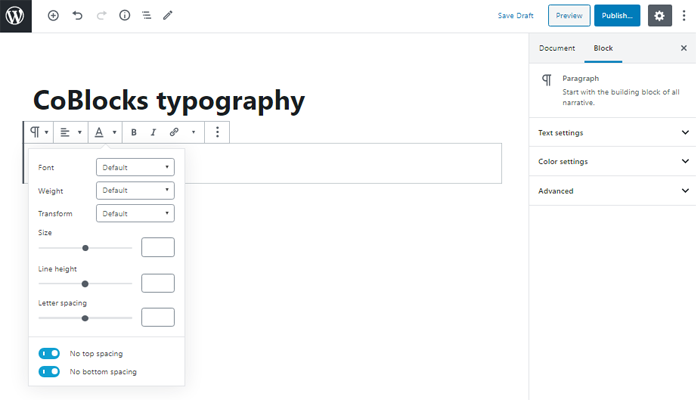 Whereas ZeGuten plugin allows you to set the font subset and style, and the text decoration. What is more, you can set a tag for your text element: div, span, paragraph, or one of the 6 heading kinds. 
Responsiveness settings comparison
A stunning interface accompanied by the relevant content is sometimes not enough to create a popular website. Because nowadays most people would rather search the web via their mobile devices or tablets, the key feature of any website today is responsiveness.
Talking about the CoBlocks plugin, its attractiveness is in the simplicity of functions. It is a great solution to use spacing options, such as margins and paddings, to make your webpages responsive.
In case you've been looking for the most advanced functionality and more spacing options, ZeGuten will become a real treasure for you. You are able to set gaps, margins, and paddings in pixels or percents for desktop, tablet and mobile phones. Moreover, you can vary font and icon size, the number of columns and items to display on various devices. 
What about customization?
CoBlocks plugin has a bunch of blocks on-board, however, the plugin is more technically oriented. You can only use some custom controls for changing background and text color.
Whereas ZeGuten plugin has more wide styling options. You can set a color, gradient, image, or video background in a few clicks. Moreover, you are also able to add a custom shape over an image or create an image overlay.
For most ZeGuten blocks, a Progress bar for instance, you can apply gradient and set the opacity for any color background. Almost limitless settings to style up buttons are also on-board. Each element of any ZeGuten block can be modified to suit the design of your website.
Additional features and the number of blocks
ZeGuten has a wide range of settings and features, that is why it is a paid one. It consists of 14 blocks now:
Section block, which appears as the main structural element; 

Countdown timer, Circle progress, Icon list, Pricing table, and Progress bar to showcase infographics and business offers; 

Animated box, Blurbs, Banners, Carousel to make your website engaging and animated; 

other multifunctional blocks: Advanced map, Image comparison, Posts, and Headings.
The CoBlocks plugin is a free one, which is more oriented on the number of blocks. The plugin contains 27 blocks:
5 gallery blocks;

2 post blocks;

3 blocks for social links;

4 blocks for content building;

other relevant blocks: Accordion block, Alert block, Author Profile block, Buttons block, Events block, Features block, Food & Drinks block, Form block, Gif block, GitHub Gist block, Hero block, Icon block, Logos & Badges block, Map block, Media Card block, Pricing Table block, Services block.
CoBlocks is free and has a bunch of blocks, however, it doesn't have so much to do with customizing. As for ZeGuten, although it has fewer blocks, it contains from 4 to 10 tabs for each block with a great variety of design tools.  
Furthermore, ZeGuten is regularly updated by the team of professional developers. Each month the plugin's team releases at least one new block. Also, you are provided with a dedicated and knowledgeable support team and you can ask any questions via a Facebook chat. Whereas the CoBlocks plugin has basic free support.
Which one to choose?
Both CoBlocks and ZeGuten are worth using. CoBlocks has more plugins, however, it is more technically oriented and has less design and responsiveness features. As for ZeGuten, it has fewer blocks, but the customization possibilities are really limitless.
The plugins have their equals and differences, however, you are totally free to combine them to build the most stunning and powerful website. Hopefully, this article has helped you choose the most suitable WordPress block plugin for your site.
Further reading