Last updated - February 24, 2020
So, you had been thinking about your own project for a long time and here it is – an idea you consider to be a new gold mine. Or maybe your business has grown up and you feel that it's time to create your website and expand to the new horizons of the web?
One way or another – you start going through the ways of creating an internet platform for the brand. Of course, in this state of inspiration you want the quick and outstanding outcome, but brute reality forces you to read instructions on "How to build a website for dummies" and this is taking you far away from your dream.
Stop right now before you get to the "I can't do it" part.
What is Elementor?
Keep calm, there is an easier way. We'll show you how to make your website easily and launch online project really quickly. With the proper tools and a little guide, you will launch the website the next day the inspiration gives you a punch.
Elementor Page Builder will be your savior. It is one of the most popular and easy-to-use tools with over 1 million active installations. Many developers and web-designers dedicate their efforts to create the templates and plugins specifically for Elementor. It is fairly easy in use, but, despite this, there are still some must-know steps.
Elementor is a great engine to start your website. However, you will have to charge this engine with a website template, additional plugins and widgets first. A website is not only about content, so the menus, tabs, pages, etc. should be organized properly. After getting a huge bunch of tools, it's would be wise to check if all this software is compatible with each other.
Easier with CrocoBlock
And here's where the CrocoBlock comes into play. It is the one-stop place for making any website from scratch. It includes Elementor Page Builder, several of the most popular plugins and multiple vibrant templates. You can get all those tools at once and create an outstanding website like a Pro. What is more, the 24/7 support team will be ready to cover you up and help with any web-design issues.
So, once more, what a CrocoBlock is? It is an all-in-one subscription service which provides everything you'll need for building a website with Elementor.
Made with the thought of the utmost convenience for everyone who uses Elementor, it brings even more astonishing and powerful features to the table. With CrocoBlock, your ordinary page builder becomes a complete powerful tool, sufficient to create projects of any complexity literally from scratch.
What will the CrocoBlock Subscription give you?
The CrocoBlock subscription service includes the full collection of Jet plugins. There's no need to search for widgets and plugins separately. It doesn't matter if you're using the free or Pro version, all the Jet power you may need is at your service. By now, CrocoBlock subscription includes 10 plugins for Elementor. The most significant of them are JetThemeCore and JetEngine plugins. Let's make their functionality more clear.
JetThemeCore. The real muscle for Building Websites
The first thing the JetThemeCore gives you is a template you can easily edit. It allows you to create header, footer, single post and page templates (you can save them and use further for other pages of the website or event other websites). You won't need to look for other plugins and extensions, all the functionality is already there.
Besides, we need to confess: CrocoBlock service is the only place to get JetThemeCore and you can't find this plugin on other marketplaces. It is exclusive and unique, and lots of CrocoBlock clients have already benefited from this offer.
Let's find out what makes it so powerful.
3 Reasons to Love JetThemeCore
Magic Button
A little knob for the web design, but a giant thumbtack for your website. It gives you the quick access to the 1000 pre-styled templates on different topics. The huge library with hundreds of ready-made pages, headers, footers and sections – within your reach. This modular functionality helps to customize large pieces of content in a few clicks.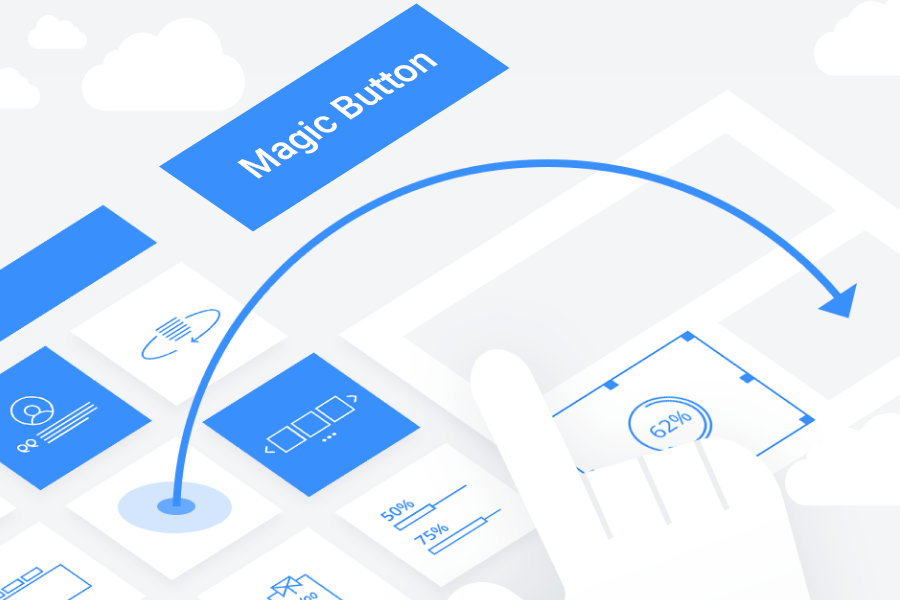 Header & Footer Templates
Another important functionality of JetThemeCore provides the ability to work with themes parts. This plugin makes much easier to create header and footer templates and assign them to different pages (single pages, page templates, the whole site, etc). This means you can create two separate headers and, e.g., apply them for multiple pages, giving them the same design.
Archive and Single Post Page Templates
With JetThemeCore you can easily build both Archive and Single Page templates to feature the latest publications or organize your posts. CrocoBlock subscription provides you with JetBlog plugin, that has several eye-catching post layouts and you can combine them to make an Archive page of any level of complexity.
JetEngine. Crucial plugin for Elementor
JetEngine's mission is to give the opportunity to add any type of custom page type or taxonomy (and also fields and meta boxes) to the page. The plugin is unique, because it adds some functionality to the administrative dashboard, not to the visual Elementor work space. Don't panic, it has an understandable interface, so the work in the WP dashboard won't become any problem.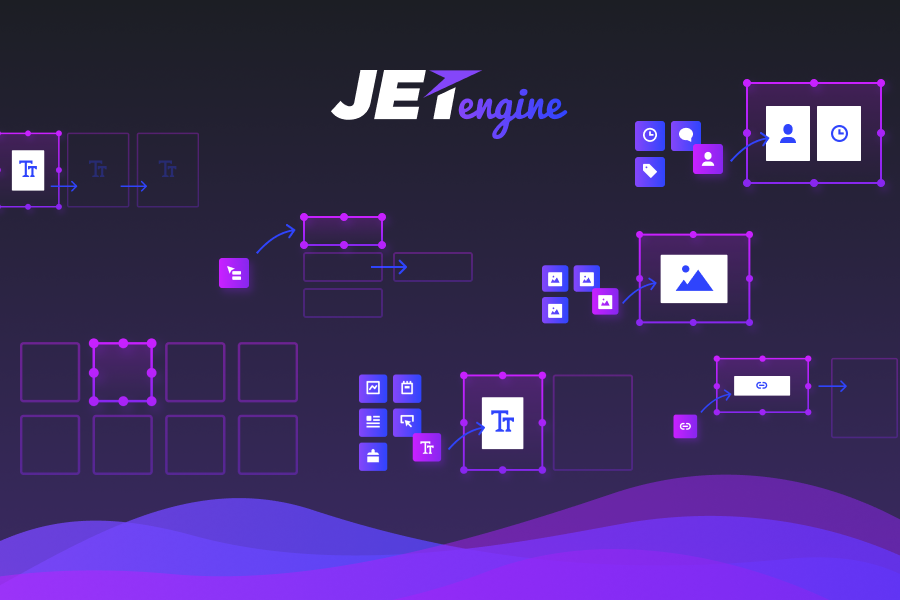 Do you want your website to look like a glossy magazine or need to add a number of lists? That would be a child's play. JetBlog widget will be really helpful to showcase blog posts, custom post types or even WooCommerce products and apply them to all posts on your website.
Feel Real Power with Plugins for Elementor
The rest of Jet plugins that goes with the CrocoBlock subscription will support you through the whole designing process.
Let's check the list below to summarize what tools you'd get:
JetElements comes with 30+ modules which have multiple content and style customization opportunities. The plugin allows you to create richer pages for your website. It includes elements like carousels, pricing tables, sliders, countdown timers, parallax, animation boxes, buttons and much more.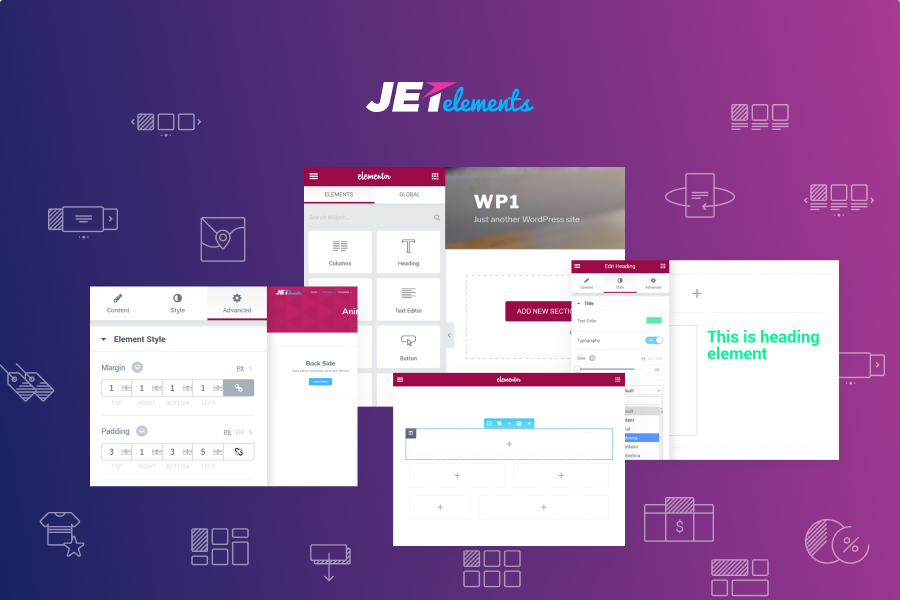 JetMenu – this plugin will come in handy when you understand that a mega menu with sub-menus or drop-down menus is a must for your website, and want it to look more vivid and dynamic. So you'll be able to structure it and place any content you want inside the items using the widgets you have.
JetBlog – the perfect tool to assist you in content customization, changing content appearance according to your tastes and creating eye-catching pages with posts, video layouts, text tickers and even WooCommerce products. This plugin includes a Smart List and Smart Tiles widgets for managing various types of dynamic content. It means that its content will be changing automatically when new posts are published. It also gives you a great option to display custom fields and query posts.
And even more:
JetBlocks – this plugin provides a big bunch of tools to help you design some headers and footers according to your taste. You can change and customize login and sign in forms, hamburger menu, logo, breadcrumbs, etc. in every part of the page. Another great feature that you can make sections sticky.
JetTabs – in case you want to make content look more compact and well-organized you can use this plugin to hide it in tabs and accordion elements that this plugin offers.
JetReviews – this plugin provides a special widget for adding reviews to the pages built with Elementor. Design the testimonial section to make it outstanding and eye-catching.
JetTricks – allows using parallax effects for the background, adding sticky elements, creating the unfolded columns effect, adding the hotspot makers and creating the "View More" button. You'll especially appreciate it if you want to add visual effects and animations to your website with Elementor.
30-in-1: Making the Impossible, Possible
The collection of Jet plugins on CrocoBlock is contained with 30+ modules which have various content and style customization options. This means you can customize the content and sculpt the divine look separately for every page. JetBlog will assist you in content customization, changing content appearance according to your tastes and creating fully-fledged pages with posts, video layouts and text tickers.
Currently, you can get 30 various skins with many topics for small businesses, bloggers, agencies, big companies, etc. And much more is coming soon!
Kava theme for free?
You can never have too many nice surprises: Free Kava Theme.
Additionally to all these tools for creating your own website extra easily, you get a marvellous Kava template. It is built to fit both free and pro Elementor versions, has professionally built design, and has approximately 50 blog page layouts.
Furthermore, Kava theme is WooCommerce-ready, supports RTL and has awesome typography.
So, if the single post page and blog page layouts will fully satisfy your needs and describe your project, grab for free Kava theme by CrocoBlock and go with it!
CrocoBlock+Elementor: Love for ages
CrocoBlock subscription service gives you all the necessary tools to work with Elementor Page Builder. In 2018 it's ridiculous to waste your time for coding, reading long instructions, learning technical stuff etc… To create a website unless you're not going to become a web developer.
The most valuable thing is your great idea and desire to make something special. And CrocoBlock can take over the rest.
CrocoBlock subscription is not just a bundle of plugins. It is a service, that complements the page builder, making it enough for creating any project without coding.
CrocoBlock Suite:
is unique;
doesn't matter if you use Free or Pro version – CrocoBlock subscription provides you with everything to make your website;
is the best option for people who don't have coding skill, as everything can be done using its intuitive interface.
CrocoBlock service actually makes creating websites accessible for everyone and feeling confident about it all the way
Further reading