Selling digital products via your WordPress site is a smooth process, thanks to platforms like WooCommerce and Easy Digital Downloads. You will be able to accept payments and let customers download the products easily as per their convenience. These plugins also give you the flexibility to control how many times you want to allow your customers to download their products. Overall, selling digital products through your WordPress site is simpler than selling physical products. Having a compatible theme would make your site much more attractive while selling digital downloads. In this article we will discuss some of the best free WordPress themes to sell digital products.
This is an ideal store for several types of eCommerce stores including those selling digital products. The design is modern and gives a clean look to your store. It is quite fast and will enhance the performance of your site and ensure it has good visibility in search engine results pages. This is also accentuated by the fact that it supports structured data for products and categories to provide detailed information to search engines as well as customers.
You will be able to customize the theme effortlessly to match your design interests and branding requirements. It is also translation ready and completely responsive. Moreover, the interface is quite simple and intuitive. And, you can manage customization even without advanced WordPress knowledge. You will be able to create a store for digital products using this theme that is not only good looking but also quite functional and customer friendly.
This is a multipurpose theme that you can use to feature digital products as well. It offers perfect integration with WooCommerce and lets you customize your design without hassles. There are abundant options to customize the homepage as well a lot of choices to add patterns, images and textures to your site. You can easily personalize the appearance of your site according to your branding requirements using this theme. The user interface, too, is quite simple and easily manageable even by users who are new to the WordPress ecosystem.
Another highlight of this WordPress free theme is that it has a great focus in improving the page load speed on your website. This would mean that the customer experience as well as visibility to search engine bots will be top notch at all times. Moreover the plugin has a clean code that ensures the coding standards are met comfortably. As a result, your website will be compatible with most of the popular WordPress tools you may want to use on your store.
Gutenshop offers a lot of options to customize your WordPress site to suit your business and products range. It's a great option to sell digital products, but it is also quite good with other product types such as fashion apparels. The theme comes integrated with a powerful page builder that will help you design your site they way you want it. If required you can customize the homepage to include products, grids and other content to your homepage. The theme also enables you to create a shop with one page checkout option.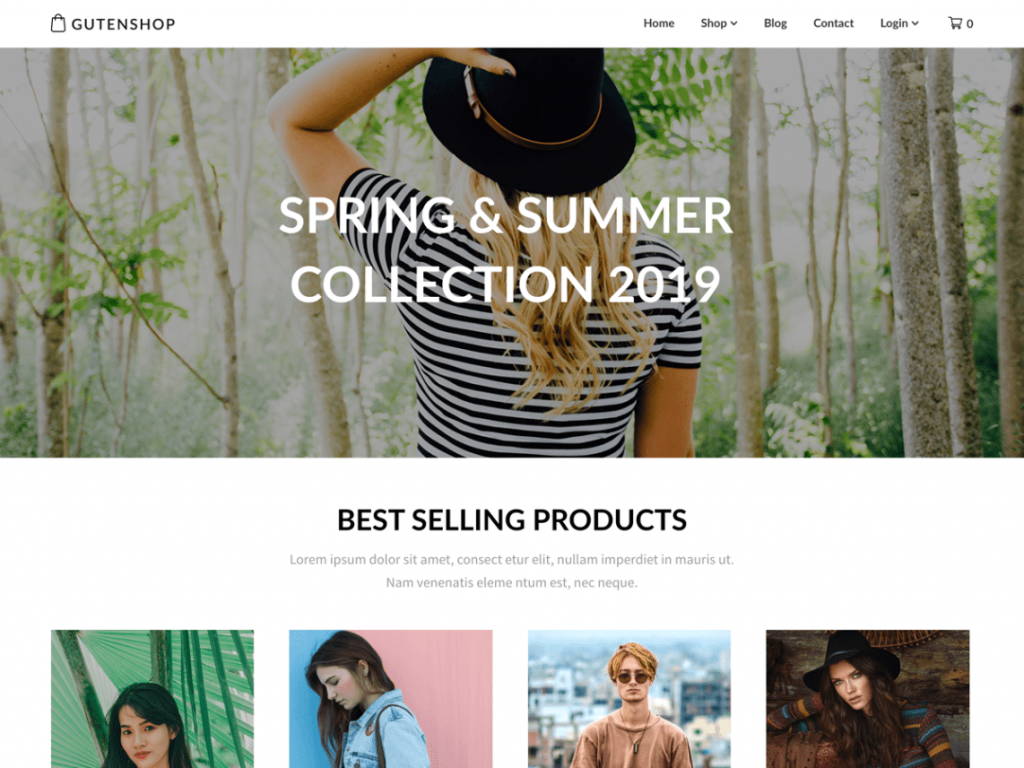 Gutenshop has a minimal design language and it has ample elements that will help you make your site standout as well. It is fully responsive and comes with a clean code and SEO friendly features. The theme is quite versatile that you can even use it for a business website or blog as well.
You can create a great looking online store for digital products using this popular free WordPress theme. It will even help you create other kinds of stores such as those selling fashion, cosmetics or luxury items. The design language is quite modern and will be a great addition to create an attractive store for your customers. There are several features like custom background image or color custom slider, product search bar, social icons, etc. that will make you inventive in site design. Overall, these features will be quite an asset to improve your site's customer experience as well.
Built on a great foundation of clean code following the standard coding practices, Kakina is a great WordPress theme. This will enable your site to be compatible with several popular WooCommerce plugins such as Product quick view, wishlist, etc. Moreover, it is SEO friendly and enhances page load speed, which will make your site a favorite of search engine bots. Overall, this is one of the stylish options to build a free WordPress theme for digital products.
You can create a good looking store for digital products using this free WordPress theme. In fact it is a multipurpose theme built on bootstrap framework and offers a great set of design elements. You will find three templates that will help you get started with your website without hassles. Moreover, you can customize your site easily to make the navigation effortless for your customers. Some of the design features to look out for in this theme are custom homepage, product slider, displaying social links, etc.
StoreOne is SEO friendly and will ensure that your site is easily selected by search engine bots to display on search results pages. In addition, it is compatible with a lot of different plugins that will offer convenient options for your to extend your store's features. Some of these tools include Jetpack, WPML, Elementor page builder, etc. Overall, this is a good option to consider when you search for free WordPress themes to sell digital products.
If you are using Easy Digital Downloads plugin to set up your eCommerce store, this can be a great theme to try out. You can use this theme for any kinds of digital products such as ebooks, music, software, photos, etc. The design of the theme will ensure that your conversion rate is enhanced with strategic placement of call to action buttons. Moreover, the plugin has a responsive design that makes sure your customer has a superior browsing experience irrespective of the device used.
It also puts in focus on search rankings with support for schema markup and an SEO friendly structure. You will also get good support in case you face any trouble with this plugin.
SparkleStore offers several features suitable for a WooCommerce stores. The design is sleek and modern, and emanates a stylish vibe to keep your customers interested in your store and products. The theme ensures that you customers can smoothly interact with your site, right from browsing products to checking out from it. It offers several options to help you design your store and arrange the visual elements the way you want it.
The plugin complements well with the WooCommerce environment as it supports several plugins such as Jetpack, product filter, quick view, wishlist, etc.
A child theme of StoreOne, this one offers several features to set up a modern eCommerce store. You will find a bunch of features integrated with this theme to help you design a store that will help your customers interact with your site smoothly. The theme is responsive and SEO friendly, and ensures good security and performance as well. Built on bootstrap framework, this theme will make sure your theme offers good page load speed as well.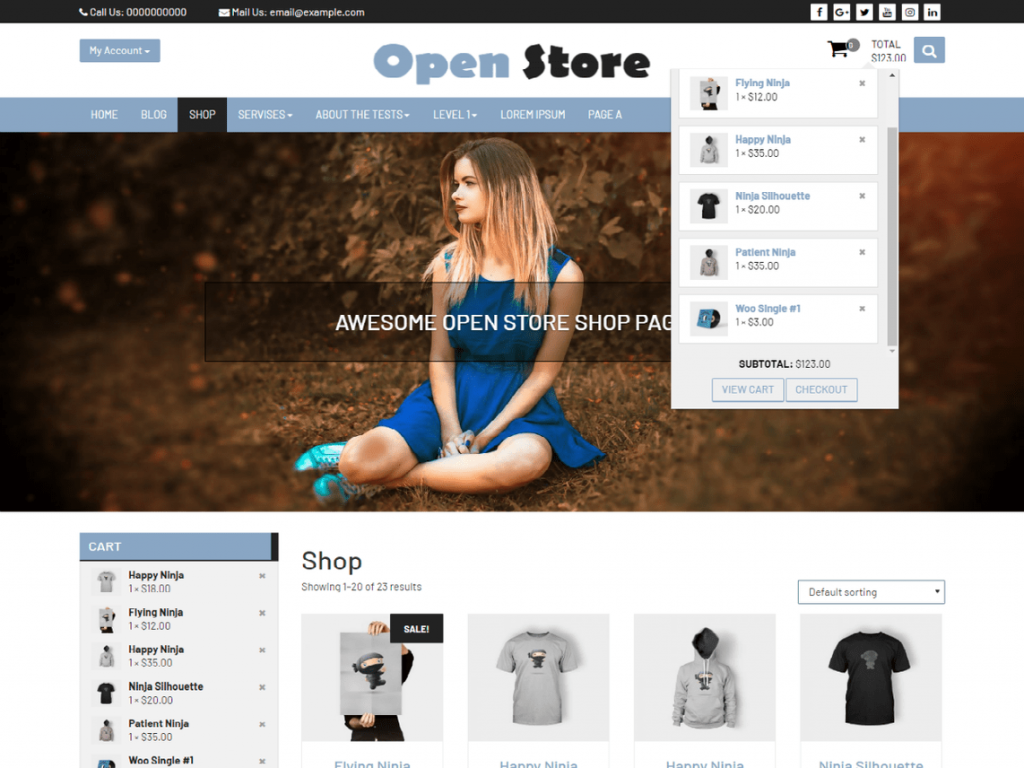 This one comes with a clean layout and a plethora of options for customization. It is a multipurpose theme and you can totally use it to create a stylish store for digital products. You can configure several customer friendly features like testimonials, call to action, banners, etc. Moreover, the theme offers an intuitive user experience that makes it pretty easy to configure this one without hassles.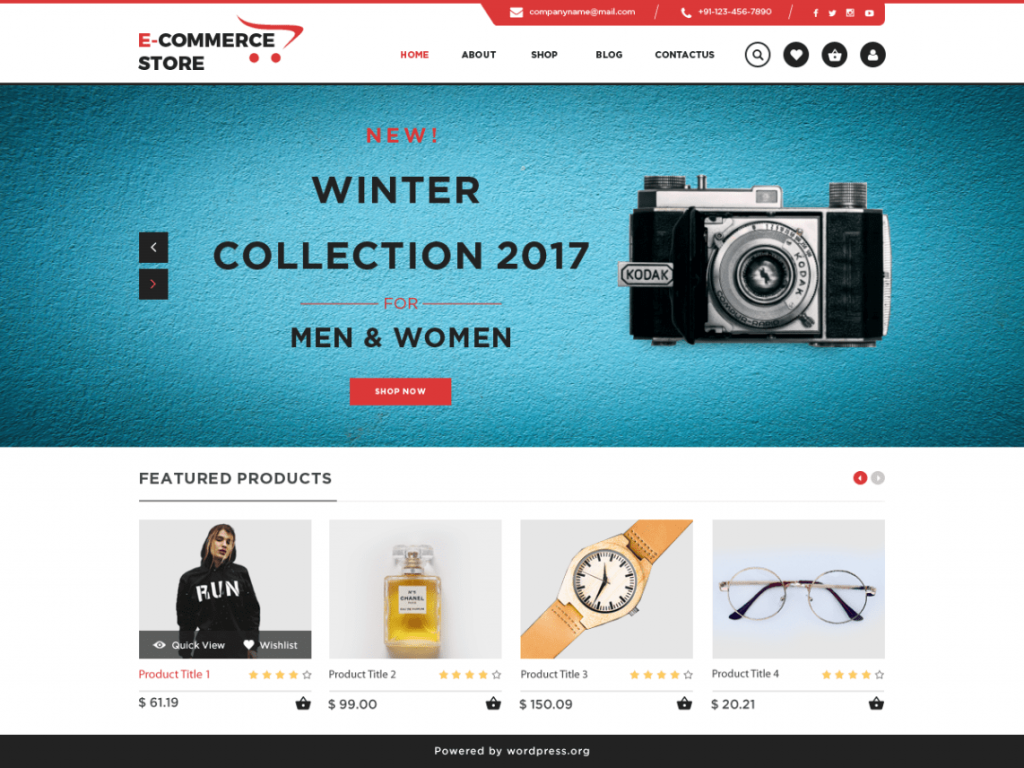 The theme is backed by a clean code that ensure good page load speed and overall performance of the site. On top of that SEO friendly features ensure that your store stays on top of search engine rankings as well.
You can set up an eCommerce store for digital product effortlessly using this theme. It offers complete support for easy digital downloads and offer great options for customization. You have nothing to worry if you are not comfortable with coding, as the theme will help you set up your site design with inventive theme options. You can change colors used on your site effortlessly with the skin color option that comes with EDigital.
The theme is fully responsive and provides a superior customer experience irrespective of the device used. Moreover, the customizer is quite user friendly and helps you make changes with the live preview.
Free WordPress plugins for Digital Products
You need to always choose a specialized theme suitable for the kind of products you are selling. In the WordPress ecosystem, you will find several specialized as well as multipurpose themes. Hope you got an overview on a few good free WordPress themes to sell digital products from this article. Leave us a comment if you have a query or an insight to share.
Further reading