Last updated - October 14, 2021
A help desk system lets you take care of your customers by promptly answering their queries and solving their problems. Most of the modern help desk systems even function like CRMs (customer relationship management systems) by letting you store customer information as well. Generally, you will find two types of software systems – proprietary software as well open source. In this article we will discuss some of the best open source help desk and support ticketing systems for your business.
If you are looking for a flexible help desk system for your business that can be extensively customized according to your requirements, this one is an ideal choice. You can configure it according to your business needs irrespective of your website platform. It works equally well with WordPress, WooCommerce, Shopify, BigCommerce, or any other platform you may be using.
More importantly, you will get dedicated support from their team to help you set up the help desk system. You can integrate WSDesk help desk plugin and all its add-ons at no extra cost, and also configure live chat and knowledge base effortlessly. Moreover, by isolating the support desk server, you can avoid overloading your main website's server.
Features
Flexible, open source help desk system with tailor-made solutions for your business.
Complete control and ownership of your data with no access outside your organization.
All essential features of a help desk system available out of the box.
No limits in the number of agents or tickets.
Triggers and automation for better workflows.
Supports the creation of a chargeable consultation service.
Canned responses for common queries.
Detailed reporting and agent satisfaction analysis.
Expert assistance to help you with integrations or technical issues.
You can download the basic version of WSDesk for free. For advanced features and to configure a tailor-made help desk support ticketing system for your business, sign up for the open source help desk system.
UVdesk is another preferred open source option to set up a help desk solution for your business. You can integrate it to several eCommerce platforms and content management systems without additional costs. In addition, you will be able to automate the workflow by creating different rules for tickets based on the channels they are coming in from. Some of the other important features that will help your support ticketing system be more efficient include knowledge base integration, file viewer app, task management, etc. Furthermore, you can easily connect your order details from your eCommerce store.
Features
Helps you generate tickets from customer queries.
Easily categorize tickets for better responses.
Supports multiple channels including social media.
Easy knowledge base integration.
Customize the appearance of the help desk system.
FreeScout is the super lightweight and powerful PHP-based free open source help desk. It can be easily deployed even on a shared hosting. FreeScout is the perfect help desk solution for those who want to provide professional customer support. Besides, FreeScout can be adjusted for specific needs via custom modules.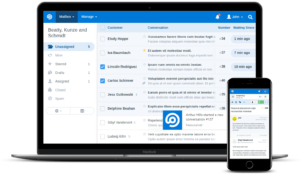 Features:
Unlimited support agents, tickets, mailboxes, etc.
Elegant user-friendly interface.
Seamless email integration.
Push notifications.
Free mobile apps for iOS and Android.
Internal notes for support agents.
Flexible notifications for support agents.
Auto replies.
Open tracking.
API.
LDAP.
Saved replies.
End-user portal.
Knowledge base.
Live chat.
WhatsApp, Telegram, Slack, Twitter integration.
osTicket offers an easily scalable support ticketing system with customer-friendly features. It is pretty easy and straightforward to get started with this solution, thanks to the simple installation process. You can easily configure different help desk topics and set service level agreements effectively. Moreover, you will be able to manage your tickets in an organized fashion with a rich and simple dashboard, and a powerful ticket filtering system.
Features
Create a robust customer support help desk.
Easily create help desk topics and service level agreements.
Option to add custom fields to support forms.
Easily transfer tickets between departments.
Ticket locking to avoid agent collision.
Set automatic responses.
Easy frontend portal to let customers access their ticket information.
SuiteCRM is an open source and affordable CRM solution that you can use for your business. It offers transparent pricing and helps you get rid of the worries associated with hidden charges. With a central repository of customer data, you will be able to easily build better relationships with your customers. Additionally, with it being open source, SuiteCRM offers the desired flexibility to customize the support system according to your needs. There are several lead management tools into enhance your sales number as well. Furthermore, it offers all the essential tools for your customer support team to respond promptly.
Features
Comprehensive, open source CRM solution.
Easy integration with your business systems thanks to the open REST API.
Flexible data model to help you store customer data in an efficient manner.
Powerful reporting dashboard to help you gain actionable insights.
Automated customer segmentation, and option to send targeted marketing messages.
Enhances the response time and efficiency of your customer support team.
Faveo is a user-friendly and cost effective help desk and ticketing solution for businesses of all sizes. It has great customization features that will help you personalize it according to your specific business requirements. Additionally, it offers an app to help you configure a knowledge base for your customers and team members. Also, the software has no limits on agent usability, and offers easy email integration. With Faveo, you will be able to customize the appearance of the help desk system according to your brand requirements as well.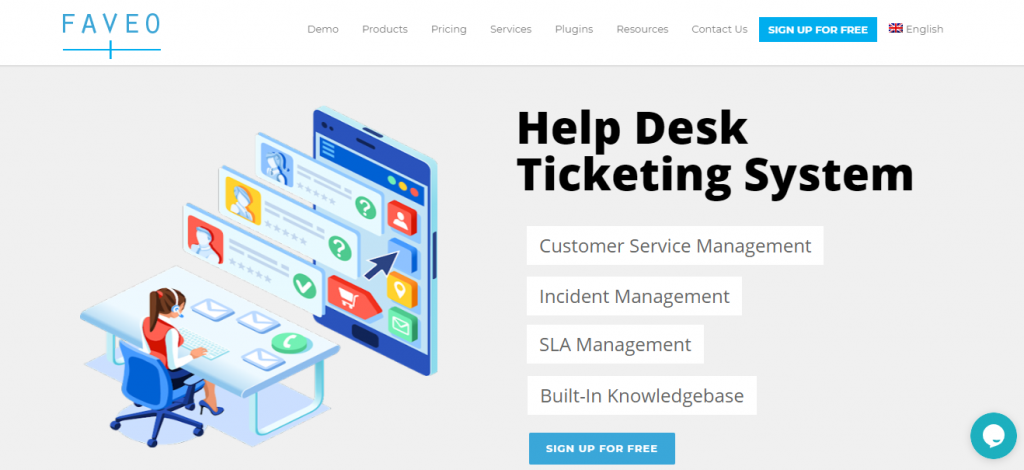 Features
Create a help desk ticketing system for customer service and incident management.
Create SLAs and integrate a knowledge base.
Easily integrate platforms like Facebook, Twitter and WhatsApp.
Integrate email addresses with the ticketing system
Dependable support.
For small to medium sized businesses, this tool could be an appropriate choice. It offers a simple and user-friendly interface that will help you easily track and manage support queries. You will be also able to manage email and SMS notifications easily. Moreover, the tool offers flexible options for customization and detailed reporting features.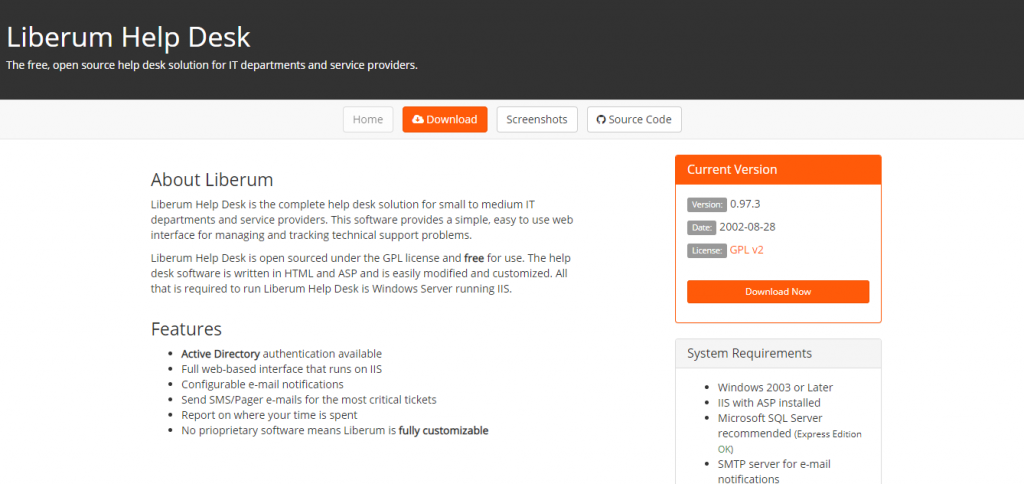 Features
Easy to use customer support solution for small to medium sized businesses.
Web-based interface.
Email notifications and option for SMS and page notifications for crucial tickets.
Fully customizable.
Detailed reporting features.
Bitrix offers a collaborative system that helps you connect CRM, instant messaging, and task management together for the best outcomes. You can reduce the number of tickets by instantly providing a resolution to customers. Additionally, you will be able to easily collect details related to customer interaction, and also engage them through multiple channels. There are also advanced features like virtual assistant and ticket routing.
Features
Create a collaborative customer support system.
Integrate with social media channels.
CRM web forms to capture leads more efficiently.
Live chat to enhance communication.
File sharing options along with ticket queueing and routing.
Workflow automation.
Mobile app for easy user access.
This is an agile tool for customer support with efficient features. You will be able to organize your tickets and view the status on a convenient dashboard. It offers multiple channels out of the box, such as email, customizable web form, and live chat. Moreover, the tool offers a great range of features to enhance your customer support system. These include easy SLA creation, automated email notifications, canned responses, etc. It also helps you create payable support contracts with customers.
Features
Agile help desk with a user friendly interface.
Provide support through multiple channels.
Easy SLA configuration and workflow automation.
Canned responses for quicker resolution.
Option to sell support contracts.
Effective self service through knowledge base integration.
This is a comprehensive system that integrates CRM, sales, marketing, orders and service interactions effectively. You will be able to manage diverse aspects of your business without hassles. More importantly, this system will help you integrate engagement data from multiple communication channels. Also, it offers several interesting features such as ticket tracking, file sharing, support reports, etc., to enhance the customer support process.
Features
Comprehensive CRM solution with marketing automation and customer support.
Automated case creation for better assignment and reporting.
Escalation and satisfaction surveys for better customer experience.
Automated messages and reports.
Knowledge base integration.
This open source, SaaS help desk will help you elevate your customer support process. It offers better ticket management, workflow automation, detailed reporting, and more. You will be able to get actionable insights in real time and can improve your processes significantly. In addition, it facilitates omnichannel interactions and automatic ticket assignments.
Features
Comprehensive tool to improve your customer support process.
Omnichannel support.
Automated ticket assignments and easy monitoring of support team's performance.
Better SLA tracking.
Portal to keep customers updated about their issues.
Customizable forms.
Knowledge base integration.
Multilingual support.
Hopefully, these open source help desk and support ticketing systems will help you serve your customers more efficiently. Feel free to leave us a comment if you have any queries.
Further reading