WordPress is one of the most popular content management systems in the world that you can use to create a self hosted website. By default, WordPress does not offer an option for shopping cart. Now, if you want to sell products and accept payments through your WordPress site, how will you manage it? There are several plugins to help you easily integrate a shopping cart to your WordPress site. In this article, we will discuss some of the best shopping cart plugins for WordPress.
WooCommerce is one of the most popular eCommerce platforms in the world. It's free to download, open source, and offers a lot of scope for customization. You will be able to create and sell physical, digital, virtual and affiliate products. Additionally, you can create subscriptions, bookings, memberships, etc., with the help of extensions. You will also find a vast collection of themes compatible with WooCommerce to help you design beautiful storefronts.
WooCommerce lets you accept payments on the store with a wide range of options including bank transfer, credit and debit cards, mobile wallets, etc. Furthermore, you will be able to integrate more than 100 payment gateways like Stripe, PayPal, Square, etc. WooCommerce also offers several other extensions to help you with different aspects of store management, fulfillment, marketing, etc.
Features
Free and open source platform to create a shopping cart on WordPress.
By default lets you feature different product types, and more through extensions.
Wide collection of themes to design storefronts according to your business needs.
Integrate with more than 100 payment gateways as needed.
Customization options through product blocks.
Large number of extensions to help you add features and functionality.
Easy to get support through community forums and third party maintenance service providers.
If you are looking to primarily sell digital downloads, Easy Digital Downloads is a great option. It is a great option to create stores selling music, videos, graphics, software, etc. It is an intuitive and user-friendly solution, and helps even new users to set up eCommerce stores easily. Moreover, there is support for different payment options like PayPal, Amazon Pay, Stripe, etc., and more advanced integrations through extensions.
Features
Easily create a product catalog with digital products.
Smooth checkout flow to ensure great customer experience.
Flexibility in accepting payments through credit and debit cards, digital wallets, etc.
Detailed reporting features to keep track of customers and revenue.
Solid security for your digital products.
Ecwid is another reliable shipping cart plugin for your WordPress site. It offers powerful features, and at the same time, is quite easy to use as well. The plugin supports over 175 countries and over 45 languages. Moreover, there are options to integrate more than 40 payment gateways and varied shipping options. Also, it offers easy selling on other retail channels like social media. There are also mobile apps to help you manage your store on the go.
Features
Comprehensive shipping cart solution for your WordPress site.
Supports multiple countries, languages and payment gateways.
Integrates with popular shipping carriers easily.
Option to sell on Instagram and Facebook.
Free mobile apps.
Unlimited storage and regular backups.
You can install this plugin to create a shopping cart on your WordPress blog or website. You will be able to sell different product types including digital downloads, subscriptions (premium feature), services, donations, etc. It helps you offer different payment options on checkout including credit and debit cards, and digital wallets such as Apple Pay, Google Pay, Microsoft Pay, etc. You will be able to manage unlimited products and orders with the free version of the plugin itself.
Features
Simple shopping cart plugin for your WordPress site.
Free version offers unlimited products and orders, and basic payment and shipping options.
Comprehensive order management with options to print sale receipts, packaging slips and shipping notes.
SEO friendly and social sharing options.
You will be able to create a good looking product catalogue anywhere on your WordPress site using this plugin. In addition, it will help you add a functionality to let users request a quote for products they are interested in. You will be able to organize products using categories and tags, and also customize using CSS or WordPress customizer. Furthermore, you will find product search and filtering options as well. You can use a premium extension to impart eCommerce functionality to your product catalog as well.
Features
Powerful plugin to create an eCommerce product catalog.
Integrate request a quote functionality.
Option to add an unlimited number of products.
Multi-level categories and tags to help you organize products.
Shortcode support.
You will be able to create an eCommerce store selling diverse product types including physical products and digital downloads using this plugin. The plugin also lets you easily feature unique product types like subscriptions or memberships with the help of extensions. It offers several options out of the box for shipping payment gateway integration, marketing, etc. Furthermore, it offers great scope for customization through hooks, and also supports WordPress multisite.
Features
Shopping cart plugin with options to create different product types.
Easily add new features and product types with the help of extensions.
Integration with different payment gateways and shipping carriers.
Built-in marketing tools.
Supports WordPress multisite.
With this plugin, you will be able to create an add to cart button to your products, and display them on your WordPress page, post or sidebar. Your site visitors will be able to add products to cart, and also view and modify the cart contents. The shopping cart is responsive if you are using a responsive WordPress theme on your site. Additionally, the plugin offers an option to display smart PayPal buttons on your store.
Features
Create and display products with shopping cart functionality on your WordPress site or blog.
You can sell different product types such as physical, virtual or services.
PayPal sandbox and smart PayPal buttons.
Configure order notification emails, discount coupons, etc.
Multisite support.
Easy to set up.
If you are looking for an option to convert your WordPress site into an eCommerce store, this plugin could be useful. The plugin does not require any coding efforts and you can easily embed product widgets and buy now buttons. The Selz dashboard will help you manage inventory, marketing and customer relationships. Additionally, it has built-in integration for credit card payments.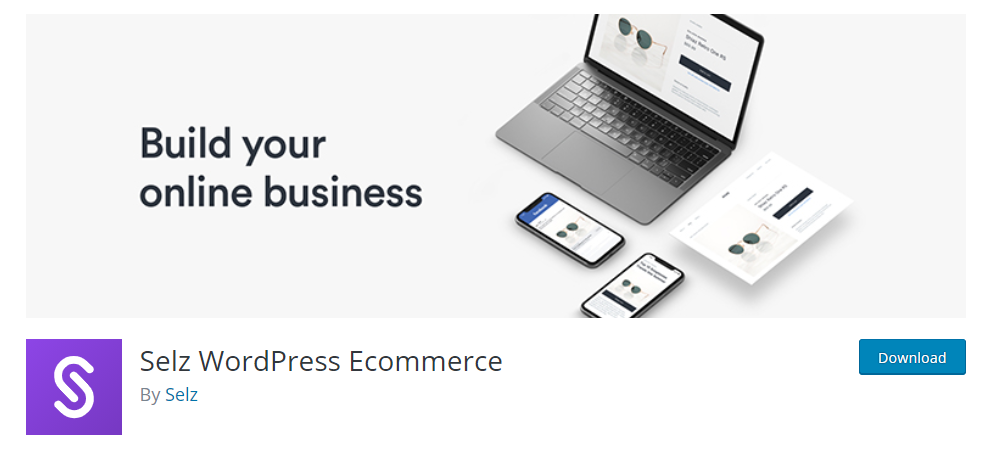 Features
Helps you integrate a shopping cart on your site.
Customizable product widgets and buy now buttons.
Customers will be able to checkout without leaving the site.
Payment gateways integrated by default for credit card payments.
Free SSL certificate.
We hope these Shopping Cart Plugins will help you set up a shopping cart on your WordPres site easily. Feel free to leave us a comment if you have any queries or concerns.
Further reading