Last updated - February 24, 2020
WordPress is one of the most preferred content management systems in the world. It is a free, open source solution that can be used by users of all knowledge levels. One of the reasons behind the popularity of WordPress is the immense flexibility that it offers. Furthermore, it is quite easy to use, and you can easily find support and tutorials to learn WordPress and WooCommerce. In this article, we will list out some of the important resources that you can refer to learn WordPress and WooCommerce. These websites should help you keep yourself updated about the latest developments as well.
If you have a WordPress self hosted website, WordPress support is the best place to keep yourself updated on WordPress. You will find tons of information and a range of useful documentation that will help you manage your WordPress site. The site will give you all the basic information that you require to download and install WordPress as well as help you understand the features. You will also get access to troubleshooting steps as well as find support through this site.
The WordPress support site will also give you valuable insights on theme development and other aspects as well. You can also find links to some of the best resources to understand the working of themes and plugins too. If you need basic to advanced level knowledge on WordPress, this is the go-to place.
Now, if you are looking for some help for WordPress.com, this is the website you should be referring to. You will get articles to get you with all the basics including creating posts, customization, marketing, etc. The site will help you get acquainted with WordPress as well as understand the basic nuances like changing the appearance of the site. There is also a glossary, which will help you familiarize with some of the often used terms in WordPress.
If you are running an eCommerce store using WordPress and WooCommerce, you would want help on certain issues from time to time. The WooCommerce website is one of the most important resource in this regard that offers you help. The site has extensive documentation to help you set up and configure a WooCommerce store. Most of their documentation also consists informative video tutorials that could be a real help.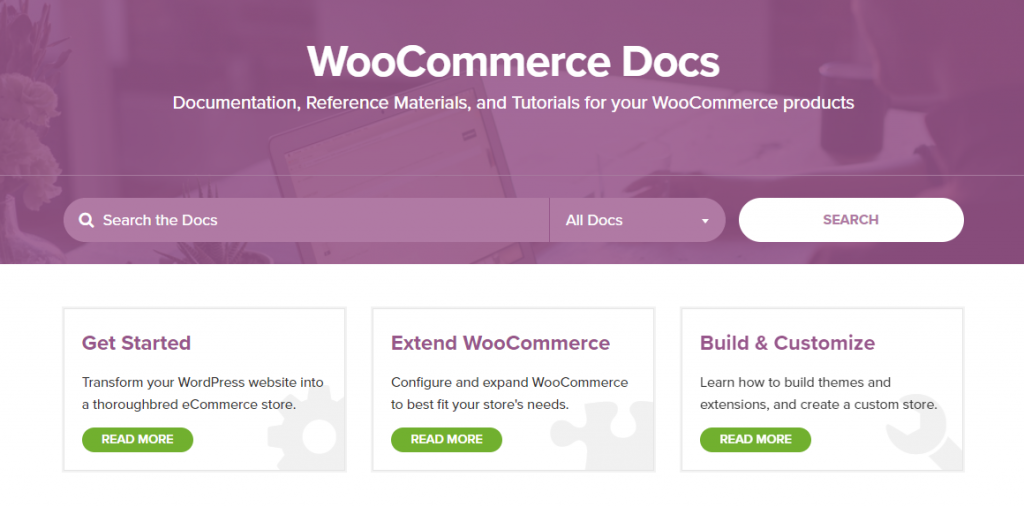 WooCommerce also has a popular blog that is well read. It is divided into two sections – one for normal users and the other for developers. In the user section, called 'Learn WooCommerce', you will find a lot of tips and tricks to manage a WooCommerce sore effectively. If you are looking for information on updates or news about feature additions, you should visit the 'Develop WooCommerce' section. And, for WooCommerce extensions, you can find documentation on the individual product pages.
This is probably the most popular resource for beginners to learn WordPress and WooCommerce concepts. You will get a lot of tips, tricks to tackle various challenges related to WordPress, WooCommerce and associated plugins. Even if you are a beginner, you will find articles and videos to help you tackle almost every issue on WordPress.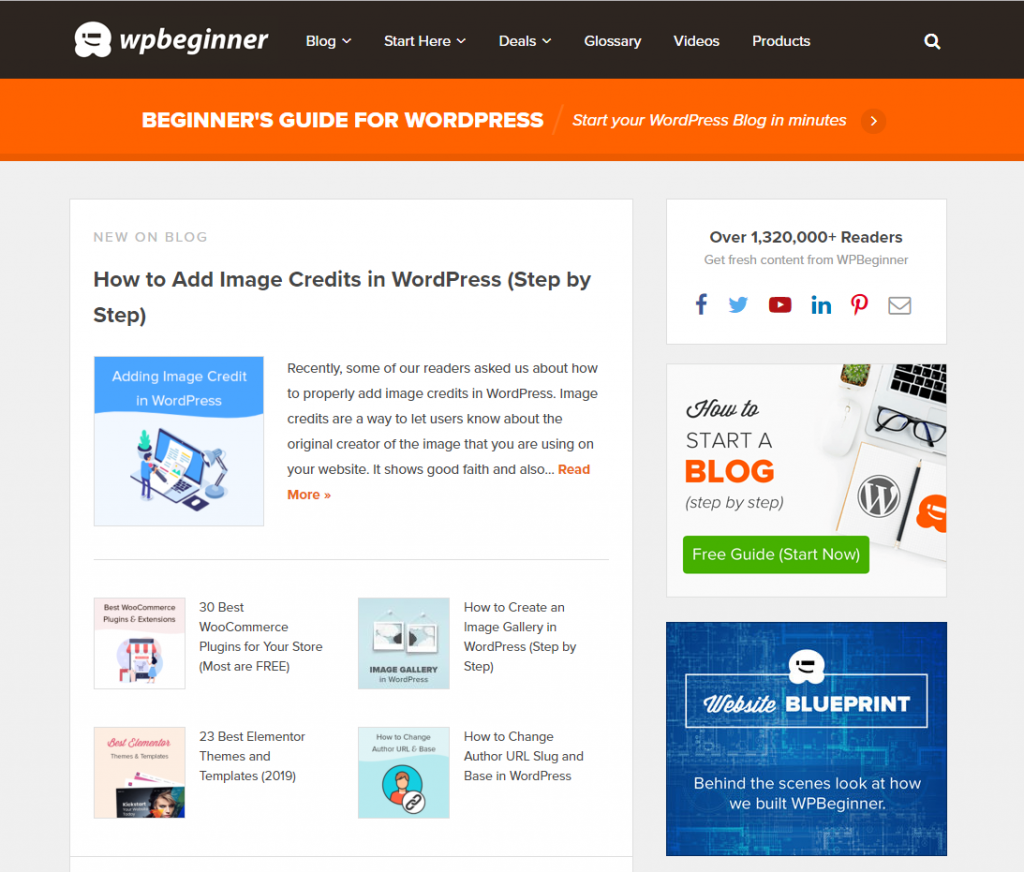 You will be getting a lot of information on several plugins and how they will help you address a specific challenge on your WordPress site. The site also has interesting discount deals on several products related to WordPress and WooCommerce. Irrespective of being a beginner or an advanced WordPress user, you will be visiting WPBeginner at some point in your WordPress journey.
As you probably know, LearnWoo is a great resource for information on eCommerce platforms. And, it has a predominant focus on WordPress and WooCommerce, along with other popular eCommerce platforms such as Shopify, Magento, BigCommerce, etc. You will find several articles to get you started with both WordPress and WooCommerce. We also offer several articles listing out some of the best solutions to manage specific aspects of eCommerce and web development.
LearnWoo also offers e-books to help you familiarize with basic concepts of WordPress and WooCommerce effortlessly. You can also find exciting deals on WordPress WooCommerce plugins, themes, marketing solutions, and other tools. Over the years, LearnWoo has become a preferred choice by store owners to find the best available solution for their challenging business scenarios.
Udemy is a global marketplace for tutorials. You can find a suitable course and trainer according to your requirements using this platform. As with several other fields, Udemy has an extensive collection on WordPress tutorials as well. You will find over 10000 tutorials at different knowledge levels if you search for WordPress. Similarly, there are several courses on WooCommerce as well.
LinkedIn Learning, previously called Lynda.com, offers a lot of courses from expert instructors. You can find a course from a lot of categories spanning from different areas such as business, creative and technology. As expected, there are several interesting courses that will helps you learn WordPress and WooCommerce as well. Morten Rand-Hendriksen's WordPress Essential series is particularly helpful for WordPress enthusiasts of all knowledge levels. You will get one month free trial with LinkedIn Learning, after which some courses will be premium.
LaunchParty's free "Website In A Weekend" challenge was created specifically for beginners who want to learn how to make a WordPress website using Elementor (the most popular drag-n-drop page builder for WordPress). You'll be able to design your website visually without any coding or previous design experience. They have also included more than 600 free templates that you can use as you follow along with each tutorial. LaunchParty is completely free and offers more than 5 hours of step-by-step video walkthroughs, checklists, progress tracking, and achievements.
You might be finding a lot of articles and video tutorials on WordPress topics if you search online. However, if you are looking for professional, easy-to-understand WordPress tutorials, this is the best place for you. It's one of the quickest options to learn the basic concepts of WordPress if you are short of time. Each of their videos are less than 5 mins length, and will help you go through the full series in your own convenience. They also have a complete package to get you well-versed with WooCommerce as well.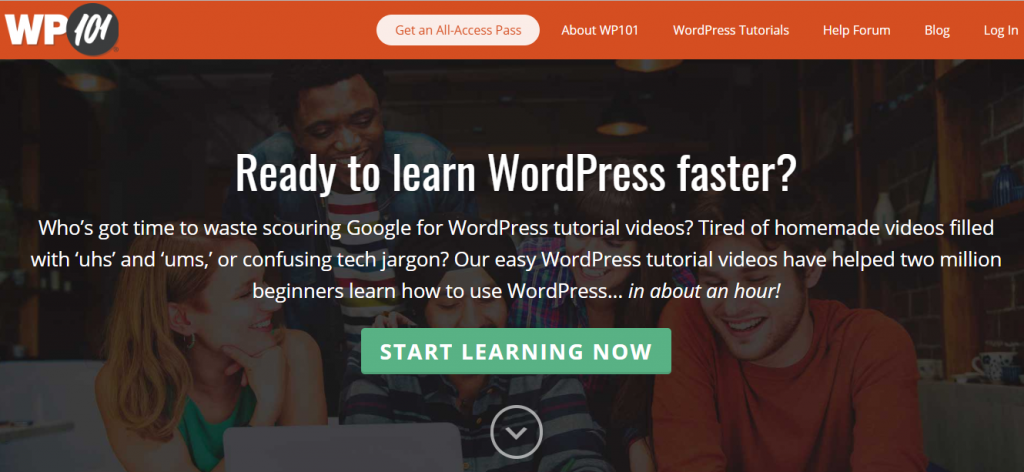 Some of the other featured courses that you can try out on WP101 include those on Gutenberg block editor, Jetpack, Yoast, etc. You will also get access to their community forum, which can really help you resolve any problems you may be facing with your WordPress site.
Kinsta offers one of the most popular managed WordPress hosting service. Apart from that their blog posts on WordPress are really popular as well. You can find a lot of informative articles and step-by-step instructions to get you familiarize with WordPress concepts quickly. Right from simple articles that will help WordPress beginners to catch up, they get into more technical stuff like improving site performance. Most of their content is in the form of guides, and are prepared by experts with considerable experience with WordPress. The well-structured content will be really helpful for absolute beginners to WordPress.
If you are looking to improve your WordPress skills, you can get training from a knowledgeable bunch of WordPress experts on this site. They add a new set of courses and fresh content every month, to ensure that you are updated on the latest developments. You can subscribe to their newsletter and be in the know of the latest additions to their course list.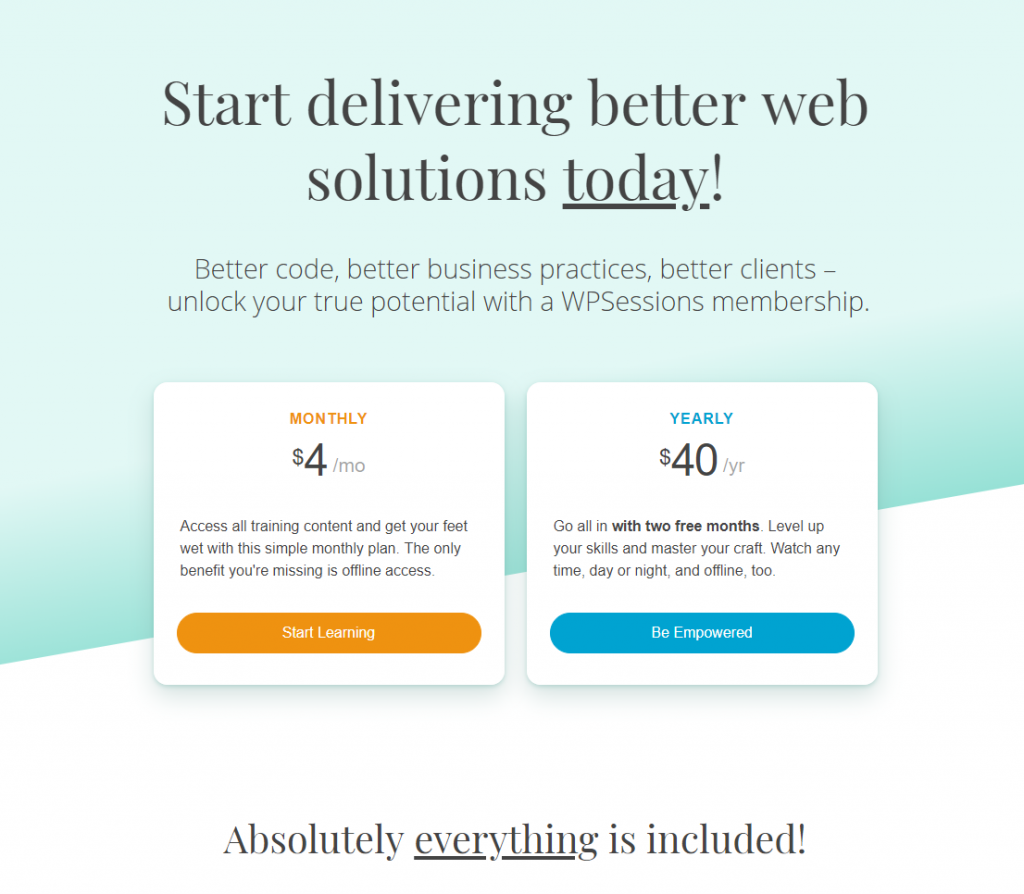 A WPSessions membership would cost you $4 per month or $40 per year. With the membership, you will get access to a growing training library that has more than 150 hours of training material. When you opt for the annual plan, you can also get access to their video library for offline viewing as well. So, if you are looking find unique content on WordPress, WPSessions might be the answer for you.
You can find a lot of videos related to WordPress on WordPress TV. The content ranges from beginner tutorials, to advanced tips and WordCamp updates. You may find a solution to a specific problem browsing through the large range of expert videos and interviews. There are a range of How-to videos to help beginners get a hang of WordPress. However, the filtering options are limited, so you might have to search a bit more to find a specific video from the archives. You can use WordPress TV effectively to keep yourself updated about the latest happenings on WordPress.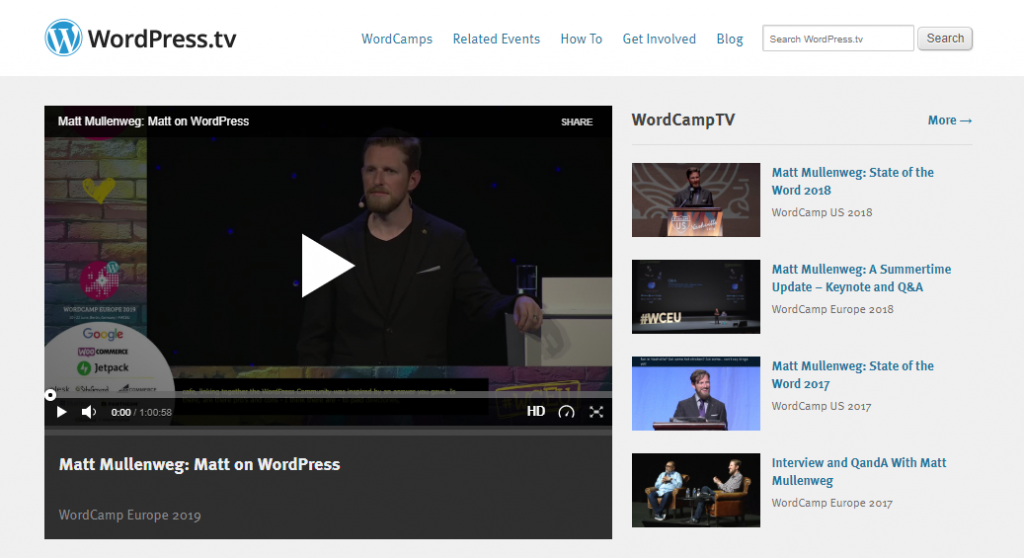 Hongkiat is a great resource for eCommerce store owners, design and development professionals and technology enthusiasts. You will find a lot of content related to various topics available on this website. The topics specifically target designers, developers, marketing professionals, etc. You can also find a Deals section, which offers several courses and you can look for the most appropriate one in your knowledge level.
If you are planning to start a website from scratch, and don't have a clear idea how to, this is the site you can rely on. In simple steps, you will be able to understand the basic procedure of creating a website with the help of WordPress. Since creating a WordPress site from scratch involves other aspects like domain name registration and choosing a hosting plan, this might be a good place to begin. This website also has an exhaustive resource to help website owners of all levels to deal with regular challenges. In addition, you can find reviews of several related tools as well on this website.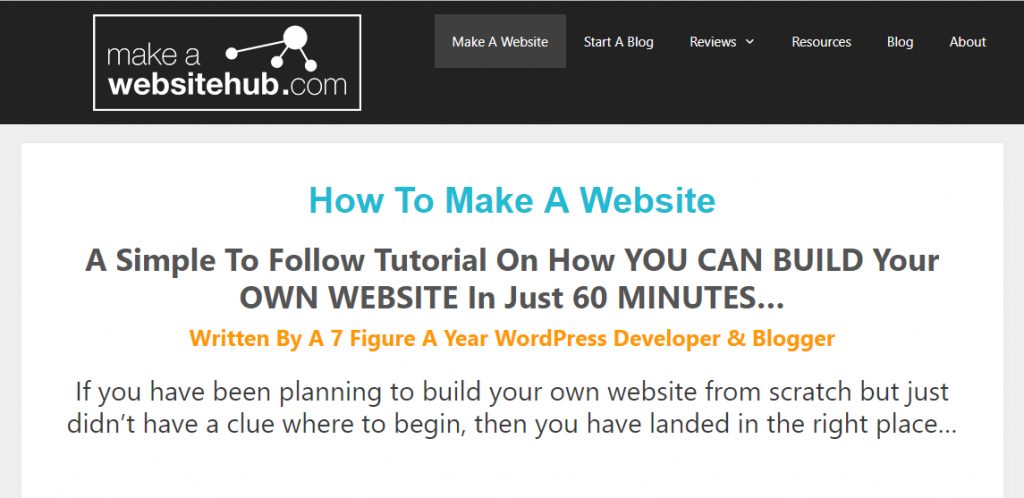 If you are managing a WordPress site, this website is a reliable resource to help you deal with varied challenges you may face every day. You can find a range of tutorials that help you learn concepts of WordPress in simple steps. Those who are looking for some quick introduction to WordPress can benefit from the basic lessons that is only one hour long. There are also comprehensive video tutorials and site building courses to help you gain advanced level knowledge in WordPress.
WPKube is another popular resource to learn WordPress and WooCommerce. It has well-organized guides to help you learn the basic concepts of WordPress to start a blog, website or eCommerce store. You will be able to understand the process behind installing plugins, themes, etc., on a WordPress as well as creating pages and posts. The site has links to some of the important hosting services and themes, which you can use for your business. You can also find discount coupons for some of the popular solutions related to WordPress and WooCommerce.
You can find a range of how-to tutorials, courses and e-books on the TutsPlus. You can subscribe to TutsPlus at a price of $16.50 per month. Also, you will get access to more than 1000 video courses and over 240 eBooks to learn different concepts of WordPress. Moreover, you will not have to go through advertisements in any of the courses with the subscription. In addition, you will also get access to Envato Elements, which will give you unlimited download option of photos, design elements and templates. Overall, this is another great place to learn WordPress and WooCommerce concepts.
iThemes training offers "more than 900 hours of professional WordPress training" on their site. You will be able to gain advanced skills by simply following the courses and webinars on this site. Once you have a membership with them, you can access download videos of past webinars to watch them offline. Their training library has courses on a variety of topics suitable for users of all knowledge levels. You will also find live webinars from WordPress especially useful in learning. When you are member, you will even get a chat option, which increases the chances of collaborative learning.
Moreover, with iThemes community, you will get access to a range of WordPress developers, designers, and entrepreneurs to collaborate and share ideas. Also, as a member, you will get discounts to iThemes products like plugins and themes occasionally.
You can find useful articles to understand the important aspects of creating a WordPress website from this website. You will find a large number of blog articles dealing a with a range of topics related to WordPress and web development. In addition, you will find a good number of books and eBooks that will help you in your WordPress journey. The website also has information and booking options for the some of the popular technology conferences across the world.
Moreover, the site also helps developers and designers to find jobs in their respective fields. Memebership options start from $3 per month. With the highest membership package, you will get access to their entire library of eBooks and will get great discounts on conferences and training.
This site offers a comprehensive solution to multiple aspects related to a WordPress site. You can get hosting plans, site management and security features, SEO and marketing tools, etc. here in one place. You can try these options for 30 days free of cost. They also have a resourceful blog, which will help you a lot with major concepts and updates of WordPress. You can subscribe to their blog to get daily updates on your inbox as well.
If you are an absolute beginner, and want to find the basic steps of creating a website using WordPress, this website can help. You will find step-by-step instructions that will be really helpful to create a successful website. They also will answer your queries on various aspects related to building a website. The site also has information about some of the popular website builders you can use in case you don't want to go through the pain of building a website from scratch.
Tao of WordPress is a complete guide on WordPress, which you can purchase. It has a lot of current practices, examples and real life scenarios to make you understand the process of managing a WordPress website. You will be able to learn how to customize a WordPress site to make it look unique and interesting. Moreover, you can also find several other books and tutorials on building a WordPress theme from scratch. When you purchase the guide, you can also get access to the member's area, which enables you to download titles at your convenience.
WordPress site administrators and developers can find a lot of technical solutions in this question and answer website. The site works through membership and upvoting process, where answers are upvoted based on its merit. Anybody can ask a question, and anybody can answer. You can find answers to a lot of your WordPress questions here.
WP Lift is a free resource that will help you learn WordPress concepts quickly. In addition, the site helps in promoting WordPress related products like plugins and themes. There is comprehensive list of tutorials, product reviews and listicles to help you update about WordPress and associated tools. You can also find separate sections for WooCommerce and Hosting services. The site also helps you in getting discounts on a variety of WordPress related tools and services.
WP Tavern is another authoritative resource to learn WordPress. This is a free resource that offers you the latest updates on a variety of categories related to WordPress. The categories covered on this site include BBPress, BuddyPress, as well as other WordPress plugins. You can find a lot of information about the latest software updates and useful courses on WordPress from here.
Learn WordPress and WooCommerce from experts
One of the major advantages of WordPress ecosystem is that it is open source and knowledge is freely shared. This helps a lot of people to start websites and businesses of their own with confidence. Hope this article has covered some of the most important resources that will help you learn WordPress and WooCommerce concepts. Get in touch with us to share an insight.
Further reading