Last updated - March 10, 2021
If you are maintaining a business website, you need portfolio features to display your past work and achievements. This is a crucial aspect of your business as lot of prospective clients would choose your service based on how attractive these are. Businesses and individuals dealing with creative professions like design and photography find more use with this functionality. In this article, we will explore some of the best WordPress Portfolio Plugins that would be great assets for website owners, particularly designers and photographers. These plugins should help you create a comprehensive portfolio on your WordPress site.
If you are looking for some of the best WordPress photography themes, here is an article that will help you with that.
Also look at our article on WordPress watermark tools that will help you secure your photographs from unauthorized uses.
NextGEN Gallery is a comprehensive solution for photographs who need to upload and manage large number of photographs to their site. Primarily, it helps you upload photos in batches, and sort them in an order that is suitable to you. With the help of this plugin, you can group photo galleries into albums or edit the thumbnails. The plugin also helps you import meta data.
With the free version of this plugin, you can create two gallery styles on the frontend of your site – slideshows and thumbnails. There are also two album styles available, which are compact and extended. The plugin also offers a great range of options to control size, style, transition, etc., for the photos that you display. And, lightbox feature will give you an added flair to your photo galleries.
With over a million active installs and over 1800 5-star reviews, the plugin is one of the most popular plugins in its category in the repository. The reason behind this could be the versatility of the plugin to handle simple galleries as well as multi-layered, visual spectacles.
Now, if the free version is not adequate for your requirements, you can checkout the available extensions, which makes the plugin more powerful.
You can make this plugin much more powerful by using the premium extensions available on the Imagely website. Here, you will find around 12 extensions for gallery styles alone, including slideshow, slidescroll, grid, filmstrip, etc. For the lightbox feature, you will find four extensions that will help you with social sharing, commenting and deeplinking of images.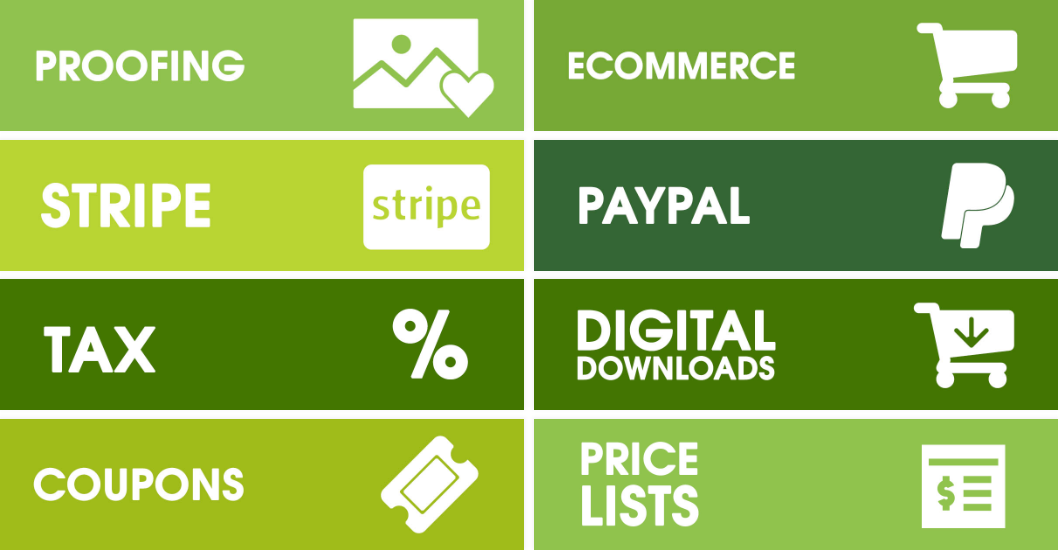 There are several extensions that will help you with eCommerce functionality as well. These include extensions such as Proofing, PayPal, Stripe, Coupons, etc. According to users, the plugin is quite easy to use, as you can upload images in bulk using a zip file. The options to categorize images helps you efficiently manage the display of large number of photos.
Please note that these extensions are not available for individual purchases. You can get one of their bundle deals that would give you access to multiple tools at the same time. If you want all the gallery, lightbox and eCommerce extensions, the best plan is the NextGEN Pro Bundle, which is available at $99.
Smart Slider 3 is currently the most popular slider plugin in the official WordPress repository. Using an image slider can be useful to display your portfolio, and with this plugin you can take it to the next level. Smart Slider 3 is great to showcase images, but you're not limited to use images. In the drag and drop interface you can choose from more layers: heading, text, button and image layers, and you can use YouTube and Vimeo layers, too.
With this slider plugin, you can showcase your images with thumbnails or with a text bar as well, which can be useful at showcasing your work. The slider is fully responsive so it will look good on every device. You can perfectly integrate it into your WordPress website, just use its shortcode, or create a Gutenberg block.
Smart Slider 3 is a SEO friendly plugin so you can add the alt description for your images, which is good for the search engines. What also can be useful is the opportunity to create a dynamically changing slider. Just upload a new photo in a new WordPress post, and you can display it in a post slider.
The plugin has a Pro version as well if you want to reach more features, layer animations, and other useful layers.
If you are looking for a simple solution to create a portfolio on your WordPress blog or website, this plugin will surely help. It helps you create responsive galleries that works quite well irrespective of the device of your users.
The plugin helps to make images searchable with several options to filter. In addition, you can choose to apply multiple colors to the filter button. It helps you display images in multiple columns as per your requirement. Also, the responsive lightbox feature can come in quite handy, when you want to show off precise detailing of your images.
You can also add data on images like a title, label or caption as per your convenience. Gray scale effect is available, which will give you an additional styling option when you are in the mood to experiment. As seen in the case of many WordPress plugins, you can get a lot more features with the premium version of the plugin.
With the help of this premium plugin, you can upload unlimited images to your WordPress site or blog. It allows you to create and assign categories for your images, so that your site will be more accessible and organized. Moreover, it provides you with several options to  adjust the style and layout of your galleries.
Here is a look at the features of this premium plugin at a glance:
Unlimited filters – You can manage to include an unlimited number of filters so that your users can easily search for images. Moreover, there are several sorting controls like shuffle, ascending, descending, etc.
Flexible layout options – Features like multiple columns for galleries and masonry display gives you a lot more control while displaying images.
Multiple lightbox options – Find six different type of lightbox options to make the display of images interesting and functional.
Customization options – The plugin offers great customization options to personalize filters, images, image titles, etc.
Theme options – You will find two theme options available with it when you purchase the premium version of the plugin.
You can purchase the personal license of this plugin which can be used on a single site at a price of $21.  The 5-site Business License is available at $83.99.
GridKit is a great option to create a portfolio on your website. In addition, it comes with smooth features that helps with creating a photo gallery or photo album. Moreover, you can create an eCommerce product catalog too with this plugin. This can be really helpful for those photographers who are looking to monetize their creations.
With the help of this plugin, you can create a an MP4 video gallery, or embed a video gallery uploaded to YouTube or Vimeo. You can also embed image, map or iFrame with GridKit. It also allows the option to create portfolios for your clients or sponsors. You can also create photo galleries of your team members.
This is a simple, and easy-to-use tool to build a portfolio on your photography site. It helps you create albums with images that can be optionally assigned to categories. The default option of this plugin is to display your images in a Masonry gallery. The plugin is extremely flexible to customization and integrates well with most of the popular WordPress themes.
You can get started with the plugin pretty easily. After installing and activating the plugin, create a portfolio just like you would for a WordPress post. And, they have detailed documentation, if you need help with setting up the plugin.
If you are looking for some of the best WordPress themes, here is an article that will help you.
This plugin helps you create a media gallery on your site, where you can display photos, videos, logos, or entire project information. It offers options to sort and categorize the content you display on the gallery. It offers a great lightbox option with multiple options to customize. The plugin is completely responsive, so you can ensure the same experience for all users irrespective of the device they are using.
Envira Gallery is one of the most popular options to create a photo or video gallery on your WordPress site or WooCommerce store. It is really user-friendly and the large number of its satisfied users would vouch for the quality of this tool. The plugin makes the process of creating a gallery particularly easy with the drag and drop builder. It comes with default templates that will help you style your galleries exactly the way you want. And it provides great options to categorize and sort your images with options to create albums and add tags.

The responsive plugin also helps you share your images easily on social media channels like Instagram and Pinterest. It also offers features like image proofing and WooCommerce integration to help make matters smooth. In addition to photos, you can also embed videos uploaded on YouTube or Vimeo to your galleries. For security concerns, you will find option to protect images with password and watermark extremely useful.
The supersize lightbox option helps you display images with full dimension. It also offers an option to import photos from your Dropbox account to the WordPress image gallery. The pricing plans start from $29 per year.
This plugin will help you display your portfolio effectively on your website. It comes with two default layout styles – grid and masonry; and four content positions. In addition, you will find several predefined animations and effects to creatively present different aspects of your portfolio. The plugin is completely responsive and helps to create custom post types with image, video or audio thumbnails. Portfolio Designer is translation ready and also offers custom CSS support.
WordPress Portfolio Plugins make the job easier
Featuring a portfolio on your WordPress site is an inexpensive way to market yourself. By showcasing your past efforts, you can easily convince prospective customers and clients about your skills. With awesome solutions, creating a portfolio is especially easy on WordPress. Most of these plugins help you comprehensively manage a media gallery on your site. In addition, some of the plugins mentioned above help you protect your images with watermark and password. Moreover, seamless integration with WooCommerce makes things much for easy those who are selling photos on the site. Hope you got an overview of some of best WordPress Portfolio plugins through this article. Share with us if you have an insight, or a query regarding WordPress Portfolio Plugins.
Further reading