Last updated - July 8, 2021
Online conferences are nothing new but the COVID-19 pandemic has made them more popular than ever. Online conferences used to be a convenient solution for people who are far from each other. Today, they are the only option for many companies from different industries.
The success of your online event directly depends on your website. Your website should build anticipation and contain all the information that participants may need, such as speaker profiles, schedules, etc. You may also need to manage registrations and sell tickets. Besides, you should take care of many technical details. For example, you should make sure that your website is mobile responsive, and you may also want to ensure social media integration for effective communication.
Fortunately, WordPress is a great tool for anyone who wants to create an online event. This is one of the most popular content management systems in the world. Initially, WordPress was created for bloggers, but now it's used by companies from different industries, including eCommerce stores and other companies that need extended functionality.
One of the best features of WordPress is that it can help you create good websites with the least effort. WordPress supports countless plugins and themes so you can add any features you want. In this article, we will consider the best WordPress themes for online conferences that might be appreciated by companies, marketers, and entrepreneurs from different industries.
This is a mobile-friendly theme that enables you to quickly create a conference website, without writing any code. It has an attractive design and it enables you to promote upcoming events. You can also publish information about speakers and make sure that all visitors will get their tickets. There are many pre-made call-to-action buttons, a testimonial section, and a stat counter section. The Conference also integrates with WooCommerce and supports various translation plugins. You can customize this theme according to your needs and immediately see the results on a live preview. Besides, this theme works equally well on different browsers. You can opt for a free version or purchase a pro version for $59 for more features. 
This WordPress theme is a great solution for all kinds of online events. It features numerous built-in website demos, and it's easy to customize so you can adjust it to your needs and preferences by using a drag-and-drop editor. Event demos include countdown timers, sliders for galleries of images, and specific sections for schedules, lineup, and descriptions of the main activities. You can also share video materials from previous conferences and marketing videos by using media player modules. TheGem supports all the most popular WordPress plugins. This theme costs $59.
This is a multi-purpose theme that features many website demos, including a beautiful events demo. You can just import a conference or event demo to your WordPress dashboard and have a strong basis for your website. The customizable event demo homepage includes many useful features that will help you promote your conference and share all the necessary updates with your audience. You can choose different icons for key information and highlight profiles of your speakers. A great thing about this theme is that you can publish schedules for every day of the conference. Exponent also integrates with WooCommerce and includes GDPR compliance features. The Exponent WordPress plugin costs $59.
This theme was developed specifically for conferences and other events, and it features more than ten different homepage layouts. The range of homepage layouts available enables you to quickly create a website dedicated to your conference, no matter what your topic and niche are. There are both templates for specific purposes (e.g. education conferences, marketing events, etc.) and options for general purposes that you can use for websites of all kinds. Exhibiz layouts include many useful elements, such as schedules, countdown timers, pricing tables, and profile sections. All templates are customizable so you can adjust them to your specific needs and try different design solutions. This theme costs $39.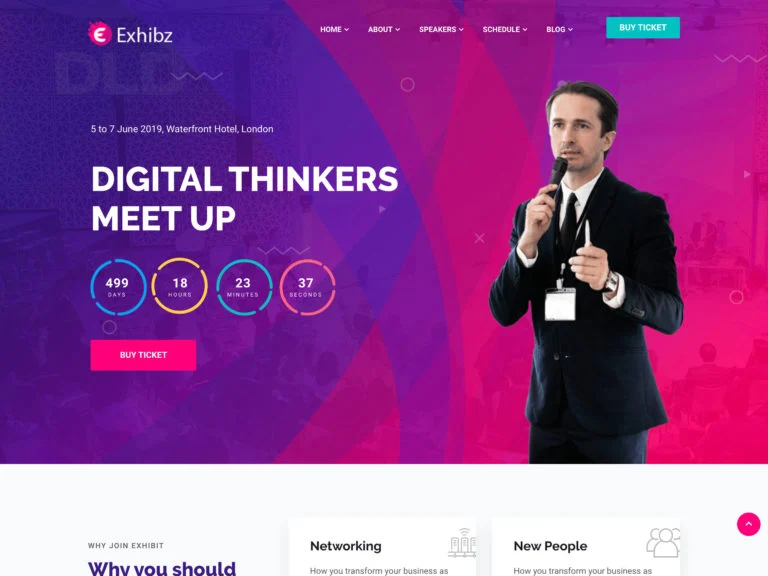 This is another good WordPress theme for online conferences and other events. The package features three pre-built websites that can be used for different purposes. An online conference demo has a well-designed homepage. In the main section, you can show important details about your online conference, including the number of speakers, title, date, and time. This demo is customizable so you can easily adjust it to your specific needs. A visible "register now" button will capture your visitors' attention and persuade them to attend your conference. If your visitors are not ready to sign up yet, they can scroll down and see a countdown timer, schedule, and photos of speakers. Confera will cost you $64.
This WordPress theme was created specifically for conferences and other events. The main selling point of this theme is its amazing Elementor drag-and-drop visual page builder. This theme also comes with various advanced plugins that enable you to add any elements you want. This theme is very flexible thanks to a footer and header builder, a big collection of widgets, and a menu builder. The customization process is very simple, and you can enable or disable different features in one click. You can choose various Google fonts, add a video section or a sliding gallery of images, create sections dedicated to different events, and create convenient schedules. Another advantage of Evenex is that it only costs $25.
This is another theme intended for online conferences. It will be a great choice for marketing or graphic design conferences, as well as other types of online events. One of the best features of this theme is that it allows you to create detailed event schedules. You can also create detailed speaker profiles and experiment with different event layouts. This theme comes with four built-in landing page templates for different kinds of events. All templates and their pages are fully customizable, and this theme also features the Elementor page builder that will help you adjust each and every detail of your website so that it will meet your specific needs. Another great thing about this theme is that it will only cost you $18.
Wrapping Up
If you're planning an online conference, you should make sure that your website will be informative and attractive. You may need to add various specific features, such as countdown timers, speaker profiles, or payment options. Fortunately, WordPress is a very flexible platform that supports countless themes and plugins. If you choose a good theme, you'll be able to create a website in just a few minutes, adding all the necessary features and making sure that your audience won't miss any important information.
Further reading