Last updated - November 12, 2020
We are living in a time where online classes are becoming a necessity. In fact, you can manage to create an online classroom and share knowledge pretty easily. A lot of in-person services and classroom sessions can be converted into online classes with the help of several advanced tools. In this article, we will discuss how you can create a virtual classroom using WordPress effectively.
Virtual Classroom using WordPress
WordPress is a popular content management system thanks to its great flexibility. You can use WordPress to create and share content dynamically to your audience. You can simply upload new content and share it with your audience for free. Or, you can restrict content only to members. You can even drip content where you will gradually provide access to content based on the learner's knowledge level or progress. Moreover, you can integrate tools to create virtual classrooms with live sessions and interactive lessons. We will look into some of the ways you can adopt to create a virtual classroom using WordPress.
Educational content through WordPress posts and pages, and optionally restrict them to specific audience.
Create pre-recorded videos and podcasts and integrate them to WordPress posts or pages.
Integrate a video conferencing tool to your WordPress site to create live training sessions.
Use WordPress LMS plugins to create comprehensive learning materials.
Creating a new WordPress site
If you are an absolute beginner to WordPress, you can refer to our resources to understand the basic steps of creating a WordPress site. We are listing out some of the important ones below:
Adding and sharing content
WordPress offers several different ways to create and share content. You can create educational content through posts and pages. Once you have created a WordPress site, you can create content in different forms and share it with your audience. WordPress Posts and Pages offer you simple options to create content. You can also create videos and podcasts and share them through your WordPress site.
Now, if you want to restrict the content to specific users, WordPress offers several options for that as well. You can use the default settings of WordPress or use plugins to restrict content only to selected users.
Refer to our article to understand the different ways of restricting content in WordPress – Easy ways to password protect WordPress content.
There are several plugins as well, which will help you restrict content, create memberships and learning modules. We will discuss these tools a little later in this article.
Creating videos and podcasts
You can create videos on any subject and display them on your WordPress site. WordPress lets you upload videos directly through your Media Library. However, it is recommended to use a video sharing platform as directly uploading videos can impact site performance.
You can upload your videos on any video sharing platform, and directly add the video url to the post.
Plugins to help you share videos more effectively
By default, WordPress offers a decent player. However, if you want to make your videos more organized and interactive, you can use some of the below plugins:
This is an advanced video player that you can use on your WordPress site to play a range of videos. You can use this to play:
local video and audio files
streaming video and audio from a server.
YouTube videos
Live streaming videos
360 degree VR videos
It helps you feature mp3 and mp4 files on your site and supports HTML and CSS for annotations content. You can create custom watermark logo for the videos that you play on your site. The plugin also offers an option to automatically hide the video controls bar.
You will be able to display videos with a lighbox overlay display on any of the pages of your WordPress site using this plugin. The plugin offers a shortcode that will enable you to display videos on WordPress pages and posts. Moreover, it will automatically create thumbnail for the video and display a description of popup in overlay.
Podcasts
Podcasts are great options to create learning materials. You may need to invest in some advanced hardware to be able to record quality audio. In addition, you can use tools like Audacity to edit audio files. To integrate podcasts to your WordPress site, you can use a plugin like PowerPress.
Read more about creating podcasts.
How to create live classroom sessions?
You might have been offering classes to your students in person. Now, you want to offer them in a virtual classroom using WordPress without diminishing the quality of interaction. There are options to help you out.
Zoom is a great tool that allows you create an effective virtual classroom with instant content sharing. You can carry out training programs in an organized manner using zoom. Here are some of the top features of zoom:

It allows up to 1000 video participants.
Option to allow different users to share their screen simultaneously for more effective collaboration.
Superior security features with encryption, password protection, role-based security, etc.
Easy recording and transcription options.
Schedule meetings through different platforms such as Gmail, Outlook, etc.
Excellent chat and file sharing options.
Integrating Zoom to WordPress
Now, how will you integrate a zoom meeting on your WordPress site? There is a plugin for that and we will take a look at it.
With the help of this plugin, you will be able to manage Zoom video conferences from your WordPress dashboard. The plugin allows you to create a meeting page as a WordPress post. Users will be able to directly join the video conference through the post. Here are some of the important features of this plugin:
Link WordPress posts to live zoom meetings.
Display meeting ID on any page using shortcodes.
Let users join the training session directly from the frontend of your site.
Display a countdown timer on the individual meeting page.
Extensive reporting features.
What if you want to sell access to virtual conferences, classes, meetings and webinars? You can use the FooEvents plugins or WooCommerce Box Office plugin for this. We will discuss both.
FooEvents plugin is an event and ticketing solution for WooCommerce that lets you manage both physical and virtual events. It lets you sell tickets on your WordPress site for Zoom meetings and webinars and securely link them to your Zoom account. You can use it for standalone events as well as recurring ones. To host webinars, you need to have a Zoom plan with video webinar add-on. 
Let's see the steps.
First, you need to create a WooCommerce product as event from the FooEvents settings.
Then, you need to log into the Zoom marketplace and build an app generating a Zoom API Key and a Secret code.
Copy the API Key and API Secret code.
Paste the values into the corresponding boxes in the Zoom Meetings and Webinars section in the FooEvents Settings page.
Activate the app.
Create and schedule events on Zoom.
Then create Edit the WooCommerce product that you have setup as an event and navigate to the Integrations tab. Please note, you need to make sure that the attendee's first name, last name and email address are captured at checkout.
Finally, link your event to one of your scheduled meetings/webinars by selecting it from the drop-down. This is how you can create and manage a virtual event on your site.
LMS plugins
Learning Management System (LMS) plugins are the best way to manage online courses in WordPress. They will help you manage online courses as a business model. Here we will introduce you to some of the most popular WordPress LMS plugins.
LearnDash is one of the best WordPress LMS plugins that you can use to create a variety of courses. It offers a great virtual learning environment for your learners with its Focus Mode. The drag and drop interface helps you a lot in creating and organizing courses into different modules. Some of the other features offered by this plugin include content dripping, dynamic forums, advanced quizzing, course points, certificates, etc.
Moreover, the plugin offers excellent options to monetize and manage your course content. You can also use it along with any WordPress theme without the requirement of any coding work. Furthermore, it supports multisite network as well.
This is another powerful solution to help you create advanced online training programs. It will help you develop efficient courses irrespective of your WordPress knowledge level.
Here is a quick look at some of the features of LifterLMS:
Drag and drop interface to make innovative course material in quick time.
Create a flexible pricing model according to your unique strategy.
Great learner engagement with assignments, quizzes, gamification and more.
Superior content protection with features like drip content, personalized student dashboards, course access rules and more.
Integrate a large number of tools that will help to improve the functionality of your learning system.
There are several other interesting LMS plugins that you can use to create elaborate course materials. Refer to the following articles to get a better understanding of WordPress LMS plugins:
Email tools
When you are getting into virtual classroom mode, email marketing tools can help a lot in spreading the word. If you already have an email marketing solution integrated on your site or eCommerce store, you can use it to inform potential audience about your new initiative.
The following articles will provide you some interesting email marketing options for WordPress and WooCommerce.
A summary of different approaches to create virtual classroom using WordPress
As you have seen, you will be able to adopt several approaches to create a virtual classroom using WordPress. Depending on your business model and topics you intend to cover, you can use several different solutions. Here is a summary of how you can manage it using different approaches.
Use default WordPress features – You can create multimedia tutorials as WordPress posts or pages, and categorize them into different categories. WordPress offers different options to restrict the content by user roles or by setting password protection.
Integrate tools for live sessions – With the help of video conferencing tools you can create live training sessions. Moreover, there are plugins to help you display meeting links on your WordPress pages and posts.
Use LMS plugins – One of the most common methods to create training programs will be to use WordPress LMS plugins. There are quite a lot of options that will provide you with extensive options to create courses, monetize and manage them effectively.
Integrate video tutorials and podcasts – Another option is to integrate video tutorials and podcasts to your WordPress sites. If your business model was based on in-person services, in certain cases, videos and podcasts could be a temporary solution.
Setting up a helpdesk to answer the queries of participants
If you are transitioning from in-person training to virtual training, users will have queries on different aspects. How will you answer them promptly and guide users so that they can access your event or classroom without hassles? We will discuss two additional plugins that you can use to help your participants.
You can use this plugin to create a knowledge base for your website. It will help you create how-to articles and a list of frequently asked questions. This will enable your participants to find answers to their queries on their own. Furthermore, the plugin lets you customize the appearance and layout of the knowledge base with predefined themes and multiple levels of hierarchy.
Another great option would be to maintain a helpdesk, where you can answer queries directly. WSSDesk WordPress Helpdesk plugin helps you offer great support with advanced features. It displays a support form, which the participants can use to raise support tickets. It helps you manage unlimited support tickets and agents, and helps you redirect tickets  to specific departments. WSDesk offers advanced triggers and conditions to help you automate the workflow of your customer service team.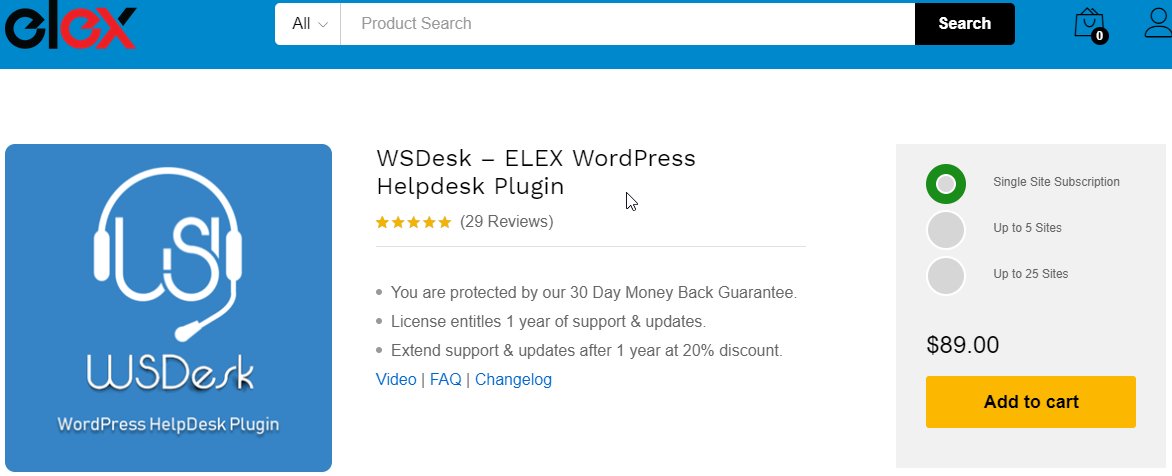 Moreover, you can integrate it with the knowledge base plugin to suggest relevant knowledge base articles for common queries automatically from the support form itself. 
Hopefully, this article has offered a glimpse into the process of creating a virtual classroom using WordPress. Leave us a comment if you want to share an insight.
Check the video below:
Further reading