Last updated - December 5, 2022
Creating a website is not a tough process as it used to be. With open source content management systems like WordPress, the process of creating a website has become much more simpler and cost effective. You don't need to hire a team of web developers and designers anymore to get a website up and running. Instead, you can make a thorough analysis of your requirements and set it up from scratch. In this article, we will discuss how to make a WordPress website from an absolute beginners perspective.
Analyze your requirements
You might need to create a website for a multitude of reasons. It is important to carefully consider your website goals before getting into the process. Are you creating a blog or a business website? Or do you want to set up an online store and make profits? There are diverse options to use a website and it is totally up to you to decide how you want to go about it. So, it is important that you have some clarity at the start itself on what you want to achieve from your website. This will give you better direction in the creation and evolution of your website.
Is WordPress the best option to create a website?
In the early days, websites were created by developers by writing codes from scratch. However, with several website builders available, it has become much more simpler. You can simply choose one and start configuring the site.
Pros and cons of some of the popular website builders.
WordPress is one of the most popular options to create a website from scratch. In fact, there are two options when you try to make a website – WordPress.com and WordPress.org.
Difference between WordPress.com and WordPress.org.
Compared to some of the other options, WordPress is widely preferred as a website builder. Some of the standout features that make WordPress a preferred choice include it being open source, free, easy to customize, secure, mobile and SEO friendly, etc.
Understand the major reasons why WordPress is considered as the best option to make a website.
Step-by-step process of creating your website
Now, let us take a more detailed look at the steps you need to take to create a website.
Choosing a domain name and registering it
One of the first things that you need to take care when it comes to creating a website is choosing a domain name. This is a highly subjective aspect of web development as it is a personal and professional choice at the same time. You can be creative here as long as you are not losing out on the business objective.
How to choose a domain name?
Choosing a domain name can thus be an interesting creative process, which can blended with some professional insights. Let us look at a few aspects to consider when you look out for a domain name for your website.
Simplicity can help
While choosing a domain name, one of the major criteria for a lot of people is to make it easy to recollect. You want your users to remember the name and type it out to visit your website next time. Choosing a name that is short, easy to remember and easy to type is thus a good idea.
According to some statistical data, short domain names are relatively more capable to drive in traffic. A common suggestion is to go for a name with 6 to 14 characters. However, there is a chance that a lot of the short domain names are already taken, and hence you may find them really expensive. You can still make up something short and sweet by creatively mixing words.
Make it easy to brand
Brand recognition is one of the major factors that determine the success of your business. So, when you choose a domain name, you have to make it easy to recognize easily as a brand. Simply choosing a generic domain name corresponding to the industry you are in won't help much. For example, if you compare 'healthtips' and 'livestrong' as domain names, you can easily recognize the brand factor in the latter.
Basically, a unique and brandable domain name will stay in the minds of your users. Whereas, an unimaginative and generic username can just lose out due to the apparent lack of appeal. One of options that experts advise is to invent catchy, short words that are easy to recollect. You can even use a thesaurus to find existing words that relates well to your area of business. There are also several interesting domain name generators, which we will discuss a little later in the article.
Choose .com extension.
Even though there are several domain extensions available, ".com" is still the most popular. Over 40% of all domain names in the internet has .com extension according to Domain Name Stat data. This doesn't mean that opting for a .net or .org extension is never an option. There are several websites that became successful with these domain name extensions. Still, it is a sensible move to opt for .com extension.
Consider including keywords
If you are able to do it creatively, including relevant keywords in the domain name can help with the SEO perspective. However, this has to be done carefully, as it can create the problem wit generic keywords that we discussed above. According to experts, if you are including keywords in your domain name, it is better to keep them at the start of the name rather than at the end.
Check for trademark registrations
When choosing a domain name, it is important to ensure that it is not already taken. Similarly, it is best to avoid a certain name if it is already registered under trademark laws. Most domain name generators will give you a clear idea if a particular domain name is available or not. You can use tools like knowem or justia to ensure if they are not already registered.
Use domain name generators
You can use a domain name generator to create the most suitable domain name for your website. A domain name generator will help you find a domain name based on the keywords you provide. It will also check the availability of a particular domain name and gives you a set of options to choose from. If what you are looking for is not available, it will also suggest alternate options to help you find a suitable one. Once you choose a domain name, most domain name generators will direct you to the next step of domain registration as well.
Popular domain name generators
Domain Wheel offers you great help inn deciding on a domain name. It uses artificial intelligence to suggest available names based on your input. They also give suggestions of short, brandable names that have better chances of becoming popular. Domain Wheel will also redirect you to domain registration options as well.
This one gives great domain name options based on the keywords that you input on the search field. Nameboy has a solid knowledge base that will provide you insights on website management as well.
You will get a lot of filtering options to sort out from domain name search results when you are using this tool. This can help you choose an apt name after considering different possibilities.
Registering a domain name
Once you choose a suitable domain name for your website, you need to register it. There are domain registrars with whom you can register the domain for a period of one or two years. To use a domain for long term, you need to keep on updating the domain registration when it expires.
Popular domain name registrars
There are several popular domain name registrars that you can check out.
Domain.com is one of the top options to register a domain for your website. You can access the website and simply enter the domain that you are looking for. You will be able to see all the available options and the price for it. If the domain is available with .com extension, it will be automatically added to the cart. You can make the payment and register the domain for a period of time from one year to 5 years. If you want to also include privacy and protection, there will be some additional charges.
In addition, domain.com offers several add-ons, which you can consider for your website. These include a business email from G Suite, hosting service, Comodo SSL certificates and SiteLock security plan. If you are looking for any of the add-on options, you can choose the along with your domain name. Complete the payment and claim ownership of the domain for a period of time.
GoDaddy is another option to register your domain name. You can search for your domain idea and view a list of available options. You can filter the domain name results by parameters like extension, character length, price, location, etc. GoDaddy also offers WordPress hosting, business email, security, etc.

NameCheap is another option to register a domain name for individuals, small businesses and enterprises. It is quite easy to register a new domain, or transfer your existing domain using Namecheap. You can also find affordable hosting services on the Namecheap site. Their managed WordPress hosting services are growing in popularity owing to the reliability factor.

Choosing a hosting service provider
The next important step in creating a website is choosing a hosting provider. Since WordPress is a self-hosted content management system, you will have to choose a hosting service provider for your website. Thankfully, there are several options when it comes to hosting service providers and it is a matter of choosing the best one for your website.
How to choose the best hosting service for your WordPress site?
Now, since the available options are several, you will have to thoroughly analyze your requirements and accordingly make a choice. Let us look at a few parameters that you need to consider before choosing a hosting service provider.
Consider your technical capability and traffic estimates
Before choosing a hosting service, you need to evaluate your requirements and capability. If you don't want to get into the intricacies of managing your website, it is sensible to go for managed WordPress hosting. This will give you a lot of piece of mind if you are new to the WordPress ecosystem.
Similarly, you need to make an honest estimate of your traffic expectation. If you are expecting only minimal traffic, a hosting service with limited bandwidth will work for you. However, if you are expecting traffic surges and sudden growth in user base, it is better to opt for a dedicated or even a cloud-based server.
Choose the service based on the nature of your site
You can create any kind of site using WordPress. For example, it can be a blog, business site, eCommerce store or portfolio site. There are different hosting services with a separate feature set to help you build a specific kind of site. It is important to have an idea early on so that you can pick the most suitable one.
Features offered
All the hosting service providers that you consider will have a large set of features that they advertise. It is essential to know that you may not need all these features. Instead, you should be able to understand what they offer and discern what is useful to you. Some of the features you need to look into before choosing an option are as follows:
Storage – You need to consider the availability of storage space with your hosting plan and the hardware used.
Bandwidth – Bandwidth refers to the data transfer capability when a user tries to access your site. Generally, most hosting service providers offer significantly more bandwidth than required for small websites. However, during traffic surges, a higher bandwidth option can help a lot in holding your site together.
Domain – A lot of hosting service providers offer free domain registration when you opt for one of their plans. See if you need to avail this or a free migration option.
Reliability – Continuous uptime is an essential requirement to build the trust of your users. It is important to opt for a hosting service that offers the best in this regard.
Support – You need quick support from your host in case of problems like security breaches. You need to find out if the hosting service offers dependable support before choosing one.
Pricing
Naturally, the price will be a concern when you compare hosting services. However, it doesn't mean that you should choose the cheapest option for your website. Consider all the above options before and choose the most economical service that offers you the best combination of features. There are chances that a free or cheap hosting service provider is not offering the best in terms of support and security. Still, you may find good shared hosting options that offer a wide range of features when you are starting out.
Find more tips to choose the best hosting service provider for eCommerce
Best hosting service providers for WordPress
Here is a look at some of the recommended hosting service providers for WordPress websites.
Bluehost offers one of the best managed WordPress hosting services. You will be able to manage almost all aspects of your website from the dashboard. It also offers a ton of security features including SSL, scheduled backups, malware detection and removal, etc. All their plans include unlimited domains, subdomains and storage. Also, their are no traffic limits, which enables you to grow your audience base at your own pace. Bluehost service also offers a staging site, which lets you test your website and make modifications before going live.
With superior infrastructure and a marketing-friendly dashboard, this is one of the best managed WordPress hosting services available in the market. Pricing starts from $19.95 per month.
DreamHost offers several options for managed WordPress hosting. You will find options helping your website to be extremely fast consistently. These plans come with built-in caching, free site migration and extra protection with staging and backups. If you want to migrate your site from another service provider, the free migration option can be extremely helpful. Also, since it is a manged service, you will get help in installing and updating WordPress, security features and optimizing performance. Moreover, you will get 24/7 service from an expert team as well.
SiteGround offers several plans suitable for growing WordPress sites. They offer automated WordPress installation and configuration to help you set up your website in a matter of minutes. There is also a free plugin that will help you migrate your website from another hosting service easily. SiteGround also offers server and application level security features to help protect your website from external threats. In addition, they provide several features to optimize site performance including caching, CDN, image optimization, PHP version control, etc.
Kinsta offers one of the most popular managed WordPress hosting services. It is fast and secure, and offers features like daily backups. Since they offer a reliable service with constant monitoring and easy scaling options, you can solely focusing on developing your business rather than the technical aspects. Overall, managing your website using Kinsta will be exceptionally easy even for a beginner thanks to its user-friendly design. Moreover, you will find proactive support from a bunch of experts as well.
Installing WordPress
Once you set up your hosting service and registered a domain name, you can install and set up WordPress. A lot of popular hosting services offer an automatic installation of WordPress by default. However, for some reason, if you have to manually install WordPress, it is not exceptionally complex.
Here is an overview of steps that are involved in the installation of WordPress.
Download and extract the WordPress package.
Create a database and username for your WordPress website.
Upload the files to the web server.
Start the installation script.
Find step-by-step instructions to install WordPress (with video)
Setting up your WordPress site – basic settings
Once you have installed WordPress, you need to set up the basic aspects of your site. You can access the WordPress admin panel to configure your site. The login credentials you have set up during the installation step will help you login as the site administrator.
When the site is set up for the first time, one of the default WordPress themes will be activated. This theme is defining the appearance of your site at the moment. We are discussing how to change the theme by installing a new one a little later in the article.
Dashboard
The first page that you see when you log in to WordPress backend is the Dashboard. Here you can see recent activities on your site. On the left side, you will see a set of menus that will help you manage various administrative functions on your site. The available menu options are as follows.
Posts
Media
Pages
Comments
Appearance
Plugins
Users
Tools
Settings
Managing users
One of the first administrative aspects you need to know about WordPress will be to manage users. On the navigation panel, you can click the users menu. You will see the administrator when you first login. Here you can create more user profiles (click the Add New button) and assign them different user roles to them.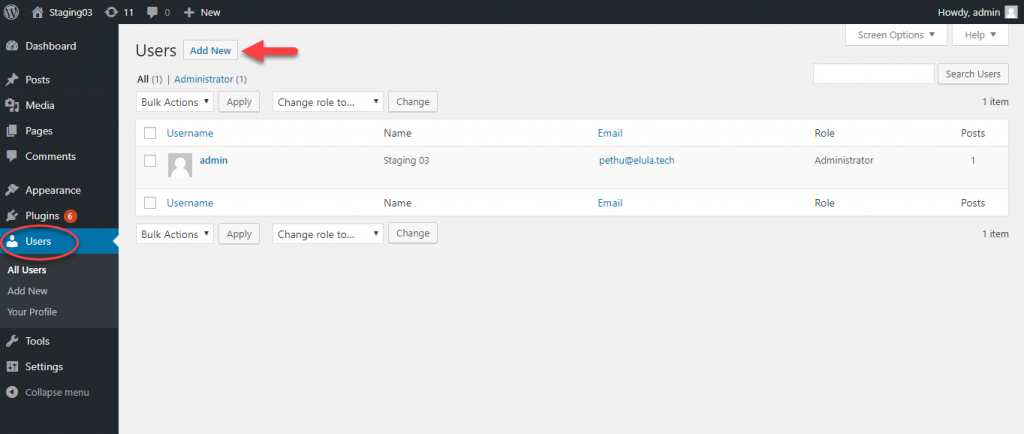 Learn more about the capabilities of different user roles.
Appearance
You can change the look and feel of your site on this section. You can install a new theme, modify theme properties, update menu, add widgets, etc. in this section.
Posts and Pages
These sections handle posts and pages respectively. You can create new pages and posts from their specific sections. Both posts and pages are ways to create content on WordPress. The fundamental difference is that posts are time bound, when pages are not. A WordPress post will have a publishing date, while the page won't have any such detail. A blog article that you create will be a post, and other content like an About or Contact us will be on a page, which has no time stamp.
Under the posts section, you can create and assign categories and tags to your content to organize it better.
Comments
When you publish a post on your WordPress site, you can allow your users to let you know their opinions. On the comments section, you can moderate the comments by users. You can Approve, Reply, Edit, Spam or Trash comments as needed.
By default, comments will be enabled on your posts. You can disable comments (Settings > Discussion), if needed. On individual posts, there is an option to choose whether to allow comments, which will override the global settings.
Choosing a theme
Once you install and set up WordPress, you need to design the look and feel of the website. Now, when it comes to WordPress themes, there are numerous choices available. For a beginner, it can be quite overwhelming to choose the best one. Here are a few tips to help you choose the best theme for your website.
Consider the type of site you are building
The type of site that you are intending to make defines the theme you need to choose. For example, the design approach for an eCommerce site will be drastically different from a personal blog. You will find a large number of WordPress themes for every kind of websites. That way, you will be able to choose a specialist theme for your website. However, you really don't have to worry about making a wrong choice here, since there are quite a large number of multipurpose themes. Popular multipurpose themes are quite versatile and you will be able to make a great looking site irrespective of what kind it is.
Customization options
The main aspect of WordPress themes is that you can extensively customize them to make your site look the way you want it. There are two approaches to this. One is the expert's way, where you can make code-level customization to the theme. However, if you are a beginner, you might not want to follow this approach. For a beginner, an easily manageable theme panel should be the way to go. So, you need to check if the theme comes with an easily manageable theme panel and options.
Responsiveness and performance
You cannot compromise on responsiveness at all. In the current digital landscape, if you have a website that is not mobile friendly, then you are losing out a significant share of audience. So, you need to make sure that the WordPress theme that you choose is responsive.
Similarly, another aspect you need to consider is the performance aspect. You might find a theme loaded with features, but if it makes your site sluggish, the whole point is lost. Experts advise to run the theme demo through a speed test to get a basic idea on its performance. When you have clarity on your website and domain, it is sensible to go for a specialized option rather than a versatile theme that does a lot of things you don't need.
Check reviews and testimonials by other users
You have to check the reviews and other user opinions around a theme to understand it better. Often, you can find another user who has similar interests as yours. And, depending on that person's experience, you can very well evaluate the suitability of a theme. Also, by going through reviews, you can understand how efficient the support is for a theme.
While looking for a WordPress theme, you will find free as well as premium options. You can choose either based on your requirement. For personal blogs and low traffic sites, a free theme might suffice, when business sites and online stores will need premium ones with advanced features.
TemplateToaster
TemplateToaster provides stunning pre-designed templates with trendy designs. There are hundreds of Major CMS Template design like WordPress, Joomla, Drupal, and eCommerce templates for OpenCart, VirtueMart, Magento. All the themes are fully responsive and easy to customize. TemplateToaster Website Builder lets you create your own website within minutes. You can download the TemplateToaster Website Builder and easily manage the design aspects of your site.
TemplateToaster WordPress Theme Builder is designed to be used for creating professional themes and websites in minutes. This website builder is compatible with all the third party plugins, Isn't it awesome!
Popular themes
Here are some of the all-time popular WordPress themes you can consider for your site:
Avada is one of the all-time favorites among WordPress themes. It is a multipurpose theme that can be used to create a lot of different websites. It comes with over 60 design elements and offers one-click demo import to help you get started instantly. Basically, you can manage the design of your website easily using this theme even if you are not a coding expert. When you purchase the theme, you will also get access to some of the premium plugins including Slider Revolution, Advanced Custom Fields Pro, etc. You can expect the best aftersale service from the development team of this theme. The price of a regular license is $60.
Divi is another hugely popular theme in the WordPress ecosystem. It gives you great page builder options to comfortably design your site's appearance. The superior visual editor is extremely convenient for advanced users as well as newcomers. Divi offers great scope for customization with over 40 design elements and numerous pre-built demos. You will be able to easily personalize your website with several interesting backgrounds, colors and effects. Divi also offers 24/7 premium support with all licenses. Pricing starts from $89.
If you are starting out with an eCommerce store on your WordPress site, Storefront is one of the simplest options to choose. It is intuitive, flexible and will seamlessly blend with your WooCommerce store. Moreover, you can download it for free and personalize your site with several interesting child themes. You can also purchase a toolkit for Storefront at $69. It includes tools like Storefront Powerpack, Storefront Parallax Hero, Storefront Product Hero, Storefront Mega Menus, Storefront Blog Customizer, etc.
OceanWP is one of the WordPress themes that are rapidly growing in popularity. You can download it for free and use it to create a range of websites. It offers easy demo import option, which you can manage in a single click. The theme is fully responsive and ensure great performance with superior page loading speed. It also offers a range of design elements and is compatible with popular page builders.
This is a modern theme that offers a very welcoming design language with focus on user experience. It has diverse design elements to help you personalize your website without much hassles. Moreover, it is compatible with popular page builders such as Elementor. The SEO-friendly theme is compatible with WooCommerce and ensures great site performance.
Now let's take a quick look at some of the basic settings on the WordPress admin panel.
Installing and setting up a theme
You can install a WordPress theme pretty comfortably on your site. You can go to the Appearance section and add a new theme or change the existing one. Once a new theme is active, you can personalize it and make changes by clicking the Customize button. A lot of themes offer live preview while editing, so that you are sure about the changes that you make.
Once the theme is installed, you can customize it from the theme panel. Most premium themes will have pre-built demos that you can install in a single click. This way you will have a structure to work with. You can easily make further customization according to your requirements.
You can also check out the below articles to understand more about installing and setting up a theme:
Plugins
As you probably know, plugins are one of the essential and exciting components of the WordPress ecosystem. WordPress as a tool is lightweight and comes with essential features for content management. Now, depending on your needs, you can install plugins to extend features and functionality. There are numerous plugins available in the WordPress ecosystem, to help you with any feature you can think of.
Installing plugins
You can install a plugin just like how you installed a theme. Got to the plugins section and click the Add New button, and search for the plugin you are looking for. Or, you can click the Upload Plugin button to install an already downloaded plugin.
Once you install a plugin, you need to activate it to make it functional on your website. For each plugin, there will be a separate set of options that you may need to configure. You can find the basic steps of managing plugins on WordPress from the articles mentioned below:
In the WordPress ecosystem, you will find different plugins that will help you extend your WordPress site for several desired functionality. If you want to create an eCommerce store, you can manage it by using the free plugin, WooCommerce. You can install and configure the plugin, and then set it up like any other WordPress plugins.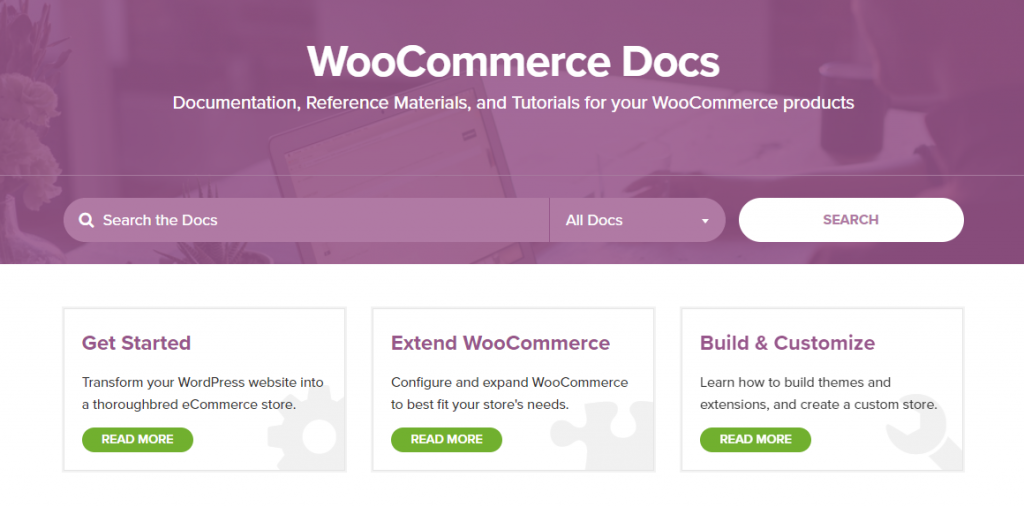 The basic steps of configuring and managing a WooCommerce site are detailed in the article mentioned below:
How to create an online store from scratch using WordPress?
Security
One of the challenges you may face while managing your WordPress site will be the security. Even though WordPress is a reasonably safe platform, attackers and hackers regularly target WordPress sites. When you are learning how to make a WordPress website, it is sensible to understand the basic security risks and how you can overcome them. Jetpack is a popular security tool that you can rely on.
Here is a bunch of articles that will help you protect your website from attacks:
SEO
Another important aspect that you need to focus on will be search engine optimization. When you have a website, you have to ensure that it reaches the right audience. This is managed through search engines who will display your content in their results page. You need to optimize your content to make it easier for search engine bots to find it. Fundamentally, this is what you call search engine optimization. Yoast is one of the most popular choices that you can rely on to manage your WordPress site's SEO.
You can find a lot of insights on handling WordPress SEO from the below mentioned articles:
WordPress Maintenance Services
WordPress enables you to create a website on your own, even if you are not an expert in coding or technology. If you have created a personal blog or website, you can easily maintain the site with some help from tutorials and WP forum discussions. However, if you have full-fledged business running on the WordPress site, the maintenance needs can be more crucial and urgent. In such a scenario, you may need to rely on a dependable maintenance service provider for some quick help.
There are several companies that offer short term and long term WordPress maintenance services. When you start out, it is a good idea to keep in mind the names of a few companies that will help you with WordPress maintenance services. The articles mentioned below will help you find reliable maintenance services in case you need help:
Setting up the website is only the beginning
So you got an overview on how to make a WordPress website. However, there is a lot more you can do from this point depending on the specific goals you may have with the site. According to the nature of your site, you need to market it so that it reaches the target audience effectively. You might need a set of analytics tools as well as marketing strategies to get it all going. Thankfully, the WordPress ecosystem is rife with several efficient tools to help you in this regard.
Here are a few more articles you can refer to during your journey with your WordPress website: