Last updated - March 31, 2023
Subscription models are widely preferred by consumers owing to its regularity and simplicity. For store owners, it improves the scope of their business model, with the assuring prospect of recurring income. Subscription models are everywhere with diverse products and services, ranging from books to SaaS, being offered to paying customers. It might be an appealing prospect to start a subscription business on your WooCommerce store. However, you might face several practical hassles when you actually try this out. In this article, we will look into some strategies that will help you overcome the challenges of a subscription model. When using WooCommerce Subscriptions plugin, you should be able to maximize your customer satisfaction and profitability by following these tips. Before starting, you can familiarize yourself with the WooCommerce subscription model here.
Advantages of the subscription model
Before getting into the details of enhancing your subscription business, let us take a quick look at the obvious advantages.
Recurring revenue gives you more stability
When you start with an online store, one of the toughest aspects that you have to deal with is the uncertainty. Not knowing the next source of income can become a worry that borders anxiety. The prospect of recurring revenue from a subscription business can surely find you a respite. Several payment gateways offer automated recurring payments, which ensures prompt payment from your customers. When you have a steady income, you can focus better on growing your business and the brand more effectively. More importantly, you can be really creative with what you offer and build a solid customer base. Find tips to improve customer retention here.
Customer retention becomes easier
In the subscription business model, your customers are getting into a contract with your business for a relatively longer period of time. This would give you better scope to know them better. That means, you can design products or product bundles that would be more appreciated by your consumer base. In fact, this would help you create a virtuous cycle of customer satisfaction and business growth. In fact, as a result of this business model, you will be able to invest more time and resources in improving customer experience. Read our article to find out more tips on improving customer experience on your WooCommerce store.
Better marketing strategies
Knowing your customers better means you can devise marketing strategies in a more targeted fashion. With the subscription business model, you will have better access to user behaviors and specific interests. Accordingly, you can align your marketing strategies and find better returns on investment. Up selling and cross selling become easier, as you have better insights on your customers' shopping patterns. Similarly, you can display testimonials of some of your loyal customers to gain more attention. If you are looking to improve your marketing efforts, here is an article that features a few WooCommerce marketing tools.
Best WooCommerce Subscriptions Plugins
Here are some of the best WooCommerce Subscriptions plugins:
As we have seen, subscriptions provide recurring revenue. This WooCommerce Subscription extension helps you create and manage subscription products in your store. You can assure yourself a steady, regular income and simultaneously create better customer experiences. With this plugin, you can create multiple subscriptions for products (physical and downloadable) and services. You can create weekly, monthly or annual subscriptions based on the specific requirements of your customers. You will be able to set up subscription expiry dates, offer trial periods and charge sign-up fees.
With the WooCommerce Subscriptions extension, you can set different billing periods for the renewal of subscriptions. The available choices for billing period are daily, weekly, monthly, and annually. For each of these periods, you can set an interval of one to six. That is you can set a fortnightly subscription by setting up payment on every 2nd week. Or a quarterly one with payment on every 3rd month.
Payment gateways play a crucial role in subscriptions
The payment gateways that you choose has a lot of significance in the smooth functioning of this plugin. Take a look at this documentation to understand how different payment gateways affect the capabilities of the subscription extension of WooCommerce. The plugin allows automatic payments with over 25 payment gateways, while manual payment is allowed for all payment gateways.
Sometimes, if your subscriber's credit card is off limits, the payment can fail. This plugin facilitates the automatic re-billing of such failed transactions. The plugin also has elaborate settings to help customers switch between different subscription plans. Whenever a payment is processed, the subscriber and store owner will get notifications. This way there is no scope for any confusion about payments. To get an overview of all your subscriptions, you can rely on the detailed reports of this plugin.
WooCommerce subscriptions extension is really feature-rich
For any subscription product that you add, you can set up an initial signup fee or a free trial period. Account management is available in store owner and subscriber levels, so there is some sort of sharing of control. Things such as adding a product or fees to the subscription, changing the trial period, modifying payment amounts, etc are in the control of store owners. At the same time, customers can cancel a subscription, or switch between two different plans.
You can create a subscription product with any product type available in WooCommerce. Similar to variable products, you can create variable subscriptions using this extension. This will give your customers an option to choose the type of the subscription that is suitable for them. Customers will also have an option to choose multiple subscription products. The plugin also provides coupons with discount options on the product price, recurring payment, or signup fees.
When you have multiple subscriptions available in your store, you may want to set a specific date to initiate the shipping process. But your customers may not sign up on these exact dates. So you have to account for the difference. The plugin allows two options to deal with this situation – "renewal synchronization" and "prorating". Renewal synchronization allows you to choose a specific date to renew subscriptions. Once you set a specific date for subscription renewal, you can prorate the first payment of a subscriber. With prorating, you can calculate the number of days the customer is subscribed to in the current billing period. The plugin calculates the daily amount of subscription and multiplies it by the number of days in that billing period and charges the customer accordingly.
Installation and Configuration
Thought its features seem quite complex, the extension is pretty straightforward to set up and use. You need to purchase it first. Once you install, it will add a settings tab under WooCommerce > Settings. You can configure the general settings of the plugin here. Creating a subscription product is quite easy as the process is very similar to how you add products in WooCommerce. The extension will add two more fields in product drop-down as 'Simple subscription' and 'variable subscription'. The major difference can be seen only in the general settings tab where you set the pricing, billing period and other terms of the subscription such as a sign-up fee or free trial.
There are three options to purchase this plugin on the WooCommerce site: $199 for Single Site, $249 for 5-site and $349 for 25-site. The purchase comes with one year of updates and dedicated support.
With YITH WooCommerce Subscription extension, you can create any type of subscription product from magazines to vegetables to educational courses. The advantage is that this one is available for free download in the WordPress plugin directory. Of course, the advanced features may be lacking, but the free version will help you feature subscriptions on your store. With this plugin enabled, you will have a regular income and a firm grip on your business growth.
You can create unlimited subscriptions for physical products, downloadable products, and services with the help of this plugin. You can set a renewal period of 'daily' or 'monthly' for the subscriptions. The maximum time limit that you can set with this plugin is two years. Your customers will have the option to cancel the subscriptions from their PayPal account.
The plugin is quite easy to install and set up. Once you install and activate the plugin, you can access it from the WordPress admin panel (YITH Plugins > Subscription). Under the Settings tab, you will find the checkbox to enable the plugin.
Under the Subscriptions tab, you will find a list of all the subscriptions.
Creating a new subscription product is also simple. The new product page editor will have an additional checkbox for 'Subscription product'. Once you tick this, two more options are displayed to specify the billing period.
In terms of features and functionality, this plugin is quite limited. You will be able to get advanced features if you opt for the premium version.
YayMail is a WordPress plugin to help you fully customize WooCommerce subscriptions email notifications.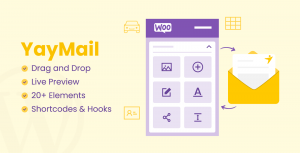 Most WooCommerce subscription plugins come with built-in automatic email transactional and reminder email templates. However, they only allow you to change header, footer text, and base colours. That's where YayMail comes in to help expand the customizability.
YayMail currently supports customizing all email templates created by these WooCommerce subscription extensions:
YITH WooCommerce Subscription (by Yithemes)
WooCommerce Subscriptions (by WooCommerce)
SUMO Subscriptions (by FantasticPlugins)
After installing and activating YayMail, please go to WordPress dashboard > WooCommerce menu > Email Customizer to access the email editor.
How does it work?
It adds a collapsible sidebar and one-page editor to let you design your email and preview it in a single window. You can drag and drop all basic, WooCommerce, and advanced elements to your email notifications and build a bespoke subscription email system.
Great features of YayMail including:
Clone email block or full template to retain your brand consistency
Import/export customized emails to use on multiple sites
Send test email to see the outcomes in real life on different devices
Tons of shortcodes to display concrete info in email greetings and content
Free version available for you to get a grip on how to design WooCommerce email blocks
Check out YayMail free email customizer to see how flexible it is to customize email content, layouts and styles with drag and drop interface.
Recurpay is a SaaS-based subscription solution that you can easily integrate with your WooCommerce store. It will enble you to engage and retain customers more effectively with several options to create tailor-made subscriptions. With features like automatic recurring payments and mixed checkout, Recurpay ensures the best experience for your customers all the time. It even offers an option for customers to start a subscriptions by scanning a QR code. Moreover, you can easily integrate Recurpay with your eCommerce platform. You can sign up for free to get started.
Features
Create and manage subscriptions effectively on your store.
Offers automatic payments without repeated checkout hassles.
Let customers checkout with subscription products and regular products in one cart.
Offer trail options before confirming the subscription.
Multiple notification options such as email, WhatsApp, SMS, etc.
Comprehensive analytics reports.
Dedicated customer support.
Compared to the free version, this one has better features. One glaring difference is that you can create subscriptions to variable products too with this plugin. This means your customers will have more options to choose from. The plugin also has an option to pause a subscription, so that you can make it active again at a suitable time.
Two important features this plugin have are the options to add a sign-up fee and a free trial for your subscriptions. With this plugin, you can also allow your customers to complete missed payments without hassles. You can provide customers with more options like switching to a different subscription plan or cancel the subscription from the 'My Account' page. Also, you can send notifications to customers whenever the terms of a subscription are changed.
Other features of the plugin includes automatic suspension of subscription (in case of repeated payment failures), YITH Memberships support, WPML support, etc.
The plugin is available for purchase in three different options – single site for $102, up to 6 sites for $149, and up to 30 sites for $249. The license includes one year of support and updates.
Another popular solution to handle subscriptions on your WooCommerce store is Subscriptio. It helps you set up diverse subscriptions on your site with the convenience of recurring payments. You can create simple and variable subscriptions with this plugin, and easily configure subscription terms, free trials, upfront charges, etc. Also, it offers options to send reminders and warnings to customers, when payment is due or if they have missed payment altogether.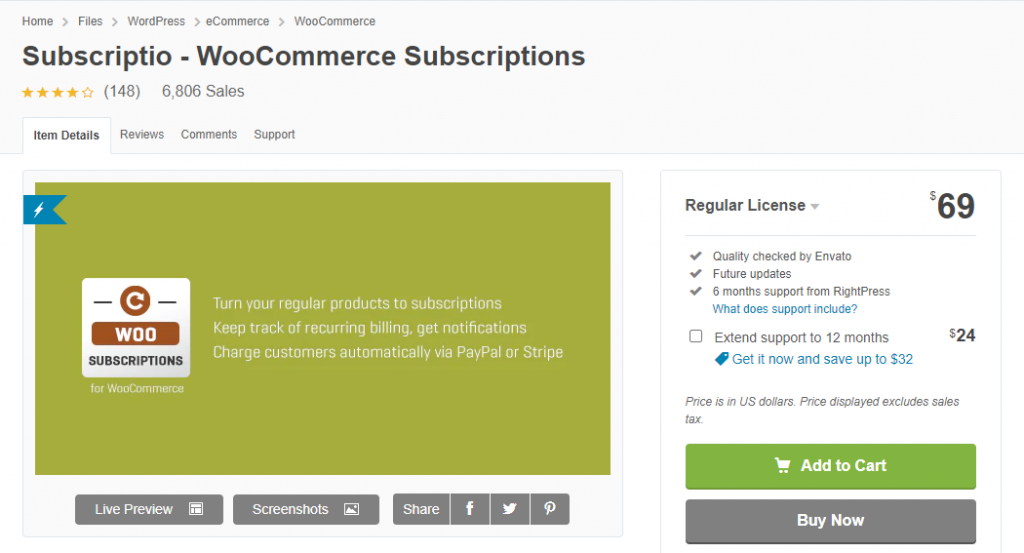 The Subscriptio plugin offers the flexibility to customers as well as shop owners to pause, resume and cancel subscriptions. More importantly, it gives control to store owners, who can decide to not provide these options to customers. Store owners can also define the length of billing cycles and the maximum length of the subscriptions. Also, you can define the length of the trial period according to your store strategy.
Customers will be able to purchase other WooCommerce products along with subscription products in a single order. The plugin is pretty easy to use even for those store owners who does not have advanced coding knowledge. And, for developers out there, there are ample options to customize the plugin with several filters and hooks. A regular license of the plugin would cost you $69.
Subscription for WooCommerce plugin easily helps you create any kind of subscriptions to your WooCommerce store. You can easily create simple and variable subscriptions for physical or downloadable products on your store.
Creating a subscription product is very simple with the plugin. Once you have installed and activated the plugin, you can see two additional options for creating a simple subscription and variable subscription in the product data panel. You can select either of them to make a product a subscription product. Next, you can set the subscription period and length, free trial, sign up fee, etc. The plugin can also be configured to send email notifications for every subscription status.
The plugin also lets you synchronize the dates of the subscription products to the selected day of the month. So if a product's subscription is synchronized to the 1st day of the month, the subscription will be renewed for the customer on every first day of the month, regardless the date they are subscribed at.
Not just the simple and variable subscriptions, the plugin also enables creating subscription box model, in which customers can subscribe to a collection of related products that can be subscribed together. For this, you have to create the subscription products to be added to the subscription box and create a grouped product that includes the subscription products.
Payment methods are crucial if you want to implement a subscription model. Subscriptions for WooCommerce is compatible with multiple payment gateway plugins that enable recurring payments. And the plugin also allows the customers to change the payment method of an active subscription.
When the subscription products are created, the products will be visible to the users along with the other products in the shop.
Deftly offer subscription-based products & services to customers on your WooCommerce store for simple and variable products. Receive repeated payments from your WooCommerce subscription orders. Get recurring revenue with a complete subscription plan management.

Features
Allows admins to enable or disable subscription plan
Customers can start, pause or cancel their subscription plan anytime
Admins can set automatic retry subscription on failed attempts
Offers the option to accept manual payment for subscription
Enables admins to send email reminders for subscription plan expiry
Admins can permit users to upgrade/downgrade variable subscription plans
Admins can allow proration on sign-up fees for upgrading/downgrading variable subscription plan
Customers can add multiple quantities of a subscription product while purchasing a subscription plan
Admins can create exclusive subscription coupons for customers
Customers can get unlimited subscriptions to products or services.
The cost of a one-site plan of the plugin is $99.
SUMO Subscriptions is another comprehensive option to help you create and sell subscriptions on your WooCommerce store. It helps you create simple, variable and grouped product subscriptions on your store. You can let users select the duration for the subscription and the number of renewals for order subscriptions. The plugin also lets customers purchase subscriptions and non subscription products in a single checkout. You can set up a fee for signups or trials according to your store strategy. Also you will find several payment gateways incorporated with the plugin to support automatic subscription renewal. This plugin is highly customizable and supports translation.
Features
Create subscription products on your WooCommerce store.

Supports simple, variable and grouped products.

Allow customers to choose subscription duration and renewal cycle in the Checkout page.

Works seamlessly with all themes that support WooCommerce.

Automatic subscription renewal with multiple payment gateways.

Option for trial and signup fee.

Option for store admins to manually create subscriptions from the backend.

Email reminders.
The Regular License of the plugin costs $49.
An intuitive WooCommerce plugin that allows you to sell online products or create memberships in simple steps. Provide your customers with recurring payment options before joining your membership. Manage and configure payment with PayPal and restrict access to custom posts.
Features
Online support is available for each and every buyer.

Access documents and support forums related to technical issues.

Integrate global payment system PayPal for setting up a payment option.

Provide multiple subscription options for customers to choose from.
Watch this video if you are interested in adding subscription-based products using WooCommerce.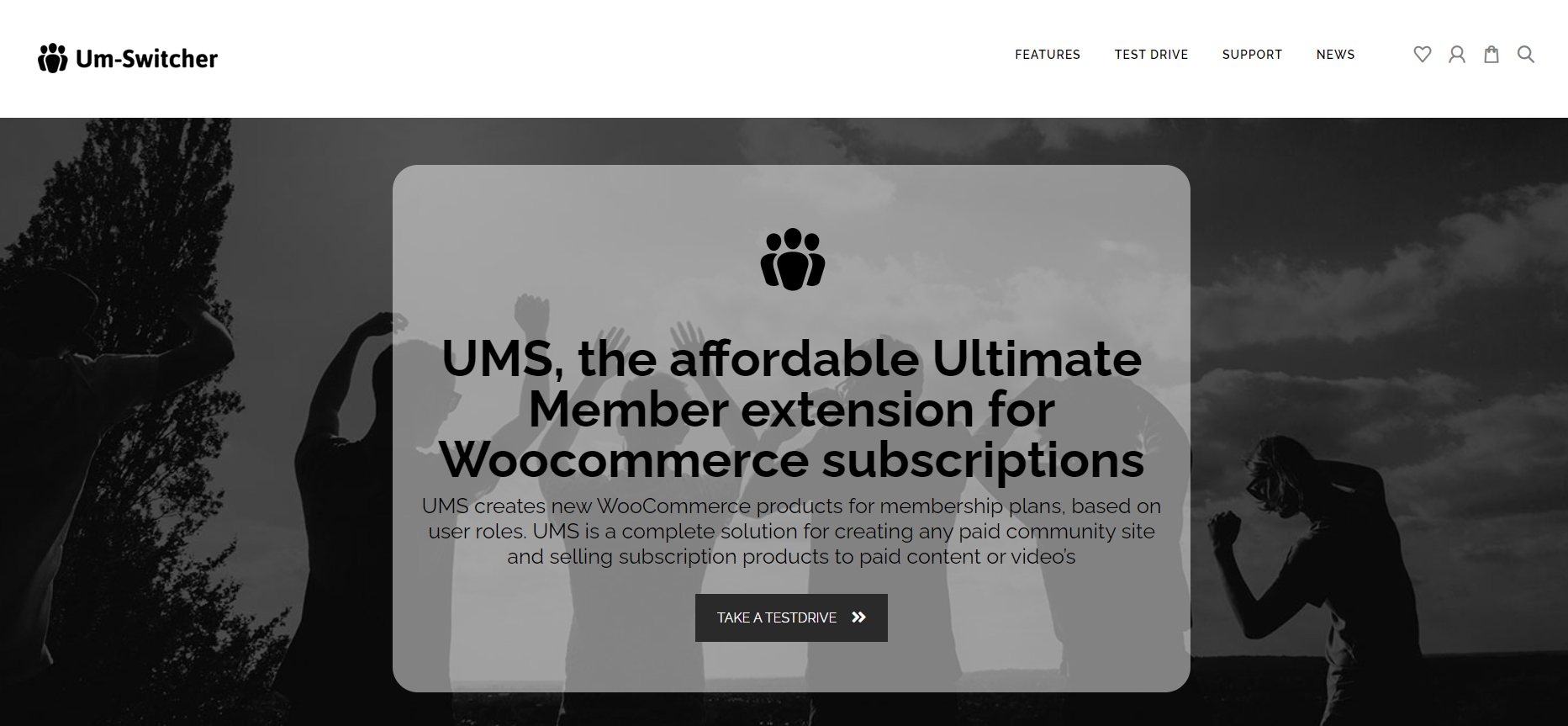 If you are looking for an intuitive plugin to create a membership or community-based website then UM-Switcher is a dynamic solution. It allows you to create job sites, freelancer-based networks, consulting services, video or portfolio-based websites, etc.
Features
Create and upload subscription-based products with a flexible schedule.

Allows you to send email reminders and optimize marketing the tool to improve re-subscriptions.

Restrict and manage subscription-based pages, posts, menus, custom fields, etc.

Customize manual subscriptions for start and end dates.
To use this plugin on your online store you need to install the Ultimate Member plugin and WooCommerce plugin.
This plugin is a perfect solution for WooCommerce recurring payment or subscription-based services. You can easily manage your subscriptions for both online and offline stores. This free plugin allows integration for OTT platforms, gym or fitness services, online courses, or any other recurring service.
Features
Create a convenient yet effective subscription-based revenue service for any assigned period.

Give free trial products or services for subscription-based products.

Set free trial duration and configure frequency.

Allow customization and cancellation of WooCommerce subscriptions.

Access subscription reports through the admin section.

Cancel or modify the subscription plan via admin or the user.
This plugin supports major payment-based plugins for WooCommerce watch this video to learn how to integrate a Stripe payment gateway on your site.
How to start with WooCommerce Subscriptions?
One of the best options out there to get your subscriptions model up and running is to use Woo Subscriptions. It helps you offer subscriptions on your store, and manage them efficiently with the help of recurring payments. You can create suscriptions out of any product type – physical, downloadable or virtual. If you are not familiar with different WooCommerce product types, take a look at our article.
It offers multiple billing schedules, which you can set up based on your convenience. Also, you will get the option to provide automatic payment options from several payment providers that offer this feature. And manual payment option is available for any payment provider that you choose. There is also an option that allows automatic re-billing of failed transactions, which makes it convenient for both customers and store owners. With the subscription plugin, you can offer your customers a lot of freedom to manage their subscriptions. They can upgrade or downgrade a plan from their account page, without any involvement of the store owner.
Sometimes, automatic subscription renewals can cause confusion when there is no clear recollection of the renewal dates. The plugin handles this problem well with automated renewal notifications to customers and store owners. It also has a decent set of reporting features that helps you stay on top of your subscription business model. The single site subscription of this plugin is $199. The 5-site subscription is $249, and the 25-site subscription is $399.
Starting a subscription plan with WooCommerce Subscriptions plugin
It is pretty simple to get started with this plugin. Once you have WooCommerce installed on your site, you can purchase the Subscriptions plugin from the WooCommerce marketplace. Install and activate the plugin just like you would do with any other WordPress plugin.
Now, you can create a new product. If you don't know how to create a product in WooCommerce, this article will help. In the product type drop-down, you will find more two additional options – single and variable subscriptions. You can choose one of these options for your subscription product. If you wish to offer multiple subscription packages, which customers can choose, variable subscriptions is the way to go. If you have only one subscription plan, single subscription will do.
For a variable subscription, you can create attributes and use them to create different variations. The process is similar to the process of creating a variable product in WooCommerce. However, you can set up a sign up fee along with the recurring subscription charges here. You can also set up an appropriate payment option for the subscription product, and then publish it. Your customers will be able to purchase subscriptions from the front-end of your site.
Download Woo Subscriptions now!
Different models of WooCommerce Subscriptions business
Subscription business models, in fact, reduce your expenditure to retain customers. As a result, many WooCommerce store owners are looking to figure out the best way to establish one on their site. However, you may have to understand the difference between subscription models to utilize it in the best possible way. Here are a few of the most effective subscriptions business models for WooCommerce store owners.
Recurring orders of consumable products
There is a high possibility that customers would sign up for a subscription plan for things that they regularly purchase. It actually offers them a sort of freedom when the weekly or monthly routine of purchasing the same products is taken care of. Many customers prefer this as it also offers apparent monetary benefits along with the convenience. In fact, this is not something new as you might've seen the traditional subscriptions model with newspapers and magazines. The only difference in the current digital commerce world is that a lot of other products has fallen under the umbrella of subscriptions. Starting from daily essentials, customers are subscribing to all kind of products including groceries, grooming products, and other household staples.
When offered with a chance of personalization, this subscription model is great for store owners as they are assured of repeated purchases, increased revenue, and greater margins. Moreover, it also provides greater convenience for customers along with increased savings.
Curated products following a theme
This is another popular subscription model thanks to the overwhelming popularity and convenience of eCommerce platforms such as WooCommerce. Here, you will curate a set of products based on the personal preference of your customers. The products that fall under this category include coffees, wines, beauty products, grooming products, toys and the like. This is because these products are sort of daily essentials, and at the same time, they define the lifestyle of users. You will find the immense scope of personalization in a curated set of products. Customers are not necessarily subscribing to the same products, but to a class or category of products. Based on customers' unique interests and feedback, you can change the set of products subtly.
Savings are not the main motivation for subscribers of this model, but the scope of discovering something unique and interesting. You would be definitely delighting wine connoisseurs if you are adding a new product every now and then to their subscription set. From a shop owner's perspective, this tremendously increases the scope for marketing. You can easily get a set of trusted customers to try out your latest products and gather feedback. This scenario leads us to the next subscription model – samples.
Product Samples Subscription
In this model, customers regularly receive a set of product samples. The essence here is to create as much variety as possible. You are more interested in the customer feedback for each of the samples to align your marketing targets. One of the best examples of successful product sample subscriptions is Birchbox, a beauty products store. Basically, they send a set of four to five samples of cosmetic products to subscribers. The advantage for Birchbox is that the customers would purchase the full-size version of products they like.
Bargain subscriptions
ShoeDazzle actually validated this subscription model when they started out in 2009. Here, subscribers purchase a set of products from your store at a bargain price on a monthly basis. And they can always choose to skip the purchase before a specified date every month. The biggest attraction here for the customers is that every month you offer them a showroom personally curated using their likes and dislikes. The trick is to make each customer feel unique and special.
You can think of any of these subscription models to come up with your unique strategy. WooCommerce has a great variety of options to help you set up a subscriptions business.
Best approaches to creating a successful WooCommerce Subscriptions model
There is no one way to successfully build a business model. However, when you follow some of the tried and tested strategies, you can walk into success more assuredly. Here is a compilation of best practices suggested by industry leaders.
Decide on a suitable pricing
When you are thinking about a subscriptions model for your WooCommerce store, one of your primary concerns would be how to price it. Basically, it depends on how you are envisioning it. You need to be clear about the specific object you are venturing into it for. It may be to acquire new customers or to enhance the order value of your existing customers. WooCommerce dynamic pricing strategies might give you some insights in this regard.
If you want to create a pricing strategy based on the varied functionalities or usage levels of your products, you can do that. Subscriptions of many software products and SaaS solutions follow this pattern.
In addition, you can set your pricing for a variety of objectives. These may include discounts for bulk purchases, rewards for a long-term commitment, or even incentives based on the time of usage. You can acquire customers to your subscription gradually by offering free trials, freemium options, early bird offers, etc.
Invest in a multi-channel solution for customer acquisition
You need to really focus on Customer acquisition when setting up a subscriptions business. This is especially relevant as more customers are relying on mobile devices to do their online shopping. If your site is not optimized to offer a seamless experience from all devices, you might lose out on potential business. Thankfully, WooCommerce has a range of responsive themes to make sure your site can handle subscriptions without hassles.
Professional billing and invoicing
You need to accurately bill your customers and provide professional invoices irrespective of your business model or eCommerce platform. You can read on a few benefits of online invoicing here, along with some of the best solutions. When compared to a traditional billing system, the whole process gets a bit complicated with subscriptions. This is because it involves several levels of new customer joining the plan, prorating accounts, difference in billing dates, etc. Your subscriptions solution should be able to handle all these different scenarios. Thankfully, WooCommerce has solutions like this one to handle all the intricacies of the subscriptions model.
Billing also has a great scope in the branding perspective. If you are not including creative and thoughtful branding elements on your invoices, you are losing out on great marketing opportunities. However, there are great solutions in WooCommerce to customize your invoices and other documents for regular products. You need to ensure the same guidelines are followed for subscriptions too.
Payment systems and automated recurring billing
Another important aspect of a subscription business model is how you are collecting the payment. Automatic recurring billing is one of the most hassle-free ways of handling this. However, not all payment gateways support this method. Read this documentation to understand how WooCommerce subscriptions extension integrates with different payment gateways. The basic idea is to collect cash fast and enhance your revenue and margins.
Furthermore, payment gateways are dependent on the geographical location they operate as well. You need to take this into account too when you decide on a payment gateway for your subscriptions business. If you are targeting international customers, you need to understand which all payment gateways work in these specific areas. Accordingly, you can develop a process that includes your entire subscriber range. Check WooCommerce Stripe, a great global payment option that supports over 25 countries.
Focus on nurturing customer relationships
Customer relationship management plays a vital role in the subscription business. This is because the major scope of business growth lies in the existing customer base. A study has pointed out that the revenue of most of the companies from new customers is only around 15%. That proves the importance of maintaining customer relationships in a professional manner. Maintaining a professional support system is vital to keep your customers satisfied perpetually. In subscription business, there might be a range of common customer queries regarding renewals, upgrades, suspensions etc. Advanced features like live chat are also a common expectation of customers these days.
Investing in a professional customer relationship management tool is another requirement while managing a subscription business. Fortunately, if you have a store running on WooCommerce, there is no dearth of good customer relationship management solutions.
Managing accounts
As it does to most other store functionalities, the subscription model essentially complicates your accounting process too. With numerous transactions of varied kinds, bookkeeping and managing revenue become a tough deal for most store owners. Again, WooCommerce offers a great solution for this aspect too. For example, you can try out the WooCommerce Zapier integration to handle the whole thing without trouble.
In addition, if tax compliance also worries you, check out this article for a great solution.
Find suitable analytics solutions
In the current scenario, product updates are done on a regular basis. The whole process of evolution of a product gets quite meaningful if you have the right analytics tool. With the subscription model, the measurable metrics get really extensive. Parameters like Annual Recurring Revenue (ARR), Growth Efficiency Index, Customer Retention Rate, etc becomes much more relevant. Moreover, with all the customer engagement strategies, you are generating abundant data on a daily basis. You need to get great visibility to continuously monitor all these parameters to facilitate product evolution.
Welcome change
One of the outcomes of eCommerce becoming more accessible to everyone is increased competition. More players are coming into every possible field in WooCommerce. As a result, your ability to change has become one the essential components of business success. Particularly for a subscription model, you need to be really flexible, to welcome change as the market evolves. Everything from pricing structure to customer acquisition strategies might need an overhaul based on emerging trends.
Be ready to scale
A natural outcome of good business efforts would be the opportunity to scale. When the time comes, you should be able to grab it wholeheartedly. You need to invest in the right infrastructure from the start to manage to scale. For a WooCommerce store owner, getting the best hosting plan is one of the most important factors in this regard. If you want to know more about how hosting influences your store, you can find some insights here.
How to improve your subscription business model?
As you have seen above, it is pretty straightforward to set up a subscription model with the help of WooCommerce subscriptions plugin. Now, let us look at some of the strategies you can try out to improve this further.
Understand your target audience and customer acquisition channels
Knowing your target audience is an important aspect in the subscription model too. Everything from pricing plans to subscription packages needs to be based on the tastes of the audience you are targeting. You will find a few insights here on identifying the target audience for your online store. Once you have a clear view on your target audience, you can even design your site's user interface around it. This would help to make it more inviting for your target audience to engage and trust your site.
Trying out different channels to acquire customers is another useful strategy you can try. Just like multi-channel retail, your subscribers should be able to sign up from the channels they prefer. This can be through your website, one of the social media channels or when they complete the purchase of certain products that are linked to a subscription. After a careful analysis of the business model, you can probably pick a few channels that you are going to focus consistently. In addition, you need to ensure that the customers find it simple to sign up through any of these channels. A consistent user experience across all acquisition channels would ensure better brand perception as well.
Try different pricing strategies
How you price your subscription plans makes a big difference in the growth rate of your subscription business. It has impact in acquiring new customers as well as retaining your existing ones. You might have to create layers of pricing based on different customer bases that you are targeting. Just a single pricing plan wouldn't suffice when you are targeting different demographics and psychographics. Having a tailor made plan for each of the target groups would bring in more returns. For example, a particular target audience might prefer a monthly renewal option, while another prefers annual. This can be quite apparent when you do an analysis of your customers' spending patterns. So, if you are targeting two different groups with such a diverse spending pattern, it might be wise to offer both annual and monthly options.
If you have other products too on your store, you can also try offering subscription plans at discounted rates based on purchase patterns. Your most loyal customers or the ones with the highest lifetime value can be rewarded with a reduced price, if feasible. Similarly, waving off sign up fees in special cases too can be a good strategy when you start out. If you are not sure of an ideal pricing pattern, you can always experiment with several before zeroing in on a few ideal ones.
Develop better customer relationships
Managing customer relationships is of utmost importance in a subscription model. You need to consistently offer a great service to your existing customers for a subscription business to flourish. That is because a considerable share of your revenue will be coming from existing customers. Also, it is important to get renewals, add-on purchases, upgrades, etc. from your existing subscribers. Without a careful focus on building great customer relationships, you cannot sustain a subscription business. Make sure to build a support team that your customers can bank on.
Choose good payment and shipping options
The payment service provider that you choose is an important factor for subscriptions. One of the main concerns here is whether you are offering choices that your customers prefer. Here is an article that will help you choose the right payment method. Basically, you need to make sure your are giving the payment options preferred by your target audiences.
Similarly, the fulfillment options need to be well thought of too. You need to optimize the delivery options according to the convenience of your customers. For example, some products need to be replenished on a monthly basis for some while some may prefer it weekly. Finding the right way to do this through customer feedback would give you an advantage in satisfying your customers.
Choosing the right shipping carrier too makes a difference to your subscription model. Make sure you are choosing a reliable partner for your shipping needs. You might find quite a few shipping plugins here and here.
Measure with the correct parameters
You need to make good use of analytics tools to make full use of subscription business model. Parameters like annual recurring revenue, retention rate, growth rate, etc. are especially important in a subscription model. These will give you a generalized idea on where the gaps are and where you are managing well.
Also, you might need to focus more specifically on individual customers to understand the user perspective. Customer acquisition cost and lifetime value too are important parameters in this regard. It will give you a better vision on specific strategies you can try out. You can read more on eCommerce specific analytics tips here.
Advantages of using WooCommerce subscription plugins
When you are in the eCommerce business, you will know some of the obvious advantages of using the subscription model. Let's look into some of these in more detail.
The cushion of a recurring income
An eCommerce business poses a lot of challenges in terms of the unpredictability of income. Some days you will see your sales graphs hitting the roof, and on other days it might be crawling on the floor. You really can't plan ahead the progress and diversification of your business. A sort of helplessness begins to creep in, gradually demotivating you. You can change such a scenario quite drastically by introducing the subscription model to your business.
You can have a combination of normal products and subscription products on your store. The assurance of revenue by the few subscription products will definitely give you the cushion that you are looking for to expand your business. When you already know there is a certain income coming in at regular intervals, you can peacefully plan for new products or marketing initiatives. It will give you a perspective regarding the strengths of your store and will provide you with confidence to embrace new challenges.
Endless possibilities to create a subscription plan
When you consider introducing a subscription model, the possibilities are practically endless. You can add a little bit of imagination to your knowledge of your products and customers, and a great subscription model is in your hands! No need to limit it to the periodic delivery of a physical product or the yearly license update of a software product. You can create a subscription that you know your customer would love, with any product types and delivery plans.
For example, if you sell bath products, you can create a kit with a few products that your customers use together, and create multiple subscription plans. This way you will be able to accommodate customers of varying requirements and purchase power. Your customers would love the fact that they don't have to set reminders to refill their bathroom cabinets. And if you include a surprise sampler packet of a new product once in a while, your customers will be doubly happy. Without much effort, some marketing too has been done for your new product.
Great options to market your products
With the subscription model, you really enhance the power to cross-sell and up-sell. Your subscribers are already bound to you by a sense of trust because you are consistently providing them with something they need. This effectively increases your power of persuasion too. And it decreases your investment in marketing and sales initiatives.
You can do this in two ways – a cross sell or an up sell. A cross sell is when you suggest a related product along with product they already bought. For example, a conditioner along with a shampoo. An up sell would be to persuade the customer to buy more quantity or volume of the same product. For example, to buy a larger-sized packet of the same shampoo.
Flexibility to create subscription plans
Your customers' requirement of products can vary to a multitude of levels. In the subscription model, you can create multiple levels suiting to different purchasing styles and budget estimates. The advantage of WooCommerce subscription model here is that you can leave the task of picking up a subscription plan to customers. As a result, customers would feel to be in control and they can plan a subscription according to their financial status and necessities.
For example, a family of five may need the kit of bathing products every week. Similarly, a family of three would prefer to have those delivered to them every two weeks. You can make subscription plans to take into account both these requirements. This way you can cater to multiple strata of customers with a suitable plan. You will see the long term prospects of your store increasing and your customer base would become bigger and happier.
Exceptional customer experience
Subscription model encourages mutual trust and long term commitment. The emotional attachment that your customers feel towards your business will translate into loyalty and good will. Continuous good experiences with your store would make your customers increasingly interested on your store. Chances of loyal customers recommending your store to friends and family are also more. Your loyal customers would become reliable assets for your company in due time.
When you have subscribers on your store, offering rewards is more fulfilling and financially viable. You can offer subscriber-only discount offers, or special treats more readily. The effect of such offers would be more personal with your regular customers than occassional visitors on your site. Overall, the customer delight that the WooCommerce subscription model offers is unmatched.
Watch the video for these subscription-based products for WooCommerce.
Conclusion
Subscriptions are a great way to increase revenue from your online store. The fact that it provides a cushion of recurring income from your store is appealing. This would mean you can use your revenue more comfortably in building the business . Moreover, the subscription business model offers better scope to understand your customers. This enables you to create more customer friendly products and product bundles. WooCommerce Subscriptions plugin is one of the best available options you can try to offer subscriptions on your store. With a careful focus on your target audience and by maintaining good customer relationships, you can easily create a great subscription model. Please leave a comment, if you wish to share your success story with the WooCommerce Subscriptions plugin.
Related Video
Further reading