Last updated - July 8, 2021
Yoast SEO for WordPress is one the best content optimization plugin for WordPress. This SEO plugin can boost your site's traffic better than any other WordPress SEO plugin. Yoast SEO 7.1 is available in WordPress.org as a free plugin and can be installed automatically. You can install it manually by downloading Yoast For WordPress Free and then uploading it the unzipped file to the seo directory in your WordPress Dashboard.
How to Install Yoast SEO 7.1?
Automatic Installation
To install Yoast SEO automatically, Go to your Website dashboard and, GO to Plugins> Add New> Search for 'Yoast SEO'> Find Yoast and click on Install Now. Once it is installed, Activate it.
Manual Installation
To install it manually, download Yoast SEO Free from its website or WordPress.
Upload the wordpress-seo folder to the /wp-content/plugins/directory
Activate the Yoast SEO plugin through the 'Plugins' menu in WordPress
Finally, Go to "after activation"

Setting Up Yoast SEO 7.1
The Set-Up panel of Yoast SEO has changed quite a lot in the latest version of the plugin. You can see the Yoast SEO on your WordPress Dashboard. The screenshot on the side shows the options available for the configuring the plugin.
The General Settings
To start setting up click on SEO with the Yoast logo. This takes you to General Settings page, which contains 3 tabs namely:
Dashboard | Feature | Webmaster Tools
First, let's jump to the First-time SEO configuration wizard. Configuration should not be confused with the complete SEO setup. It is just a minor checkpoint which ensures that you touch most of the important settings. Thus, you should ensure that you are choosing the right option for better performance of the plugin. This consists of 12 simple steps in which the next follows when you click on next. This is not a one-time configuration. You can configure it n number of times. The wizard contains:
Welcome Note
This gives you two options choosing which you can configure the plugin. One you can do it yourself or You can let Yoast Set it up for you. We'll configure ourselves as of now.  But when you choose to take Configuration Services from Yoast, you get the Premium Yoast SEO with a personalized configuration service.
Environment
Here you choose if your site is still under construction and you don't want to index it now. Or you can choose to mark your site live and index it with Google.
Site type
Choose if your site is a blogging site, an online store, a corporation, a portfolio or something else.
Company or Person
You can choose if you are a person or a company. This is used in Google's Knowledge Graph Card, the big block of information you see on the right side of the search results.
If you are a company you get the option to put your company's name and logo.
Social Profile
In this section, you can add most of your social media handle by filling up the blanks with the respective URLs
Search Engine Visibility
Here you can select if you want to show your posts, pages, donation forms, products in any search results. So if you select Yes for your product, product page will appear when people search for that keyword on Google.
Multiple Authors
If you are going to have multiple authors for your website select 'Yes'.
Google Search Console
In order to optimize your website, you need to integrate your website, Yoast SEO and Google together. What you have to do is Enter Your Google Authorization code in the box provided. You can obtain your google authorization code here.
Title Setting
Here you can change the name fo your website and chose a separator. The separator appears between your post title and the site name.
Newsletter
You can sign up for Yoast SEO Newsteller to keep yourself up-to-date with Yoast SEO, other plugins by Yoast and latest happenings in the worlds of SEO by.
You Might Like
Here you'll find quite helpful Video tutorials by Yoast
Sucess!
Once you are done, you'll get a message of successful completion of the configuration.
Features
Next up in the General Settings we have Features of the best SEO plugin for WordPress.
We'll discuss these features in details in the next installment of this article. For now, most of these features here are available in the pages you edit. You can either enable or disable them from here. The screenshot shows few of them. As I am an author, the Advanced Settings button is missing.
I don't know if you noticed, but the third option says Cornerstone Content.
Cornerstone Content: These are the content which are the most important for your website. When you assign any content to be a Cornerstone Content, Google will give that particular content the utmost importance. Thus helping your most important content rank better
Webmaster's Tools
The third option in General Settings, we have Webmaster tools.  It asks for your search engine verification code. This is required as this will allow the plugin to communicate with the search engine. It also helps you to check the site and allows the plugin to detect malware if any. You can get them if you haven't it yet by following the links below.

Search Appearance
'Search Appearance' houses settings related to how your homepage or your content is going to look in a google search. The way your website's content appears is based on the XML Sitemap you submit to Google. This submission becomes efficient becomes easy with Yoast SEO. While you set up the Search Appearance here, you actually check through all the components of your website.  The section includes:
General | Content Types | Media | Taxonomies | Archives | Breadcrumbs | RSS
General

With this option, you can easily change the homepage title and its meta description from within the SEO plugin.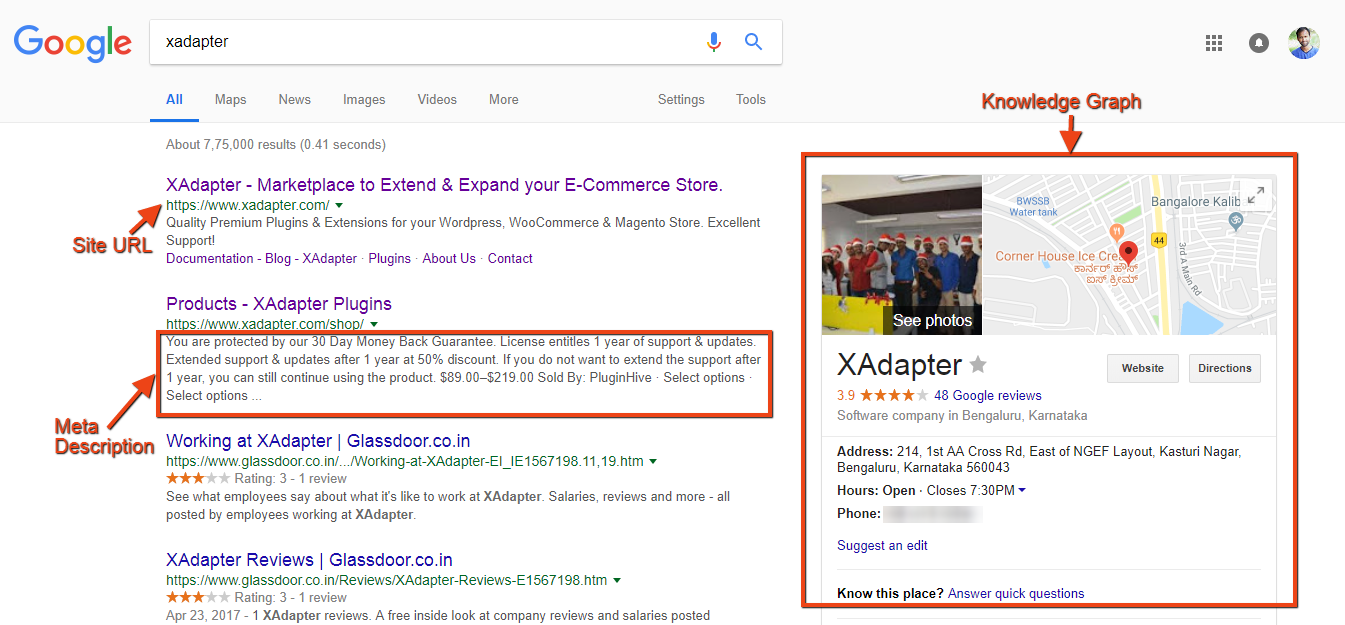 As discussed earlier, knowledge graph appears on the right side of any search page. If you are a person, you can enter your name and if you are a company you can include the company name with the logo from the settings page.
Content Types
You can choose if you want to show your contents in the Google search or not. Apart from that, you get to set templates for the title and meta description. This is available for your Posts, Pages, Donation forms, Products, and Custom Post Type Archives. You will be able to:
Set a template for the post, page, forms, products and archive's titles
Assign a Meta description template for all of them
Choose if you want to show Dates in Snippet Preview
Show or hide Yoast SEO Meta Box
Not showing any of your contents in the search results technically means those will have a noindex robots meta and will be excluded from XML sitemaps.
Media
Since in WordPress, any image added to your website is converted to an URL, Yoast provides you an option where you choose if you want to redirect the media attachment URL to the media itself. Since the media URL stores no relevant information, you can choose to redirect it to the attachment itself.
When you upload media (an image or video for example) to WordPress, it doesn't just save the media, it creates an attachment URL for it. These attachment pages are quite empty: they contain the media item and maybe a title if you entered one. Because of that, if you never use these attachment URLs, it's better to disable them, and redirect them to the media item itself.
If you have relevant information and wish to show Media in search results, you can enable the option. With this, you get options like adding a
Title
Meta Description
Date in Preview Snippets, and
Yoast SEO Meta Box for the media files too
Taxonomies
Taxonomies deal with broader sections of your website content. You can either choose to show these in google search or choose to exclude them from XML sitemaps. The red boxes in the screenshot below show options that you can enable for indexing by Google. You also get to add a title template and a meta description template for each of these.
Archives
The section is really helpful in curbing Duplicate Content Problem. Your site might be in a threat to be banned by Google due to duplicate content. To stop that from happening, you can redirect one content to the other or add noindex,follow to it so that it does not appear in search results. Find greater insights on various redirects in this article on WooCommerce Redirects and Plugins.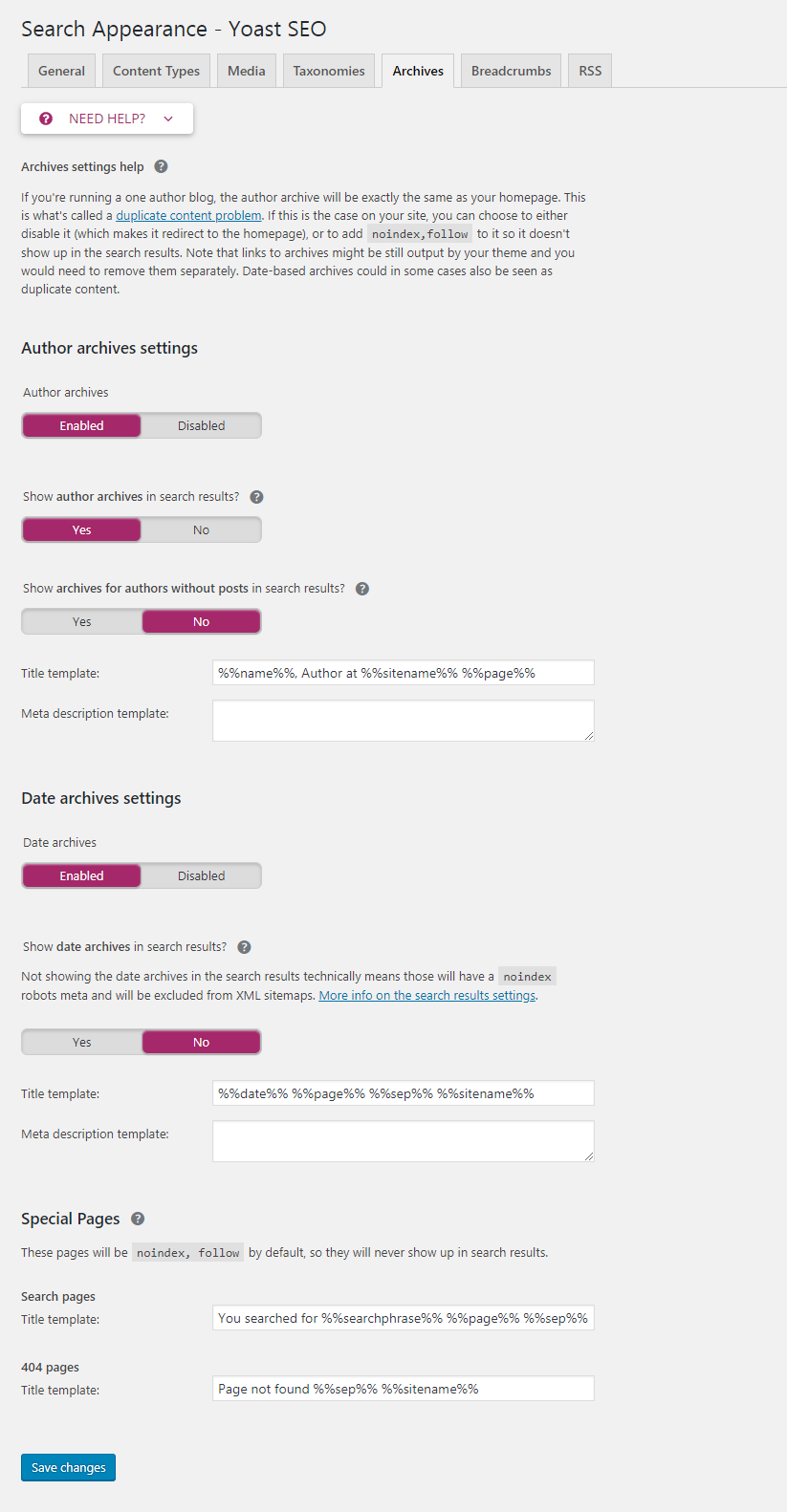 Main Features in Archive are:
Archive Author
You can choose if an author archive appears in search results
Setting Template Title and Meta Description for archive pages and posts
Date archive
Special Pages
Breadcrumbs
What did Hansel do while he and Gretel were in the woods? Yes, he dropped pieces of bread so that they could find their way back home. The concept of tracking your present locations and getting back to the home page is, therefore termed Breadcrumbs. For instance, to reach to the breadcrumbs settings page you need to follow: WordPress Dashboard> SEO> Search Apperance> Breadcrumbs.
Once you enable Breadcrumbs, Google will show the entire path of the particular post, page, any form or the product. But for its successful implementation, you are required to have a structured data.
RSS
You can add a default content that will appear in your RSS feed here. You also get an option to add a content to appear at the end of each post. In addition to this, you get few helpful variables that you can add to the RSS feed settings.
Search Console
To allow Yoast SEO to use Google Search Console Information, you can enter your Google Authentication Code here. To get that, click on Get Google Authentication Code, you will be asked to allow access to your Google Search Console. Once you allow access, you will receive the Authentication Code that has to be pasted in the box given in the plugin.
Social
As the name suggests, add all your social media handle to Yoast SEO here. Needless to mention, we have seen a similar setting during the configuration wizard setup. The section here is further sub-divided into:
Accounts | Facebook | Twitter | Pinterest | Google+
In Accounts, you can add the URL of all important social account of your company or your own individual account.
Further, you can customize the preview of the post you share with a link to your website. You get to add an Image, Title, and a Description. Apart from this, you can add a default image for posts which don't contain any image.
Thus you get one of the easiest ways to optimize your posts on the mentioned social media.

Tools
This is one of the most important sections in the plugin. This enables you to:
Import Setting from other plugins and export it to reuse
Edit important SEO files like robot.txt and .htaccess
Bulk edit the title and the meta description of contents
Count the number of URL's in your text
Here is a break down of available settings.
Import and Export | File Editor | Bulk Editor | Text Link Counter
Import and Export

Import Settings: If you have a saved SEO setting, you can import the settings from here.
Export Settings: Similarly if you want the settings from this Yoast to be applied to a different website, you can export a CVS file of the settings from here.
Import From Other SEO Plugins: Or you can import settings and data from your previous SEO plugin.

File Editor
robot.txt

The robot.txt file are root files that indicates the part of the site you don't want to be accessed by search engine crawlers.

.htaccess

The .htaccess is a distributed configuration file, and is how Apache handles configuration changes on a per-directory basis. WordPress uses this file to manipulate how Apache serves files from its root directory, and sub directories thereof.
So with Yoast SEO, you can directly edit or add robot.txt and stop indexing of desired pages any time from the plugin itself. Further, you can also edit the contents of your existing .htaccess.
The section allows you to bulk edit the Title and the Meta Description of each page, post, and product from within Yoast SEO.
Text link counter allows you to count the links in all of your text content. Once you click on the button 'count links in your texts', you basically recount the number of links.
Premium
You can click on the Premium option to get the Yoast SEO Premium for $89.00.
You can choose to move to Yoast SEO Premium based on this official difference table.
Wrapping Up
When we talk about WordPress SEO tools, Yoast SEO 7.1 is definitely the best SEO plugin for WordPress. SEO settings for the contents of your page determine your visibility on search engines. And Yoast SEO setup is one of the easiest to carry out. Apart from this, WordPress SEO tools like robot.txt and .htaccess can be directly edited using this SEO plugin.
I would also focus on the need for various factors like keywords, word count, backlinks etc that helps you rank high in Google. And Yoast SEO 7.1 provides you a skeleton, which is strong, but you have to add muscles and skin in form of proper research and writing so that your content achieve 100% Search Engine Optimization.
Check out the video below:

Further reading