The last few years have seen an exponential growth of m-commerce, the mobile e-commerce. By the end of last year, we witnessed over 50% of all traffic on the internet come from mobile devices. This article is focusing on how to build a mobile app for your WooCommerce store.
A study has also shown that about 25% of all eCommerce transactions occur on mobile devices, which amounts to $488 billion. This is expected to grow up to 44% by 2024.
These are only a few of the indicators that clearly show that the market for mobile apps is here to take over the eCommerce website market. More and more people today are switching to mobile devices for online shopping, providing them easy access and faster transactions.
The state of mobile apps for online businesses
While WordPress and WooCommerce have made it very easy for anyone to build an eCommerce website and launch their retail business online, building and launching a mobile application has always been a huge task for small businesses due to the number of dependencies involved. 
Until now, if any business wanted to create a mobile app, they required a heavy investment of time and money into hiring a team of app developers or engaging with freelancers. 
Some other investments include infrastructure costs, developer accounts, and similar dependencies, time is taken for development, post-launch technical support, and more.
This is the primary reason why only big players could dominate in the mobile app market  and small businesses struggled.
What are WooCommerce app builders?
App builders are software or SAAS products that help businesses build and launch mobile apps for their brands with great ease. They generally don't require any technical knowledge
And WooCommerce app builders are such products that specialize in converting WooCommerce websites into mobile apps.
Now app builders have been part of the ecosystem for quite some time now but never saw the major limelight due to a few reasons.
There are two main reasons for that, the difficult app building process including the lack of customizations and low quality of mobile app builds.
However, AppMySite WooCommerce App Builder has made it very simple for anyone to build premium mobile apps that too for a fraction of the investment required otherwise.
While AppMySite offers multiple benefits over its counterparts, the ones that make it stand out from the rest are native app builds and instant app delivery. Native apps are premium quality and offer a matchless experience to shoppers.
How to build WooCommerce mobile apps with AppMySite?
Building a mobile app with AppMySite is segmented into 3 major steps. These are divided into the following modules:
Appearance

Connectivity

Settings
Once you've designed and built your app, you can preview your app on your mobile device, test all its features and functions, for free. After reviewing your app, you can go ahead and download the app build that can be published on the relevant app stores.
Let us explore these steps in detail.
Getting Started
Once you've registered yourself on AppMySite, you'll be presented with a small form asking for basic details about your project. Enter your details to get started.
Select WooCommerce under the field CMS Platform for your online store. Fill the rest of the details relevant to your brand and click on the BUILD APP button to get started. This will set up your app project
Appearance
Now that you are set up, begin with the Appearance module. In this module, you can design the different visual elements of a mobile application. This module is segmented into the following sections.
App Icon
In this section, you can design the icon of your mobile app. This icon will be visible on your users' mobile devices. 
You can either design the app icon here from scratch or upload your pre-made designs.
Launch Screen
Once the icon is uploaded, you proceed to design the launch screen, also known as the Splash Screen.
You can either design this yourself or select some high-quality designs from the image library provided by AppMySite.
Alternatively, you can always upload your own pre-made designs for the launch screen.
Login & Signup
Similar to the Launch Screen designs, here you design the Login and Sign Up screens that will be used for your app user accounts.
Color Theme
Up next, you begin designing the theme of your app. In this section, you get to decide the theme and colors for Top Header and the main button.
Dashboard
Finally, this is the last step in this module where you design the dashboard of your app. This the main home screen of your app. 
You will design the color, font, and theme for the different sections of the app dashboard like the main banner, new products, etc. You can rearrange their order at any time.
This concludes the Step 1 of the process, that was designing the app. Now let us proceed to connecting your website with the app.
Connectivity
Connecting your website with the app is a two-step process. Firstly, you'll have to create a REST API from your WooCommerce settings. Navigate to WooCommerce > Settings > Advanced > REST API > Add Key from your website's backend and click on Create an API key.
These keys are then fed to the AppMySite portal which establishes the connection between your website and the app. AppMySite will now automatically sync all your products.
Finally, you can now  install the AppMySite WordPress plugin on your website. Once the plugin has been installed, click on the VERIFY button and you are done. You can now proceed to the final step of this process.
Settings
In this module, you get to manage the settings, features, and functionalities of your mobile application. This module is divided into 3 small sections.
In the General section, you can update the app name if required and manage app user accounts and access.
In the App Menu section, you get to design the navigation menu for your app. You can either import it directly from your website or customize it as you like.
In the Social section, you can enter the handles of your social media account and integrate them with your app.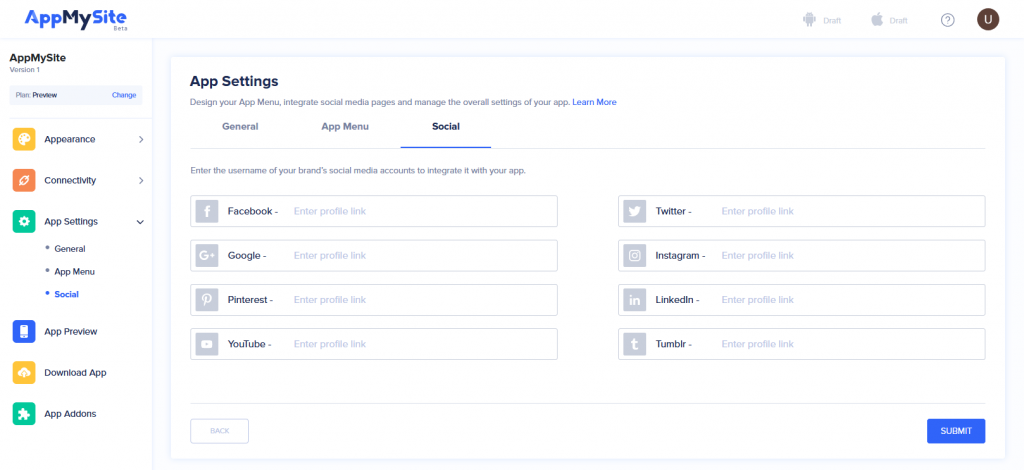 This completes the process of designing and building your app. You can proceed to test your app and then download it. Simply click on SUBMIT to proceed.
Previewing & Downloading the App
As part of the free plan, you can test and preview your app on your mobile device. Once you've designed and built your app, simply download the AppMySite demo mobile app.
On the demo app, log in to your AppMySite account and select your app. This will open up the app you've just built and from here you can preview all the functionalities and features of this app.
You can go back and modify any feature or design that you'd like or if you are satisfied with the app, go ahead and download the Android and iOS app builds for publishing it on the Google Play Store and the Apple App Store respectively.
However, you'll have to upgrade your free plan to a paid version to download the app builds. And with that comes a range of add-on products that you can pick and choose to supercharge your mobile app with new features.
Conclusion
We discussed how the mobile app market is emerging now more than ever and how it is a great opportunity for online businesses to launch their own apps.
Now that you've already functioning an online store on WooCommerce, the next step towards your brand's growth is to launch your own mobile app in the market.
It's your turn to build a mobile app for your WooCommerce store with AppMySite without any coding or technical requirement.
Further reading